Europe isn't the cheapest continent to travel in and when you're on a tight budget, costs can spiral. At the beginning of our long term trip, we spent a week road tripping around the Dutch landscape.
We didn't penny pinch but we did treat it like a holiday. To help you plan your travel budget, here's an idea of what things cost in the Netherlands and what we spent in 2018.
What things cost in the Netherlands
We've listed below the average costs we encountered during our time in the Netherlands. We've selected individual items to give a broad idea of overall costs so you can compare it with your home country.
This should help you plan your Netherlands travel budget.
Cost of accommodation & camping in the Netherlands
The average price of a campsite in the Netherlands is about €25 per night. Some are much more expensive, particularly around The Hague area, where you could pay up to €45.
As always, standards and facilities vary from one campsite to another so try getting independent reviews before you book.
If you're touring the Netherlands in a camper van or motorhome, you could always do as we did. We spent a week in the Netherlands and didn't stay at any fee charging campsites. Take a look at this article about how we camped for free in the Netherlands.
If you don't fancy camping, or just want to treat yourself, you could use guest houses or hotels. Typical costs range from around €20 per person per night for a shared dorm in a hostel to €60 per night for a basic hotel.
You can of course pay far more than this for a luxury suite in a fancy boutique and you can expect those prices to increase further in Amsterdam.
We've stayed in hotels in Amsterdam many years ago but have no recent experience so not able to recommend specific places. You can use our affiliate link with booking.com to browse availability and check out prices.
If you click on the link and make a purchase, we'll receive a small commission. But don't worry, it doesn't cost you any extra.
Budget saving tips: how we camped for free in the Netherlands
Renting a bike for the day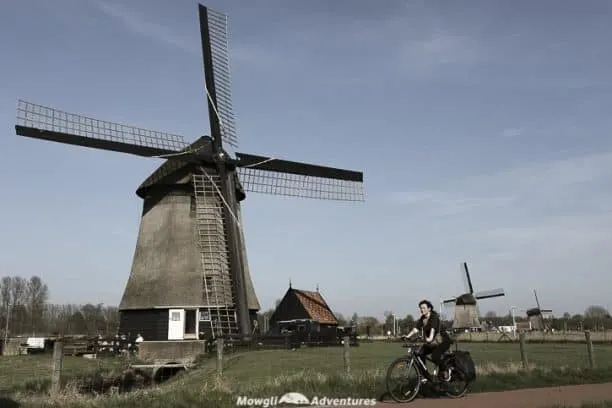 Cyclists rule the road in the Netherlands. Just take a look at our guide to driving here to see what we mean. So, if you can't beat them, why not join them? Renting a bike for the day can cost as little as €7 and is much cheaper than parking prices and public transport.
Fuel prices
Diesel is a little cheaper in the Netherlands than in the UK at about €1.38 per litre. Unlike the UK however, diesel is still much cheaper than petrol, which is €1.69 per litre.
If you're hiring a car, make sure it has a diesel engine to save some money. Fuel in motorway service stations is more expensive than in the towns and cities so choose where you top up.
Dining out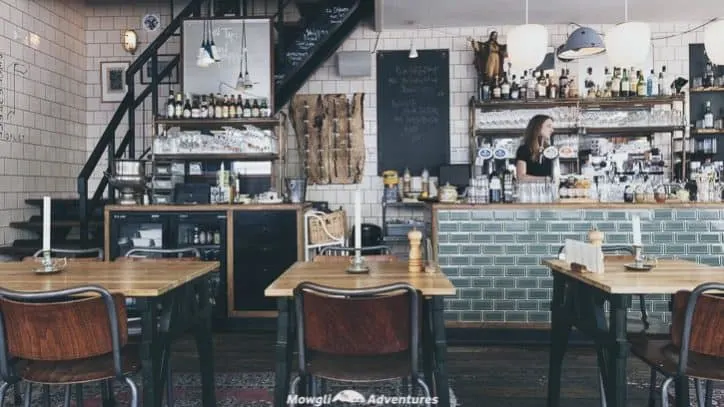 The cost of dining out in the Netherlands is in line with most other European countries. Eating dinner out at a mid range restaurant will set up back around €20 per head without alcohol. You can expect to add another €20 for a bottle of wine.
You will pay less for lunch and something from the specials board will save you a little bit more too. We had a lovely lunch in Delft and paid €22, so you don't need to break the bank.
Groceries
Cooking for yourself will always be cheaper than dining out and with our own camper van, this is the norm for us. There's plenty of supermarkets around in the Netherlands; most cities have an Aldi or Dekamarkt.
We found the markets a little cheaper than the supermarkets for fresh meat, fruit & vegetables too. A bottle of red wine costs around €5 in the Netherlands, a packet of malboro €5.70.
Overall, grocery shopping is comparable with most of western Europe and about 20% cheaper than the UK.
Laundry in the Netherlands
There's no shortage of laundry facilities in the Netherlands. We used our mapping software to find a local launderette near Haamstede.
It was a self service, outdoor facility next to a car wash so we didn't get the free wifi we'd hoped for as we washed our clothes and linen.
A small 8 kg wash cost €4 and a large 18 kg wash, €8. The tumble dryer was quite expensive and charged €2 for every 15 minutes. It was even more expensive after we poured €6 into it and it didn't work!
What we spent in the Netherlands
We visited the Netherlands after the Easter holidays. Although we'd missed the height of the peak spring season, the tulips were in full bloom so the whole area was still super busy.
Our time in the Netherlands was the first week of our expedition and we treated it more like a holiday so were more extravagant than we'd normally be.
We've broken our spend out into 2 numbers: the cost of a one week road trip in the Netherlands and how much we actually spent in the Netherlands.
The cost of a one week road trip in the Netherlands
This shows the total cost of our week in the Netherlands. The point is to give you an idea of how much a similar trip could cost you if you're not travelling long term as we are.
The number includes fuel we bought in the UK and a one way ferry ticket from Newcastle to Amsterdam.
We've taken out a few pound we spent on items we needed for Baloo we really should have bought before we left and need for a long trip.
The numbers don't include our travel insurance either as we have a one year policy.
The cost of our one week road trip in the Netherlands was £554 GBP and the chart below shows how that was made up.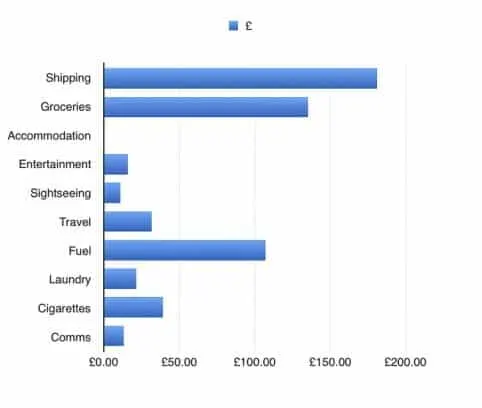 How much we actually spent in the Netherlands
This shows how much we spent in the Netherlands. This is the number we're most interested in. Our target for the total long term trip costs is £50 per day between us over at least 2 years.
There are some big upfront costs, like shipping to South America and travel insurance to take into account and when we spread those over the 2 years, our remaining daily budget is £30.
In total, we spent £299.68 in the Netherlands over 6 days and the chart below shows how that was made up.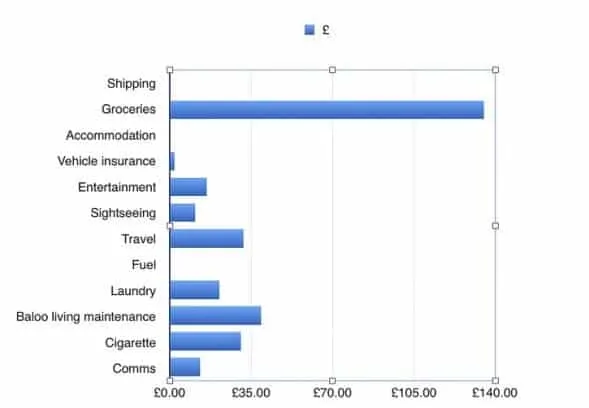 Our daily average spend in the Netherlands was £50 so we completely overshot our budget. In part it's because Europe is expensive compared to other places around the world but also the price we paid for treating it more like a holiday!
Money saving tips for the Netherlands
Parking isn't cheap in the Netherlands but there are alternatives ways to get around. Public transport and bike hire are great options but make sure to weigh up any cost savings first.
We thought getting a bus into Haarlem would be cheaper than parking but it cost €24 return!
If you enjoy visiting museums and plan to visit a lot in the Netherlands, check out if the Museumkaart. It's valid for a month and allows access to around 400 museums across the Netherlands, over 30 of which are in Amsterdam.
It costs €60 each though so make sure you plan to get your money's worth before you invest in it.
Apologies to all the Dutch out there, but the Dutch cuisine is nothing special so save money on dining out. If you want to treat yourself, lunch time is a good value option and the specials boards always offer something of a deal.
Contrary to popular belief, you can see the Dutch tulip fields for free without paying to visit Keukenhof. Take a look at our post on things to do in the Netherlands to see how we did it for free.
Like it? Pin it!