Going on a safari is right up there on many a bucket list and so it should be. The chance to sit back and watch the Big Five in their natural environment is one not to be missed.
But for first-timers, knowing what to pack for a safari isn't as straight forward as packing for an average city break.
To help you avoid ruining one of the most adventurous travel experiences you'll ever have, we've pulled together this definitive list of what to pack for a safari.
When you click on links to various merchants on this site and make a purchase, this can result in this site earning a commission. As Amazon Associates, we earn from qualifying purchases. For more info, please check our disclosure page.
Safari luggage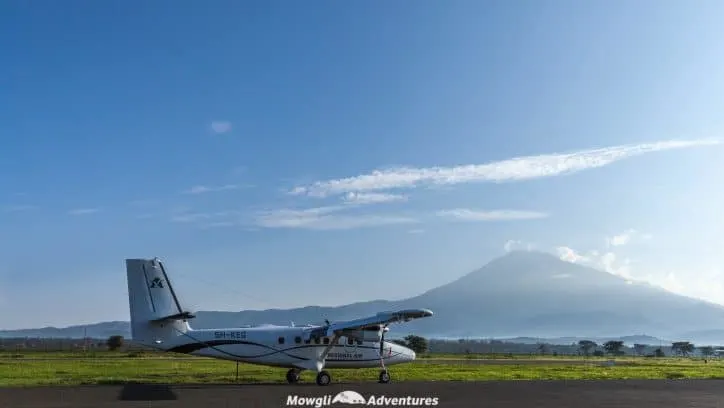 These small Cessna aircraft are a common mode of transport between National Parks. The hold is located underneath the seats and the loading panel on the outside of the plane is quite small.
Because of this, your hold bags should have soft sides and not too large. We were told to keep our bags smaller than 36cm x 68cm and no heavier than 15kg.
Exceed the weight or size and we'd need to purchase excess baggage allowance. This is effectively an extra seat on the plane for your bag so it's worth keeping to your allowance.
As well as your hold luggage, a day pack will get plenty of use on your game drives. You'll want to keep your suncream handy, spare camera batteries and memory cards.
If you're on a nighttime safari you'll want to include the mosquito repellent. A lightweight fleece is perfect at dawn and dusk as its much cooler than when the sun is high in the sky.
Many of the safari vehicles carry fleece blankets so they may not be necessary.
What to wear on safari
You don't need to dress like Meryl Streep as Karen Blixen in the movie Out of Africa. Although you shouldn't dress for a week in Ibiza either!
Deciding what to pack and wear on safari is all about practicalities and weight restrictions. You may have as much as 15kg to play with, including your hand luggage in some cases.
Your camera gear may take up a fair proportion of your allowance. So what should you wear on safari and what do you need to pack?
What not to wear on safari
First off, avoid camouflage fabric. In many countries, camouflage is only worn by the military and although I don think it's an offence, if you're crossing borders or at airports, why would you even bother?
Avoid dark clothing, especially blue. We've all seen the safari goers in khaki and every shade of beige and there's good reason for it. Blue attracts the tsetse fly.
You'll know about it if you're bitten by one both those little buggers and they'll nip right through your clothes. White isn't practical either.
It'll be filthy in no time because there is so much dust in the air. It'll attract bugs too – well until it's covered in dust anyway. Neutral colours are the way to go.
Safari clothes packing list
Despite temperatures being high, baring your skin is not the way to keep cool. Wear loose fitting, long sleeve cotton shirts and long trousers too.
Cotton will dry quickly and as most lodges and camps provide same day laundry service, you can keep your packing to a minimum.
A wide brimmed sun hat will save you from the worst of the midday sun and a couple of fleeces will keep the chill off on dawn and dusk game drives.
The dress code in the African bush is casual. Even in the evening there is no need to get dressed up. Here's our full list of the clothes we packed (each) for 7 days on safari:
3 pairs of convertible hiking trousers (we wore one pair to travel in)
7 t-shirts
3 long sleeve shirts
1 pair linen trousers (for the evening)
a pair of walking shoes (we travelled in)
1 pair of sandals
Sun hat
Sunglasses
7 sets of underwear & socks
2 sports bras (for the women – those tracks are BUMPY)
We used the same day laundry service twice during our 7 day safari and to be honest, the 2nd time wasn't necessary at all. We were just taking advantage of the fact there was no additional charge.
Safari shoes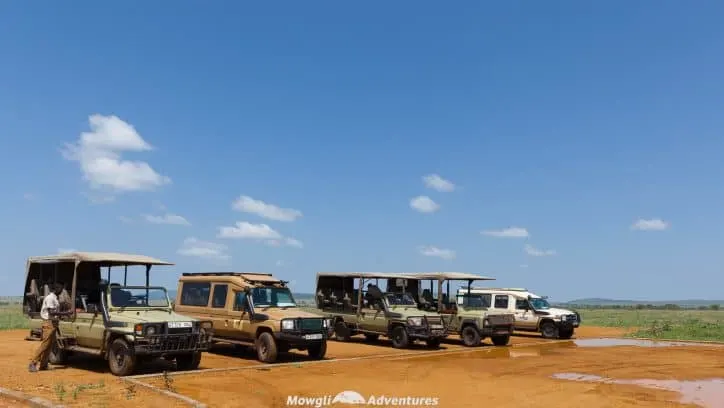 You will spend most of your time on safari in a vehicle on game drives and may even take a walking safari. You spend the rest of your waking hours at your lodge or camp.
Because the dress code out in the bush is casual, even at the luxury camps and lodges, you really only need to pack 2 pair of shoes.
A good pair of walking shoes is, in our opinion, essential. Don't forget, the condition of the roads through the National Parks is at best, rough.
They're rutted and bumpy and sometimes your driver will accelerate fast to secure you a ringside seat in front of the action.
All this can lead to knocks and scrapes and having a decent pair of walking shoes protects your feet from the worst of it.
Invest in a lightweight, waterproof pair and they'll serve you well on any walking safaris or any (safe) opportunities you have to leave the vehicle.
At the end of a long day game watching, lounging in a pair of comfy sandals is perfect! Some of the camps have quite rough paths between your room or tent and the dining area so a sturdy pair of sandals is better than flip flops.
You'll be glad of them when you're walking back to your room in the dark!
Top tip: keep your luggage weight under control by wearing your walking shoes to travel in.
Camera gear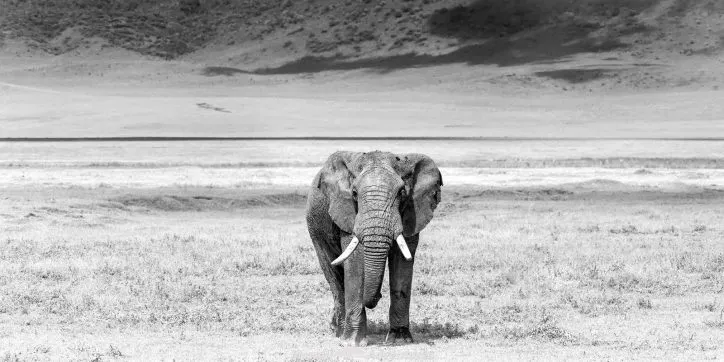 For serious photographers, a safari is a dream come true! There's photographic opportunities at every bend in the track.
Take a look at the camera gear we took on safari with us to give you an idea of what you need to pack for a safari. It's not all essential though.
Regardless of what camera or lenses you have, it is essential you carry twice as many memory cards as you would on another holiday and don't forget your spare batteries and charger.
For a detailed list of camera gear we use on safari, click here
Personal items
As well as your standard travel first aid kit, there are a few things you need to pack for a safari to stay healthy and safe. Depending on where you are travelling to, you probably need to take your anti-malaria medication.
Make sure you follow the instructions correctly. You need to start taking them a few days before you enter the malaria risk zone and for a period of time after leaving it.
Different meds have different requirements so make sure you check in plenty of time.
Because power is often limited in safari camps, don't bother packing your electric toothbrush. Go for the old fashioned, manual approach.
Don't forget to pack suncream, aftersun and DEET insect repellant. A packet of wet wipes in your day pack will come in useful too, to freshen up a little in the heat of the day.
Take a look inside our travel first aid kit
Safari essentials
Check with your safari company and lodge before you travel if binoculars are provided in your game drive vehicle. Many of them provide a good set for each passenger and they are so useful.
Your driver, guide and all passengers are a team on each game drive with everyone doing their bit to spot wildlife.
Sometimes you think you see some movement in the long grass and when the vehicle stops, everyone reaches for the binoculars.
If your safari company doesn't provide a set, make sure to bring a pair with you.
Funnily enough, there aren't many ATMs in the African bush and credit cards are not widely accepted. However, USD is accepted in most places visited by tourists.
We recommend that you bring enough cash with you and try to get a lot of it in small denominations for tipping.
Read more about how to avoid bank fees when you travel
Make sure you have good travel insurance! Your safari is in the middle of raw nature. Upon arrival at your lodge or camp, the first thing you're asked is to sign a disclaimer.
You don't expect them to take responsibility for a lion eating you do you? Anyway, if you don't have insurance, you'll regret it as soon as start signing the paperwork!
Top tip: have the details of your health insurance at hand as some of the lodges ask you to complete the information as part of the check in process.
Like it? Pin it!