On the shores of Río de la Plata, one of Uruguay's oldest towns, Colonia del Sacramento is a major draw for those wanting to escape Buenos Aires for a while.
A short ferry ride across the river (you can see the Buenos Aires skyline from Colonia), day trippers flock to the historic quarter.
Due to this it gets a lot of foot traffic, with most visitors only sticking around for the day. Yet, Colonia del Sacramento holds an important place in Uruguay's history.
Because of it's strategic position at the mouth of an enormous river system, it provides easy access to vast regions of South America.
A good enough reason for the Spanish and Portuguese to fight over it for well over 100 years. Occupation of Colonia changed hands many times until 19th century.
Then Uruguay finally became independent.
As a result, the historic quarter is a fusion of Portuguese and Spanish architecture, unique in this area of Latin America.
So whether you're hopping across for a day trip, or plan to stay for a night or 2, here's our guide on things to do in and around Colonia del Sacramento.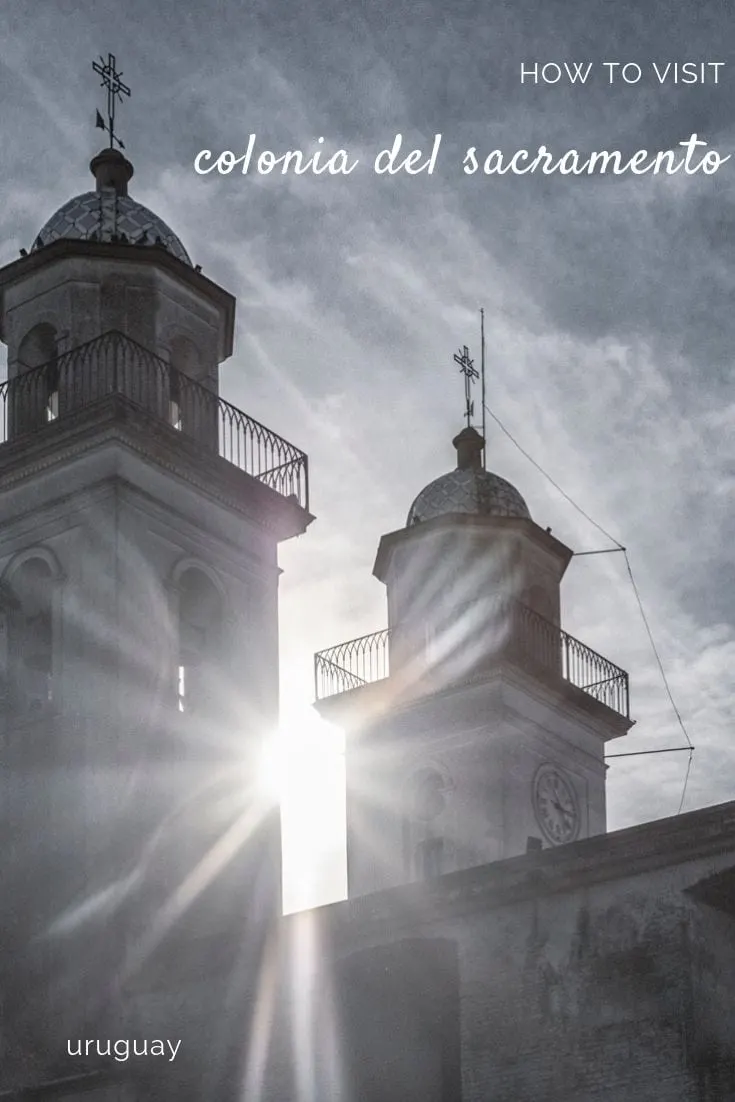 Explore the old town's cobbled streets
Just like a real life cliche, Colonia del Sacramento's old town is bursting with cobbled streets.
But these aren't just your average cobblestones, instead more like boulders so wear sensible shoes.
There's no need to follow any kind of formal route here, just bimble around at your own pace.
The town isn't laid out in the typical grid fashion of most Latin American towns. The streets broadly centre around Plaza Mayor, the town's square.
Here the Portuguese and Spanish colonial style buildings stand side by side.
Explore the little side streets, notice the detail in the architecture and take photos. Lots and lots of photos.
Don't miss Calle de los Suspires, the Street of Sighs. This is perhaps the most photographed street in Colonia.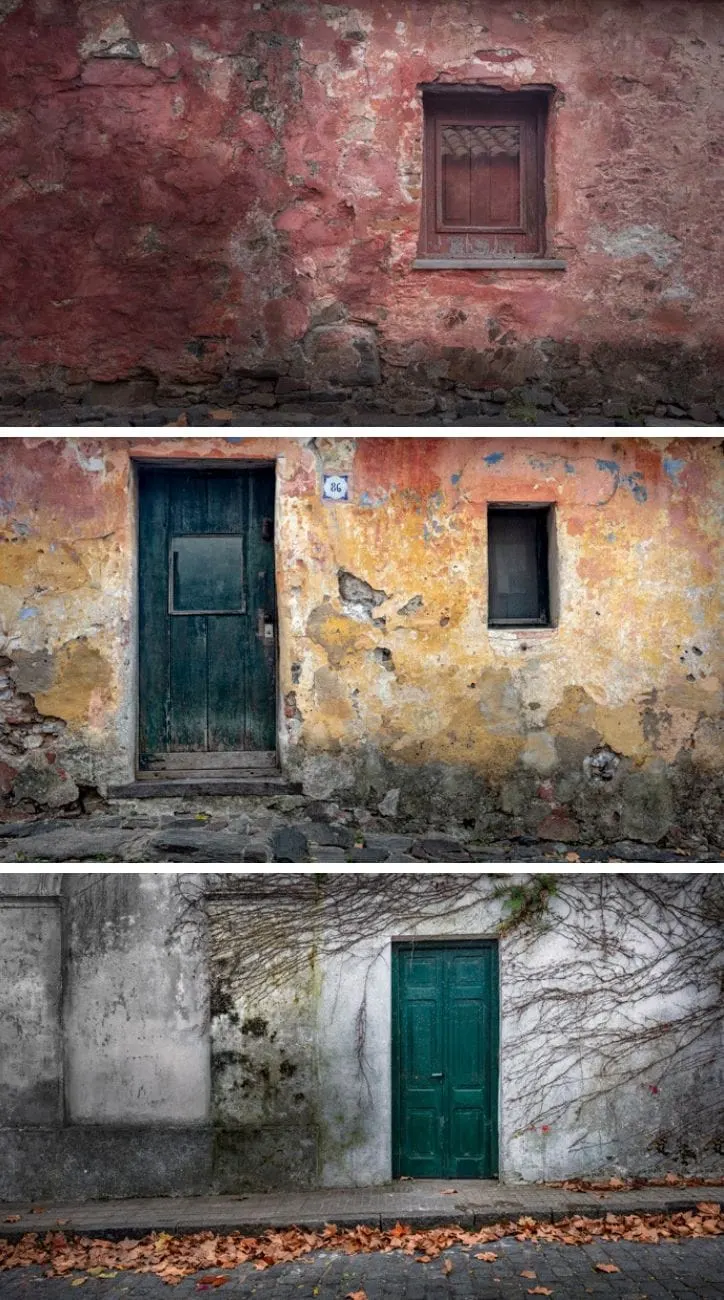 Climb the lighthouse's spiral staircase
Built on the side of the ruins of Convent de San Francisco, the town's lighthouse is one of the tallest buildings here.
Climbing the lighthouse in Colonia is a must. If you can handle the confines of the narrow staircase, over 100 steps and the giddy heights.
Mind your head at the top and prepare to hold tight. The building's sway is noticeable in the gusty river winds. For 30 UYU ( about $1), you get the best views in town.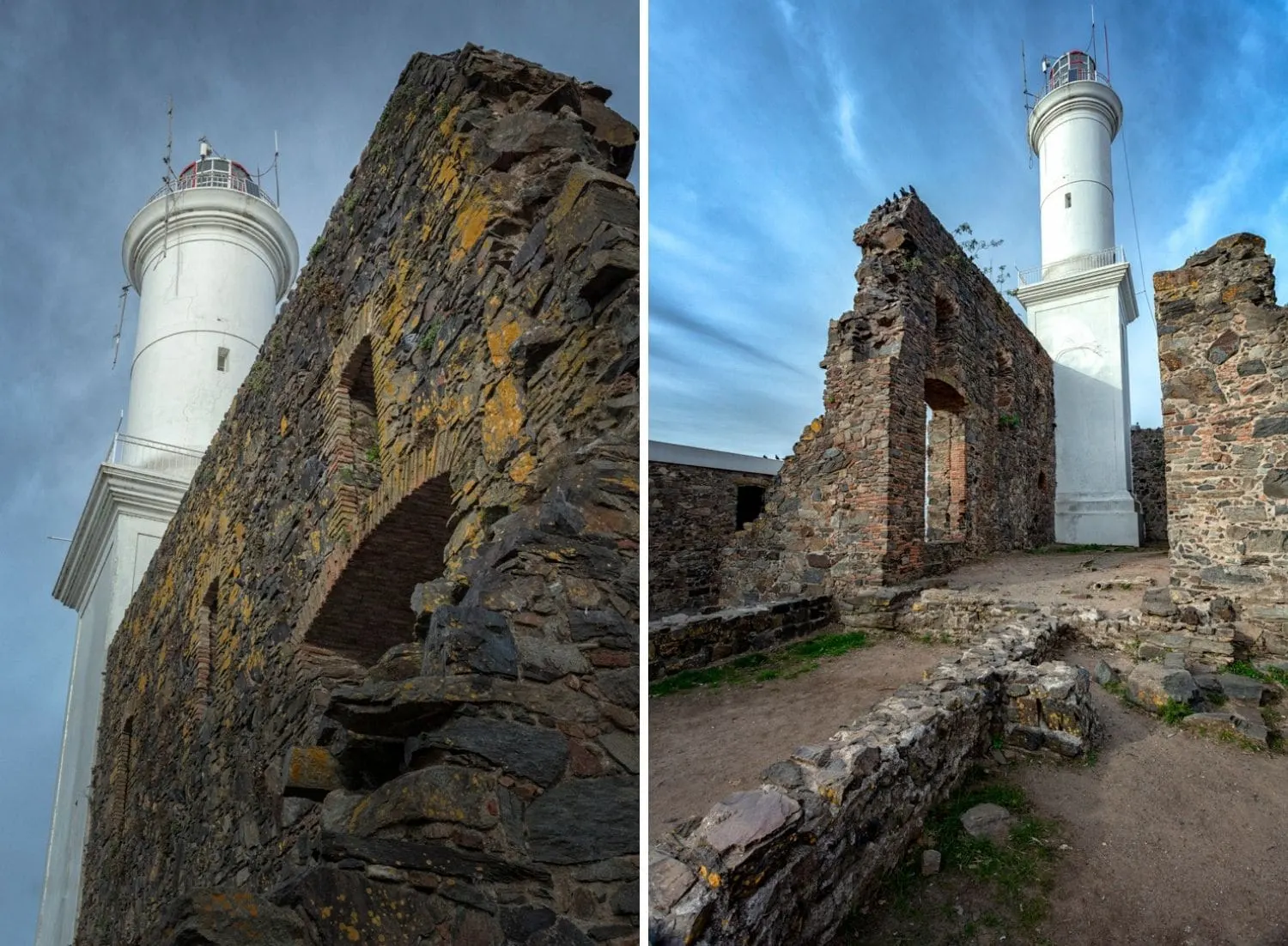 Walk around the old town walls
Any self respecting town worthy of a UNESCO badge has old town walls right?
And Colonia doesn't disappoint. The gateway to Barrio Histórico is across Puerta de la Ciudadela, a wooden drawbridge passing through the old walls.
Once inside the old town, you can climb the walls to see the old cannons once use to protect the fortress.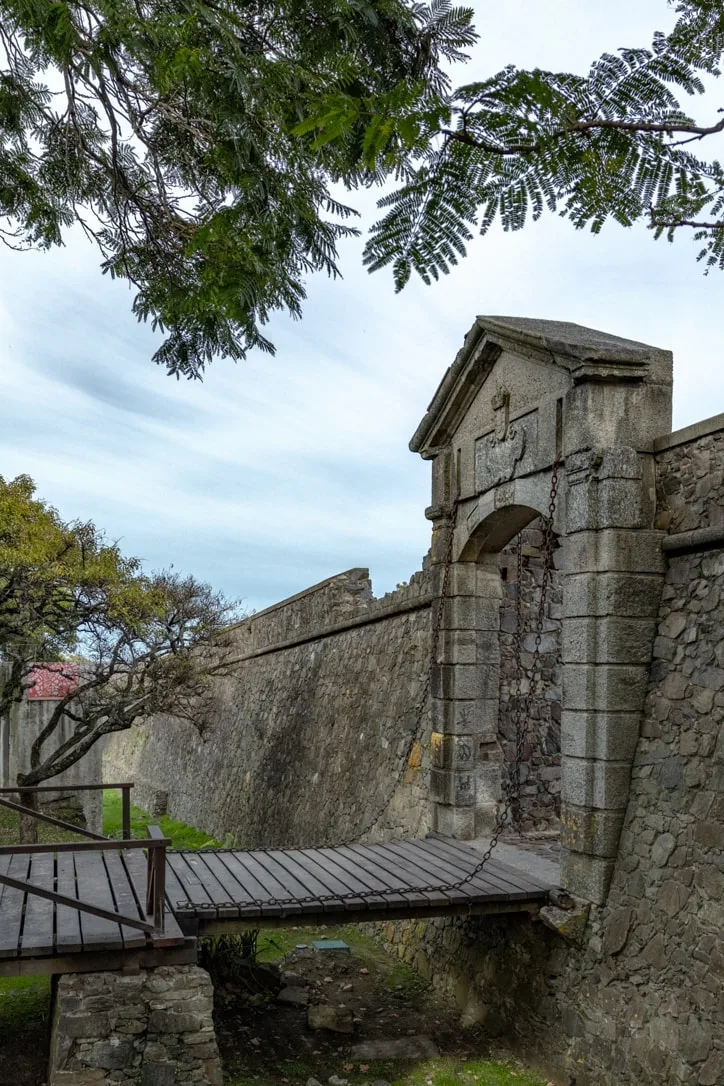 Check out the oldest church in Uruguay
You can find Uruguay's oldest church – the Basilica of the Holy Sacrament or Iglesia Matriz in Colonia's old town.
The church's twin towers dominates Colonia's skyline, visible from the ferry arriving from Buenos Aires.
The interior is simple. No elaborate carvings and expensive statues on display here. But a tranquil space, and cool so a refreshing break from the summer sun!
Photographing vintage cars
Colonia is well known for its vintage cars. The street leading up to the entrance of Iglesia Matriz is full of them during the summer months.
Some of them still run. Workhorses for Uruguayans who don't feel the need to throw things away they can fix.
A restaurant has converted one into a romantic dining room for 2. And another into a plant pot with flowering shrubs blooming from the windows.
During the winter months, their owners take them out of the town, opting to keep them under shelter from the seasonal rains.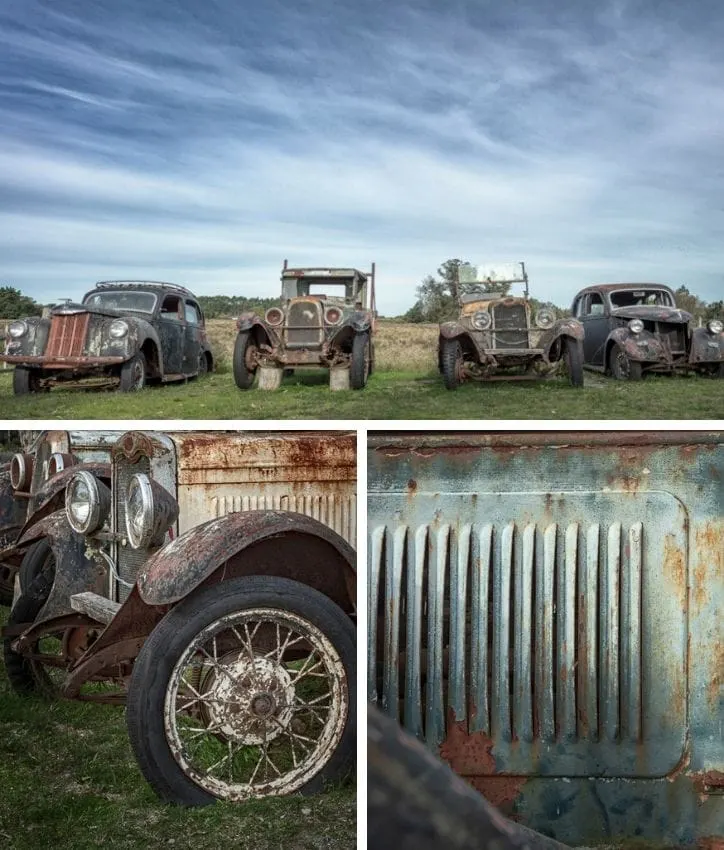 Visit a Guinness World Record collection….of pencils!
Emilio Arenas began collecting pencils in the 1950s. By the age of 10, he had his first Guinness World Record for the largest collection anywhere. The following year he beat his own record. And he hasn't stopped collecting since.
His museum displays his vast collection in glass cabinets. We just loved the US president and Papal sets!
Emilio doesn't stop at pencils either. An enormous number of empty perfume bottles, ashtrays and keyrings are all proudly displayed too.
Granja Arenas Museum is a few kilometres outside of Barrio Histórico on Ruta 1. The museum is free to visit and the attached farm shop sells amazing homemade cheeses and Uruguayan wines.
Well worth the visit for this alone!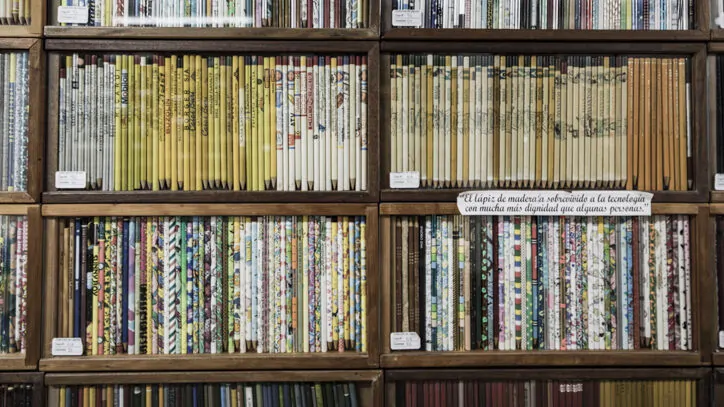 Plaza de Toros Real de San Carlos
A little further from the historical part of town stands the derelict Plaza de Toros Real de San Carlos. The dilapidated building bares its British iron framework and deteriorating Moorish styled walls.
The builders completed the construction only 2 years before Uruguay banned bullfighting.
The bullring is a few kilometres outside of the main tourist area but if you don't have your own vehicle or hire car, you can rent golf buggies in Colonia.
What's especially lovely, is the route out to the bullring from the historic quarter. Cue the next item on our list of things to do in Colonia del Sacramento….
Spend some time on a deserted beach
The water of the Río de la Plata looks rather more brown compared to that of the Montevideo beaches. So even though it doesn't look like water we'd want to swim in, Argentinian visitors certainly weren't put off.
The beaches here near Colonia del Sacramento may not win many prizes but you can certainly find a quite spot for some peace and quiet. You can even find a little natural shade!
The promenade stretches from the historic quarter in Colonia for about 5 kilometres to the west out to the Sheraton hotel. Take your pick of sandy spots!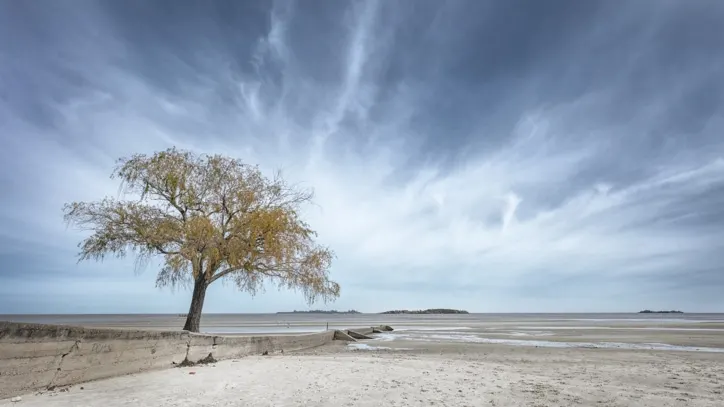 Drink mate
Uruguayans are completely committed to drinking mate. If you think the world's coffee culture is a serious one, you'll think again once you've travelled in Uruguay.
Virtually every Uruguayan indulges in the herbal yerba mate beverage pretty much round the clock. So grab your flask, gourd and bombilla and join them to watch the sun go down.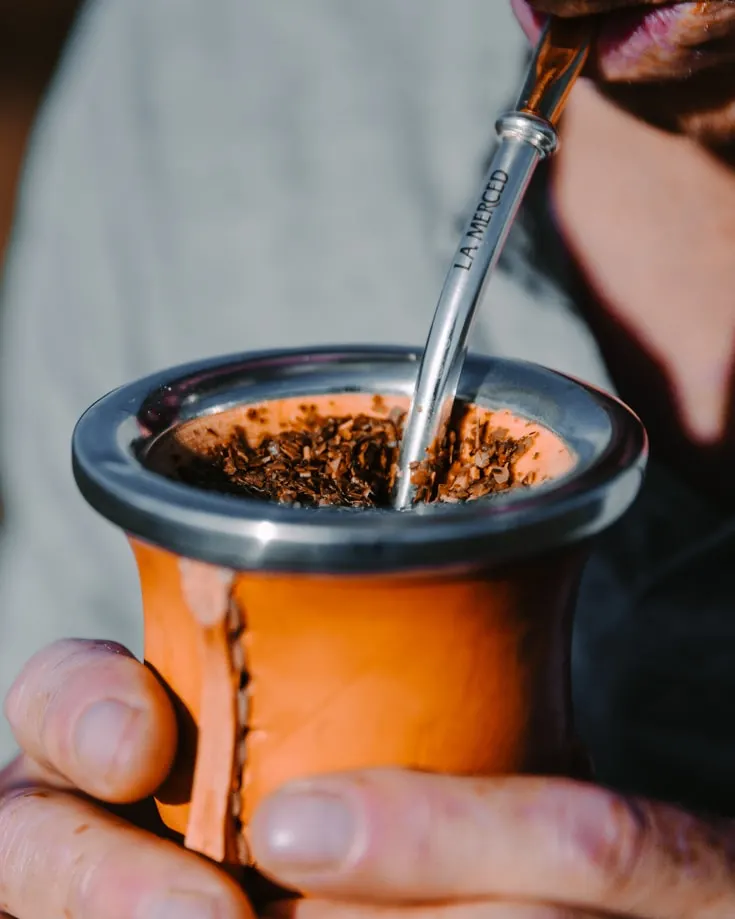 Day trips from Colonia del Sacramento
Montevideo
Uruguay's capital city is only a couple of hours by road to the east from Colonia. Unlike big cities around the world, Montevideo offers something quite different. A laid back vibe, little to no crowds and incredible beaches!
Montevideo is 170 kilometres from Colonia on a good highway.
Fray Bentos
Uruguay's only other UNESCO World Heritage Site is nothing less than a meat processing plant. While it may not sound like a tourist attraction, the tours of the site expose what a remarkable feat of engineering this place was.
And to us Brits, Fray Bentos meat pies conjure up all sorts of nostalgic images. Why wouldn't we visit?
Fray Bentos is 200 kilometres north of Colonia del Sacramento, so only a couple of hours away by car.
Buenos Aires
If you're in Colonia and fancy a day trip to Argentina's impressive capital city, take the morning fast ferry to arrive in Buenos Aires a short time later.
With no shortage of things to do in Buenos Aires, your challenge will be finding an itinerary to include the highlights in a short time. Or stay a little longer!
And make sure to check out some of these day trips from Buenos Aires too. We've even included a few ideas for onward travel to satisfy your wanderlust.
Read more: the best places to visit in Uruguay
Best hotels in Colonia del Sacramento
There's many hotels in and around Colonia del Sacramento to choose from. Most visitors spend only a night, maybe 2 here.
Becuase of this we've selected 2 of the best hotels in or very near to the historic quarter.
Photo Credit: www.booking.com
With splendid views of the river, guests love Charco Hotel for its location and riverside setting.
The hotel even has free bikes for guests to use so you can explore the area without walking everywhere.
Perfect for getting further afield from the historic quarter.
Photo Credit: www.booking.com
A colonial style inn, Don Antonio Posada is a short 5 minute walk from Plaza Mayor.
With a terrific location and a small swimming pool for cooling off in the summer heat, this is one of the best hotels in Colonia.
Where to stay in Colonia – for overlanders
If you're an overlander and in a self contained vehicle, there's a couple of free overnight parking spots you can try.
We stayed right on the coast beside the yacht club and had a peaceful night.
Check out iOverlander for the latest updates.
How to get to Colonia del Sacramento
Driving
To get to Colonia del Sacramento from Montevideo, head west along Ruta 1. Make sure you have some cash for the toll booths along the way too.
From Fray Bentos, follow Ruta 21 through Mercedes and Carmelo.
Public transport
There's a decent bus service around Uruguay (or so we're told). If you need to take public transport, you can check here for bus timetables and ticket prices here.
From Buenos Aires
There are three different ferry operators running from Buenos Aires to Colonia daily.
Prices for tickets vary depending on the time of day and season. Prices typically range from $70-$100 USD range for a round trip ticket.
During the summer season December to February, you may want to book in advance to avoid disappointment.
If you need to transfer a vehicle from Buenos Aires into Uruguay, you can do that too on one of the car ferries.
Like it? Pin it!