Whether you intend to live in a van full-time or planning shorter winter road trips, staying warm and cosy is essentials for a happy and comfortable lifestyle.
Heating for campervans comes in all sorts of guises.
Sure you can build a well insulated van and pile on layers of clothes but this may not be the best long term solution for your van life.
Getting the right heating is one of the most important aspects of living in a camper in the winter.
The most common campervan heaters are diesel heaters, propane furnaces, electric and wood stoves.
To help you decide the best option to keep your van warm in winter, this post covers them all.
It looks at how to build your van with comfort and warmth in mind and the pros and cons of the most popular heaters for RVs, campervans and motorhomes.
Finally, we'll show you some of the most popular heating systems for campervans with a selection of products.
Things to Consider when Choosing How to Heat your Campervan
Before launching straight into buying a campervan heater, take some time to consider your needs.
Here's a list of thing to consider when researching the best heating options for your van lifestyle so you have a cosy, tiny home perfect for you.
Do you Need a Campervan Heater?
Well if you've landed on this article you probably think you need a campervan heater.
If you intend to travel the world in your van, encountering the full range of climates and weather conditions, then you probably do.
But if you're a fair weather camper and only plan to spend time in your van in warm conditions, perhaps you don't.
There are alternative ways of heating campervans and keeping warm other than permanent heaters.
It's worth considering if these are more appropriate for your lifestyle, especially if you'll only live in the van in warm weather.
The Size of your Camper
For a campervan heater to effectively warm your home on wheels, it needs to be the right size.
A heating system too small for your van just won't keep it warm. Too big and it'll use more energy, fuel and space than necessary.
Calculate how much space you need to heat and buy an appropriately sized heater.
For larger vans or those with high roofs like Promasters and Sprinter's, we recommend installing a permanent campervan heater.
Fuel Options
Heating for campervans comes with various fuel options like gas, diesel, wood or electric.
When deciding which fuel option is best for you consider the following:
Refills | Topping up campervan heating fuel on the road can sometimes be a challenge, depending on which countries you travel in. Check fuel availability before finalising your decision.
Cost | The cost of fuel can be a significant proportion of van life costs, especially if living in a camper in the winter. Take this into account when choosing your heating fuel.
Safety | Heating in the confines of a campervan comes with a few safety considerations. We've covered this in the sections below so don't overlook this aspect.
Storage | Some heaters take up more space than others. Consider where the physical heater will be installed and where you'll keep the fuel too.
If you want to boondock in winter, check out our tips on how to heat a camper without electricity.
Maintenance
To keep your campervan heater safe and running at its best, it will need some regular maintenance.
Check the maintenance routines needed for your preferred heater.
Make sure you either have the skills to carry them out yourself or can get the heater serviced on your camper travels.
Budget
The top end heating options for campervans have pretty hefty upfront costs.
They tend to have much lower running costs though.
How much you have in your conversion budget for heating may affect the options you choose.
Or you need to make sure you have enough money to fit your preferred solution.
Back-Up Plan
If you plan to live or travel in your campervan in the winter months, it's best to have a back up plan in the event your campervan heating fails.
Though unlikely, problems can occur and it wouldn't be great if your heater breaks down or runs out of fuel without a back up to keep you warm.
It's worth considering a few alternatives so you can keep warm at least until you can repair the heater.
Safety of Campervan Heaters
Heating for campervans comes with some inherent risks.
The risks differ based on the heater and fuel used. We go into more specific detail for each type of heating for campervans below.
There are a few important points worth mentioning early though:
Always ensure the heater is installed correctly
Make sure you know how to operate the heater safely
Always follow the manufacturer's instructions for its safe operation
Familiarise yourself with the maintenance routine for the heater and follow it religiously
Avoid fire hazards:

Keep the heater well away from anything flammable
Don't hang anything in front of the direct heat
Avoid blocking any intake or exhaust vents
Don't install the operating switch in a place where is can be knocked on accidentally
Fit safety features including:

carbon monoxide detector
fire alarm and
fire extinguisher.
Building a Warm Campervan
A well thought out DIY campervan conversion can help make a van more efficient to heat and keep warm.
Insulation
Insulating your van is one of the first jobs in a camper van conversion.
It's not a difficult job but its time consuming to do well.
Most camper vans have a double wall so the insulation material can be inserted between the 2 skins.
Foam boards are quick and easy to line the majority of the van.
Gaps need to be filled for a more effective insulation set up and soft, flexible material like earth wool loft insulation is ideal.
For winter living, RV skirting adds another layer of protection and will help reduce heat loss too.
Ventilation
It may sound counter intuitive, but good campervan ventilation is an important part of keeping you warm and comfortable.
Not only that, but all heating for campervans needs some form of ventilation to keep you safe and healthy with a good flow of fresh air.
There are lots of options for ventilating your campervan from a simple method of keeping windows open to installing a van roof vent.
The best solution for stopping condensation in your campervan, helping to keep it fresh and comfortable is a combination.
Ideally fit an intake vent and exhaust vent to allow the air flow to carry away odours and stale, moist air.
Floor Coverings
Many van builds finish their floors with material that's easy to keep clean, like wooden or vinyl flooring.
Unfortunately, it feels cold underfoot in winter conditions.
A few choice rugs will help keep your toes cosy, help prevent cold permeating through the floor and keep the heat in.
We've been living in the van full time during a Patagonian winter and a few wool rugs make a massive difference.
Windows & Curtains
Our Sprinter van is a converted minibus so we have windows all round.
While we wouldn't change it because of the views and the amount of light it lets in, the downside is the amount of heat loss the windows introduce.
Keep windows covered when it's cold. Curtains are a good start.
Consider additional Reflectix covering too for the especially cold winter months.
Your aim is to keep as much heat from escaping as possible. We have an added curtain between the driving cab and living quarters too.
It reduces the size of the size of space to be heated and prevents too much heat loss through the windshield too.
A few soft furnishing accessories too like cosy throws and cushions. Every little helps!
Campervan Bedding for Winter
Investing in the best campervan bedding is money well spent.
Good quality materials will help keep you warm and comfortable year round.
Start with a mattress made from breathable material like gel memory foam – you can even cut this stuff to size.
Add one of our top 10 gadgets for campervans – a merino wool mattress topper.
Seriously! It's one of the things we wouldn't travel without in warm or cold climates.
You could invest in some ultra warm fleece sheets. If you plan to spend most of your van life in cold conditions, they're a good investment.
But if your camper travels cover warm climates too, these thicker, heavier sheets are probably too warm to use year round.
We recommend a set of good cotton sheets.
Add a few warm and luxurious alpaca wool blankets. They're lightweight, wash and dry easily and make perfect throws or ponchos year round.
Then of course there's a big cosy duvet. With the alpaca blankets, we've been managed in nighttime temperatures as low as -14°c with a feather and down quilt / comforter.
If you prefer sleeping bags, make sure you invest in the best all season sleeping bag you can afford.
Some people swear by electric blankets.
They're great for warming the bed up before you climb in but we're not convinced the drain on the battery is worth it.
A hot water bottle does just as well.
Clothing
The right clothes for living in a van in the winter will go a long way to help your comfort levels and keep warm.
Think big, baggy, wooly & comfy. Fleece lined socks and slippers. Oversized jumpers you can tuck your knees into. Scarves & hot mugs of tea!
At bedtime, merino wool is our go to material of choice.
A sets of merino wool base layers and a hat under the covers of our feather and down quilt and alpaca wool blankets and we're as snug as bugs in a rug!
Diesel heaters for campervans (and now petrol too)
Diesel heaters are considered by many as the best of the best when it comes to heating for campervans.
Running off the same fuel as the vehicle, you don't need to source and store multiple fuel types.
You're almost guaranteed to always have a fuel supply, so long as you don't let your tanks run empty.
Diesel is cheap and these heaters use so little of it, the running costs of a diesel heater are really low.
Anything to help keep van life costs down has got to be a good thing.
The heat from a diesel heater is a slow and steady blow of warm, dry air helping keep the van comfortable.
Because it has an external vent, it doesn't add any moisture to the van and lowers the relative humidity.
This is the perfect conditions for helping to prevent condensation.
The external vent also helps minimise any chance of carbon monoxide build up.
Diesel heaters are known to struggle at high altitude. Fortunately, most quality models come with a boost function and high altitude kit so they'll continue to work.
Ours worked until 2500m but we were cold at above 4000 metres on Bolivia's Lagunas Route.
When it's really cold, at around -10°c, diesel can get a bit gloopy and gel like, clogging up fuel filters.
Parking your campervan so the diesel tank faces the rising sun in the east will help it liquify earlier so your tiny home is nice and warm when you get up.
Once, these heaters ran only on diesel but the most well known and trusted brands, Webasto and Eberspacher, now have petrol models too.
Pros
Low running costs
Reliable and efficient
Runs at low temperatures
Safe
Help prevent condensation
Low electrical consumption
Permanent solution
Runs off same fuel as vehicle
Cons
Can be noisy (we don't notice ours)
High set up costs
Technical installation needed
Needs a big boost of electrical power on start up
Needs regular servicing
Safety of Diesel Heaters
Diesel heaters are inherently safe.
The external vent means no dangerous fumes are pumped into the van, improving the occupants personal safety.
The appliances include in-built safety features and automatically cut out if:
it overheats
the flame is extinguished
there's a loss of electrical supply
or loss of fuel.
Despite the safety features of diesel heaters, make sure you have fitted a carbon monoxide detector.
The risk of poisonous gas leaks into the van maybe low but the consequences are extreme.
Campervan Diesel Heater Installation
A campervan diesel heater installation is best done during the build phase.
It's not impossible to retro fit but a bit more fiddly working around and under existing furniture.
The installation isn't too complex but a degree of DIY skills will come in handy.
Some heaters come with a warranty and in order to maintain its validity, they insist the appliance is fitted by an authorised installer.
When we bought ours, we were about to ship our van from the Europe to South America, knowing there was no way we could invoke any right under the warranty should we have any problem.
So invalidating the warranty didn't matter. At least not in our situation and we installed in ourselves.
Here's a quick 10 step campervan diesel heater installation guide in case you want to do your own too.
Make sure to check your model's instructions first.
Identify where the heater module will live – they're designed to sit on the floor.
Install the campervan wiring with appropriate size wire for the current.
Install controller cables and switches.
Fit fuel line from a fuel tank of your choice – could be your main tank or a separate one.
Drill a hole in the van floor for the exhaust pipe and fuel intake line.
Bolt base plate to the floor.
Connect the exhaust pipe as per manufacturer's instructions.
Connect fuel line from the fuel tank to the heater module.
If necessary, fit any required fuel pumps.
Install the ventilation trunking i.e. where the hot air will blow out from.
Connect the electrical supply and control panels.
That's it. Fire it up, prime the heater and make a cup of tea!
Maintenance
Diesel heaters for campervans need very little in the way of maintenance.
Avoid running the heater for short periods to help avoid it clogging up with coke.
Even in the warmer months, it's best to let your heater run for at least an hour once a month to keep it in operationally good condition.
They can sometimes need a clean.
If you notice it become more difficult to ignite, the exhaust becomes smoky or it doesn't throw out as much heat as usual, it may be time to clean the ignition or de-coke the combustion chamber.
You'll need to remove the heating module to clean it. The job is a bit fiddly and can be messy so it's best done outdoors.
We've had our Webasto fitted for almost 3 years now and only cleaned it once so it's not something to worry about too often.
Best Diesel Heaters for Campervans
Ideal for off grid living in a van in the winter, diesel air heaters for campervans tend to come from a couple of well known manufacturers.
There's a lot of cheap and cheerful Chinese options too.
For us, because we're travelling and living in our van full-time, we wanted the confidence our heater would be reliable and we could find parts and repairs over the coming years.
Here's a selection of the best diesel heaters for campervans on the market today.
Webasto & Espar
Webasto and Espar (or Eberspächer) are the market leaders in diesel heaters for campervans.
They both provide excellent quality appliances and come in a range of sizes to suit your van.
Both provide a diesel and gasoline or petrol versions now too. Check the specification for the high altitude kits too.
These products are costly but once installed provide an excellent level of comfort and reliability.
For long term van living, if you can afford the up front costs, we can highly recommend both products.
Chinese imported diesel heaters
While the cheaper Chinese models can be bought for around 15-20% of the price of the top end models, they can be less reliable, built with lower grade components.
But with such a massive cost saving, there's clearly a market for it.
There's even an entire Facebook group dedicated to trouble shooting the Chinese models with almost 40,000 members.
You can find the Chinese models on Amazon but we recommend you join the Facebook group first and get recommendations from van lifers with first hand experience.
Propane Heaters for RVs
In Europe, most campervans and motorhomes have diesel heaters fitted.
Across the pond though, propane heaters are the go-to option for RV heaters.
Propane heaters work by combustion, igniting a mix of air and gas. A 12v fan helps circulate the heat generated into the RV.
Gas is stored either in:
replaceable bottle – swapping an empty bottle for a full one
refillable gas cylinder – gas is topped up into the same bottle
refillable tank – permanently attached to the vehicle and refilled at LPG fuel stations
Propane is widely available in the US but refills aren't easy every where in the world.
For example, getting refills in Central America is pretty easy but less so in South America.
With refillable bottles, you'll need to carry a range of adaptors because they're not the same everywhere.
Without the correct adaptor, there's no way to refill the supply for your gas heater.
Burning propane creates water vapour so good ventilation is essential in preventing condensation issues.
Pros
Cheap running costs
Heat up your van fast
Portable options
Can tap into cooking fuel if using propane
Cons
Standalone heaters add to condensation issues
Tipping hazard could lead to fire
Risks of carbon monoxide leaks
Need for many adaptors if travelling to different countries
Some propane heaters won't work at altitude
Safety of Propane RV Heaters
Propane leaks can lead to deadly fires. While during the day you might smell a gas leak and get early warning of a problem, this may not be the case while you sleep.
Install a propane detector and keep it well maintained to serve as early warning of a problem.
Burning propane creates carbon monoxide, a silent, odourless, colourless and deadly gas.
Excellent ventilation and a carbon monoxide detector are critical to your safety when using a propane heater inside an RV.
Some permanently fitted propane heaters have external vents so reduce the chance of carbon monoxide inside the RV. Don't scrimp on the detectors though.
Portable propane heaters are popular with RVers but make sure you take precautions to avoid the tipping over and leaking propane.
Maintenance
There's not much in the way of maintenance needed on propane heaters but because of the inherent risks and potentially fatal consequences of any problems, it's well worth having a routine to check things over.
Cleanliness | Check the air intake, exhaust pipes and return airflow grills are clear. Critters and even birds have been known to build their nests in them.
This kind of obstruction isn't going to end well for you, the birds or your RV.
Keep vents and easily accessible parts of the heater dust free.
Inspect the ducting | If you have flexible ducting, inspect it for pinches, awkward bends and potential obstructions.
They should be kept clear at all times so avoid placing any objects on them.
Best propane heaters for RVs
For a portable propane RV heater, space heaters provide an ideal solution.
Small but powerful, they're ideal for boondocking as they don't have any demand on your onboard battery bank.
If you don't need a permanent heating solution, these are a good, low cost and convenient option.
For a ducted propane RV heater option look for Propex, Suburban or Atwood models.
These are well known, durable and high quality units with a long track record in RVs.
They are more expensive than the portable units and you may need to get them professionally installed.
Electric Heaters for Campervans
12v electric heaters are the safest fuel source for heating campervans.
There's no need to carry and store flammable fuels like gas or petrol and no risk of carbon monoxide poisoning either.
Electric heaters for campervans and RVs seem quite popular, more so in the US than in Europe and the UK.
They provide a consistent and high heat output, relatively cheap and because they're portable, they don't need installation.
The biggest things to consider is how you can provide enough energy to keep an electrical heater running.
A good campervan electrical set up will help.
Camper solar panels provide free energy but during the winter, the sun is low in the sky, often obscured by cloud and not above the horizon too long.
None of this helps keep your campervan batteries topped up in winter.
Electric heaters for campervans aren't a great solution for off grid living in a van during winter.
They use a lot of power and if you attempt to run them all night, you'll probably have depleted batteries by morning.
But if you can rely on hook up, have an inverter in your van or have 110v/240v heater, it could be the perfect solution for you.
Pros
Cheap
Safe
Portable
No installation
High power & heat output
Cons
No permanently installed options
Tip over risk on some appliances
Use too much electric for use off grid
Safety of Electric Heaters for Campervans
Electric heaters are fairly safe and some devices offer additional safety features.
Look out for heaters with automatic cut off switches, triggered if the appliance is tipped over, the elements are blocked or it overheats.
Some electric heaters have cool touch exteriors which is really helpful in a small space like your van where a blanket or other materials could easily come into contact with its hot surface.
Keep your heater away from any water sources.
Don't run it in the bathroom and keep it away from sinks and taps where it could easily get splashed.
We recommend you avoid leaving an electric heater switched on unattended and always unplug the appliance when you're not using it.
Maintenance
Maintenance of electric heaters is minimal really. All you need to do is keep it clean and dust free.
A build up of dust particles can lead to poor performance of the heater, unpleasant smells and at worst, cause a fire.
Something best avoided in a campervan!
Always follow the manufacturer's instructions for keeping an electric heater clean and in top condition.
Best Electric Heaters for Campervans
There's a lot of portable electric heaters available including ceramic, infrared, oil filled radiators and fan heaters.
RV Wood Stoves
Wood burning stoves offer a low carbon option to warming your campervan, motorhome or RV.
And because they're super cool looking, ideal for Insta-worthy photos, we'd be amiss not to mention them in a post about heating for campervans.
The idea is simple but we think the reality is probably somewhat more difficult, depending on where you travel.
Pros
Wood stoves generate dry heat so help stop condensation in your van
Cheap running costs – even free fuel if you can find dry wood on public land
No demand on campervan batteries
Quiet and romantic
Portable wood stoves are fantastic for heating & even cooking outdoors
Cons
Quite high upfront costs
Dangerous if not well maintained
Finding (free) dry wood isn't as easy as it sounds
Not great for stealth camping
Wood takes up a lot of storage space and burns fast
Camper van insurance may not cover damage caused by a wood stove
Some campsites don't allow the use of RV wood stoves
Maintenance is messy
Installation tips
A safe installation of a wood stove is of course critical and following the manufacturer's instructions is important.
There's a few key points to remember for all wood stoves though:
Secure the stove well so it will not and cannot move while you're driving
Protect the area around it with heat shielding materials so you don't burns your walls and floor
Make space for a safe zone around the stove so stray embers don't result in a fire
A cap for the chimney should be used so the air intake is closed off when you drive. This will prevent air gusting down the chimney, blowing ash all around the stove
If in any doubt, have your RV wood stove professionally installed.
Safety tips
Wood stoves come with some inherent risks, more so when installed in a moving vehicle.
A few safety tips to bear in mind include:
Always keep a fire extinguisher close at hand
Install a carbon monoxide detector and maintain its batteries
Stay on top of the maintenance schedule, especially keeping the flue clear of obstructions
Maintenance
Maintenance of a wood stove is fairly simply but essential to maintain an effective heat source and for safety.
The burnt ash needs to be cleared out of the bottom of the stove regularly.
This can be a messy job especially if you have your doors or windows open and the wind picks up!
Check it's anchor points often so you don't risk it coming loose as you drive.
The chimney needs to be kept clear of all obstructions. Burning wood creates soot which will line and choke up the chimney if left.
In turn this can become a fire hazard and stop poisonous gases being released.
A simple chimney sweeping kit will help maintain the wood stove in good and safe working order.
Popular RV Wood Stoves
Here's a couple of the most popular RV wood stoves:
Kimberly Wood Stove from Unforgettable Fire | A whopping $4000 price tag gets you a professional installed near smokeless, double combustion wood burner.
Cubic Mini Cub Wood Stove | A classic design in a small package, this cute wood stove is ideal for small RVs and with a more affordable price tag too.
Now while we accept they are super romantic, cosy looking and in the right places you can get free fuel, we would never in a million years install a wood stove inside our van.
We just don't feel they offer a safe and permanent enough heating solution for our van lifestyle.
Nor could we cope with the anxiety it'd would inevitably result in for us.
We would however invest in portable wood stove for use outdoors. They fold away into relatively small space and are fantastic for camping weekends away.
With care and following the manufacturer's instruction, they can even be used in tents.
Graham Bogie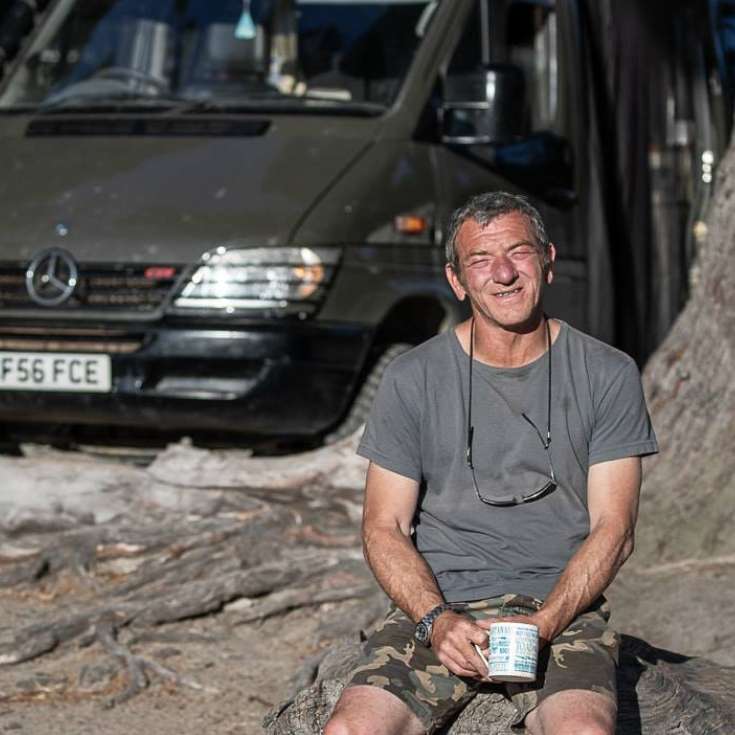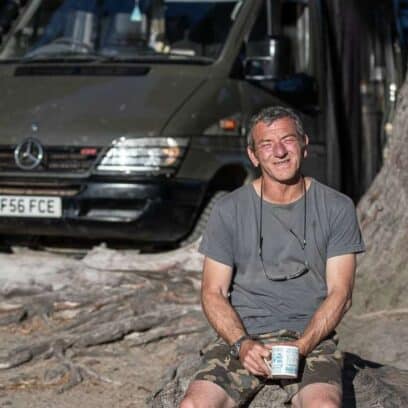 Graham is a seasoned marine electrical engineer with two decades of experience designing customized electrical systems for plant machinery and converting campers and overland vehicles. His expertise has led him to author the reputable Campervan Electrics Handbook and become the chief designer of the RV Wiring Design Tool. As a knowledgeable figure in the field, his YouTube channel, blog, Facebook group, and newsletter, offering electrical advice and product reviews, reach more than a million users each year.