So you want to build a camper van? Great idea!
Whether you're preparing to live in a van full time, planning a short getaway, a long road trip, or have exciting overland travel plans, converting a van to a camper is a perfect way to go.
Undertaking a camper van conversion is a mammoth project. We know!
We spent 2500 hours converting our 4×4 Sprinter van, Baloo.
So we've created this post to help you get your own build underway.
Our Sprinter Van Conversion
We've built a few vehicles to live in over the years.
We started our overland adventures with short trips in Land Rovers and Land Cruisers with rooftop tents.
It was little more than car camping. We'd leave the office and high tail it to the Sahara Desert in Morocco or the mountains of northern Spain for 2 or 3 weeks, once or twice a year.
Car camping for short trips like these is perfect. We used our vehicle as our daily motor year-round, so we didn't need a special vehicle we'd rarely use.
We'd pack up a few car camping essentials and take off.
But our trips became longer. Climbing up ladders to bed got tedious, and cooking in the rain, miserable. In truth, we grew older and wiser!
We decided to escape the rat race and travel full-time. We looked for our new home on wheels. Graham looked to fulfill a life long dream of owning a massive 4×4 Unimog.
We bought our first campervan, Mowgli the Unimog. Mowgli was a used camper, pre-loved, and ready to roll.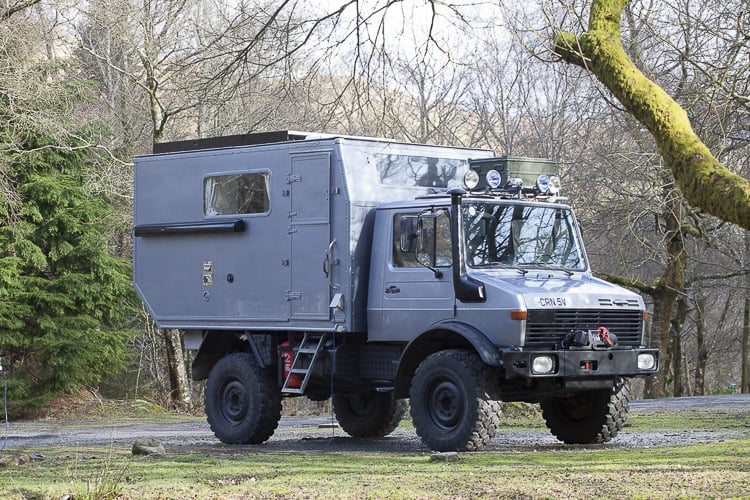 She was a big, old truck, perfect for our African adventure.
As much as we loved her, we needed a vehicle more manageable in size for our next big trip.
In readiness for our South American adventure, we bought a 4×4 Sprinter van, Baloo.
A 16 seat ex-military minibus with low mileage, a perfect 4×4 spec, and mighty fine looks, she was prime for conversion.
2500 hours of work later, we completed the camper van conversion. Baloo has been our full-time home since 2018.
We know how much work is involved in converting a van to a camper.
We've had first-hand experience trying to find the perfect layout and calculating how much electricity we need and every other aspect of a DIY conversion.
Here's our guide to help you through the process of your DIY camper van conversion.
We're always happy to answer your questions about our build or give you advice on your own. Just contact us by email.
How to Convert a Van into a Camper
People all over the world are coming down with a severe case of wanderlust. #VanLife has become a global movement.
There's no end of images on Instagram of people living in vans with varied conversion standards.
Maybe you want to live in a van for purely financial reasons; van life costs can be far lower than living in a house or apartment.
Or you want the freedom of the open road and spend more time in nature.
Whatever your reasons, one thing you shouldn't underestimate is the time, skills, effort, and costs involved in converting a van.
There are three ways to convert a van into a camper.
Camper Van Conversion Companies
Camper van conversion companies might be the best way to get your build done if you don't have the time or skills needed for a DIY project.
There are lots of camper van conversion companies willing to custom-build your van.
The overall cost of the conversion will be higher than DIY projects, but it'll probably get finished far quicker.
If you can afford it, you can outsource the entire job to one of the many camper van conversion companies.
Just take a look at UroCamper and SportsMobile as examples.
Not only will these camper builders convert a van to your spec, they often have converted vans for sale, expedition ready. Perfect if you want to get on the road now.
To ensure your conversion is built in a way that supports the lifestyle you want, follow the rest of this guide to help you spec it out.
Telling the conversion company precisely what you want will help avoid any costly misunderstandings and disappointments.
Custom Van Conversion Kits
If you're converting a popular van model into a camper, you can buy modular conversion kits off the shelf.
Rather than design and build your furniture, simply order a conversion kit. It'll arrive flat packed ready for you to install.
They tend to be modular in design, so you can buy just a kitchen pod component, a camper bed, or the entire fit-out. Because kits are designed for a specific make and model, installation is straightforward.
For some ideas of what's available, take a look at Wayfarer Vans (big on RAM Promaster fit-outs) and Convert Your Van. They provide both flat packs and custom-built furniture.
Make sure you do your research. Get independent reviews from existing customers.
We've written a guide to the most popular camper conversion kits and included pre-configured kits for utilities too.
Ask about the ease of installation and, most importantly, if they've stood the test of time. Some materials just aren't up to life in a moving vehicle.
DIY Camper Van Conversion
If you have the skills and time, converting a van into a camper yourself will undoubtedly save you money.
And when it's finished, you'll know your converted camper van inside out – critical for the times on the road when things go wrong.
We built Baloo ourselves. We outsourced a few jobs like the respray, installing extra security locks, and upholstery. Otherwise, she's a complete DIY job.
Months spent researching what van we'd need, campervan ideas and layouts on Pinterest, how to keep warm & cool, kitchen designs and finishes. The list goes on and on.
Those with a small budget or who just want a taste of van life can build a DIY conversion on a shoestring. Or you can splash out on high-end campervan accessories and fit-out.
Before deciding to take on a DIY camper van conversion project, go through the whole planning exercise first.
Do you have the skills to do all the jobs or have friends that can help out?
Can you find tradespeople for specialist jobs if you don't have the skills?
Can you find suppliers for all the components you need?
We certainly don't want to put you off – we think a DIY camper van conversion is one of the most rewarding things you can do.
Who wouldn't be proud of building their own home? Especially when you've lived in it for a while, and it all just works for your lifestyle.
But it's a lot of work, and at times, it won't always go to plan. So be prepared.
The Best Van to Live In
Perhaps the most significant decision you'll make when undertaking your build project is choosing the best van for a camper conversion.
Once you've bought the van and made it your home, there's no going back. Well, not unless you sell it and start over.
There's no definitive answer. It depends on you and what you're looking for, not just from the van but from your van life.
Consider how many people will live in the van and how much space you need. A small VW camper may be ideal for 1 person but might not be so comfortable for a family of 4.
Where will you travel and what weather do you expect? The same small VW Kombi might look ultra-trendy, but will you be happy cooped up inside when it hasn't stopped raining for 6 days straight?
Will you get spare parts for the van wherever you plan to travel? Some vehicles are unheard of in some parts of the world, so getting parts or a mechanic to help fix them could be challenging.
How handy are you with a spanner? If you have no mechanical know-how, an older classic van may not be the best choice for you.
Do you plan on spending much time stealth camping? Anything that looks like a campervan will ruin those chances straight off.
Do you want to stand up straight in your camper? You'll need a high roof version of something like a Mercedes Sprinter, Promaster, or even a Ford Transit.
These are just a few of the things you need to consider. Take your time looking at the options and deciding on the best van to live in for you and your family.
A Guide to Buying a Van
Once you've decided on the type of van you want to live in, it's time to get into buying mode.
While this is exciting, it's no time to let your heart rule your head.
Whatever you do, avoid falling in love with a van before you've seen it and had a fault-finding test drive. Even then, you still don't know what you're potentially buying.
Our detailed post goes through everything you need to inspect when buying a campervan, even if it's not yet converted. We set out the key points here to summarise.
You'll want to check as much as you reasonably can that you're not buying a rust bucket with a dodgy engine.
Before you get into the vehicle, check all around and underneath for any leaks.
Check all the fluids – engine oil, coolant, and brake fluid. If these are too low, it could indicate a mechanical issue or the vehicle hasn't been well maintained.
Look at the vehicle from every conceivable angle. You're looking for signs of skewing – a sure sign of a previous shunt.
Check the tyres. If the van needs new tyres, this could help you with any negotiating on price.
Check the van starts on the key's first turn, and there are no rattles or knocking. Let it idle for a while and see if any dash warning lights appear.
Then take it for an extended test drive. Get it up to to the top (legal) speed, drive in slow-moving traffic, try a hill start or 2, pull away hard.
If you feel suspicious of anything, get the van checked by a mechanic before committing to buying it. Or walk away.
A Guide to Buying a Used Camper
Have you decided to buy a pre-loved camper rather than invest the time and money in a camper van conversion?
You'll be on the road in no time, but again, don't fall in love with a photo.
Once you've given the camper the mechanical once over as described above, check the living quarters thoroughly.
A used camper won't be completely perfect but check everything is functional, trying to avoid significant issues that'll come as an expensive surprise halfway down the road.
Check for any signs of leaks. The roof is always the best place to start. Any discolouration, mould, or signs of a collapsing ceiling is a good enough reason to look for another van.
If there's a smell of damp in the air, the camper probably leaks somewhere. Walk away from it.
Check the areas around the kitchen and bathroom for signs of water damage. You can easily fix small plumbing issues, but you may not see how much damage has already been caused.
Pour water down the sink and shower and make sure it feeds through to the grey water tank without leaking.
Check every appliance in the camper is working. Be thorough. Turn the fridge on and leave it on until it feels cold.
Use the cooker. If there's no fuel, ask the seller to arrange a top-up so you can check the appliance works correctly. You can offer to pay for it if you go on to buy it.
Check the electrics are working correctly and if necessary, bring an electrician along with you.
Pull out all the storage and check for any signs of damage.
If the bed and table need to be assembled, put them up and back down again.
The seller may point out one or two problems with it, and you should consider the cost and ease of repairs before agreeing on a final price.
If you have any doubts about the van, trust your instincts to avoid buying a financial sinkhole.
Van Conversion Costs
The bit that makes us all shudder. How much does a camper van conversion cost?
It varies with the van's initial cost, the materials used in the build, the components installed, and the labour costs.
You could spend as little or as much as you want.
We'll help answer the question by sharing a detailed breakdown of our costs with you.
We'll show the cost of each aspect of the build so you can mix 'n' match and adjust based on your own needs to calculate a rough budget for your build.
Camper Van Conversion Plan
Regardless of whether you plan to use a conversion company or build the camper yourself, there's a lot to consider before you get the work started.
Planning the Conversion
We both have a background in project management, so we used these skills to plan our build.
While we didn't go overboard, it did help us set a realistic budget and timescale and track our progress against it.
We didn't have an endless pot of cash for the build. Without a tight rein on the number, we could easily have overspent.
We also had a fixed deadline. We'd booked and paid for the van and ourselves to be shipped from Europe to South America, and that cargo ship wasn't going to wait for us to finish our conversion.
Because we spent so much time planning the conversion, we knew what we were doing when we were ready to begin.
Sure, we encountered things through the conversion we needed to adapt to, but the overall plan remained intact.
It certainly made for a less stressful build, and we finished on time (by the skin of our teeth). We only went over budget because we opted for a leather finish for our seats and sofa.
Conversion Insurance
When you buy your base vehicle in the UK, make sure you check the body type on the V5C.
Unless it's already a camper, it's probably registered as a van, minibus, or light goods vehicle. You must notify the DVLA of the change of body type to a motorhome.
The DVLA camper van conversion rules are clear for the interior but vague on the exterior appearance.
Expect to provide photographic evidence of the conversion.
When you insure the van, you may want to get a policy that covers the conversion.
The money you spend on the camper will add value (you hope) to the base vehicle. As such, you'll want a policy that considers this on the value covered.
Most conversion insurance products are specialist policies.
They insist the DVLA register the body type as motorhome within a specified period. Ours was 3 months, so we needed to crack on. We didn't need to complete the conversion, only meet the DVLA's minimum standards for the body type change.
As a result, we did some jobs sooner than we would otherwise to ensure our insurance policy remained valid.
Vehicle Modifications
If you plan to use your camper as an overland vehicle, you may want to consider a few modifications.
Will you need upgraded suspension or new tyres? Do you need a snorkel or roof rack? What about a winch?
Overland vehicle modifications are an expensive business. The shows are full of aftermarket off-road product stalls, all selling fancy gear and convincing you they're essential.
But do you know where to start? Understanding what gear is essential, how to use it, and a few fundamental principles will help you design and build the perfect overland rig for you.
Before making any modifications to your van, read our post on overland build setups so you can avoid unnecessary and costly mistakes.
Campervan Insulation and Ventilation
How you insulate and ventilate your camper is perhaps the most crucial decision in the entire build.
Once the build is complete, it's difficult, if not impossible, to alter without significant and messy rework.
So getting it right at the design stage is crucial.
Campervan Ventilation
Condensation leads to rust, and rust leads to a shorter lifespan of your conversion.
Proper campervan ventilation will help prevent condensation.
Cooking and breathing both create water vapour. The vapour needs to escape to prevent it from condensing inside, and ventilation is the best way to mitigate it.
Ventilating the van during the day when you're with it is easy – just leave the doors and windows open.
But if you're away from the van or at night when you need security, this isn't an option.
Keep the air flowing with well-positioned air vents and roof extractor fans.
We have a roof vent installed during the build that compliments a factory-fitted vent above the kitchen.
We've also installed wind deflectors to our front windows so we can leave them open a little at night without breaching our security.
Campervan Insulation
When you buy an empty van to convert, it'll probably have little or no insulation.
It may have started life as a courier van, so it never needed to be warm and cosy because it was never intended as a home.
How do we turn a metal shell into a home to keep us warm in the cold and cool in the heat?
With decent insulation and proper ventilation, we can create an environment anyone would be proud to call home.
There are many schools of thought about campervan insulation, what's best and what's not.
In our Sprinter van conversion, we kept our windows all round. They're not great for insulation, so have thermal curtains, which do the trick.
The roof and walls have 40mm thick foam board, and we filled the gaps with recycled plastic bottle loft insulation.
We installed 10mm hardboard and Karndean floor tiles on top of the factory fitted 1" laminated wood floor and a heavy-duty linoleum top layer.
We wish we'd added a bit more as we need to put our socks on during the Patagonian winter months!
Heating your Van
The comfort and enjoyment of living in a van depend on reasonable climate control.
With the right setup, you can comfortably spend winter and the height of summer in a van.
How you heat your campervan depends on your needs.
A few woolly blankets and a hot water bottle could be the only thing you need if you don't expect to experience winter in the camper.
Suppose you only spend cold nights parked in campsites or somewhere with an electric hookup. In that case, electric heaters are a simple heating solution.
They're a big draw on the electric so unsuitable for running off the campervan batteries, and you'll need a place to store them.
Wood burning stoves seem popular on Instagram, and they look lovely and cosy. Of course, there's plenty to consider about keeping safe and having a constant supply of wood fuel too.
Propane and diesel heaters are popular heating solutions for campervans and an obvious choice if you use the same fuel for cooking.
Keeping your Campervan Cool in Summer
Keeping cool in a van in the summer can be more complicated than keeping warm in winter.
If you expect to hookup to a mains electricity supply, air conditioning will keep the campervan interior comfortable.
Campervan windows help raise the inside temperature, so using a tint and reflective covers or blinds will help keep the heat out.
Parking in the shade will be a big help, although you may need to balance this to keep your campervan solar system energy flowing.
If you know you'll spend more time in hot climates when buying the van, consider a light colour. White vans are much cooler than black ones in summer because the light is reflected off the surface.
Excellent ventilation will help too. Roof vents, fans, and secure opening windows can all help, especially at night when you can't leave the doors open.
Campervan Layout
Your campervan layout is mega important. You'll probably only convert this van once, so how you layout your interior needs to work for your lifestyle.
Consider all aspects of living in a van.
How many people will live in the camper?
Do you want a fixed bed or more daytime space?
Will you mainly cook inside or out?
Do you need a fridge?
How much storage space do you need?
Will there be a toilet and shower in the van?
Where will you store dirty laundry and rubbish bins?
Get as much inspiration as you can from Instagram and Pinterest.
When you think you have a setup you like, measure it out and mark it all up with coloured masking tape. You may be surprised at how little or much space you have.
We spent weeks planning our layout. We'd sit in the van on camp chairs where the sofa would be and move around the imaginary kitchen. Then we'd scrape all the tape up and start again.
In the end, our layout revolved around one criterion. We wanted to walk from the front seats to the back of the van unhindered.
It was the one thing we didn't want to compromise on, and so everything else was designed around that one concept.
When we'd half-finished the conversion, we took it for a test run around Scotland's NC500 route.
It was far enough into the build to make the van liveable but not so far complete we couldn't change some things if they didn't work well.
Van Life Storage Ideas
You may think storage should be your primary concern for designing your build, but we thought otherwise.
When we bought our massive Unimog camper, there was so much storage we didn't use half of it. We had massive cupboards empty.
We also had a cupboard full of stuff we never used. One thing is true: the more storage you have, the more you'll pack.
So when it came to assessing our storage needs for our conversion, we took the minimalist approach.
We don't have mountain bikes, surfboards, and kayaks to worry about, so we don't need a large garage – or under bed storage area.
We also didn't want our home to feel pokey and cluttered. So we decided against overhead cupboards, favouring the feeling of space instead of extra (unnecessary) storage.
We have sufficient space for everything we need and a tiny bit more too. With creative storage ideas and sure-fire organisation, 2 of us live comfortably with the space we have and don't carry any unnecessary clutter.
Campervan Bed Design
A fixed bed is fabulous, especially when there are 2 of you living in the van.
You can go to bed at different times, and if one of you is sick, the living conditions aren't affected. The space underneath the bed makes ideal storage for bikes, kitesurfing gear, or surfboards.
But if like us you don't need a garage, a fixed bed isn't essential.
Vans are inherently small. A fixed full-sized bed gets used most when you're asleep.
So for more than 60% of your life, it's just taking up space.
Fortunately, there are many innovative campervan bed designs, so you don't need to use so much space.
Hammocks, drop-down tables, folding, and sofa beds are all designed to save space.
We made a slider bed in our van conversion. We had a 2 metre long day sofa that converts to a full-sized double bed in about 90 seconds.
Campervan Electrics
The design decisions will affect your van life. Hence, it's vital to get the campervan electrical system right at this stage.
Even if someone else is converting it, understanding the basics of campervan electrics will help you spec it out well.
Calculate how much electricity you need. List all the devices you'll use, how many hours per day on average they'll be plugged in, and how many amps per hour each device draws.
It's surprising how much energy we need just to charge a smartphone, never mind an electric kettle!
It will help you decide how much battery capacity you need. You need to decide where you'll store the battery bank too.
Then you need to decide how you'll charge the batteries. You can use the engine to charge the batteries with an alternator, solar energy, or electric hookup on campsites.
Most campervans with an electrical setup use a combination of all 3 of these methods.
Our electrical design includes 230 amp hours of battery charged from the engine, 320w of solar panels, 400 metres of wiring, and occasional electric hookup on campsites.
We changed our camper solar panels on the road after making a bad call with the initial panels we fitted. Now have no problems living off-grid with minimal driving and 5 or 6 hours of sunlight.
Everything you need to know about campervan electrics. Now available in ebook and paperback!
Learn how to design, size, install and troubleshoot your camper's electrical system.
Sinks & Showers
Most of us don't worry about water at home. We get a mains supply with enough pressure to supply drinking water straight from a tap. It's all different in a camper van.
We need to store and carry a fresh water supply, pump it to the taps and make sure we can refill when we're running low. Consider fitting a water filter, so drinking water is always clean.
We want to heat a little for an occasional camper shower and need to dispose of dirty water.
Or give the whole thing a miss and just carry bottles of water.
It's crucial to decide how you'll provide for your water needs in your campervan early in the design stage.
A simple solution is to use a couple of portable jerry cans under a sink – 1 for freshwater, the other for greywater.
Or you could have a complete setup with a sink, shower with hot and cold water.
The campervan water system design will affect the cost of the overall build costs, and you'll need to decide where to store your water tanks and how you'll refill them.
We cut a hole in the sidewall to fill our water tanks from, and because we'd designed it all before we started the work, we did the cutting before we had the van resprayed.
Designing your Kitchen
A campervan kitchen gives you the freedom to live off-grid, cook when and where you like.
Whether you have a small VW combi or a large Sprinter van, you can design a well-equipped campervan kitchen so you can give portable camp cooking a miss.
Imagine being able to wake up in the morning and make freshly brewed coffee without stepping out of the van or cooking a gourmet meal on a beach without a speck of sand hitting your plate!
Adopting healthy living and cooking with local ingredients bought from roadside stalls is one of the joys of our life in the van.
The main components of any kitchen are the cooker, fridge, sink, and bench space.
Campervan cookers range from simple portable benchtop cookers to integrated gas stoves and ovens, and much more besides.
Fridges tend to be a fairly significant investment and take up quite a bit of space. But even these are nice-to-haves. If you buy wisely, a simple cooler could suit you fine.
Bench space is something to design into your camper's kitchen. Think about where you'll chop vegetables, where you'll plate up, and where you'll put your washing up when it's wet.
Toilet Options
Do you want a toilet in your campervan? Many van dwellers manage well without an onboard toilet, while others wouldn't dream of van life without one.
But there are other campervan toilet options besides none and a fully fitted bathroom.
Simple solutions include a "pee pot" for night time visits to foldaway bucket toilets for emergencies.
Portable camping toilets are popular with the campervan community too. They are small enough to fit in a cubicle for privacy or in a store cupboard.
We have a composting toilet fitted and, funny thing to say about a toilet but, we love it.
We've written a post on other campervan toilet options available.
Many people have a toilet in their campervan but never use it. Others swear by it, ourselves included.
It's worth considering which way you'll go before finalising your campervan design, so you don't end up with a waste of space or, worse, regrets about your build.
Building your Camper
If you're still following along by now, you'll have bought your van, insured it, and have a detailed plan and design for every aspect of your build.
Finally, you're ready to hand it over to the conversion company or start building your van yourself.
You May Also Be Interested In:
Graham Bogie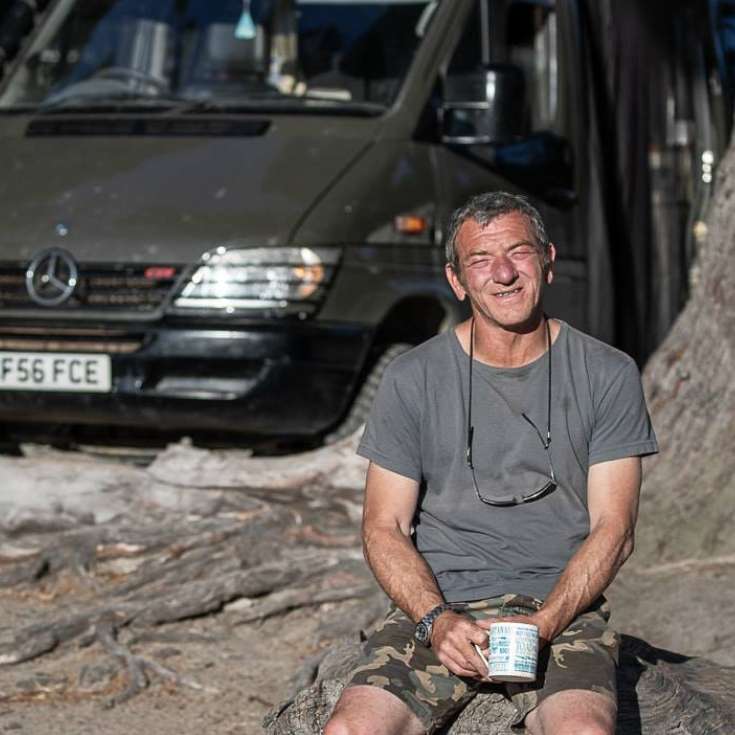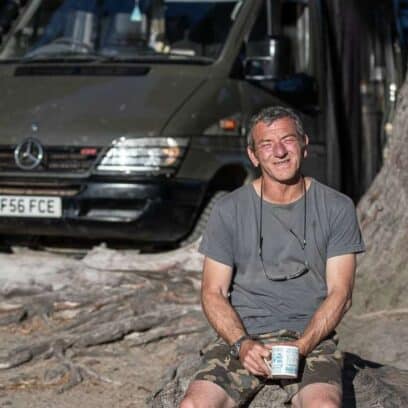 Graham is a seasoned marine electrical engineer with two decades of experience designing customized electrical systems for plant machinery and converting campers and overland vehicles. His expertise has led him to author the reputable Campervan Electrics Handbook and become the chief designer of the RV Wiring Design Tool. As a knowledgeable figure in the field, his YouTube channel, blog, Facebook group, and newsletter, offering electrical advice and product reviews, reach more than a million users each year.