One of the most beautiful and rustic spots in all of England, Dovedale Walk offers the perfect way to get out of an urban setting and back into nature. Known primarily for its iconic stepping stones that traverse the River Dove, this Peak District walk offers gorgeous views and a challenging hike that you'll never forget.
Getting in and out of the walk is a breeze, as there's a car park near the hike's entrance and several more nearby. Once inside, you'll encounter a variety of delicious dining spots, and there are several high-quality hotels and other accommodations nearby.
You'll see all sorts of people at Dovedale Walk, including lovestruck couples walking hand-in-hand, families chasing each other about playfully (we hope), and people being dragged behind their dogs. This park truly has something for everyone.
Besides the stepping stones, Thorpe Cloud is another prominent feature of the park.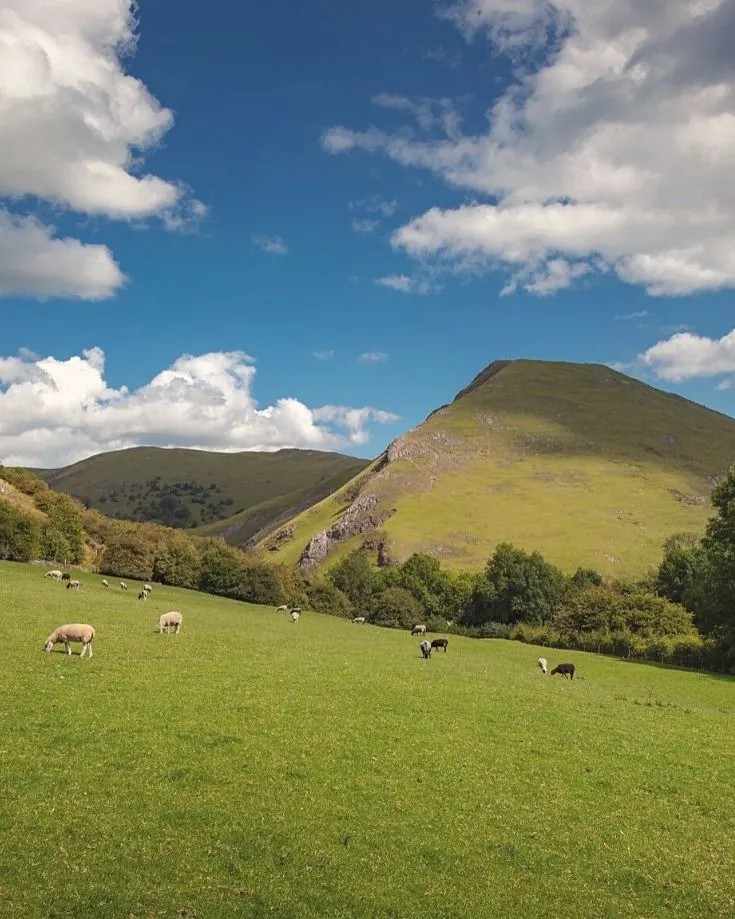 The hike can be a bit challenging at times, as it's steep and slippery at several points. However, you don't need to be a triathlete or experienced hiker to enjoy it — just watch your step, and you should be fine. Still, it's not ideal for those in wheelchairs, infants in prams, or anyone with limited mobility.
This limestone hill is a gorgeous green, and if you spend the 15 minutes required to climb it, you'll be rewarded with stunning views of the entire valley. On certain days of the year, when the weather cooperates, you can even see a double sunset from its peak.
Dovedale Walk may not enjoy the fame it deserves, but you can change all that by bragging about it to your friends and family — or you can just keep it to yourself (we understand).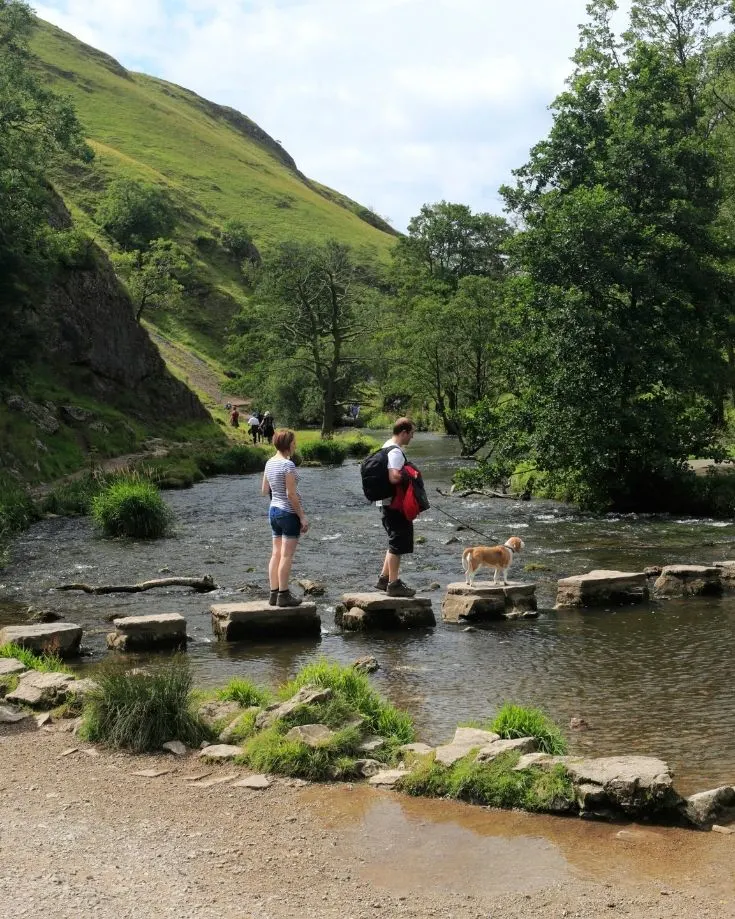 When you click on links to various merchants on this site and make a purchase, this can result in this site earning a commission. As Amazon Associates, we earn from qualifying purchases. For more info, please check our disclosure page.
Dovedale Walk Stats
Distance: 7.2 miles/11.5 km
Type of trail: Circular
Parking options: The Dovedale and Ilam car parks are free for National Trust members. For everyone else, they're £3.50 for 4 hours or £5 for a full day (bring cash — cards aren't accepted). There's also free parking at Thorpe Station Car Park.
Walk points of interest: Dovedale Stepping Stones, Thorpe Cloud, Bailey Hill, paddling in the River Dove
How long does Dovedale Walk take? 1.5 – 2.5 hours
Accessibility: Not pram- or wheelchair-friendly. The paths can be pretty steep, and they may not be ideal for users with mobility issues.
Total ascent for Dovedale Walk: 600 ft./183 m
Are there public bathrooms? There are public bathrooms at the Dovedale Car Park and the stableyard at Ilam Park. The Old Dog pub at the start of the walk has restrooms available as well.
Best places to eat nearby: The Old Dog pub near Thorpe Cloud, Haddon Restaurant in the Izaak Walton Hotel
Best places to stay nearby: Izaak Walton Hotel (best romantic place to stay), Quarry Walk Park (best place to stay with kids)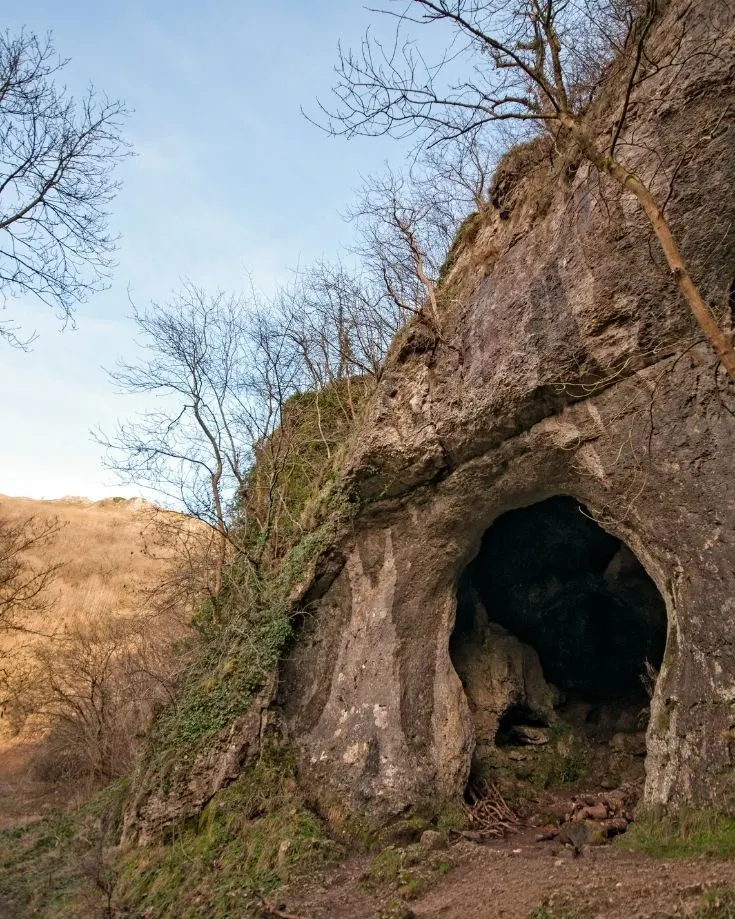 Dovedale Walk Route
As Dovedale Walk is a circular trail, there's only one route option. It can be pretty steep and challenging at times, so those in poor health should be cautioned against making the trek.
Here's what you can expect on the walk:
Start at the Dovedale Car Park. There's a small tarmac road to your right that you can follow until you reach the River Dove (it's easy to spot — it looks like a river).
Follow the river until you reach the famous Dovedale Stepping Stones. There's a wooden bridge and rocky path underneath Thorpe Cloud that you can also take, but only if the river is low.
Cross the Stepping Stones (carefully) and follow the path until you reach Milldale. There's plenty to see here along the path, and the terrain isn't too challenging, so take advantage of the opportunity to look around.
After about 3 miles (4.8 km), you'll see Viators Bridge near Milldale. You have the option of crossing the bridge to check out Milldale, or you can continue along the path. Warning — if you stay on the trail, this is where things begin to get challenging.
The path will begin to get steep and start to snake, and you'll soon reach a drystone wall. Keep the wall on your left and continue uphill toward the fence.
Upon reaching the fence, continue moving uphill with the fence at your right. You'll soon come across a set of steps allowing you to cross the fence.
After crossing the fence, keep walking until you reach the top of Bailey Hill. Take a moment here to enjoy the breathtaking views, then catch your breath again — you're going to need it.
Follow the ridge of the hill until you reach Brian's Gate. From here, you'll begin your descent. The terrain is steep, grassy, and incredibly slick when the weather is wet.
The uncertain footing won't last forever, as you'll eventually come to Nabs Dale, a rocky path that leads down through the woods. Follow it into Dove Holes (that just sounds wrong).
Upon passing Dove Holes, you'll see a path on your left that heads into Upper Taylor's Wood. You'll see bluebells blooming in the spring, but don't pay too much attention to them — there are steep drops on your right along this portion of the path.
After you traverse Sharplow Dale, you'll come to another wall; follow it for about half a mile (1 km). You'll see livestock all along this portion of the path.
You'll have to cross several more fences until you come to a sign directing you to Lover's Leap. Take a left, and you'll reach the River Dove, which you can follow back to the park entrance.
Facilities on Dovedale Walk
There are public toilets at the stableyard in Ilam Park; these are open from 10 am to 5 pm each day and are closed twice a day for cleaning. There are also toilets at Dovedale Car Park which require 20p to access, so have change on hand.
There are toilets at the Old Dog pub near the start of the hike too, and these are renowned for their cleanliness. No mention is made of whether a purchase is necessary to use them, but you should buy something regardless (the food is quite good).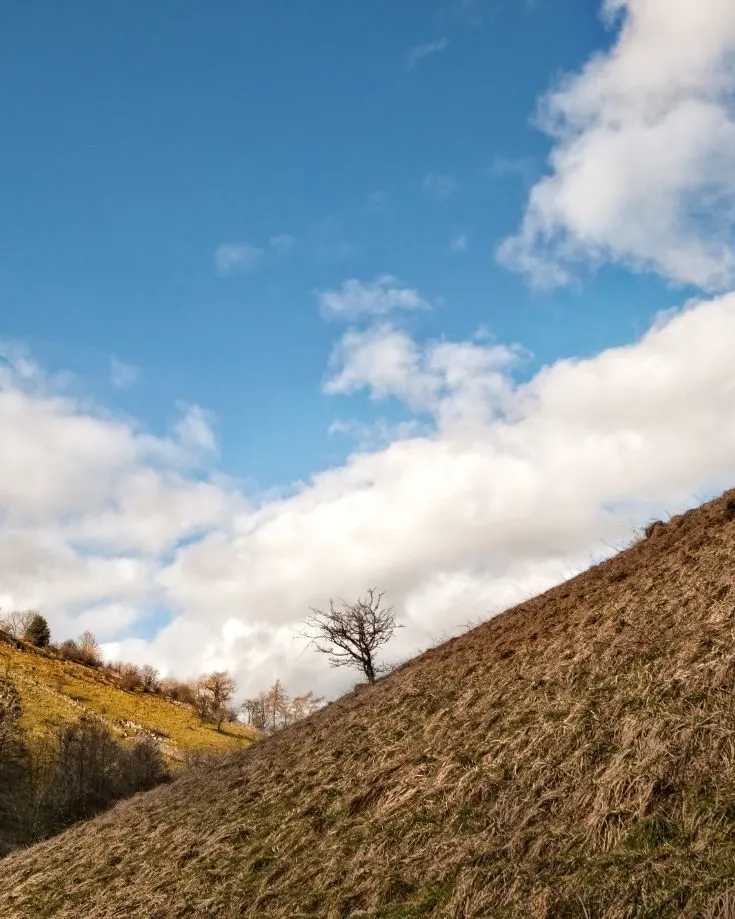 Best Places to Eat Near Dovedale Walk
There are several excellent dining options in and around Dovedale Walk. Our favourites include:
Situated near the start of the trail, the Old Dog pub offers a varied menu, including burgers, salads, and sandwiches. They have a wonderful dessert menu as well, with the hot brownie being a particular crowd-pleaser.
There's usually a warm fire going inside, so if the weather isn't cooperating, this is a great place to warm up. Be aware, though, that they're closed on Mondays and Tuesdays and only serve food from noon to 8.
Situated inside the Izaak Walton Hotel, Haddon Restaurant is something of a posh and pricey option — but if you can swing it, it's worth every penny. It offers incredible views of the entire valley, making it perfect for a romantic date (or if you just want to treat yourself for a change).
The menu changes regularly, but each meal emphasises locally sourced ingredients, so you can get a little taste of everything Dovedale has to offer. If you're used to a menu that's the length of a short novel, though, you may be disappointed, as they only have a few options at a time.
Another option inside the Izaak Walton Hotel, the Dovedale Bar, is the perfect date spot — if your date has four legs and lots of fur (no judgment here). This doggy-friendly bar has an astounding assortment of drink choices, including several local ales, and they also offer cream teas.
The food menu is about what you'd expect, with light lunches and snacks earlier in the day and a wider variety of offerings in the evening. All of the food is simple but quite good, and the menu changes regularly.
This restaurant offers traditional British cuisine in a cosy environment and even sports a beer garden in case you work up a powerful thirst on your hike. The food and drink are locally sourced as much as possible, and they have vegetarian, vegan, and gluten-free options as well.
The portions are generous, with the lamb casserole and seafood platter being especially popular. Their dessert menu is expansive as well — be sure to check out the Baileys creme brûlée.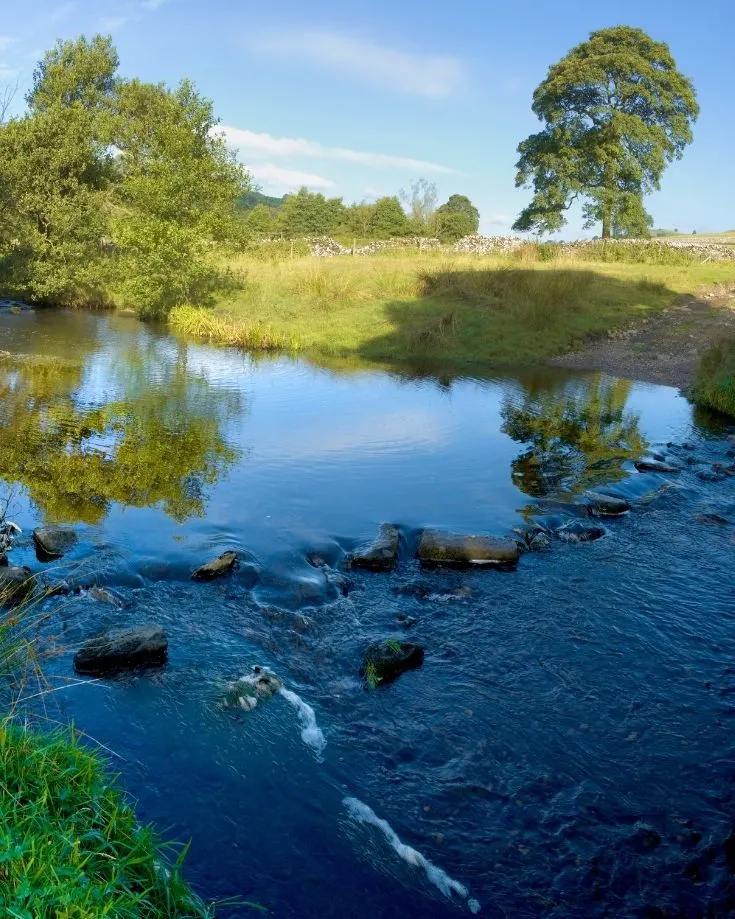 Best Places to Stay Near Dovedale Walk
If you're planning to stay overnight in the area, there are multiple charming hotels within a short drive of the walk, such as:
The closest option, the Izaak Walton Hotel, is less than a mile from the famous Stepping Stones. You can enjoy incredible views of Thorpe Cloud and the rest of the valley from here, and there are multiple dining options inside.
This 17th-century hotel is a notable part of the region's history, and you'll find a log fire and wood-beamed ceilings in the lounge. The rooms all have private bathrooms, TVs, and seating areas complete with coffee and tea service.
Just 10 miles (16 km) from Dovedale in nearby Cromford, Oakhill sits on 6 acres of grounds and gardens. Built in the 18th century but recently renovated, this 4-star, Georgian-style house offers all sorts of family-friendly accommodations, including family rooms.
The food is particularly noteworthy here, with a classic British menu and impressive wine list. The rooms all include free Wi-Fi, a flat-screen TV, and coffee and tea service. It also makes a great base to visit nearby Lumsdale Falls as well.
If you're looking for cosier accommodations, Hodgkinson's Hotel is a townhouse with 8 guest rooms and a restaurant that seats 18. This hotel certainly has its own character and charm, and you won't feel like just another name on the ledger — the owners go above and beyond to make you feel at home.
The restaurant offers excellent food and can work with all sorts of allergies and dietary restrictions. It's a short walk from here to Matlock Bath, so once you've traversed Dovedale Walk, you'll have plenty more to see and experience.
Located in nearby Rowsley, this romantic hotel is situated on 10 acres of carefully cultivated gardens, and each room is individually decorated, so there's no soulless, corporate feel here. You can spend all day wandering the lush and gorgeous grounds, or you can take a short walk to the various pubs in the area, most of which are excellent.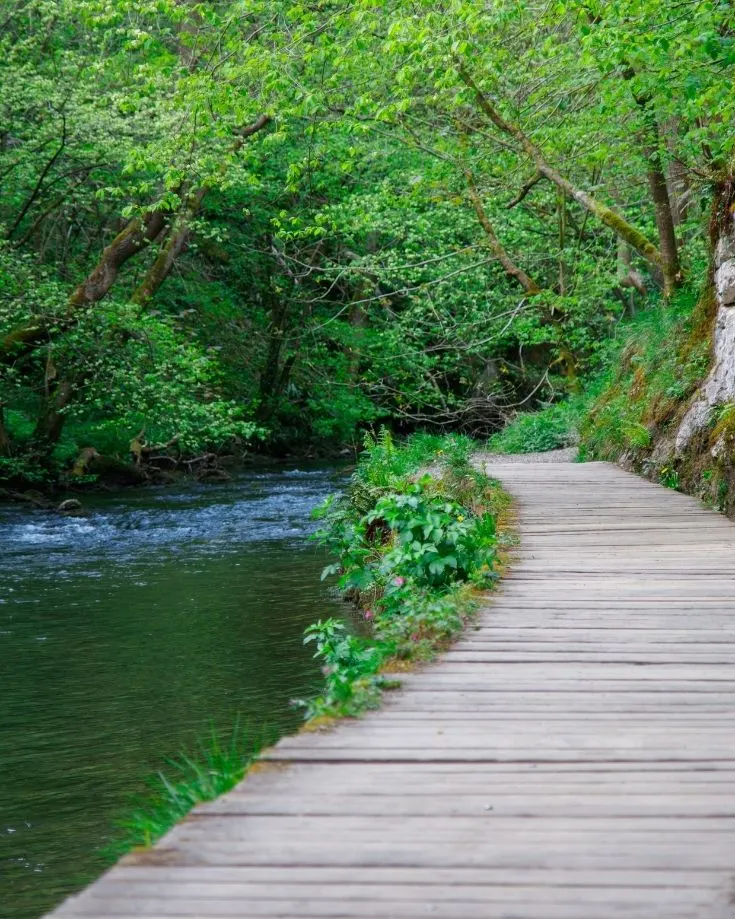 Dovedale Walk Route Map
A detailed map of Dovedale walk is available from Ordnance Survey. Unfortunately, we can't share the map here because the copyright belongs to the Crown, but you can see it in detail on their website.
For anyone planning on exploring many of the beautiful Peak District walks on offer (and there are lots to discover), we recommend you arm yourself with a paper map. Two ordnance survey maps cover the entire Peak District:
OL1 – Dark Peak Area – basically the northern side of the National Park
OL24 – White Peak Area – the southern end
OL24 covers the Dovedale Walk.
Compare the price of buying the maps at Amazon or direct from Ordnance Survey. You can expect to pay less than £10 for a standard map, but Amazon is often a little cheaper than buying directly from OS. Weatherproof maps are more hardwearing and won't disintegrate in the inevitable rain showers. They generally cost a couple of pounds more.
Compare prices here:
Ordnance Survey also has a highly rated app if you prefer a mobile app for mapping purposes. Keen walkers will get a good deal from their annual subscription. Monthly options are also available and more cost-effective for occasional jaunts.
A budget-friendly option is also available on the app's website where you can select a walking route and print the map to a printer or pdf for free, so you can keep it on your phone for reference.
Other Useful Info About Dovedale Walk
The River Dove offers amazing fishing opportunities, as it's home to species like trout, pike, grayling, and chub. You'll often see anglers trying their luck from its waters, but you can save yourself the trouble and just order fish from one of the local restaurants. Not everyone is welcome to fish here, though, as only a few have the proper approval.
Dogs are welcome in the park but need to be kept on leads at all times. They can easily knock people over on some of the steeper portions of the hike, and there's plenty of livestock in the area that would prefer not to be hassled by your pooch.
Besides the livestock, be on the lookout for the beautiful varieties of birds (including sparrowhawks and redstarts) that call the park home. Don't let your dog chase them, either.
The park can get quite crowded, especially on the weekends, but if you start your walk early or late in the day, you can avoid much of the hubbub.
How To Get To Dovedale Trailhead
By Car // The easiest way to get to Dovedale is by car. If you're a member of the National Trust and wish to use the free parking facilities at Ilam, use the postcode DE6 2AZ to navigate. The trailhead is a 2.5 mile walk from there.
Parking at Dovedale will save you the extra walk, and it is a pay and display car park for everyone. The postcode DE6 2AX will get you closest, but using the coordinates is more accurate:53°3'22.5"N 1°46'58.1"W.
If you're visiting the area without your own wheels, consider getting a rental car to get the most out of your visit to the Peak District.
By Public Transport // Getting to Dovedale on public transport isn't really a viable option. The nearest train station is miles away. Even the bus route between Leek and Ashbourne is a fair distance so you'd have a long walk before and after your walk. If you're relying on on public transport, try Lumsdale Falls walk closer to Matlock or Kinder Scout near Edale.
By cycle // The fabulous National Cycle Network, has well marked routes throughout the Peak District, making it an ideal environmentally friendly way of getting around. Unfortunately, cycling isn't allowed on the Dovedale route but you can try nearby Tissington Trail as an alternative. Check out the detailed National Cycle Network on OS maps.
More Peak District Walks