The best drive away awnings provide extra space when camping in a smaller campervan, motorhome, or car. This guide will help you find the perfect awning for your needs.
---
Drive away awnings are a handy way of expanding your space, especially when driving a smaller campervan or car camping. They give you more room to relax, but they don't need to be packed away whenever you want to go for a drive.
If you enjoy spending time at a campsite and getting out and exploring the local area, a drive away awning is a valuable addition to your kit.
We've picked out 8 of the best awnings you can buy and run through what you should be looking for and how to attach an awning to your campervan.
When you click on links to various merchants on this site and make a purchase, this can result in this site earning a commission. As Amazon Associates, we earn from qualifying purchases. For more info, please check our disclosure page.
At A Glance | Top 5 Best Drive Away Awnings
1. Olpro Cocoon Breeze Outdoor Inflatable Campervan Awning

Inflatable awning
2 year warranty

CHECK PRICE ►
2. OLPRO WRAP Campervan Awning

Sleeps up to 6 comfortably.
2 year warranty

CHECK PRICE ►
3. Outdoor Revolution Key West Drive Away Awning

Inflatable awning
12 month warranty

CHECK PRICE ►
4. California Coast Drive Away Awning

100% waterproof
Fast set up

CHECK PRICE ►
5. Outdoor Revolution Outhouse Handi Low Drive Away Awning

Budget-friendly
Lightweight

CHECK PRICE ►
Best Drive Away Awnings for Campervans & Motorhomes
Specification
Weight: 30 kg
Pack Size: 82cm x 43cm x 43cm
Footprint: 455cm x 350cm
Rail Connection Width: 215cm
Includes hand pump, sewn-in groundsheet
The OLPRO Cocoon Breeze is the perfect option for those looking for an easy to set up drive away awning with plenty of space for sleeping and living.
Thanks to the inflatable beams, it takes just 15 minutes to set up. In addition, the included bedroom inner tent, complete with a removable divider, zipped doors, and fly mesh provides ample space for up to 5 people to sleep comfortably.
Whether you're heading off on a family camping trip or a solo adventure, the OLPRO Cocoon Breeze is the perfect option for your needs.
What We Liked
With practice, you can set this up in 15 minutes. That's pretty darn fast for an awning this size.
The inner bedroom tent is a great addition, providing space for up to 5 people to sleep comfortably.
You can remove the inner tent so it can accommodate at least 10 people for comfortable shelter.
Multiple colour options are available too.
What We Didn't Like
The window cover ties are pretty high, so if you want to keep the windows open for ventilation, they can be a bit awkward if you're short.
Pros
Great value for money compared to expensive alternatives.
Includes removable inner tent for sleeping
Cons
Window ties are pretty high, so they are fiddly for shorter campers.
Specification
Weight: 40 kg
Pack Size: 82cm x 43cm x 43cm
Footprint: 560cm (at side) 320cm (at rear) x 320cm
Rail Connection Width: 215cm
Includes hand pump, sewn-in groundsheet
If you're looking for extra living space while travelling in your campervan, this drive away awning is a great option to consider.
The OLPRO Wrap Campervan Awning is vast! At 210cm tall, this awning provides ample headroom and is ideal for campervans and motorhomes.
The Wrap has an impressive 5 doors and 4 windows, so you're guaranteed flexible access and plenty of daylight.
In less than half an hour, you can set up this enormous shelter and be the envy of your fellow campers.
These awnings can be attached to the side of your van and provide you with a sheltered area to relax or sleep in. With so much space available, it's also perfect for storing your camping gear or anything else you might need while on the road.
And, with the included inner sleeping compartments, you can easily accommodate up to six people. So this awning will come in handy whether you're travelling with family or friends.
What We Like

d
The size. If you're planning a camping trip for the whole family and need plenty of space to accommodate them all, then this awning is unbeatable in price.
What We Didn't Like
The pack size and weight are pretty hefty.
Pros
Sleeps up to 6
Nothing compares to the size for the price.
Cons
Takes half an hour to put up – but you only have to do it once for your whole stay.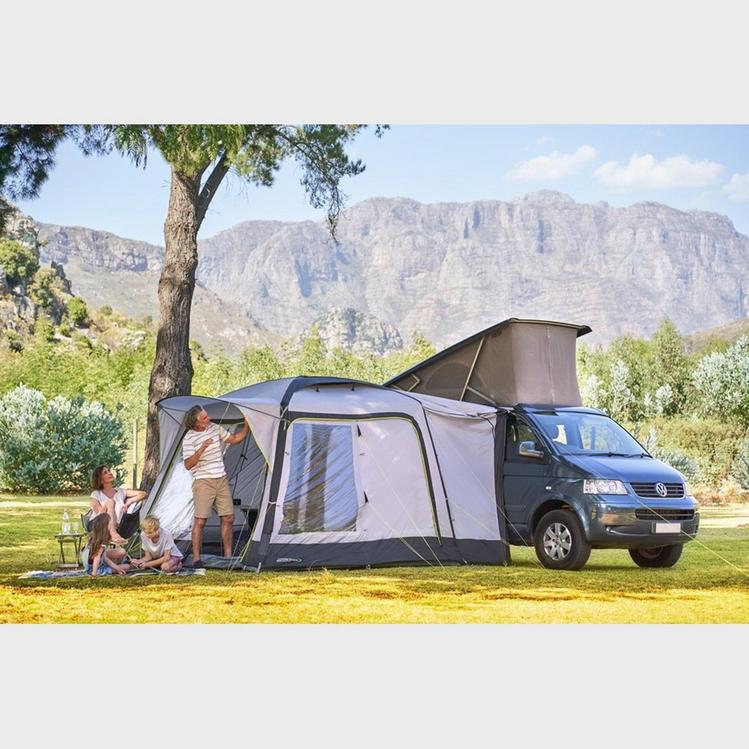 Specification
Weight: 15.95 kg
Pack Size: 82cm x 46cm x 35 cm
Footprint: 300cm x 300cm
Rail Connection Width: 250cm
Includes hand pump, steel ground pegs & repair kit
Outdoor Revolution is a brand that makes many awnings, camping furniture, and accessories. This inflatable Key West awning is a solid option that gives you two extra spaces to enjoy attached to your campervan.
It's designed for low campervans, with an adjustable height between 180cm and 240cm, with a zipped-off front porch and living area. It's also got attachment loops if you want to add a bedroom annex.
As a single-point inflatable awning, it's really easy to assemble, so you can inflate it in no time.
It's made of durable fabric and has waterproof seams. The frame is easy to set up, and the window panels are clear with curtains. There's also mesh ventilation to help airflow without letting bugs in.
In addition, it has a front eyebrow canopy that helps extend the porch a little further, giving you more room to unwind.
What We Like

d
Fully waterproof, so you can keep your living space dry. It also makes it suitable for sleeping in.
Easy to set up with a single-point inflation system.
What We Didn't Like
We've read that one customer reported a problem with the seams splitting. We're not sure if this is a one-off or a design problem, but we've not found similar reports.
Pros
Great quality at a reasonable price
Cons
Check the seams are all intact on arrival.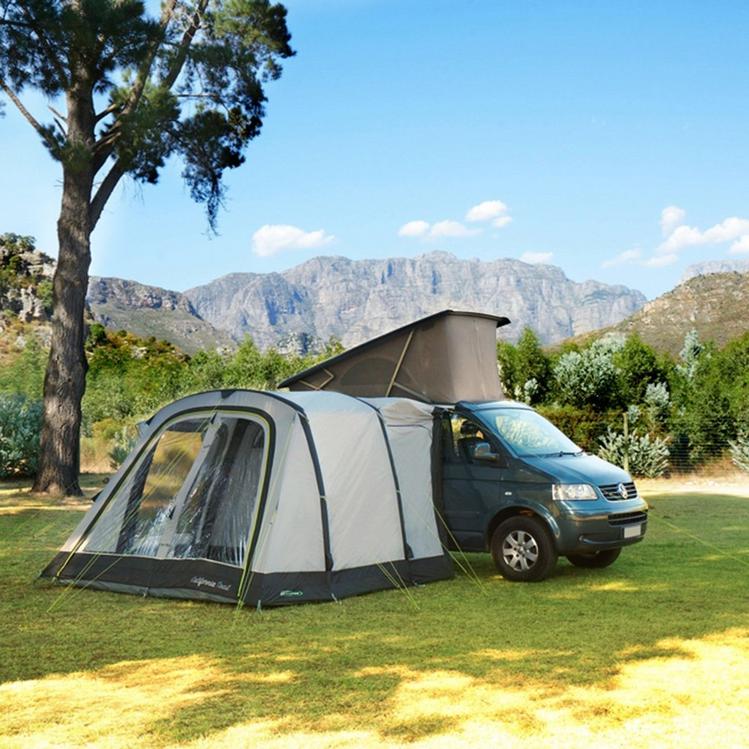 Specification
Weight: 17.42 kg
Pack Size: 80cm x 41cm x 36cm
Footprint: 310cm x 340cm
Rail Connection Width: 250cm
Includes peg set, carry bag & repair kit
The California Coast is similar to Outdoor Revolution's Key West awning, although it is marginally bigger.
It's an inflatable awning with two air beams and a single inflation point for ease. Plus, it's got an internal divider that lets you separate the porch and living space.
It also has a lot of features like ventilation and privacy curtains.
It has an attachment point for a two-berth tent, so you can extend your space even more. That's really helpful if you need more living or sleeping space. Plus you can invite a couple of friends to attach their tent and share your living area if you're on holiday together.
It's lightweight and durable, with large PVC windows that let in a lot of light.
It is waterproof, so you don't have to worry about getting wet, and it is made from strong and durable material.
You inflate the air beams from a single inflation point, so setting up and taking them down is easy. It comes with a carry bag for easy storage and transport and a repair kit should you snag the air beams.
Overall, it is a great product that will make your camping experience more enjoyable.
What We Like

d
Fully waterproof, so you can use this in most weather and use it as a sleeping pod if necessary.
Easy to set up and take down. The single inflation points mean no faffing about with pumping up each beam.
Outstanding features include clear windows, ventilation, and privacy curtains.
It can be attached to a 2-berth tent to create extra sleeping space.
What We Didn't Like
Some people have mentioned that the pump wasn't included, so check your packaging on arrival.
Pros
Super fast setup
Fully waterproof
Specification
Weight: 6.96 Kg
Pack Size: 73.2cm x 30.6cm x 20.3cm
Footprint: 200 x 200cm (+80cm cowl depth)
Rail Connection Width: 212cm
Includes peg set and carry bag
Don't be fooled by the 'XL' in the name of this awning. It's actually one of the smaller options on this list.
The Outhouse Handi XL Drive Away Awning does offer functional space, whether using it as an outhouse or as somewhere to cook or just unwind. It can be freestanding, too, if you choose to separate it from the campervan completely.
The rear cowl is adjustable between 180cm and 240cm, making it more suited to campervans than many motorhomes. However, the twin poles give extra height to the main area of the awning.
If you want it to be a relaxing space, you can prop open the front door with poles, creating a pleasant canopy to sit under.
This campervan awning is a small, lightweight utility tent that can be pitched using just 2 robust fibreglass poles. It is easy to erect and packs away compactly into its included storage bag.
The awning is waterproof but does not come with a groundsheet attached, so there may be some gaps.
It features clear window panels, mesh ventilation points on both sides, and a separate peg-down groundsheet. There are also zip-down storm covers and roof ventilation points.
Overall, it is a budget-friendly option that is great for small campervans and motorhomes.
What We Like

d
The awning is easy to put up and take down. It only takes a few minutes and can be easily packed into its included storage bag.
The price! The awning is also budget-friendly, making it an excellent entry-level option.
What We Didn't Like
The groundsheet is not attached to the awning, so there are gaps around the sides. This means it's not as effective in keeping out the weather, draughts, or insects.
In poor weather, this is probably not suitable to use as a sleeping pod.
Pros
Easy on the pocket
Lightweight solution
Cons
The separate groundsheet doesn't prevent draughts.
Last year we also reviewed another four drive away awnings, but they've become almost impossible to find in stock.
Rather than simply delete the reviews, we'll leave them here on the off chance you find them available.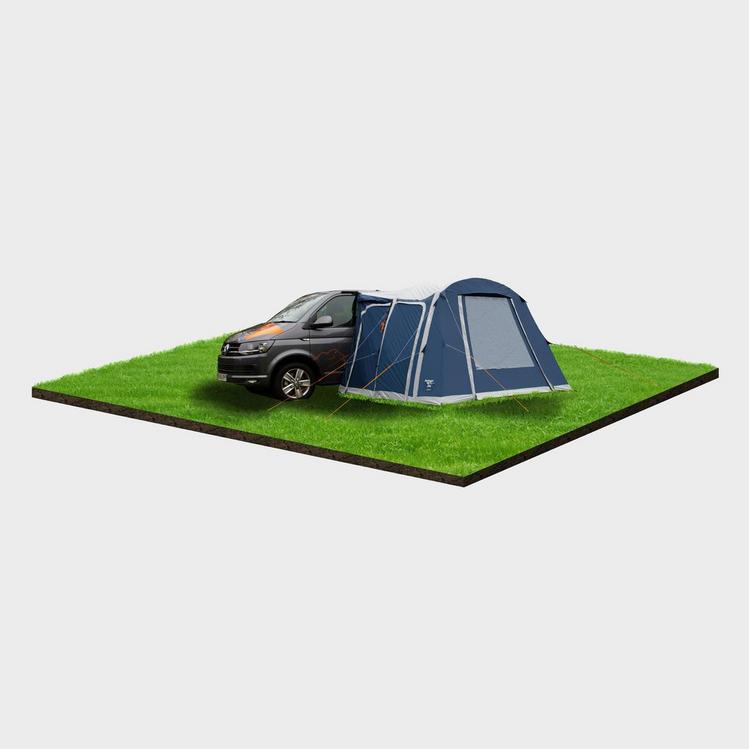 Vango's awning range is high quality, with the Kilda being one of their more popular inflatable low awnings for campervans.
It has a single inflatable air beam to provide structure, which does mean it relies on your campervan. It won't be freestanding when you've driven away, but it's easy to roll back, and, like all the awnings on this list, you can attach it in various ways.
Vango has designed the Kilda to withstand strong, changeable winds. The beam's angle and the Tension Band System keep the awning braced, so it doesn't rattle so much in adverse weather.
The Kilda has two side doors, allowing easy access to your campervan's front or rear door.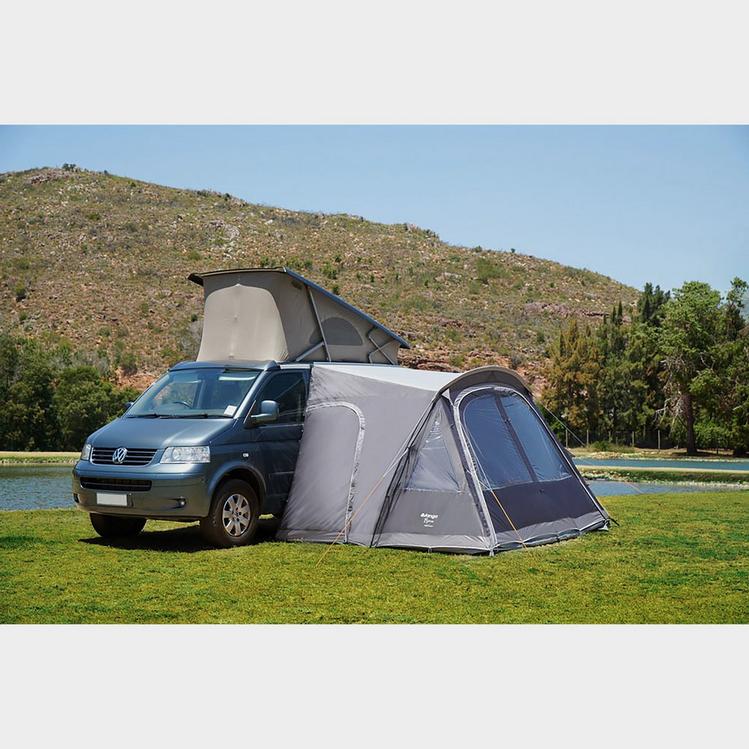 The Vango Byron Low is a compact awning in terms of pack size and when fully pitched. In addition, it's assembled with a single pole, so it is another that's relatively easy to set up, and it's really lightweight.
You won't enjoy a lot of extra living space in this awning, but it is a good option for storage space if you're biking or kayaking.
It relies on your campervan's support to stay upright, so you can't leave it freestanding to use when you've driven away, but it is easy to reattach once you're back on site.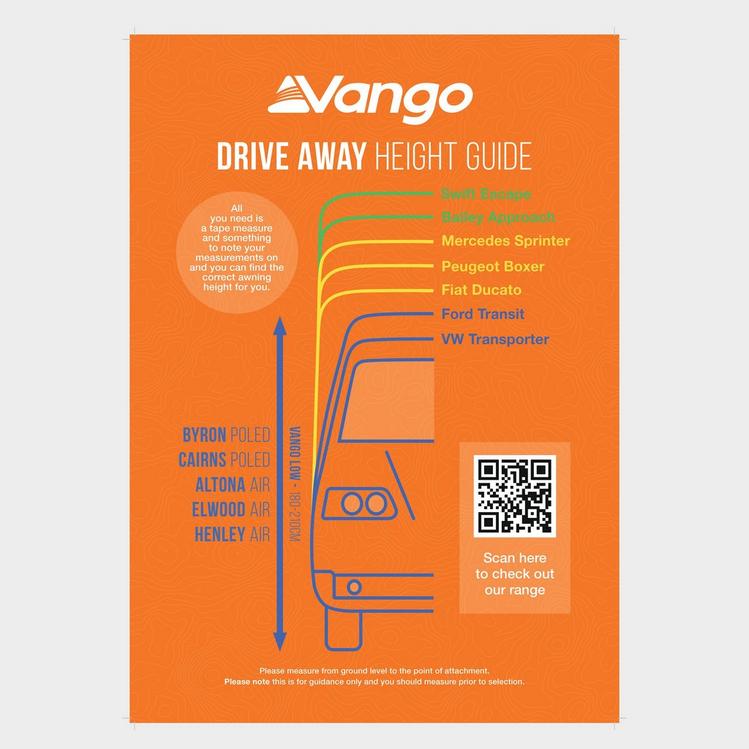 Vango's Cairns option is worth considering if you're looking for a good quality awning without spending a considerable amount. It shares many features with the Kilda, but it isn't inflatable. Instead, it uses a single 'PowerFlex' pole that's light and strong to create the arch that'll hold up the awning.
It's also similar to the Kilda and designed to be tough against high winds. In addition, its 'Sentinel Active' fabric is completely waterproof and durable.
Vango's awnings have these fancy-named technologies, but they're pretty good. Many customers on independent review sites speak highly of their quality.
The Kampa Motor Ace AIR 400 S is an inflatable awning with a one-point inflation system that's large but easy to set up.
It'll likely run almost the entire length of your motorhome, adding on a lot of extra space where you can relax, eat meals or invite family to sleep.
If you've got a motorhome and you want the benefits of an awning, this is a roomy choice, but you need to check your measurements. You'll need an awning rail that's at least 4 metres long, and it needs to be between 235cm and 250 cm from the ground.
What Is A Drive Away Awning?
A drive away awning is a sort of cross between a traditional awning and a tent. They're a tent space that attaches to the side of your campervan, with a doorway on one side that lets you step between them easily.
They're called drive away awnings because they're designed to stay standing while you go off exploring. You can detach them from your campervan quickly and easily, leaving them upright as you "drive away" on your road trips.
They're made from the same materials as a tent and set up exactly the same way – usually with poles and pegs. However, like tents, inflatable options that don't need poles are becoming more popular.
Essential features include large doors that let you walk in and out freely and privacy curtains so you can use your awning as an extra sleeping space.
When your campervan space is limited, or if you want a cooler night's sleep than your van offers, an awning could be a handy addition to your setup.
Benefits Of A Drive Away Awning For A Campervan
Extra space: A drive away awning is an excellent way of adding some extra space to your campervan, giving you more room to relax comfortably. And it's your space, so you can use it however you want. Compared to other awnings, the main benefit is how they combine the best features of a freestanding tent and a regular awning.
Move the inside out: the extra space means you can move some of your gear from the van into the awning, freeing up space inside. They make a perfect enclosure for an outdoor kitchen, so you don't have to fill your camper with cooking aromas.
Privacy: when you're parked up for the night, an awning can create privacy between you and other campers. Some people use their drive away awning for getting dressed or even a portable toilet or shower enclosure.
Protection from elements: a drive away awning provides extra shelter from the wind, rain, and sun. This is especially useful when you've got muddy boots and wet coats. Use the awning to change and hang your gear to help keep the inside of your van clean and help avoid condensation. On hot days, the shade from the awning can protect you and your belongings from the sun's heat.
Security: An awning can provide an extra layer of security for your van, deterring thieves or vandals.
Fast set up: In around 10 minutes (less for an inflatable campervan awning), you can add considerable square footage to your usable living space.
You can drive away without breaking camp: Within a couple of minutes, you can drive away from these awnings without needing to break camp. It's a game-changer for stays of any more than a night.
The Downsides Of Drive Away Awnings
Cost: They're just not cheap. A good quality drive away air awning will set you back between £400 and £1100. A poled awning tends to be more budget-friendly than the inflatable type, but they're far easier to set up.
Storage space required: while most drive away awnings pack away to relatively compact size, they still need to be stored when travelling. Plus, they can be pretty hefty – some are over 30kg.
Need to be dry for long-term storage: packing an awning wet is as bad as packing a wet tent. Unless it's dried thoroughly, it will stink and ultimately shorten its lifespan. If you have to pack away a wet awning, make sure to unpack it again to get it dry as soon as possible.
Large drive away awnings might exceed the size of some pitches: some campgrounds have designated pitches. If the combined size of your camper, awning, and connecting tunnel exceed the pitch, you won't be able to use it – or will need to pay for a larger pitch. This is really only relevant to a large drive away awning.
Some campsites charge extra for an awning: as annoying as it is, some campsites actually charge extra for using an awning. Check with the campsite before you arrive to avoid surprise fees.
Drive Away Awning Buying Guide
Like virtually everything related to camping, campervans, and motorhomes, drive away awnings aren't all made equal. It's more involved than choosing a great colour to compliment your van.
Here we'll go into more detail about what to look for when buying a drive away awning for your campervan.
Inflatable vs. Poled Awnings
Poled awnings were the first type of drive away awnings. They use a system much like the collapsible poles standard on tents.
On the other hand, inflatable awnings have fewer parts. There's no fiddling about extending poles and all the palaver they involve. Inflatable awnings are fully integrated, include an air pump, and most include a lifetime guarantee on the air valves.
There's a small risk you could snag an air beam, but a simple bicycle repair kit will sort that out.
Drive away awnings have benefitted from advancing tent tech. Although they tend to be a little more expensive, price is no longer a significant differential. We think an inflatable awning is the best option for speed and ease of setup.
Choosing The Right Size 
Drive away awnings come in various shapes and sizes, including heights. For example, awnings designed for campervans are a lot shorter than those for motorhomes.
So you must shop carefully, checking the product specification to get the right size.
The most crucial measurement is height. If you buy one that's too short or too tall, it won't fit on your vehicle.
Drive away awnings generally come in two heights. Low ones are designed for smaller vehicles, such as a VW camper awning. In contrast, the bigger ones are motorhome awnings that are often much wider.
Measure from the awning channel to the ground. If you don't have an awning channel, measure from the top of the door instead. Then look for an awning that's a similar height. They don't need to be exact, as most are adjustable within a few centimetres.
Once you've found one that's the right height, look at the other dimensions, room sizes, and sleeping capacity. Don't forget to consider the space needed for your furniture, separate sleeping compartments, and how many people it will accommodate.
Pack Size & Weight
As fantastic as a drive away awning is when it's set up, the largest models can be pretty hefty. Make sure it's a size you can lift in and out of your camper. Some of the largest models can weigh well over 30kg, so keep an eye on the specification.
Also, check the pack size. That's the size of the awning when it's folded away and stored in its carry bag. Ensure you have designated safe storage space for it when you travel.
Doors & Windows
Look for an awning that offers flexible living space. Multiple door openings give you more options for setting up at different camps. For example, you may want the door open onto views or away from the wind.
Look for good quality zipper openings and always avoid flimsy velcro-only fastenings. They deteriorate over time and are pretty useless at keeping out the elements.
Windows are an important aspect of an awning. Look for a model with as many windows as possible and built-in curtains for privacy on demand.
Orientation & Layout
Most driveaways attach to the side door of the camper, although some models can attach to the rear door. So that's one aspect to consider. The other is that once it's attached, in which direction do you want to exit?
The main entrance to the awning on some models is to the side; others to the back. Others offer a choice of openings for greater flexibility.
Which is best depends on your camping style, if you need separate sleeping compartments, and what you'll use the awning for.
Expandability
Families grow, and our needs change. That's just life. Because these drive away awnings are a bit of an investment, it's worth considering if you might need even more space in the future.
If so, consider a model that can accommodate modular extension rooms like the California Coast Drive Away Awning.
Access To Vents & Hook Up Connections
Your camper may have a hookup socket on the side for connecting to the campsite's shore power. That needs to be accessible when the awning is attached.
For the most part, this doesn't cause a problem because the cables can be laid below or alongside the awning, but it's worth considering. If you use a portable power station instead of the hookups, this won't be a cause for concern.
Vents are another important aspect of your camper to consider. Avoid blocking any vents. This is especially important for any exhaust vents for diesel heaters or gas appliances. They allow dangerous gases to escape, so you mustn't vent them into your awning.
If you have a composting toilet like us, try to avoid that vent too.
Can You Sleep In A Drive Away Awning?
With the right equipment, you can sleep comfortably in your drive away awning. First, you'll need a few basics: an inflatable mattress, sleeping bag, and pillow.
Depending on the temperature, you might also want to bring a small fan or space heater.
Organise your belongings so they're out of the way but still within reach to make the most of your space. For example, store your clothes in crates or plastic bins and keep them away from the centre of the awning.
If your awning has an extra sleeping compartment, use it to create a more private space for sleeping.
How To Attach A Drive Away Awning To A Campervan
There are several ways you can connect a drive away awning to the side of your motorhome or campervan.
The most basic is to use the over-vehicle straps, which you literally throw over the top of your campervan and peg down on the other side. However, it's not ideal because it's not the easiest to detach when you want to go for a drive. The awning won't sit snug against your campervan, so water can get in.
Magnetic drive away awning strip connectors are more practical and easier to use.
If you have a wind-out awning already attached to your camper, you just need to pick up a drive away awning fixing kit with a 6mm to 4mm beading.
The 4mm side of the beading slides onto your wind-out awning. Then, the figure-of-eight strips on the 6mm side attach to the drive away awning.
The best option is with an awning channel. It works the same as a wind-out awning but needs a 6mm to 6mm kit instead. It creates a snug fit, looks clean, and helps prevent water from leaking.
for camper vans with a gutter. It clips into the gutter rail and then onto the awning. You just need to unclip the figure of eight when you want to take a drive.
Finally, if you have roof bars, some awnings (including the Vango and Kampa options above) have Velcro straps that loop around the roof bar.
Here's an excellent video to show how easy a drive away awning is to attach and drive away from.
How To Drive Away From A Drive Away Awning
Un-attaching the awning from your camping is simply a matter of reversing the attachment steps. Once the connecting panel is free of the camper, roll it up and secure it with the velcro straps.
The most helpful tip we can offer is to mark where your camper is parked before driving away from the awning. A couple of brightly coloured tent pegs and a strop will help make parking in the right spot on your return a breeze.
Awning Accessories
There are various accessories you can pick up to enhance your awning experience.
Windbreaks help by providing a layer of insulation between you and the wind. This can be really useful in cold weather, as it prevents the wind from blowing through the awning tent.
Windbreaks also come in handy near the coast, where the winds can pick up and whip the sides of your awning.
The Outdoor Revolution Oxygen Windbreak comes in a sizeable 3-section version, ideal for larger campervans and motorhomes. The single panel model is a good size for small vans or car campers.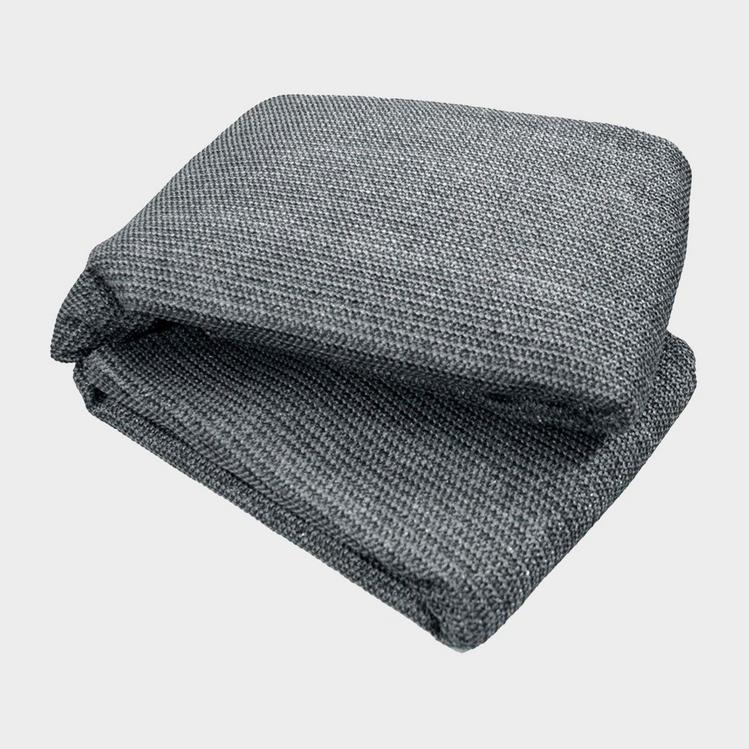 Who says you can't have soft furnishings in an awning room?
A robust, insulating layer over the ground sheet adds a little more comfort and warmth for a homely feel.
If you have a patio rug for your camper, use that to save money, although it doesn't have the same soft-touch topper.
The space provided by a drive away awning is most valuable at night. As the sun goes down and the night chill sets in a little, a few lights can add to the cosy ambience of your camp.
This nifty hanging light lasts for hours, and you can recharge it during the day via a USB socket.
In Conclusion
The best drive away awnings are the inflatable type, but they also tend to be the most expensive. However, it's worth paying a little extra for an inflatable drive away awning if possible, as they're a lot easier to set up.
If you want lots of space, we think the OLPRO Wrap campervan awning is unbeatable! For something less mansion-like, the OLPRO Cocoon Breeze is the best of the bunch.
If you're on a budget, the Outdoor Revolution Outhouse Handi Low Drive Away Awning is an ideal entry-level awning that won't break the bank.
Many drive away awnings are pretty similar, so you just need to make sure you find one that fits your campervan or motorhome and has enough space.
If you like to have a lot of space, look for those with inner tents that you can partition, or pick one with the attachments needed for an annex to expand later.
Do you have any experience with a drive away awning for a campervan? We'd love to hear about your experience in the comments below.
Angela Devaney
Angela Devaney, a former IT project management professional, embarked on an adventurous journey of full-time travel, which included touring West Africa in a converted overland truck and converting an ex-military 4×4 Sprinter van into a camper for a five-year South American expedition. She now utilizes her hands-on experience to create practical RV living and van life advice as a full-time digital media producer, reaching over a million users annually through her YouTube channel, blog, and newsletter. Angela also lends her expertise as the editor-in-chief of the Campervan Electrics Handbook.