The right camera gear for a wildlife safari can get expensive but you don't need to go overboard.
With a good mid range camera and a few essentials, you can make some amazing photos of the incredible scenery and wildlife you're about to encounter.
My first safari was to Kenya back in 2009 and I didn't have a clue about photography. Armed with a low end point and shoot, I was sure I'd capture just how magical this trip was.
What a mammoth fail! I returned with amazing tales of the wildlife I'd seen but you know the rule right? Pics or it didn't happen!
So 8 years later and we've just returned from a safari in Tanzania. This time round we had the right camera gear and we're not disappointed with our photos.
When you click on links to various merchants on this site and make a purchase, this can result in this site earning a commission. As Amazon Associates, we earn from qualifying purchases. For more info, please check our disclosure page.
Essential camera gear for a wildlife safari
Having the best camera doesn't mean you'll take the best photos. You can have the most expensive kit in the world and it'll do you no good if you don't know how to use it.
We're not experts and have spent years researching and practising just to begin to understand what we now know about photography. And we still have much more to learn.
So here's our thoughts to help you decide what camera gear to take on safari.
Shooting conditions on a safari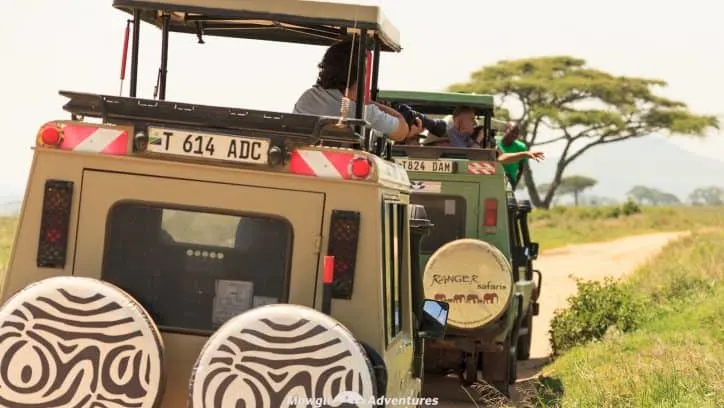 To help explain why some of this gear is necessary, you need to have an idea of a typical safari day and the conditions you need to prepare for.
You'll spend anything from 4 – 12 hours each day in a vehicle on game drives and they're going to be bumpy! Tracks are often dusty with deep ruts.
You'll drive through sand, mud and water in a single drive. Temperatures will be high as could the chance of rain, depending on the time of year.
You won't leave the vehicle – hey it's the African bush and the leopards are hungry – why would you want to? So you'll take all your photos from the safari vehicle.
If your safari is in east Africa, the vehicle may have plenty of resting places to support your camera. In South Africa, the vehicles tend to be fully open, so support isn't available.
Back at camp, you may not have any electric sockets for battery charging in your room or tent. Those camps tend to offer battery charging banks in a communal area.
So for a few hours in the evening, all the camp's guests will want to recharge their batteries at the same time.
Essential camera gear for a wildlife safari
What's the best camera for a safari?
Let's look at what cameras you might take with you and who they're best for.
Smartphone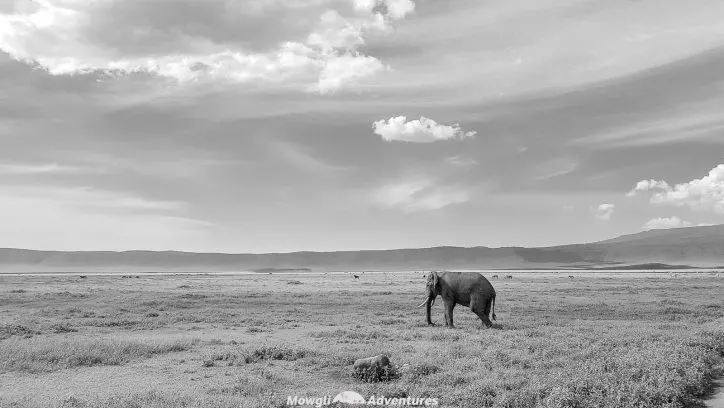 Sounds crazy right? But these days most of us carry a smartphone and the cameras are fantastic on some of them. Both Graham and I have smartphones capable of shooting in raw.
While they're no replacement for the DSLR, if you don't have the time or inclination to learn, a smartphone can still produce some fabulous images. I took this photo on my smartphone as a jpeg on our safari in Tanzania.
We use the Samsung Galaxy and the camera functions are terrific. Because it's waterproof, we use ours in the rain rather than taking out the DSLR.
It'll even shoot underwater – although I've never tried it. It shoots in raw too so you have greater flexibility in editing later!
Point & Shoot
Our only experience of a point and shoot was before we ever got serious about our photography. We used them to take snaps, only ever intended for viewing by family and friends. And our skills were so poor the photos were always pretty bad.
There's loads of point & shoots on the market and if you don't have time to learn how to use a DSLR, it's a choice worth considering.
You won't get the control a DSLR provides but some newer models shoot in raw and have reasonable zoom capabilities.
DSLR
If you're interested in photography and want to step up your game, it's time to enter the world of the DSLR. My first DSLR was a used Canon 5d.
After getting over the initial reaction of "what the hell do all these buttons do" I spent an enormous amount of time researching, practising and learning. And the process continues today.
There are many DSLR models to choose from. We have a Canon 5d Mk iv and a Canon 5DSR. These cameras don't come cheap at around £3000 for the body only but you can find entry level models for around £300.
We're not experts but we do know there's no one size fits all. Even with the best camera in the world, you need to know how to use it.
In our opinion, the best camera for you is one you're able to use. Well! If you've never used a DSLR before, why start on a trip of a lifetime? Unless you have plenty of time to learn before you go.
What's the best lens for a safari?
Many people think of wildlife photography as needing BIG super telephoto lenses to get anything like a decent photograph.
If you're a Nat Geo photographer then maybe so but for us amateurs, a whopping 800mm lens has some significant challenges.
It weighs around 5kg for a start. Given your baggage allowance on the small Cessna planes used to travel around the African savannah is 15kg, you don't have much room for anything else.
And anyway, it costs about £12k to buy. Even renting it comes in at a hefty £220 for 3 days.
Is there any such thing as the perfect lens for a safari? I'm not sure because everything is a compromise.
You don't want to change lenses when you're on a game drive because opening up the camera exposes the sensor to dust. Some people carry two camera bodies, each with a different lens attached.
Ok, so it's extra weight and cost but it does stop you having to open the camera in less than ideal conditions.
Telephoto zoom lens
We're lucky because we each have the same camera body. We planned our purchase this way so our lenses are interchangeable between us.
When we were on safari in Tanzania, most of the time we had a Sigma 150mm-500mm f5-6.3 attached to one body and a Canon 70 – 200mm f2.8L IS II to the other.
This gave us a full range of 70mm – 500mm without ever having to change lenses. There were times when we could have used the 24-70mm but rather than change lens, we simply used the smartphone.
Back at camp, we used the Canon 24-70mm f2.8L because conditions were better for changing the lens. And some evenings we were just too exhausted after a full day's game drive to take another photo.
One lens solution
Just these 3 lenses and 2 camera bodies weigh almost 6kg. That's a lot of weight to lug around and eats well into you total baggage allowance of 15kg.
Because there was 2 of us together it wasn't a problem but if you're travelling alone or unable to share baggage allowance, you may need to consider extra baggage costs or reduce your kit.
The Canon 28-300mm f3.5-5.6L is a great all in one lens for a safari. It's wide as well as having a long zoom to get close to the action.
The hefty price tag of about £2k is an indication of the quality of the lens. You could pick up a used lens in great condition for about £1k. Alternatively, the Tamron 28-300mm lens is a great alternative at around £550 so lighter on your pocket too.
Keeping your camera steady
All this equipment is pretty heavy and a body with one lens attached could weigh in at 2-3kg.
Hand holding a camera this heavy for a long period is going to hurt your wrists and no doubt result in some shaky images. Even image stabilisation isn't a total solution when you're on a game drive for upto 12 hours.
To sort this issue we brought our monopod. It was perfect in the open sided safari LandCruisers to keep the heavy lens steady and add some much needed extra support.
In the pop top LandCruisers the monopod was too awkward to use so we made a makeshift bean bag out of the blankets provided in the vehicle.
It worked ok but had we brought a bean bag we'd have had an easier time of it.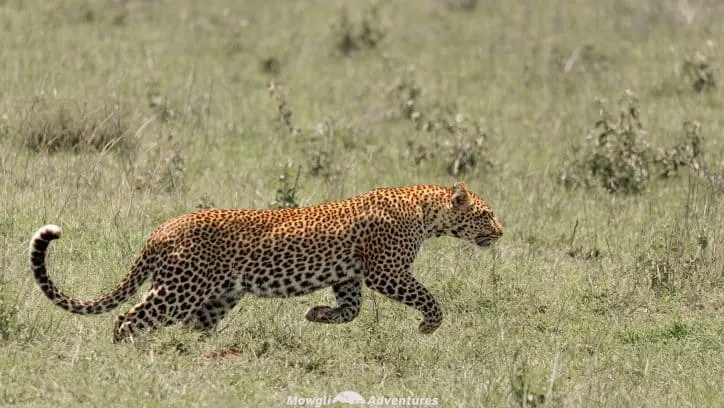 Protecting your camera gear
Cameras and lenses don't come cheap and in the dusty, hot, sometimes wet and often humid climate of an African safari your photography gear can too easily become damaged. A few basic accessories will protect your kit from most things.
Dust
Keep your lens hood on to help avoid knocks and bumps and dust too. UV filters on each of your lenses will help protect them from dust and scratches.
Try using a thick shower cap to cover your lens too. When you're transporting your gear on long journeys, wrapping it in bin liners before putting them in your camera bag is a cheap and effective way to add another layer of protection.
Heat
When you're not shooting, a lightweight travel towel thrown over your camera will protect it yet further and if you use a light coloured one, it'll help protect it from some of the heat too. Those dark camera bodies get pretty hot in the African sun!
Rain
And then there's the rain! Many high end cameras and lenses are weather proof but I would still feel uncomfortable with my gear exposed in a downpour.
Rather than risk damaging our expensive camera gear, or missing the shot, we invested in decent rain covers for our 2 largest lenses. We use the Think Tank Hydrophobia covers but there are cheaper alternatives available too.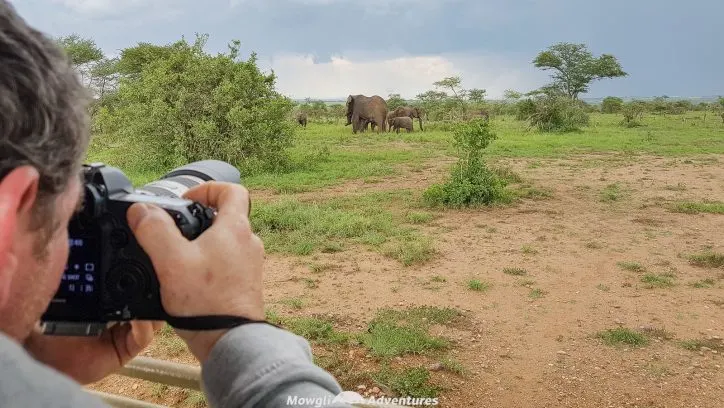 Memory cards
Can you really have enough memory cards? They're cheap, small and lightweight unlike most of our camera kit. We carry 2 128gb high speed cards each.
Because we download the cards every day, we don't really need 2 each but it's great to carry some spare for those just in case moments. A memory card wallet helps us keep organised too and prevents us losing them.
Power and batteries
We like to make sure we have plenty of fully charged batteries for game drives. A 12 hour game drive could provide the opportunity for hundreds of shots and running out of battery power towards sunset would ruin our day.
We carry 3 batteries each and they all get a full charge overnight, even the ones that weren't used during the day. Oh that reminds me! Don't forget your battery charger.
Because the power sockets are in such high demand in safari camps we also carry an extension power bank. If you have more than 1 device or battery to charge, this is invaluable!
Downloading and storing your safari photos
You'll need to make sure you're backing up your photos regularly in multiple different locations.
On a safari we carry a couple of the tougher grade ones such as the Silicon Power or the Transcend Military Drop and store them in different parts of our luggage.
Camera bag
Most African safaris involve moving around quite a lot and changing camps every few days. All that packing and re-packing, as well as the long journey to and from home means you're going to need a decent camera bag.
A weather proof bag will help protect the contents from a light rain shower; one that comes with a rain proof cover will withstand a heavier downpour.
Our camera bag holds both our camera bodies with the 70-200mm lens and the 150-500mm lens attached. There's still a little room for the 24-70mm lens and the accessories too. There's even a hidden compartment the discreetly stores the macbook. Pretty good going we think.
Are you interested in photography? Have we covered everything or missed anything? Have any questions? Leave a comment below and we'll answer them all!
Like it? Pin it!