With warm summers and mild winters, Portugal is a terrific destination year round. And with loads of free camping in Portugal at overnight parking spots all around the country you'll save a fortune!
On average, campsites in Europe cost €25 per night. So if you spend 2 weeks camping in Portugal it's going to add €350 to your budget.
Not an insignificant amount of money and it could buy you a whole lot of port and sardines! But fear not! There's some fantastic free camping in Portugal available if you only know where to look.
We spent 2 weeks in Portugal and we didn't pay for any accommodation or utilities. Not one penny! And here's how we did it.
Free camping in Portugal
Most European countries provide official places for you to stay overnight. Motorhomers and van lifers refer to them as camper stops.
Each country may refer to them by their own name and signpost them accordingly. The Portuguese and Spanish signpost them as Area de servicio para autocaravanas.
Portugal is one of the best countries for free camping in western Europe. There are lots of places where it's possible to free camp, either by the beach or further inland.
The Portuguese have officially banned free camping in the Algarve. Yet outside of summer the police do tolerate responsible free camping.
For more info on how to camp for free across Europe, click here.
How to find overnight parking in Portugal
The chances are, you'll drive past a few camper stops on your route. Even so, you may not want to rely on spotting a sign at the end of a busy day.
Hundreds of sites for free camping and overnight parking
VWFurgo is a website giving almost 4000 GPS co-ordinates for camper stops across Europe. The map includes a marker, photos, facilities and any local amenities at each.
It includes both official camper stops and 'tolerated' spaces. You can download files for free and they cover most major sat nav formats. It's a heavyweight file so consider if this will affect the performance of your device.
You can always download it onto your laptop or tablet and refer to it as you go. This site is a godsend and relies on its community to submit details.
So you can help grow this resource by submitting new sites you find. They have strict criteria for accepting submissions to protect the integrity of the information.
They must be doing something right because its never failed us.
iOverlander is another terrific website with loads of overnight wild camping spots and parking locations. Read this post to see how we use it offline.
It's maintained and updated by overlanders and terrific source of information globally, and not just for Europe.
Useful resources for camping in Portugal
When you click on links to various merchants on this site and make a purchase, this can result in this site earning a commission. As Amazon Associates, we earn from qualifying purchases. For more info, please check our disclosure page.
This book will become your accommodation bible as you travel around Europe in your camper van or motorhome. With almost 9000 free or very cheap aires listed, you're sure to find a suitable place to sleep.
The Camperstop Europe guide include photos, GPS coordinates and information about facilities at each camperstop. Don't tour Europe without this.
We love a paper map! Sure we have out Sat Nav and GPS but I think it's hard to beat planning your route on a good paper map.
There's loads of maps to choose from. You could get one dedicated to Spain and Portugal. If you plan on exploring more of Europe, then a European map book is ideal.
A handy guide book is your friend when visiting a new country. Carrying a guide book for each country is a tad unreasonable if you're touring a large part of a continent.
There are a few good guidebooks that cover Europe. They don't cover as much detail for each country but it's enough to be of value.
Wild and free camping for us is not just about budget. In fact, saving money is not our primary reason for seeking out a wild camping location.
During late autumn and winter, fining an open campsite is quite a challenge in Europe. And anyway, have you ever found a spot where you've thought how wonderful it would be to stay the night?
Wild camping responsibly gives you the freedom to sleep almost wherever you want. Free camping in Portugal is not as easy as it is in Spain.
You can do it though and some camper stops offer great facilities. Often, you'll need to pay for water top ups but free water is widely available at most fuel stations.
Read more: A guide to wild camping for motorhomes
Our free camping spots in Portugal
We spent 2 weeks in Portugal during the autumn and we didn't pay for camping at all. To give you a flavour of the types of overnight parking spots and free camping opportunities in Portugal, take a look below at a few of the places we stayed.
Bragança
GPS: 41° 48' 15.14" N 6° 44' 50.43" W
Free: yes
Wifi: no
Water: yes
WC: yes
Location: at the foot of the castle and a 15 minute walk from the centre of town. There is a nearby sewerage plant, and once in the 2 days we spent here, we knew about it!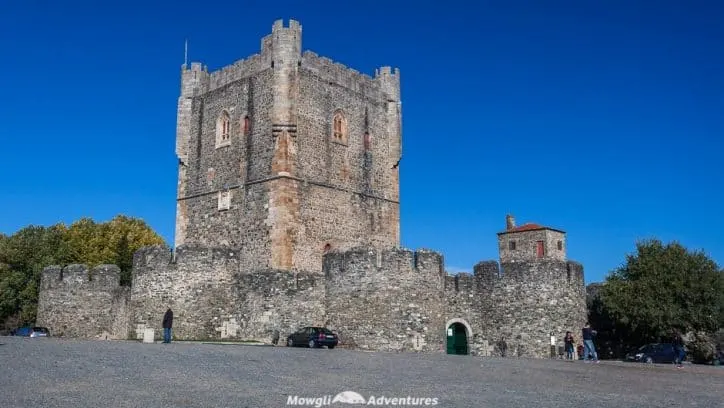 Vinhais
GPS: 41° 50' 1.14" N 7° 00' 14.24" W
Free: yes
Wifi: no
Water: no
WC: no (although there is a clean public toilet across the road)
Location: car park on the edge of town and perfect if you're visiting the Chestnut Fiesta. When we visited, the car park was busy because of a fiesta. We did see at least another 2 camper stops in the town though.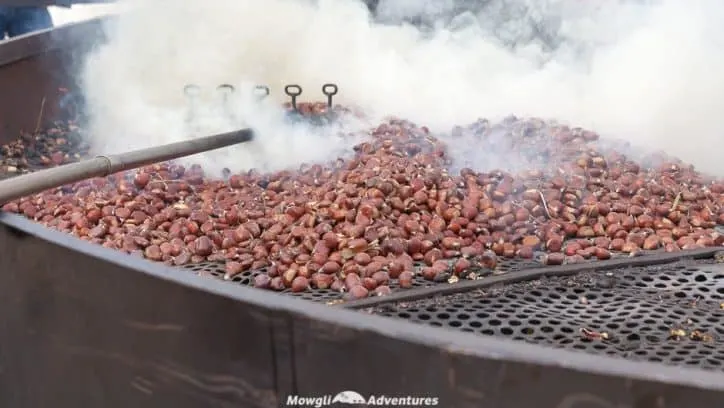 Do you love roast chestnuts? Read about our trip to the Vinhais Chestnut Fiesta in Portugal.
Peso Da Regua
GPS: 41° 09' 49.41" N 7° 47' 30.06" W
Free: yes
Wifi: no
Water: no
WC: no
Electric Hook Up: yes and free
Location: car park on the edge of the town beside the marina. Located along the banks of the River Douro in the heart of the Douro Valley. We'd have preferred to have stayed at Pinhão but we couldn't get Mowgli under the bridge.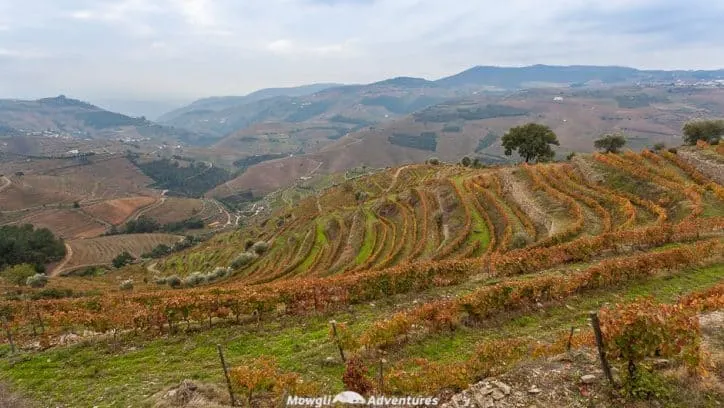 Discover more: Portuguese Food & Drink
Matosinhos
GPS: 41° 11' 8.02" N 8° 41' 11.31" W
Free: yes
Wifi: no
Water: no
WC: no
Location: small car park in town square, next to the church. Rain. Non-stop rain. So we didn't see much of the area. We don't think overnight parking is strictly allowed. Perhaps nobody dare venture out because of the horizontal rain!
Palmela
GPS: 38° 33' 59.03" N 8° 54' 2.49" W
Free: yes
Wifi: no
Water: no
WC: no
Location: small car park at the entrance to the castle. We didn't feel it was strictly allowed although there are no signs, either way. Whilst we weren't challenged, you probably won't get away with this in the height of the season.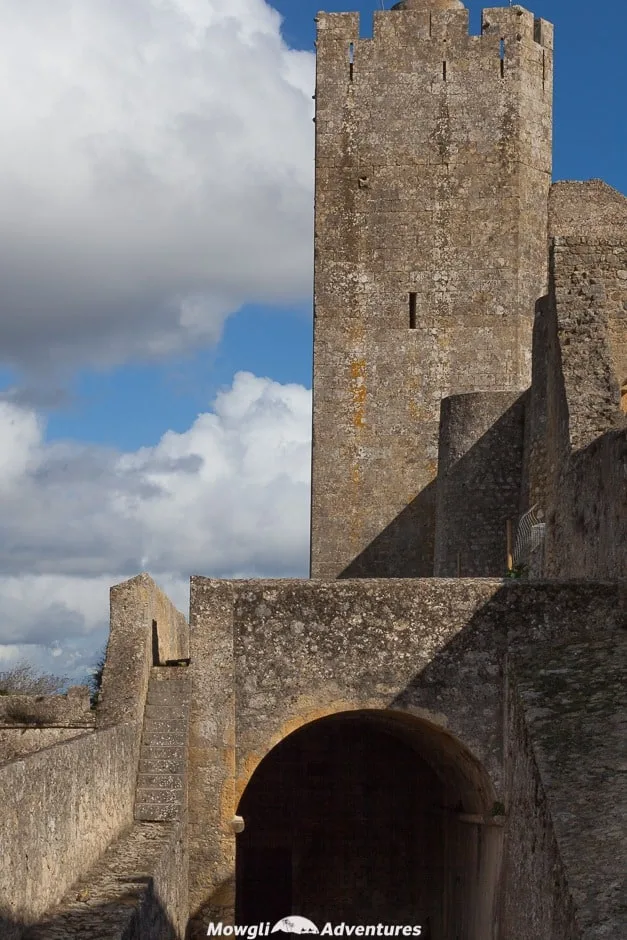 Alcácer do Sal
GPS: 38° 22' 12.87" N 8° 30' 54.5" W
Free: yes
Wifi: no
Water: no
WC: yes
Location: large car park, next to the Sado River in town lovely and friendly town of Alcácer do Sal.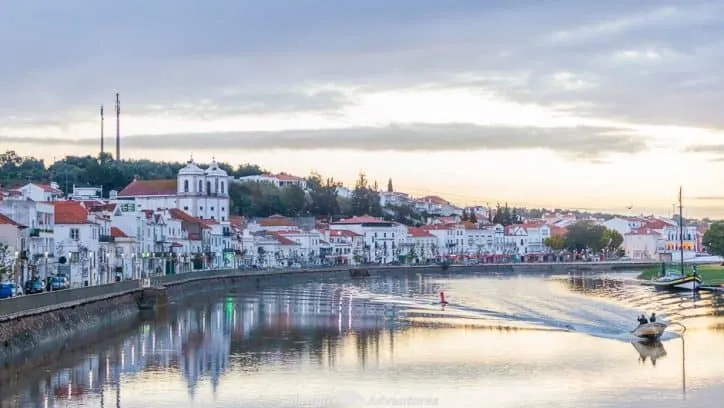 Ferragudo
GPS: 37° 07' 34.48" N 8° 31' 21.68" W
Free: yes
Wifi: no
Water: no
WC: no
Location: large beach front area on unused land. Ferragudo town is on the doorstep with Portimão just across the bridge.
There's a campsite at the top of the hill with the usual facilities. It's a prefect example of how you don't always get what you pay for. This location is far better than the campsite's.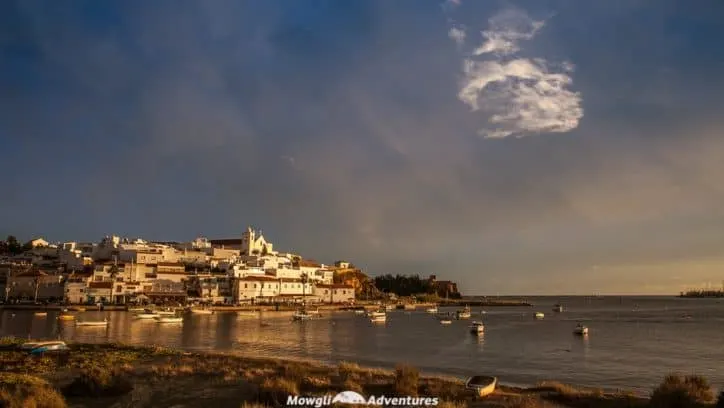 Albufeira
GPS: 37° 05' 26.56" N 8° 14' 41.23" W
Free: yes
Wifi: no
Water: no
WC: no
Location: large car park next to the town hall. We don't think this is permissible. Albufeira had just suffered serious flooding and we were helping out with the clean-up activities. So we figured we'd be ok. And so we were.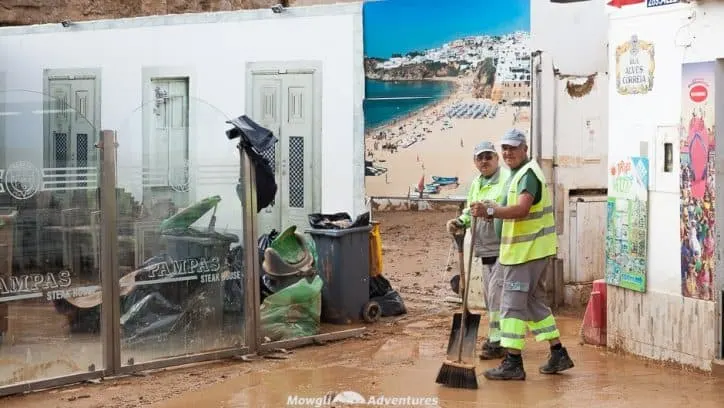 Castro Marim
GPS: 37° 13' 09.64" N 7° 26' 37.98" W
Free: yes
Wifi: no
Water: yes (for a fee)
WC: yes
Location: large car park below the Castro Marim Castle. It was extremely busy whilst we were there, maybe because of the heavy rains.
Check out our 10 day Portugal road trip route for inspiration.
A simple request
Share the knowledge. If you know anyone visiting Portugal in their motorhome or camper van then share this post with them. They can spend less on accommodation and more on having a great time by free camping in Portugal!
Like it? Pin it!