So you've decided you want to check out Uruguay's increasingly popular, quirky, off grid village. Great decision but do you know how to get to Cabo Polonio?
Most visitors take the massive 4×4 trucks through the national park's sand dunes but there's a fabulous alternative. Read on for the full details including tips on when to go, where to stay and what to do when you get there.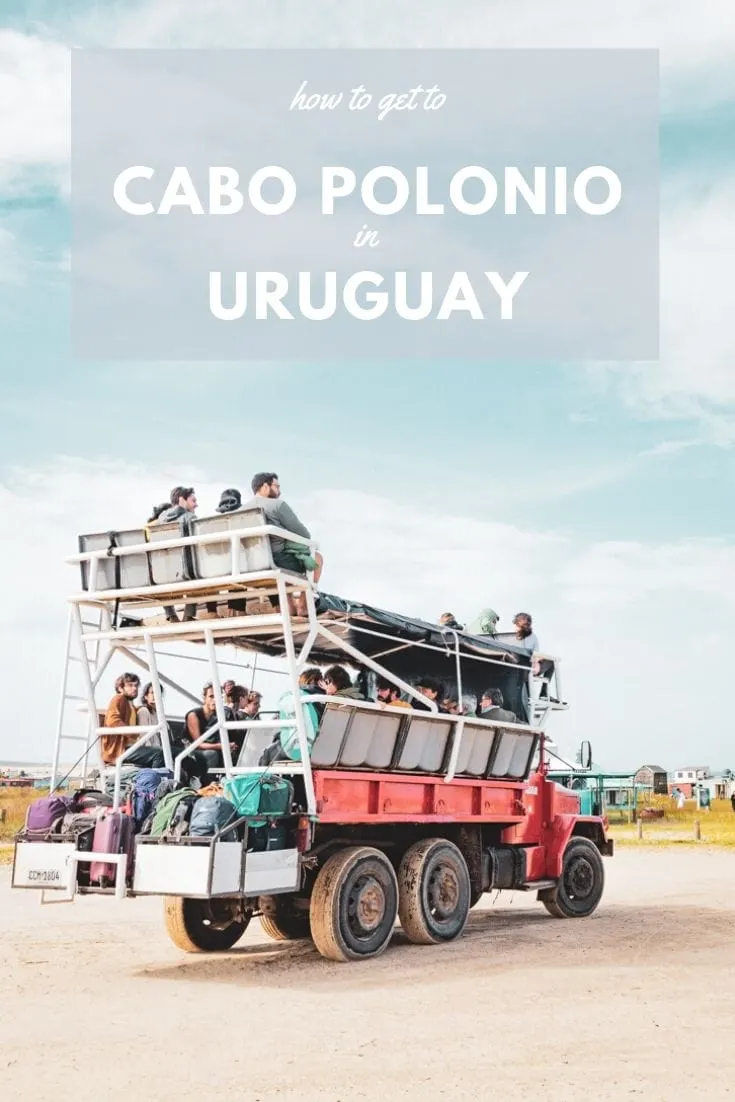 Where is Cabo Polonio
Unspoilt by mass tourism, Cabo Polonio retains the raw, natural beauty of the Rocha region on Uruguay's Atlantic coastline.
We've marked the key areas in and around the village on the map below.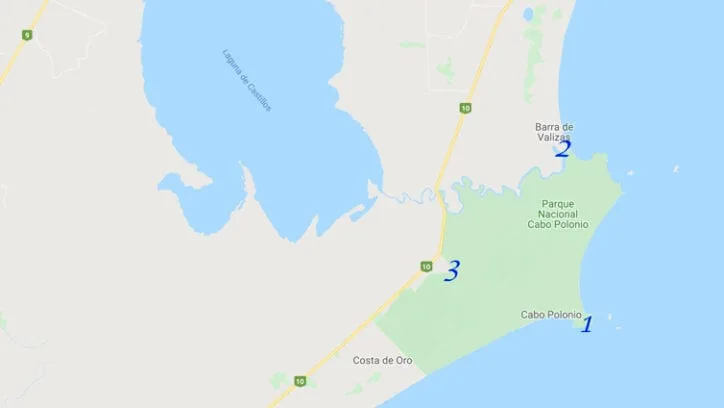 1 Cabo Polonio | 2 Barra de Valizas | 3 Cabo Polonio National Park visitor's centre and car park
What's so special about this little village?
Cabo Polonio is a quirky little place.
There's no running water into the village. Instead drinking water is sourced from wells, rainwater is collected and ground water filtered using plants.
There's no mains electricity to any building other than the lighthouse. In recent years, generators, solar and wind energy have become more widely used so while still basic, refrigeration and dim lights are now available.
There's no roads as we know them. Sandy trails serve as a means of getting around for residents, visitors and horses alike.
And unlike any other village we know of, the only way of visiting Cabo Polonio is by walking at least 7 kilometres or taking one of the official 4×4 trucks in.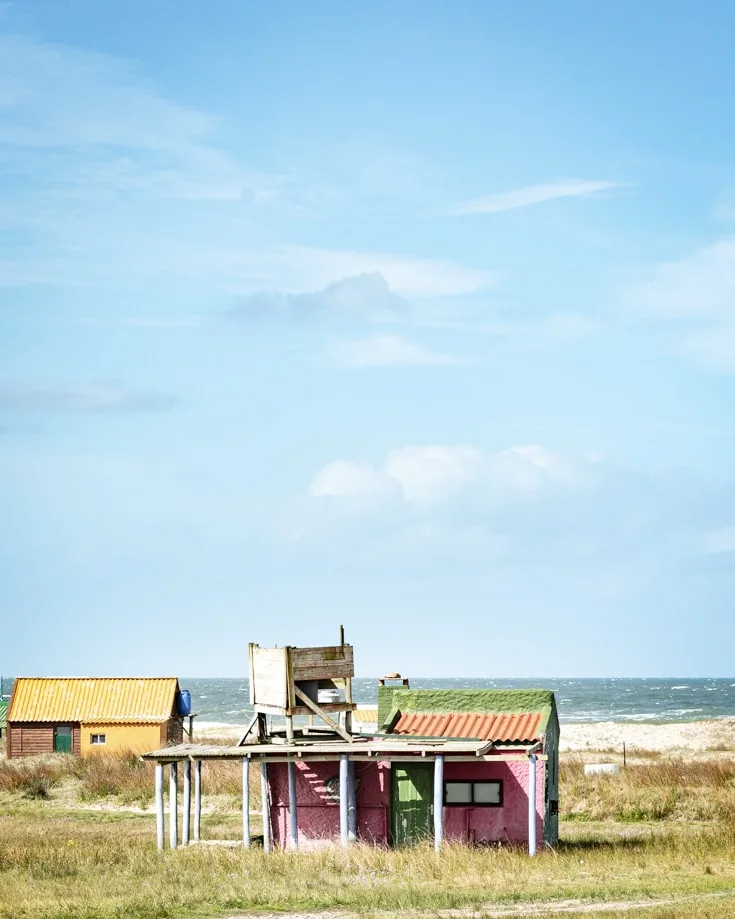 No matter how you get there, you arrive at the beach before you even get to the village itself!
Residents are fiercely protective of their off-grid lifestyle. They don't want it to change.
And long may that continue because undoubtedly, as soon as any restrictions are lifted, commercial urban tourism efforts will take over, taking away everything that makes this place so special.
Cabo Polonio is a place to slow down. Take in the natural beauty, walk everywhere barefoot, surf, watch the sun go down and completely switch off from the outside craziness of the world we live in today.
How to get to Cabo Polonio National Park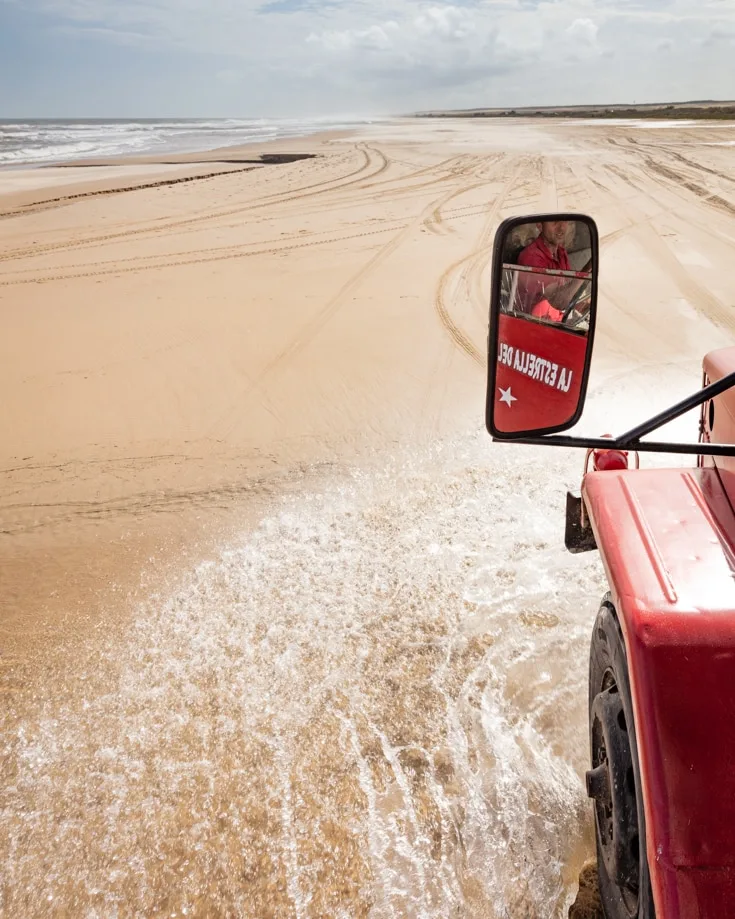 The main entrance to Cabo Polonio National Park houses a visitors centre and a massive car park.
It's from here most visitors will arrive for the final leg of the journey into the village. Here's how you get that far.
By Air
The closest airport is Capitan Corbeta International Airport near Punta del Este and from here you can hire a car or catch the bus.
Flights from Buenos Aires don't take long but it's cheaper to take the ferry to Montevideo, and then take on a bus.
Look for the cheapest flights on Skyscanner here.
By car
Driving in Uruguay is easy, even if it's your first time driving in South America, so don't be put off from hiring a car.
Despite the tracks into the village being on sand, the roads as far as the visitors centre are all tarmac or good gravel roads.
From Montevideo – follow Ruta 1 north. It becomes Ruta 9 after about 100 kilometres. Turn right at the town of Castillos and drive about 23 kilometres down Ruta 16, following the signs for Accesso de Cabo Polonio.
The total distance is about 280 kilometres and should take about 4 hours allowing for a comfort break along the way.
Top tip: have some loose change for the toll booths on the way. They're inexpensive – UY $110 for a car, UY $175 for a camper van – but often can't change large denomination notes.
From La Paloma – join Ruta 10 4 kilometres out of town and head north for about 42 kilometres. You'll pass La Pedrera, another beach town worth stopping at en route.
Ruta 10 is a good tarmac road with no toll roads. The journey shouldn't take more than an hour without stops.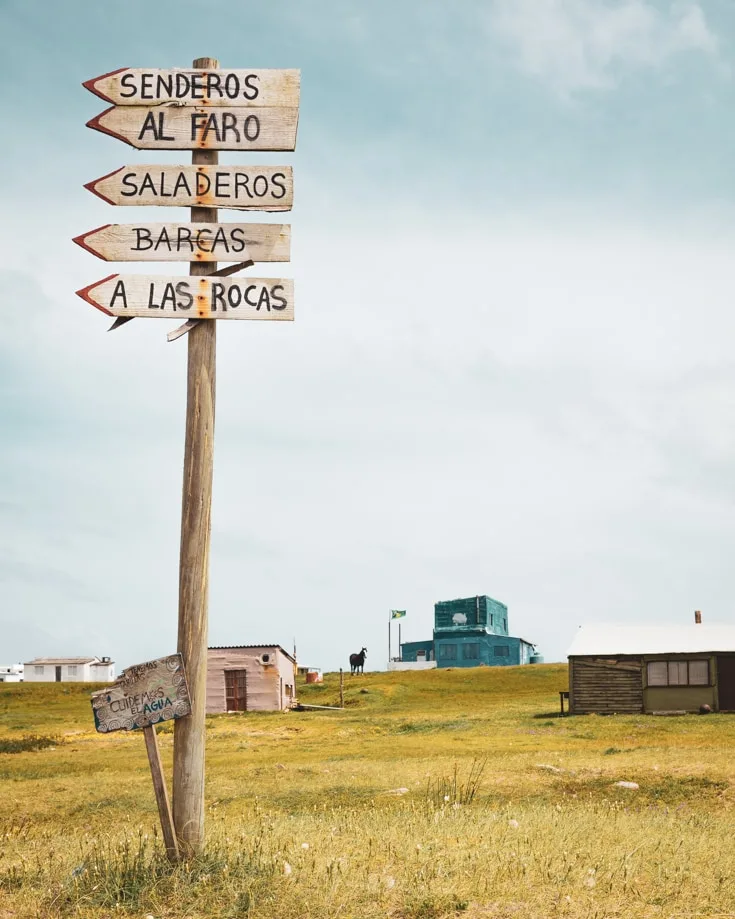 From Punta del Diablo – join Ruta 9 outside of town and drive south for 33 kilometres. This stretch of road is toll free.
Turn left at the town of Castillos and drive about 23 kilometres down Ruta 16, following the signs for Accesso de Cabo Polonio.
The 60 kilometre journey should take about an hour.
By bus
More people travel to Cabo Polonio by bus than car or camper van.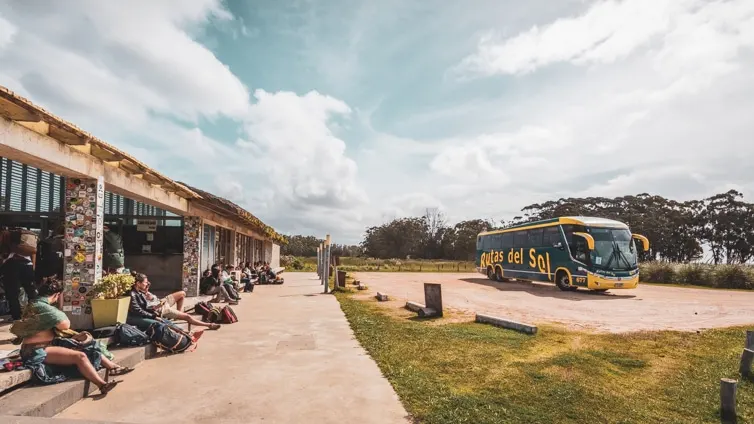 There's a bus from Montevideo to Cabo Polonio. It takes between 4 and 5 hours depending on stops and costs around UY $632. That's around US $17 or £15 and there's 2 or 3 each day.
If you can't get a bus straight to Cabo Polonio, travel to either Rocha or Castillos and change there.
Rutas del Sol serves Cabo Polonio National Park from these towns. A one-way ticket from Castillos costs less than UY $70 and takes about 30 minutes.
The SummerBus, is a Hop-on Hop-off backpacker bus and from November 2nd to March 9th each year. *Update: it seems this bus service no longer runs. Let us know if you find out any more.
It stops at 12 destinations along the coast from Montevideo to Punta del Diablo. You can buy tickets for the full route for US $95 or single journeys as and when you need them.
How to get to Cabo Polonio from the visitors centre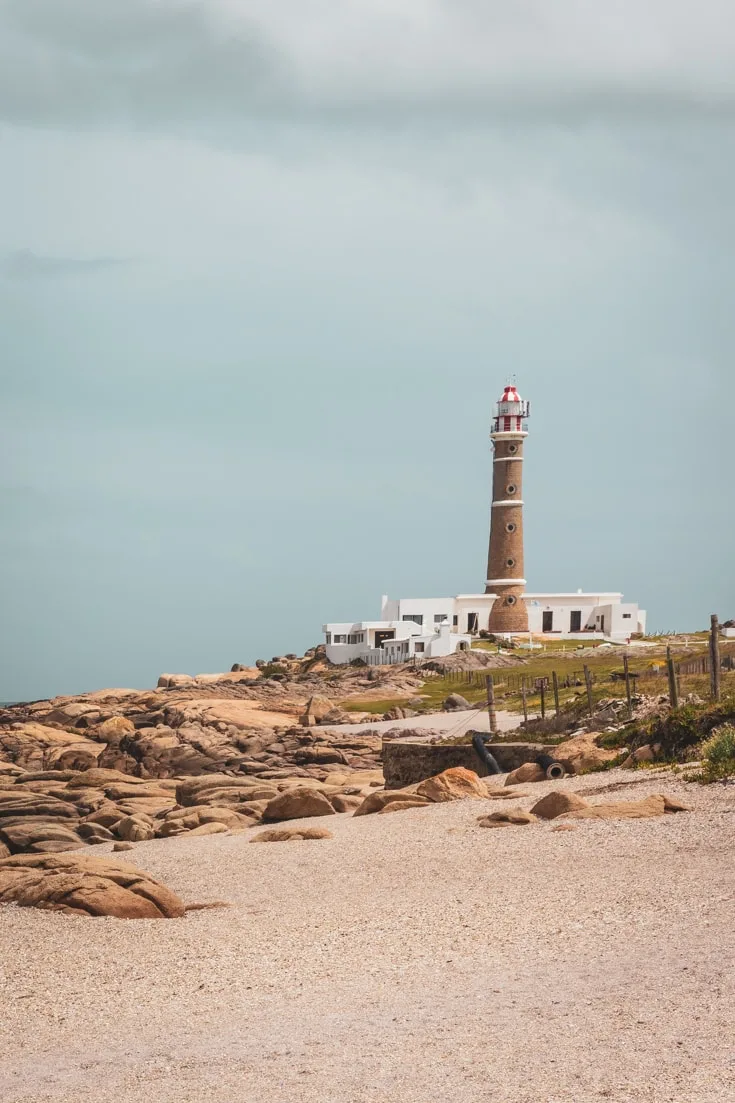 By 4×4 truck
Most visitors to the village start the final leg of their journeys from the entrance to Cabo Polonio National Park.
Only authorised vehicles are allowed to drive into the village so if you arrive in a car or camper van, you'll need to park here.
Parking costs UY $190 for 24 hours. Pay when you leave.
The 4×4 truck leaves the visitors centre at 8:30am and 10:30am and every 2 hours from 1:30pm to 5:30pm for the bumpy 20 minute ride to the village. There's an early truck at 5:30am if you need it. A late truck leaves at around 8pm but conveniently waits for the last bus from Montevideo to arrive.
A return ticket costs UY $250 – cash only. You can't bring pets or tents into the national park and a surfboard costs an extra UY $100. Didgeridoos go free.
Don't lose the ticket stub as you'll need it for the return journey.
The 4×4 trucks leaves Cabo Polonio back to the visitors centre at 9am, 11am and every 2 hours from 2pm until 6pm. During weekdays outside of holiday season there's a 6am truck too.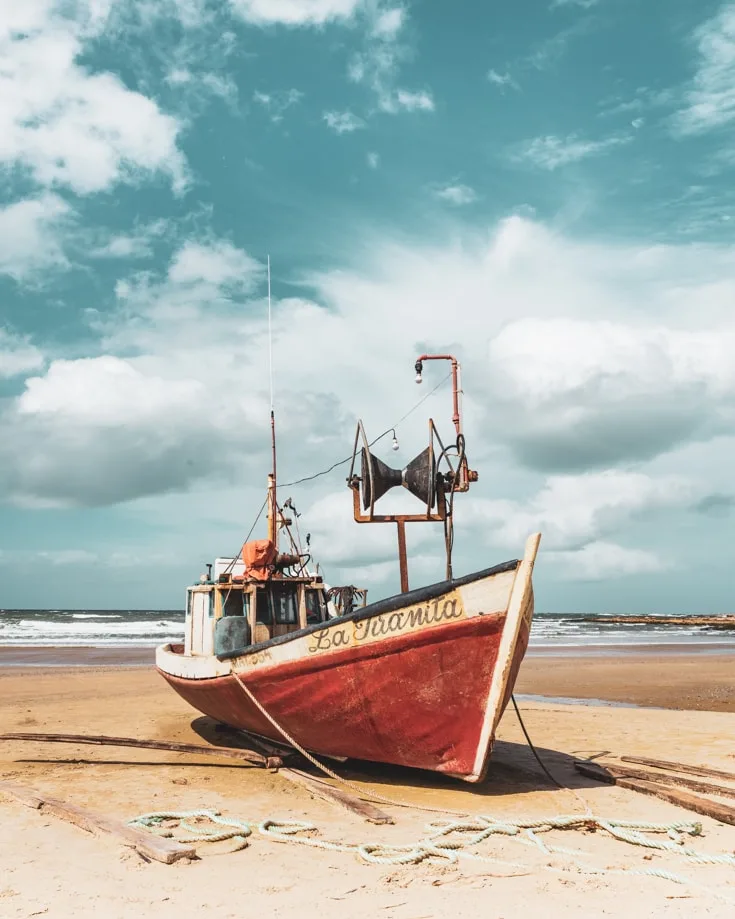 Walking route
Using the 4×4 trucks tracks as a rough guide, it's possible to walk all the way into (or indeed out of) Cabo Polonio village.
The sand is soft in places making for slow progress but taking the time to explore this protected area which sees few other visitors is sure to be a highlight.
The dunes here are an integral part of what makes Cabo Polonio National Park such a special eco-system.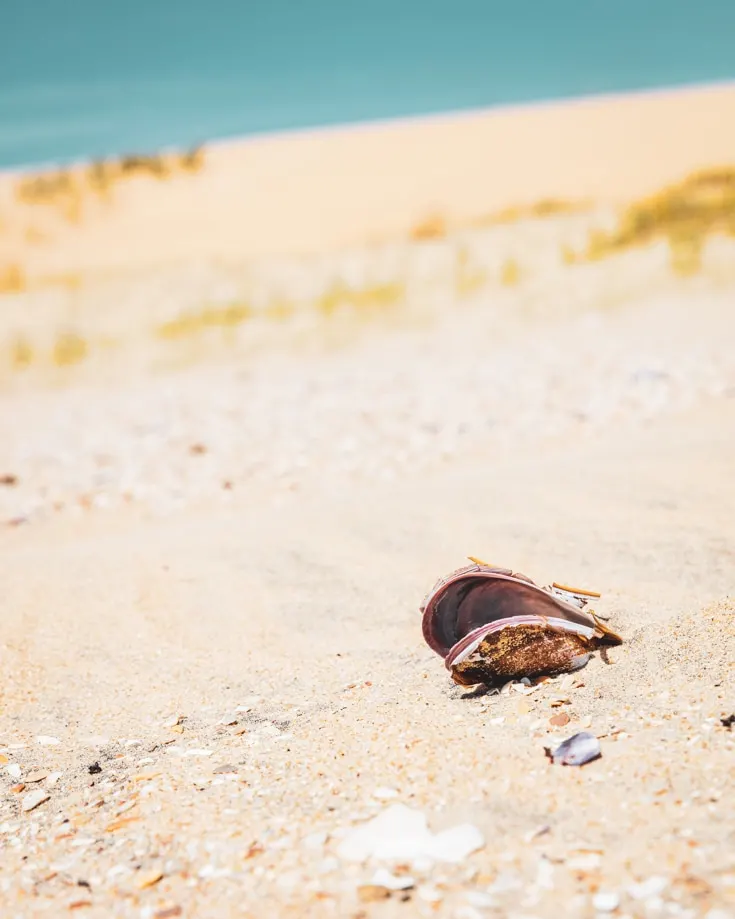 The Ombues Forest has plenty of wildlife too so take a break along the way at some of the swampy areas to see if you can spot Darwin's Frog or black spine-neck swamp turtle.
It's about 7km in each direction and will take a couple of hours at a reasonable pace. You can still get the truck back if you want to.
Top tips: make sure you have a good mapping app that works offline. Lots of alternative trails are marked so you don't get lost en route. You can fully charge your phone at the visitors centre before you set off.
How to get to Cabo Polonio – the alternative route
Even in this little off grid Uruguayan village, devoid of mains electricity and running water, the tourist trail is well trodden.
We visited in November, the shoulder season here and while the town didn't seem busy, the queues for the 4×4 trucks in and out told a different story.
So if you're anything like us, you'll be keen to find an alternative way to get to Cabo Polonio.
Crossing the dunes from Barra de Valizas to Cabo Polonio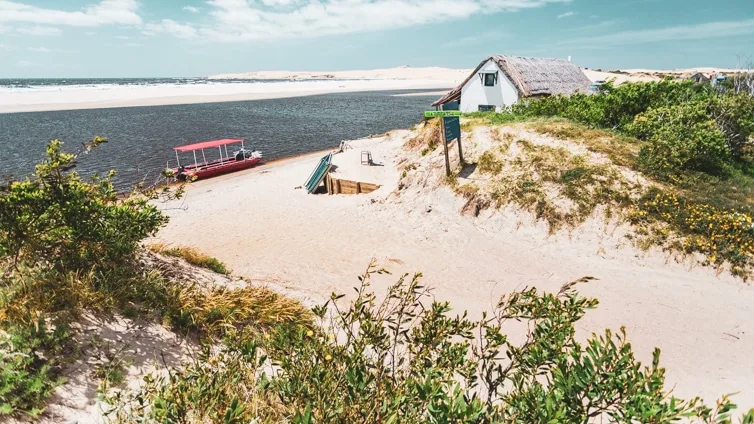 It's possible to walk to Cabo Polonio from the nearby village of Barra de Valizas. Ok you could also wait for the bus to take you to the visitors centre but where's the fun in that?
The River Valizas runs into the ocean at the south end of the beach, cutting off access to the shore and dunes on the other side.
An entrepreneurial resident charges a nominal fee to ferry passengers across – it sails on demand and the whole journey takes all of 60 seconds.
From here the hike into Cabo Polonio is anything between 7 and 12 kilometres. You can follow the coast for the longest route, or take a more direct route through the sand dunes and along the edge of the forest and swampy area.
I opted for a bit of a mix and match route and headed directly for Cerro de la Buena Vista, the highest point along the route.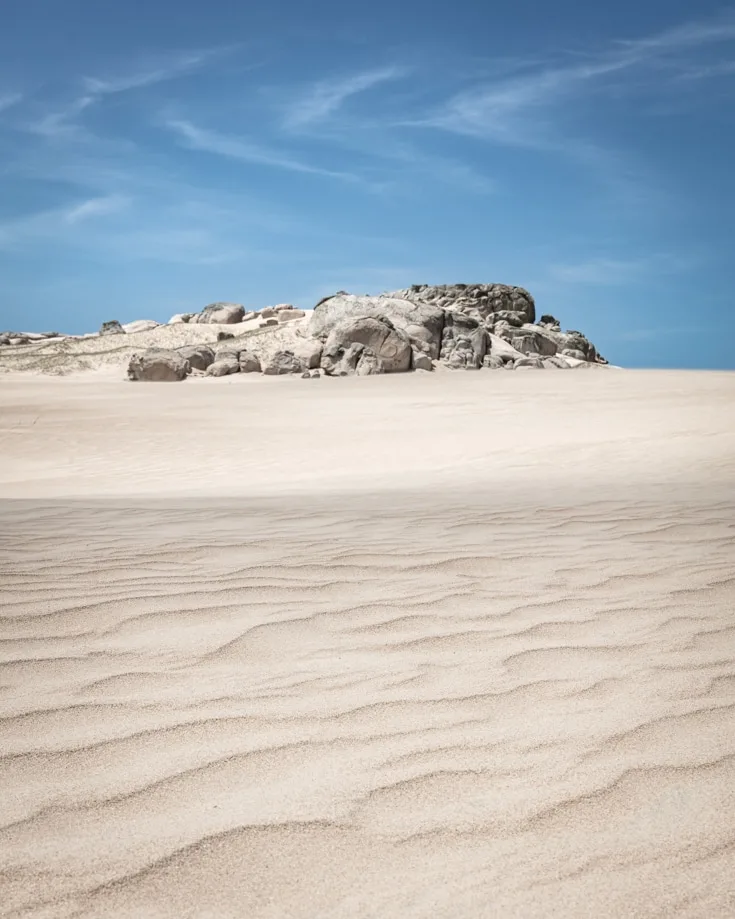 As the name suggests, the views are indeed wonderful. You can make out Cabo Polonio lighthouse in the distance and take a break on one of the rocks to plot your route through to the village.
The steep sand dunes surrounding Cerro de la Buena Vista make a poplar sand boarders playground in summer but in November, it was pretty much deserted.
From here, the terrain is pretty varied. Soft windswept dunes give way to more rocky ground.
On the descent, green vegetation replaces the dry grasses, wet enough to squelch underfoot. This is a swampy area so proceed with caution but it's easy enough to find a dry enough route through.
Eventually, you'll reach the sweeping sands of Cabo Polonio's beach for the final stretch into town, accompanied only by the lapping ocean waves and perhaps an untethered horse or two.
Speaking of horses……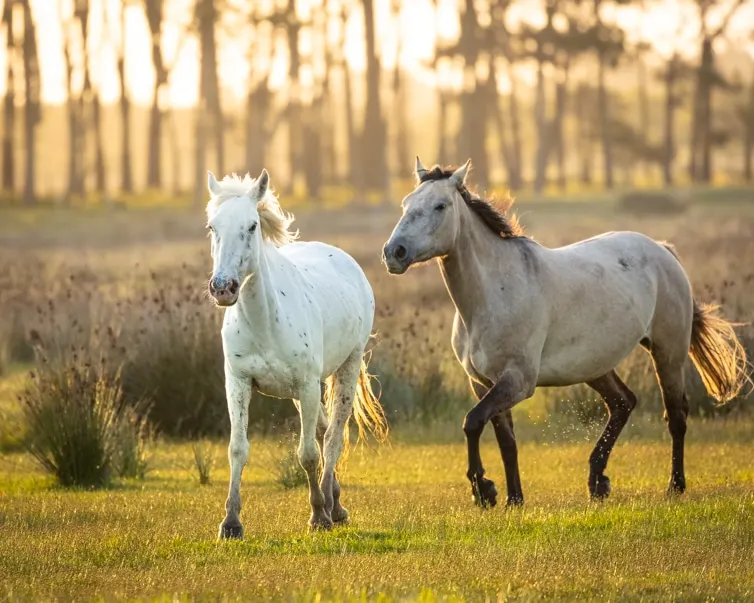 Visit Cabo Polonio on horseback
You can also get to Cabo Polonio from Valizas on horseback.
This is an organised and guided round trip so only consider this option if you're not staying in Cabo Polonio.
Check out Cabalgatas Valiceras for more details.
Getting to Barra de Valizas
By road: follow the same directions above to get to Cabo Polonio visitors centre but if you're coming from the north, turn left about 7 kilometres earlier. From the south, continue on Ruta 10, passing the visitors centre for another 7 kilometres before turning right.
It's well sign posted and is about 5 kilometres down this gravel road.
By bus: if you can't get a bus in Montevideo to Cabo Polonio – a definite possibility in the height of summer, ask instead for a bus to Barra de Valizas.
What to do in Cabo Polonio
Part of the attraction of Cabo Polonio is the lack of things to do here.
Kicking back, breathing in the salty air, strolling through untamed dunes is more than enough to fill time otherwise spent hidden behind a mobile device.
Here's a few of the best things to do in Cabo.
Beach days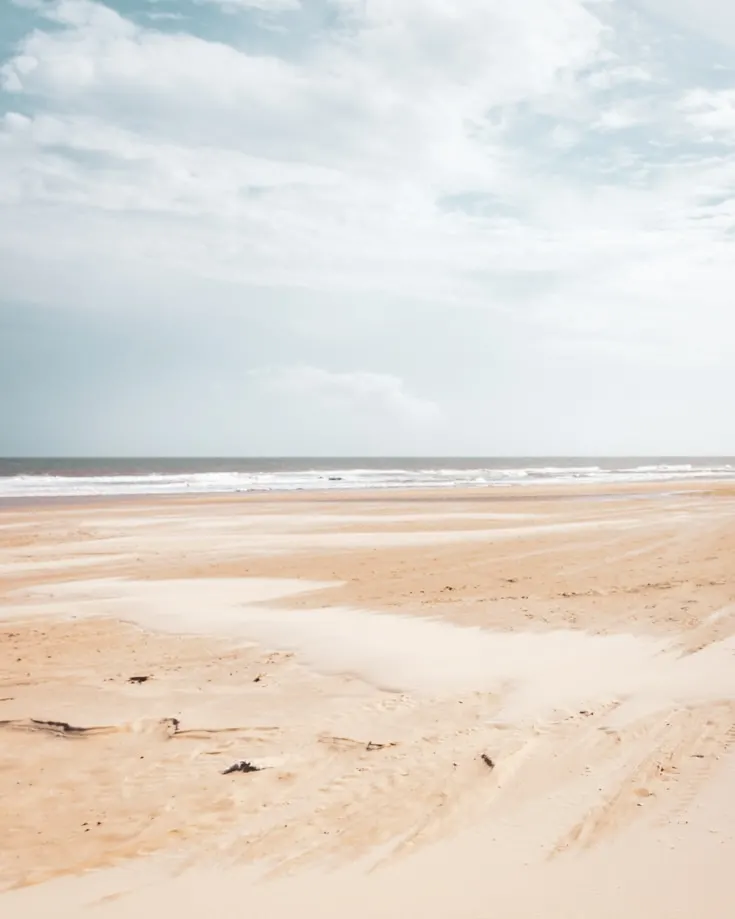 What Cabo Polonio lacks in basic amenities, it more than makes up for in beaches. There's a beach on either side of the lighthouse – just choose your spot.
Golden sands and pristine waters – what else do you need in your own slice of heaven?
Top tip: We know it sounds gross but there's often one or 2 sea lion carcasses washed up on the beach somewhere. With over 10 kilometres of beach there's no problem avoiding it – just stay up wind.
Listen to the sea lions barking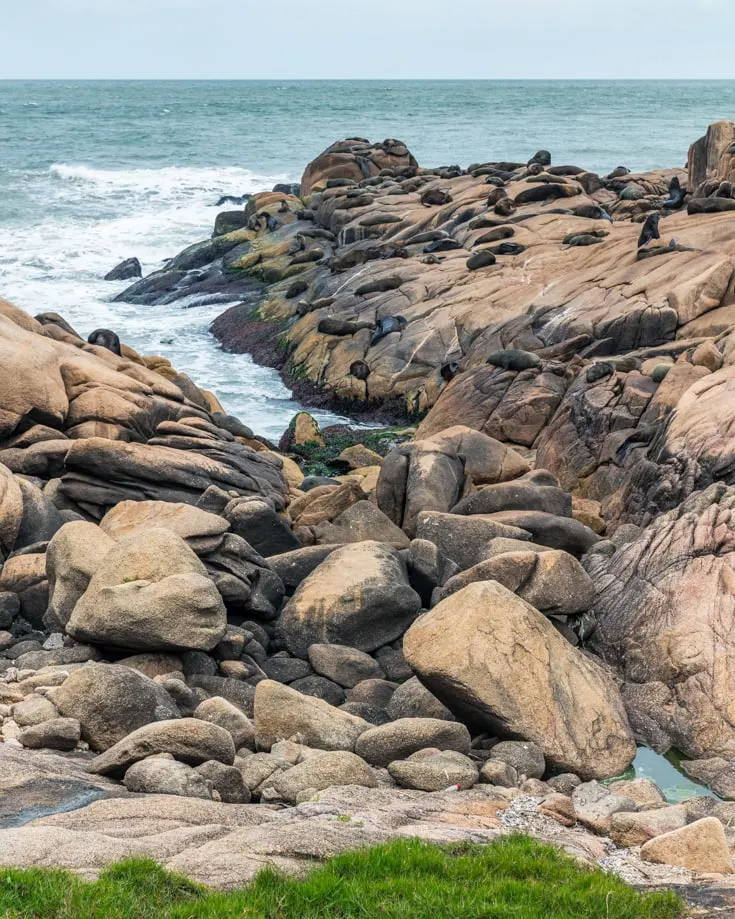 On the rocks behind the lighthouse separating Cabo's beaches, Uruguay's 2nd largest sea lion colony hang out.
Year round, they haul their awkward bulks out of the ocean waves to rest up, mate and anything else that involves scratching and barking a lot.
If you're not sure where to find them, just follow the noise – the wind carries their cries all around the village.
Surfing (with sea lions)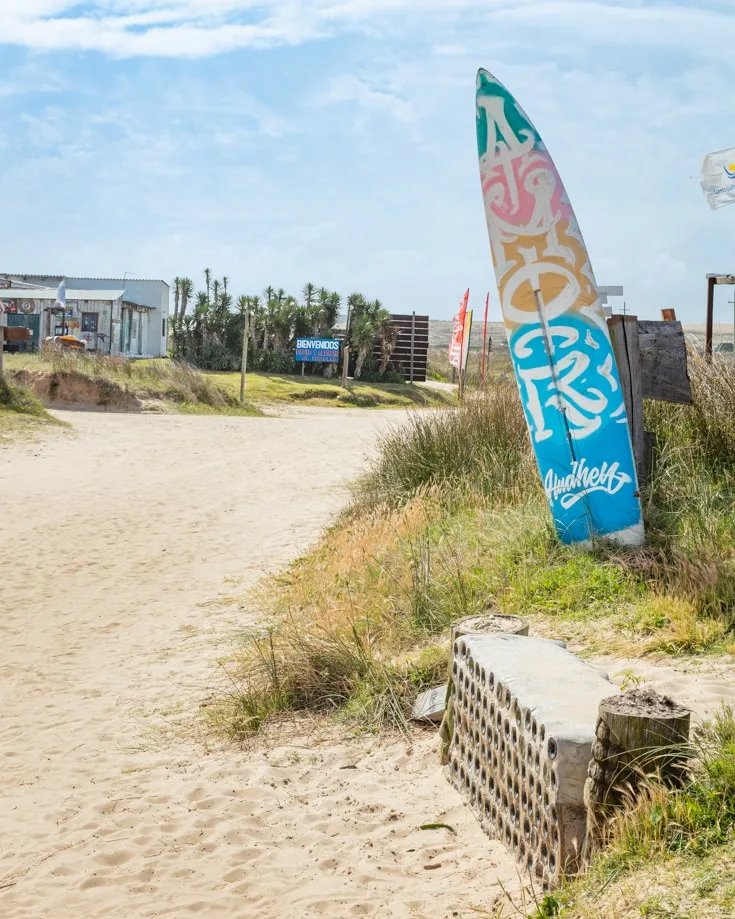 The entire stretch of Uruguay's Atlantic coast offers up great surf and big winds and Cabo is no exception.
The southern beach sees the biggest and best waves. It's not unusual to be joined by sea lions sharing your wave too. What kind of paradise is this?
Explore the dunes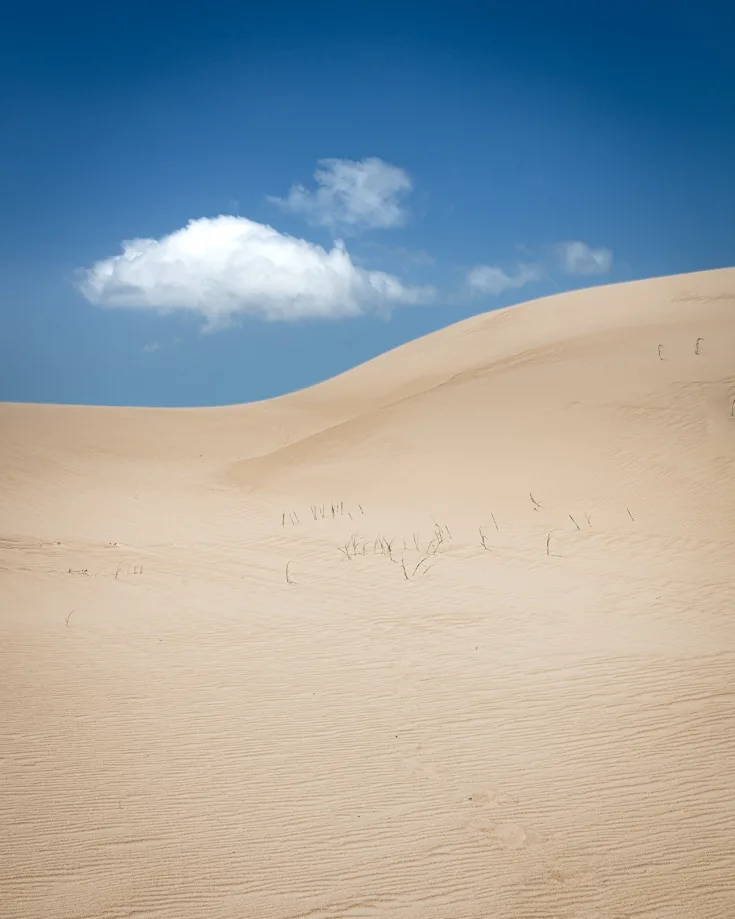 If you didn't get to Cabo Polonio via the sand dunes, don't miss the chance to explore them.
At 20 metres tall, they're some of the largest shifting dunes in all South America. While not quite the Sahara Desert, they're great fun and of course, quite photogenic too.
Visit the lighthouse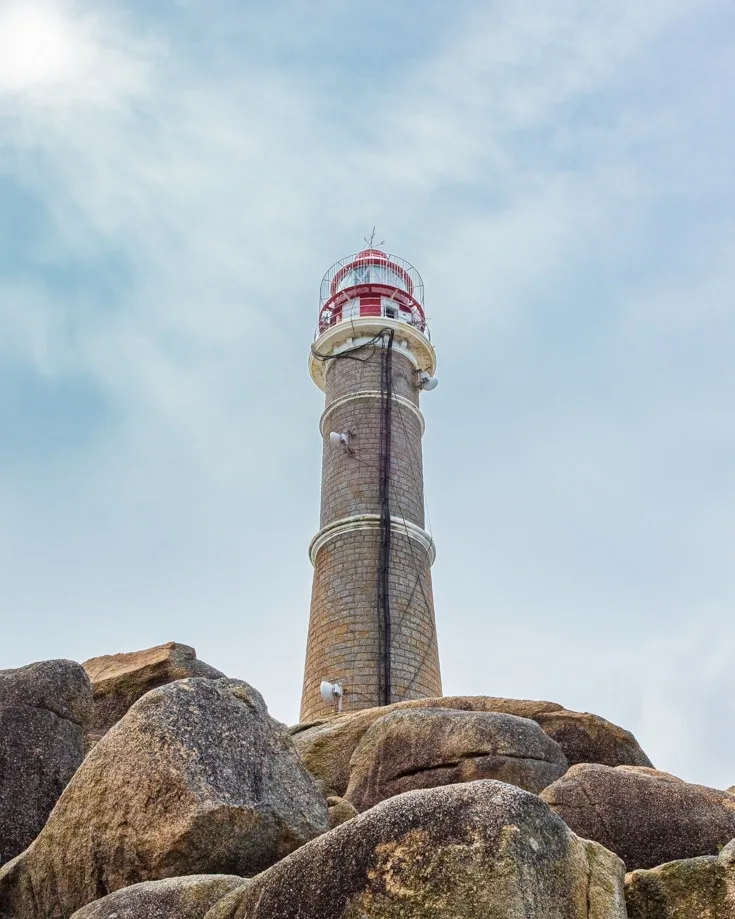 The coast around the village is notorious for seafarers, with many a shipwreck lying on the seabed.
Even the name of the village came from Spanish galleon called Polonio shipwrecked here in the 18th century.
Until recently, the lighthouse was the only artificial light source and is still the only place in the village on the main electrical grid.
Today, the lighthouse is the most iconic symbol of Cabo Polonio and you can climb the tower for fabulous views for a small fee.
Where to stay in Cabo Polonio
Accommodation in Cabo Polonio is limited and the quality is somewhat lower than elsewhere in Uruguay.
For overlanders
Because you can't drive your vehicle into Cabo Polonio, if you want to stay in the village your choices are the same as for everyone else.
However, you can stay in the car park at the visitors centre at no additional cost over the parking fee. So if you want to visit the village on a day trip only, spending the night before and/or after here is a free option.
Alternatively, there's a small sandy car park beside the ferry crossing at Barra de Valizas and we spent a perfect night here before walking across the dunes to Cabo.
Camping in Cabo Polonio
The National Park rules prohibit camping in Cabo Polonio so your only option is to camp in near Barra de Valizas.
There's a couple of campsites here Amaranto and Lucky Valizas seem quite popular. You could camp here, before walking into Cabo Polonio and back. It'll save you carrying all your gear too.
Hostels and Posadas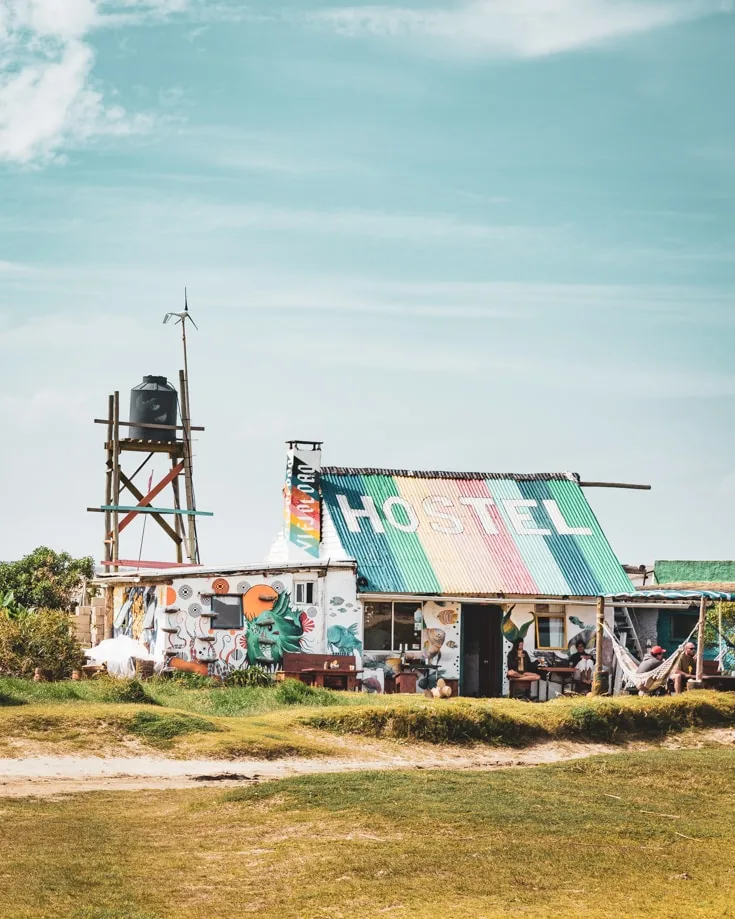 We've handpicked these best rated hostels in the village. But make sure to make advance reservations between January & March – they're massively popular and space is limited.
El jardin de Eli – this homely hostel gets terrific reviews and it's not hard to see why. The hosts, Flor & Lucca, pride themselves on making your stay great. They have solar power for minimal electricity supply and water comes from the well in the garden.
They use their own handmade soaps in the bathrooms and home cooked food is served for breakfast and dinner. Check prices and availability here.
Posada Carmela Cabo Polonio – Roaring fires, cosy rooms, located right on the beach and you can even get a massage! Just some of the things guests love about this posada. Check prices and availability here.
Lobo Hostel Bar – Run by a young couple, this ramshackle hostel is especially popular, albeit basic. While you can eat in their restaurant, the on-site kitchen also means you can cook up your own feast. Perhaps try getting some fresh fish as the fishermen arrive in the evening. Check prices and availability here.
Best time to go to Cabo Polonio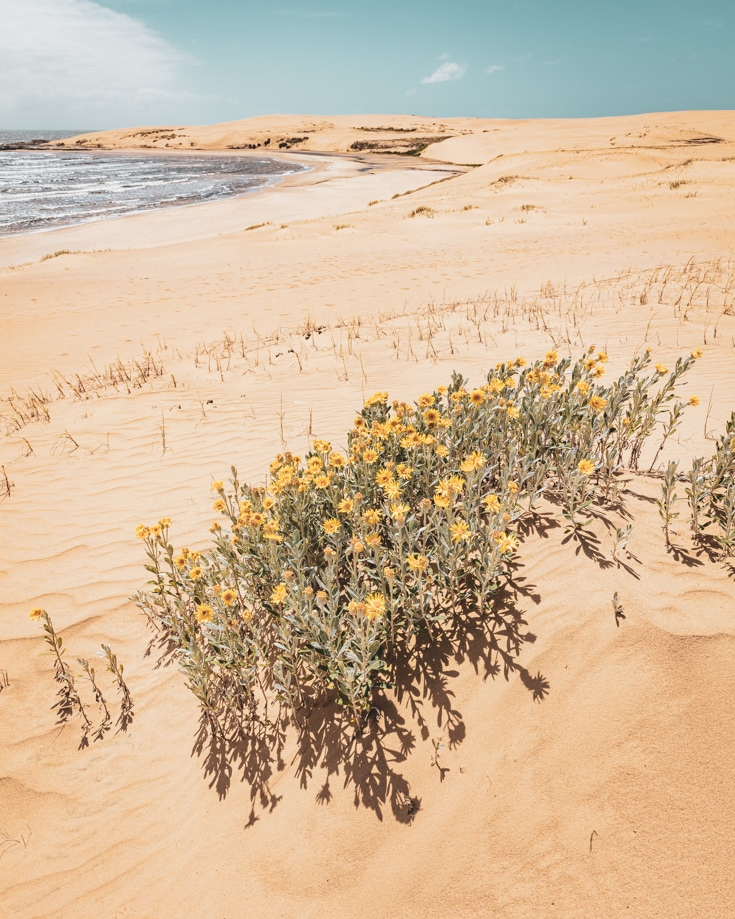 December through to February see high temperatures upto around 30°c and the masses arrive from Montevideo, Argentina and Brazil. This is Cabo Polonio's busiest period, and accommodation needs to be booked well in advance.
But while it's busy, there's only so many hotel rooms available so apart from day trippers, the village probably doesn't feel too overcrowded.
For even fewer fellow visitor's, the shoulder season offers good (albeit changeable) weather and lower accommodation costs. You could probably chance just turning up without prior reservations.
Winter is for the hard core – and whale watchers. The weather is grim, grey and wet but this just adds to the wildness of the place. There's not much open at this time of year and accommodation options are limited.
Viejo Lobo is a mixed dorm hostel and open all year – you'll probably have the place to yourself in June and July though. Check prices and availability here.
Things to know before you visit Cabo Polonio
When you click on links to various merchants on this site and make a purchase, this can result in this site earning a commission. As Amazon Associates, we earn from qualifying purchases. For more info, please check our disclosure page.
It's not every day you visit an off-grid village so how do you prepare for trip to Cabo Polonio? Here's a few useful tips and things to know before you get there.
It's not quite as basic as all the marketing would have you believe
Sure there's no proper roads, just sandy tracks. There's no power lines aside from the one running through the National Park to the lighthouse. And the buildings look like they'd topple over in a severe gust.
But most properties have generators, solar and wind power. So charging your phone or getting an ice cold beer really isn't a problem. You can even snatch some free wifi around the village.
Bring cash
There's no ATMs in the village so bring enough cash to last for your stay. In fact the closest reliable ATMs are in La Paloma and Punta del Diablo some 50 kilometres away in either direction.
Interestingly though, many of the stores, hostels and café bars will accept card payments.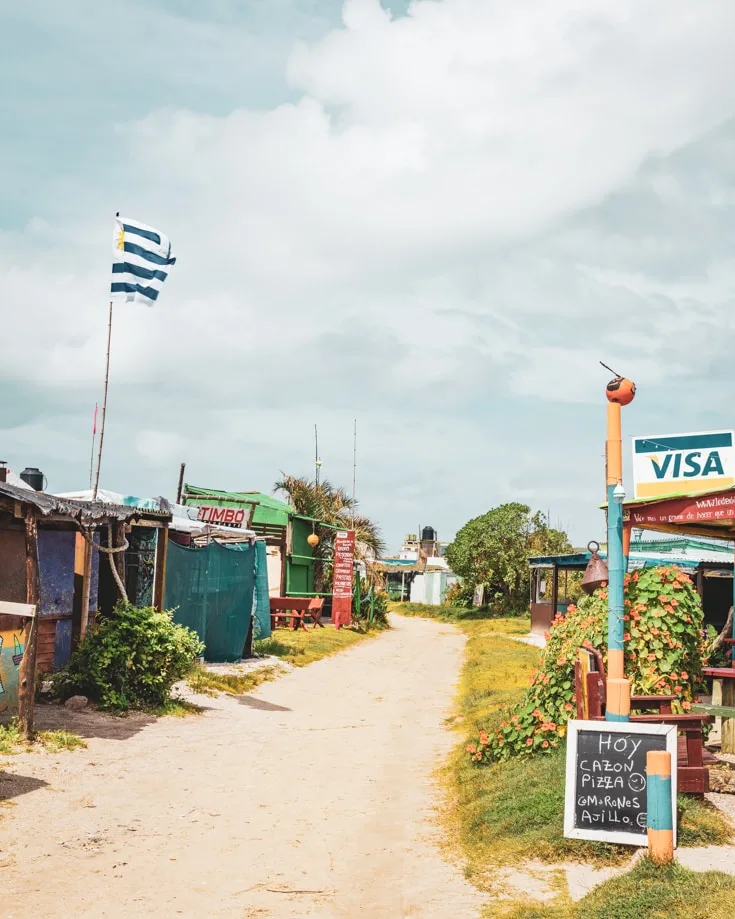 Shopping
There's 2 or 3 small grocery stores in the village and they seem well stocked with fruit & veg, bread and main staples so there's no need to carry food into the village with you.
There's a few cafés and restaurant bars too.
Note though, in winter most, if not all are closed. Only 1 grocery store stays open to serve the remaining residents who will tough it out during the winter months.
You don't have to look too far for souvenirs either. There's plenty of hippie-chic arts and crafts available from a tie-dyed scarf covered stalls.
Cook early
If you self cater, plan to cook your evening meal before the sunsets. Cooking in the dark or with a crappy head torch, candles or in dim light is hardly practical.
Packing essentials
If you plan to get to Cabo Polonio by walking either from Valizas or the visitors centre, you need to protect yourself from the sun.
Make sure you have a hat, suncream and cover your shoulders, arms and legs. The wind here can hide how hot the sun gets! You will burn!
While the water from the wells in Cabo Polonio is perfectly drinkable you want to consider bringing a handy water filtration bottle or steripen.
Travel Insurance
Never leave our home without an appropriate travel insurance policy designed to help cover your expenses if something goes wrong on your trip.
Check out True Traveller, World Nomads and SafetyWing for some quotes. Take a look at another of our posts for more details about their long term travel insurance.
Onward travel from Cabo Polonio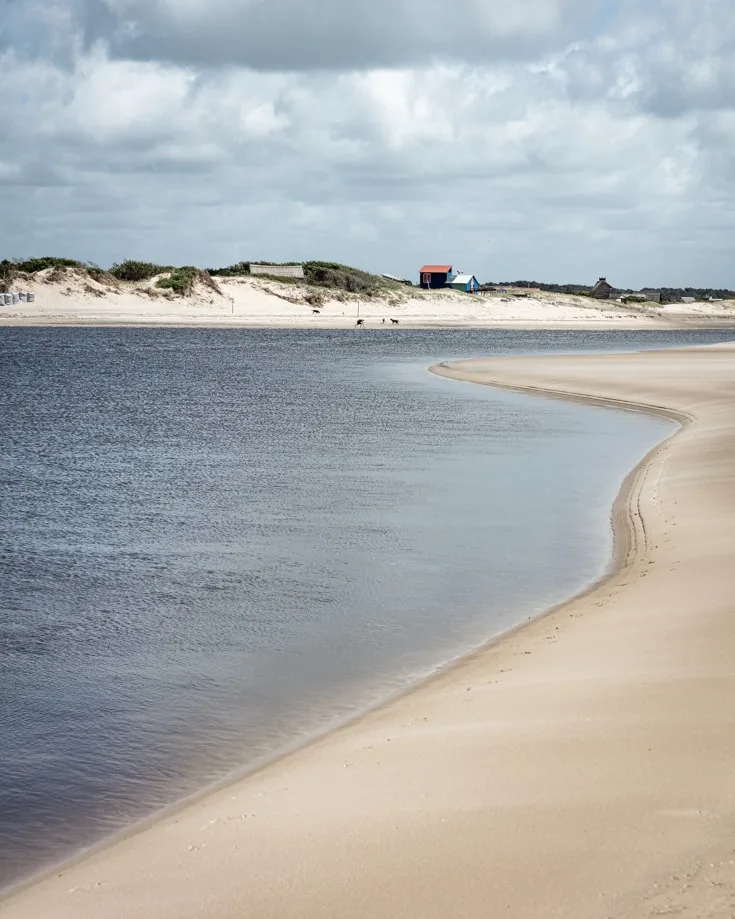 So where to next?
You can head north to Punta del Diablo, another fantastic beach town in Uruguay but with more modern facilities. It's by far our favourite beach in Uruguay. Nearby, you can visit Karumbé turtle conservation centre where we released a 3 year old green turtle back to the wild.
Are you travelling south? La Paloma is the next popular beach town on the Atlantic coast before you get to the massive tower block lined promenade of Punta del Este.
Or maybe head straight for the most laid back capital city in South America, Montevideo. You can check out our Montevideo travel guide here.
And if off the beaten path is something you're looking for, don't miss Uruguay's interior. Here's a road trip itinerary to help you see the best of it.
Like it? Pin it!