Mendoza! Argentina's wine country, butted up against the Andes Mountains, steeped in Argentinian culture and with year-round sunshine, is a dream destination.
---
For lovers of a big red Malbec, Mendoza is where it's at. With well over a thousand vineyards across three distinct growing regions, there are more than enough wine-related tours, landscapes, and experiences to fill a month, let alone a few days.
But while Mendoza is undoubtedly the wine capital of Argentina, there's more. So much more.
Wine lovers will delight in all the area has to offer. But leaving here with only a well-stocked wine cellar, having sampled the best reserves on offer probably means you've missed out on some of South America's most otherworldly landscapes and a glimpse into traditional Argentinian culture.
Breathtaking Andean landscapes radiate beneath deep blue skies. Aconcagua's dramatic snow-capped peak punctuates the horizon, drawing in extreme hikers for a challenging climb. The mighty Mendoza river offers water sports enthusiasts a chance to try their hand at whitewater rafting or fly-fishing for a delicious trout.
Weary muscles get pampered and soothed at thermal hot springs. City lovers can stroll through the city's tranquil plazas and tree-lined avenues.
In this guide for travelers, we've shared our advice on making the absolute most of your time in Mendoza.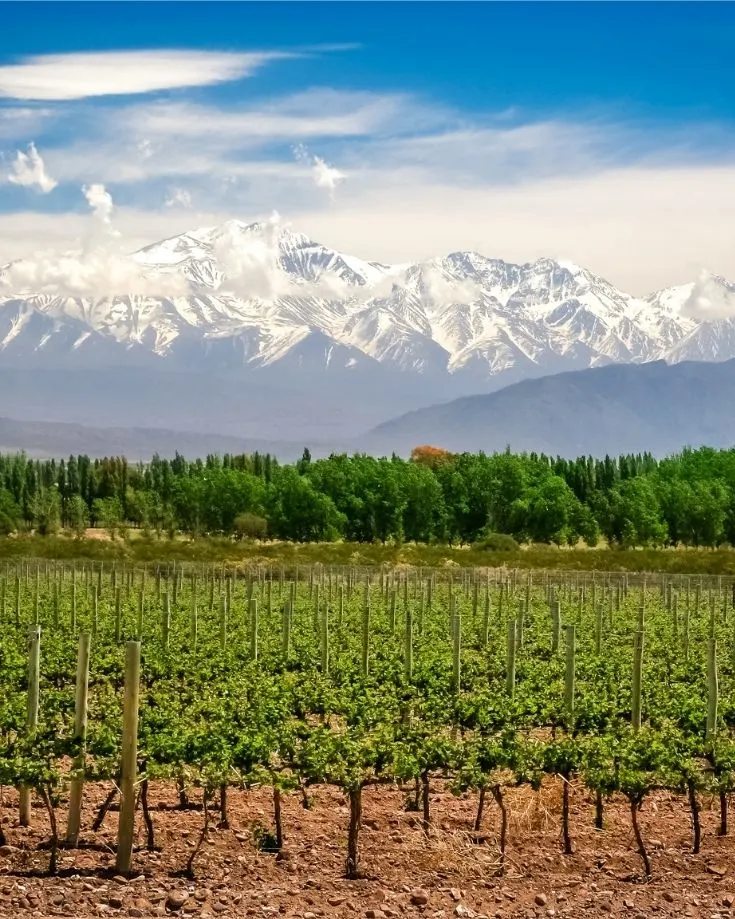 When you click on links to various merchants on this site and make a purchase, this can result in this site earning a commission. As Amazon Associates, we earn from qualifying purchases. For more info, please check our disclosure page.
Things To See & Do In Mendoza
You'd be forgiven for thinking that Mendoza is all about the wine – at least we'd forgive you because it features throughout almost every aspect of any visit to the region. But honestly, there really is more to discover when visiting Mendoza.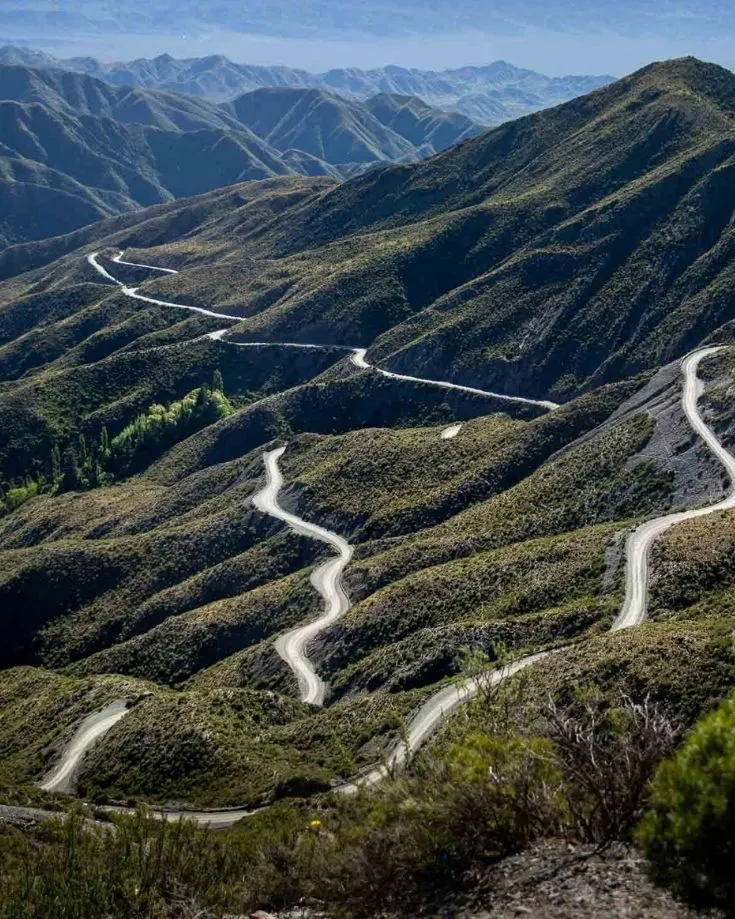 Here are our favorite things to see and do:
Tour Mendoza's THREE wine regions. THREE!!!
Take a winding road trip through the beautiful Villavicencio Natural Reserve.
Immerse yourself in Andean gaucho culture in Uspallata.
Take a hike in Aconcagua National Park.
Explore Atuel Canyon for spectacular scenery & incredible rock formations.
And that's only a taster.
Need more inspiration? Check out our complete list of things to do in Mendoza.
Travel Money in Mendoza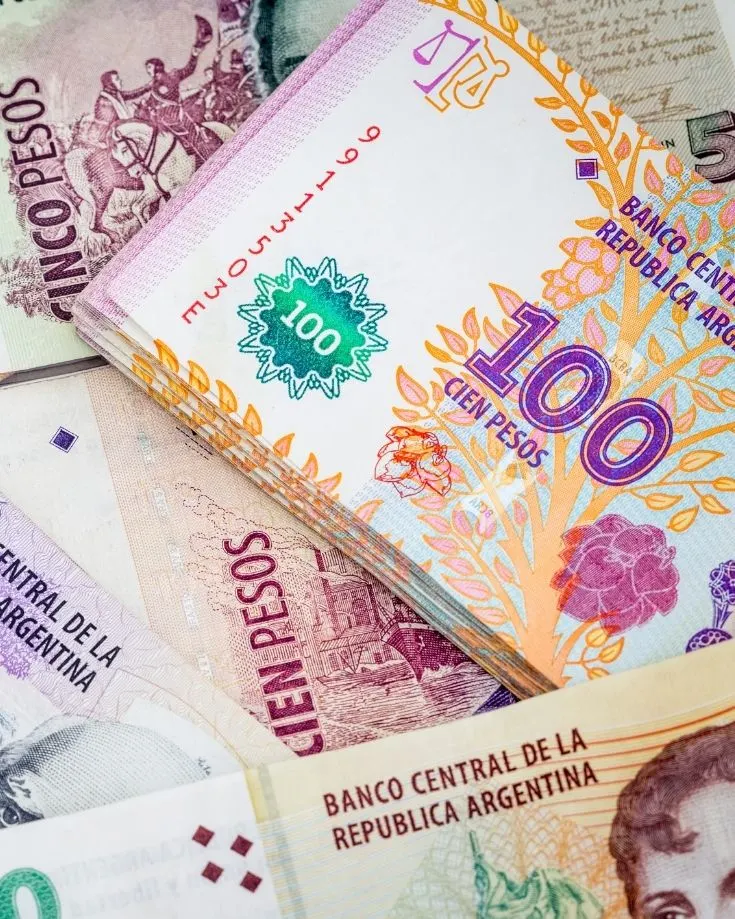 If you're an international visitor to Argentina, you really should make sure you understand the current situation with the Argentinian peso before you arrive.
The Argentinian currency is volatile at best, and there are several exchange rates. The banks offer an official rate – significantly lower than the black market (aka Blue Dollar) rate. Then places like the Western Union offer an even better rate again.
To put this into perspective, we never use an ATM or credit card in Argentina because we'd only get the official rate. So instead, we send ourselves a money transfer via Western Union and get the best rate available – then we pay for everything in cash. And we're not talking about saving a few dollars – we at least double the number of pesos we get by operating this way.
Because the Argeinitan economy is so volatile, there would be little value in indicating what travel budget you might need. Inflation is at a staggering 50%, so prices are rising dramatically. But at the same time, the peso is falling against the US$, Euro, and £GBP at a faster rate, so in real terms, costs for international visitors are falling.
And it's all happening so fast. We've bought the same bottle of wine three weeks running in the same store, and its price increased each week by quite a large proportion. As such, any prices mentioned in the remainder of this article should be used as a guide only – they're accurate as of the time of writing (November 2021). It could, and probably will, all change again.
To get the maximum amount of pesos for your foreign currency, take a look at our article on travel money in Argentina. It provides a good overview of the situation and how you can best navigate it, and we aim to maintain it.
How To Get To Mendoza Wine Country
By Air
Most visitors to Mendoza fly into Mendoza International Airport from either Santiago or Buenos Aires. The airport is less than 5 miles from Mendoza city, so a quick taxi journey will take you straight to your accommodation.
Several daily flights arriving from Buenos Aires take about 1 ½ hours.
There are also frequent daily flights from Santiago, and you'll only be in the air for ½ hour. The flight path passes over the Andes mountain range, so book a window seat!
Flight prices on both routes vary depending on the season and how late you book, but you can expect to pay in the region of US$200 for a return ticket. You can check ticket prices here for your travel dates.
By Road
Located in the central west of Argentina and close to the Chilean border, Mendoza is relatively easy to get to by road, especially if you're on a road trip or don't mind traveling long distances.
From Santiago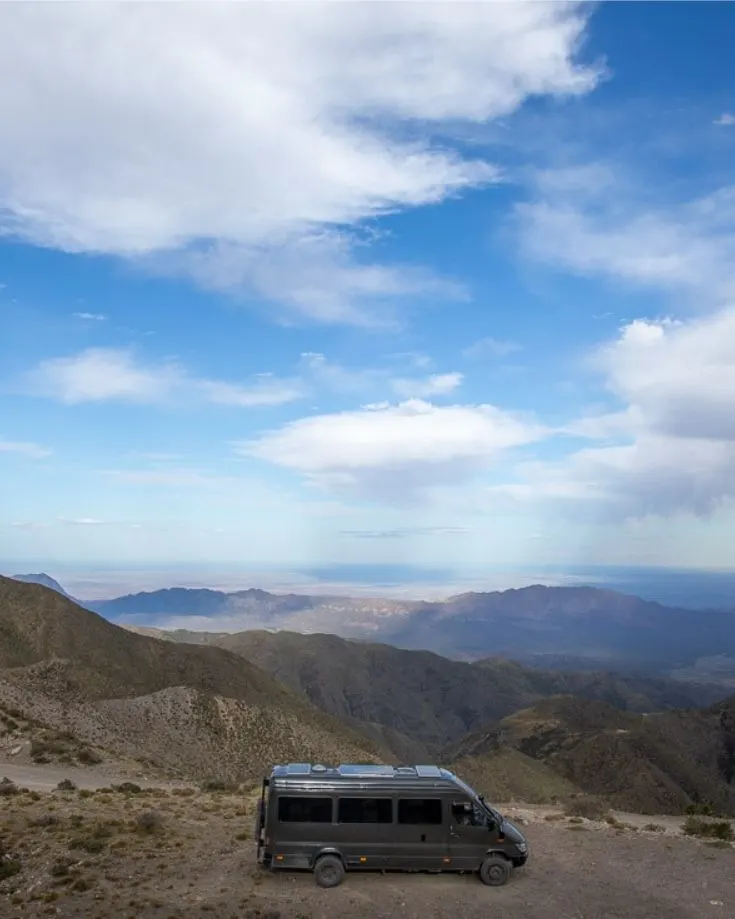 The total distance from Santiago to Mendoza city is about 360 kilometers (225 miles) and takes about 6 hours of driving time over one of the most stunning mountain passes in South America.
The route takes in many of the things to do in Mendoza we've already mentioned. It passes Aconcagua National Park, Puente Del Inca and into Uspallata. From there, you can either take the road through Villavicencio Natural Reserve (we recommend you take it in this direction) or the route via Lake Potrerillos.
So if traveling by road from Santiago to Mendoza, a little planning will help ensure you don't miss some of the region's most phenomenal scenery.
From Ruta 40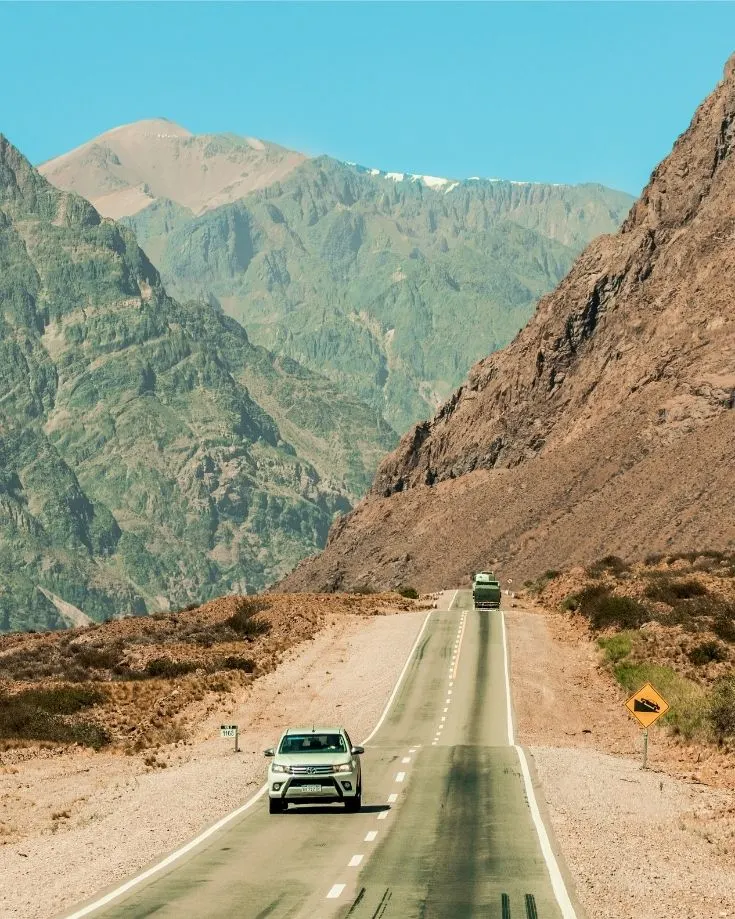 Ruta 40 is one of the most epic roads in the world. A route spanning over 5000 kilometers from the top of mainland Argentina to the bottom, it takes in some of the country's most amazing places.
And Mendoza is one of them. Ruta 40 cuts straight through Mendoza city.
By Bus
Long-distance bus journeys are a thing in Argentina – you only have to look at the size of the country on a map to understand why.
If time is on your side, and you're on a budget without your own transport, overnight bus services from Buenos Aires will save you a few dollars. Of course, if you pay in cash, you'll save even more.
Expect to pay around ARG$6000 for a journey of around 16 hours. You read that right – 16 hours. You can check the schedule and availability on the BusBud website.
How To Get Around Mendoza
The best way to get around Mendoza depends on what you plan to do and where you'll go. Driving around the vineyards isn't a great idea – unless you're teetotal.
And car rental for city sightseeing is unnecessary. That said, getting around Mendoza is easy, and you can use any (or all) means of transport in one visit.
Walking
The city center is easily navigable on foot. There are no hills, many cafés, and gorgeous street-lined boulevards.
Taxis
Taxis are a cheap way to get around the city. Mendoza taxis are black and yellow and have a light in the windscreen when they're free, so you know which to flag down. They're metered and usually start at around ARG $85 before you go anywhere. To put the prices into perspective, a 9-kilometer (5-mile) journey cost us around ARG $550 – that's about US $3 or £2.
Remis
A remis is kind of like a taxi only you hire the car and driver for a period of time. It makes them ideal for touring the vineyards if you don't fancy cycling or taking an organized tour. And they're great value too – a little more expensive than a taxi but a more convenient and comfortable ride. Check out Brisas Remis Mendoza and Rumbo Remis, both of which get cracking reviews.
Buses & Trams
The public transport system in Mendoza is ok and ultra-low-cost. However, you can't pay with cash on the buses and trams and need to pick up a SUBE card in a kiosko. In our opinion, because the city is so easy to navigate on foot and taxi fees are so low, waiting for buses and trams in the summer heat is more hassle than it's worth.
Car Rental
If you've arrived in Mendoza on public transport or by air and want to explore Mendoza province, car rental is cost-effective. Fuel prices are low (for the tourist dollar), and daily hire will cost around US $35.
Driving in Argentina isn't difficult, and it's the most flexible way to explore Mendoza province, especially away from the city center and Maipu vineyards. You can get a free car rental quote here.
Parking in the city center is relatively easy for regular-sized cars – lookout for the blue Estacionamiento signs and on-street parking attendants in Day-Glo jackets.
If you're in a long or high vehicle (like our campervan or larger), then your options become limited – not impossible, just harder to find. At this time, parking is ultra-cheap, given the exchange rates. We paid less than US$1 for around 7 hours of on-street parking, mid-week.
Bike Hire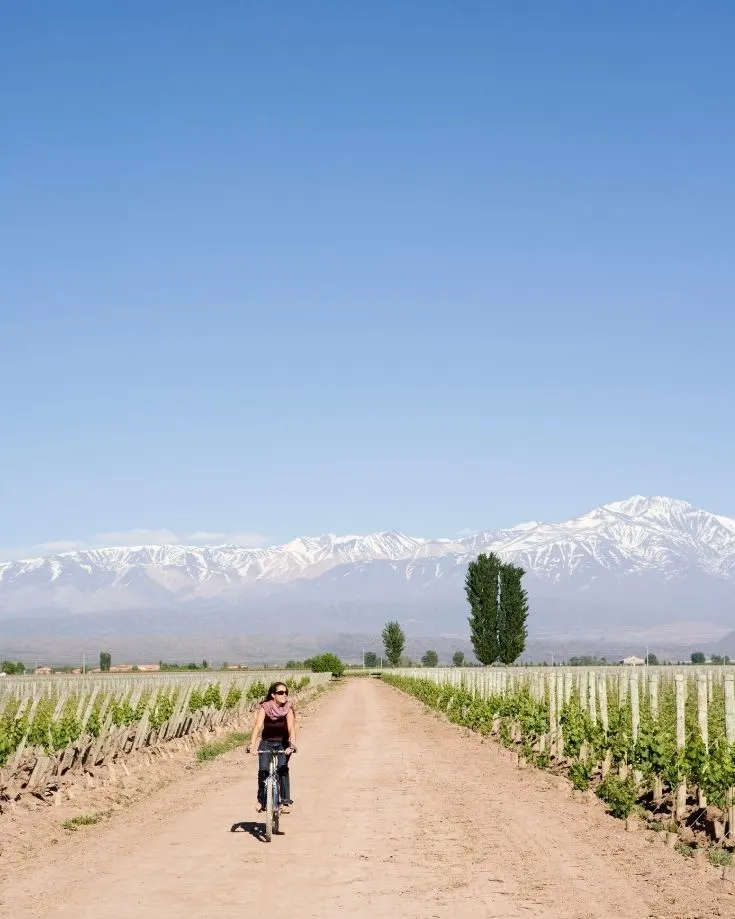 En la Bici is a bike-sharing system set up in the city. Much like the Ecobici system in Buenos Aires. You'll need to register and download an app, but the process is pretty easy once that's done. You can find out more information on the Mendoza website.
That said, we wouldn't suggest cycling around the city – there's no need with low-cost taxis and a decent public transport network – but cycling around bike the vineyards in Maipu is one of the best things to do in Mendoza.
Mr. Hugo's Bicycle Rental and Maipu Bikes Rental Bikes are both well located for Maipu tours. Expect pay around ARG $1000 per day – that's about US $5 or £3.50.
Best Time To Visit Mendoza
Mendoza's climate is fantastic! It's dry year-round – the wettest months are in summer – January & February – but even then, you can only expect an occasional thunderstorm.
Winter (June to August) daytime temperatures hover around 15°C (59°F) and drop to a little above 0°C (32°F) at night. However, the mercury rises in summer (December to February), easily hitting the mid to high 30s°C (edging over 100°F).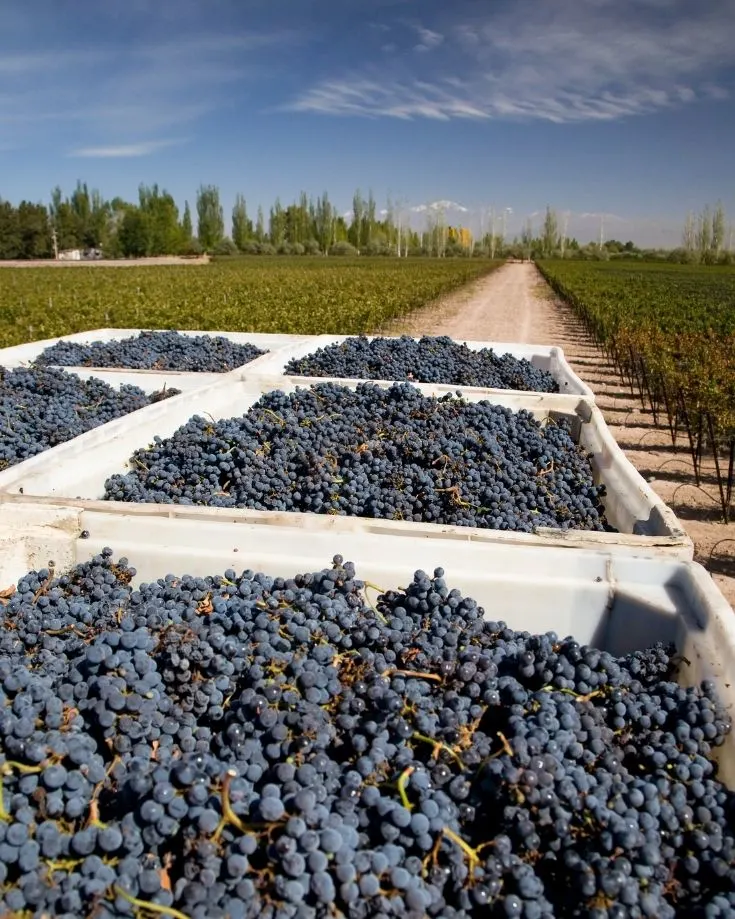 While the climate is lovely year-round, exploring the Andes mountains nearby, you can expect much cooler temperatures. Mountain passes can close in winter, especially the route through Villavicencio and Ruta 7 toward the Chilean border crossing. That said, if you want to enjoy the ski resort Los Penitentes, winter is, of course, the best time to visit Mendoza.
Spring and Fall are the most comfortable time to visit, and the city isn't as busy as it is during January and February. We spent three weeks in Mendoza in late Spring, and it was glorious – warm days with cooler nights, though occasionally a little humid.
The grape harvest begins around the end of February to March or April, depending on the crop, and it's a fun time to get involved at the vineyards and winemaking activities. The Fiestas de Vendimia (Grape Harvest Festivals) happen around March or April.
Where To Stay In Mendoza
The central tourism region of Mendoza province is focused around the city. Consider the activities you want to do and your itinerary when choosing what area to stay in Mendoza. To help you figure that out, we've summarised the three most popular areas to stay at with our top picks of accommodation in each.
And if you're an overlander like us, we've got you covered too!
Mendoza City Center
The cosmopolitan city center is calm with plenty of green spaces to relax in. The majority of visitors to Mendoza will stay in the city. There's a great selection of shopping malls, restaurants, and even Bodegas for wine tasting while convenient for picking up organized tours throughout the entire region.
If you don't have your own transport but want a varied itinerary, Mendoza city center is a great place to stay.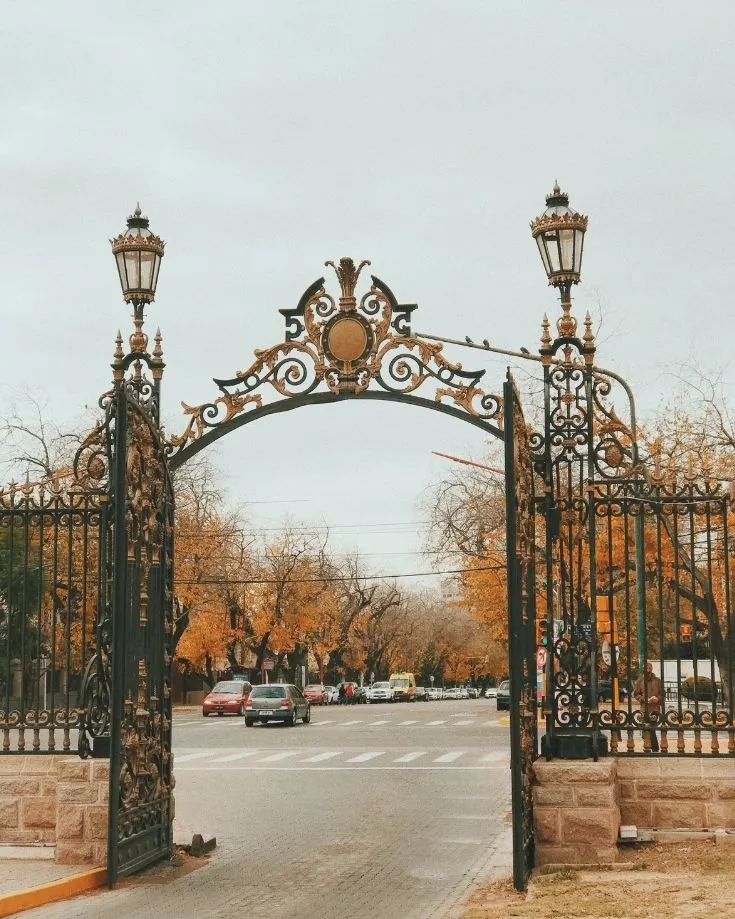 Park Hyatt Mendoza Hotel // Mendoza's 5* offering, the top-notch Hyatt, has a commanding position on Plaza Independencia, arguably the best location in the city. The plush accommodation is all you'd expect from the Hyatt brand and includes a pool and spa. With a delightful patio, you can enjoy lunch or evening cocktails overlooking the plaza. A little bit of luxury in the heart of the city.
Mendoza Apart Suites // A city center position only two blocks from Plaza Independencia, offering comfortable rooms with everything you need to self-cater. There's even a BBQ and garden patio for guests to use, all at a budget-friendly price.
Take a look at this map of all Mendoza city center accommodation options to see if there's anything special and available in the area on your dates.
Maipu Wine Region
Maipu is a town a few kilometers outside of Mendoza's city center. Best known as a wine-growing region, there are several well-known vineyards here. Because the area is relatively flat and with so many vineyards and olivicolas in such a small space, it's a perfect place for bike tours.
Staying in Maipu is ideal for those who want to combine a city stay with vineyard tours.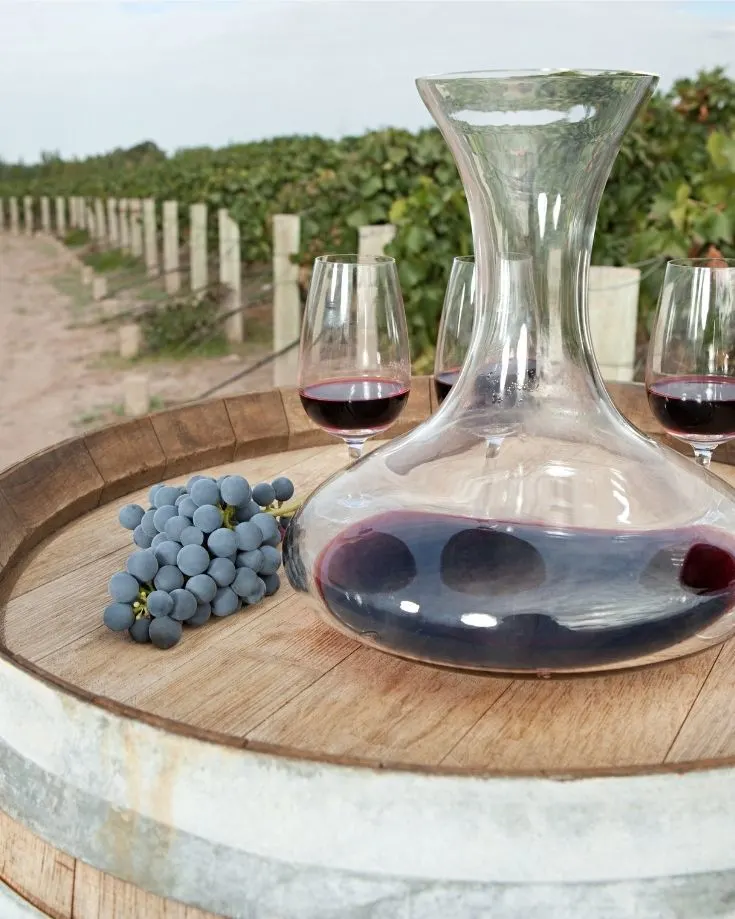 Posada Cavieres Wine Farm // One of the few vineyards in Maipu offering accommodation and a terrific experience. The amenities are comfortable, the pool perfect for cooling off, and evening meals are a wonderful experience paired with the vineyard's own wines. Surrounded by other Maipu vineyards, Posada Cavieres Wine Farm is ideal for taking a cycling tour around the region.
Posada Verde Oliva // Another excellent option in the heart of the Maipu wine region, this time on an olive grove. With lots of shaded outdoor areas, a plunge pool, and elegant rooms, a stay here won't disappoint.
Take a look at this map of all Maipu's accommodation options to see if there's anything special and available in the area on your dates.
Chacras de Coria
Chacras de Coria is a relatively small town, 7 miles south of Mendoza city center. It's located just off Ruta 40 near Lujan de Cuyo, so it serves as the ideal gateway to this wine region. If your travel plans center around wine and the mountains, this is a perfect location, and it's still only a short journey into the city center.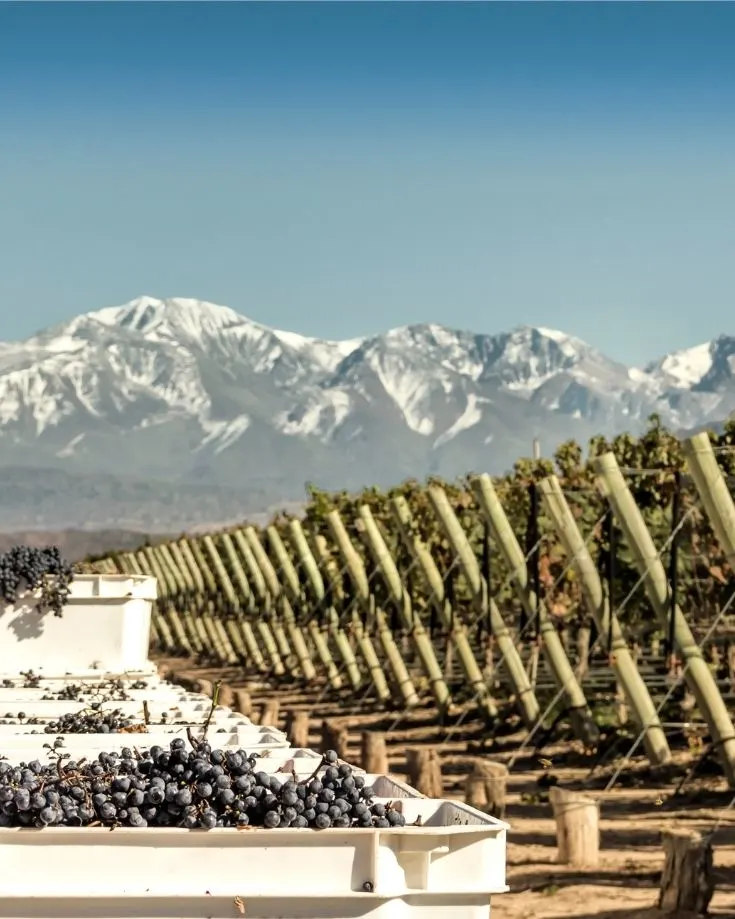 La Masia // An excellent hotel with idyllic grounds, a terrific selection of wines (of course), and a relaxed restaurant. The staff get great reviews and go above and beyond to help you have the perfect stay in Mendoza.
La Bignonia Posada // Offering tastefully decorated rooms with private outdoor space, La Bignonia Posada is a popular family-run hotel a short distance from Carmine Granata Saica Winery. An excellent location in Chacras de Coria.
Finca Adalgisa // A delightful bijou vineyard with comfortable accommodation, If you're looking for a peaceful getaway, you're in luck here. And you'll get a complimentary glass of wine every evening. Now, does it get much better than that?
Take a look at this map of all Chacras de Coria's accommodation options to see if there's anything special and available in the area on your dates.
Best Place To Stay In Mendoza For Overlanders
Hanging out in cities as overlanders can be a challenge. Overnight parking spots are rarely peaceful and sometimes don't leave you feeling incredibly secure.
Campgrounds tend to be few and far between, and when you find a decent one, rarely can it accommodate a large rig. Luckily, Mendoza has us covered.
We have stayed at all three of these campgrounds so we can vouch for their amenities. As always, use the iOverlander app for the most up-to-date reviews – the links below take you to their iOverlander entries.
Posada Cavieres Wine Farm // One of the best places to stay in the Maipú wine region is run by a helpful Belgian guy called Hans. The vineyard isn't an advertised campground, but he has been known to accept a few overlanders at a time. There are no electrical hookup points, though, but if your camper has solar panels, you'll be fine unless you encounter a rare cloudy day. You can use the hotel facilities, including the WiFi, luxury bathroom, and pool. Laundry facilities are available too.
Be aware, though, Hans charges in US dollars, so expect to pay a significant premium compared to the other camps on our list.
Camping el Mangrullo // We stayed here for three weeks and loved it! It's in El Challao, so it's not the best location-wise – 9 kilometers from the city center and 28 kilometers from Maipú. But the facilities are good, birdlife prolific, and sensible prices make it by far the best campground for overlanders in Mendoza. A taxi takes about 10 minutes to get into the city and saves you the hassle of finding suitable parking. We highly recommend it.
Uspallata Municipal Campground // In a perfect location to enjoy everything Uspallata has to offer. Like many municipal camps, it's basic and looks a little run-down, but everything works. The showers are hot; there are parrillas and electrical hookups at every site. It's pretty dusty too, but the price is extraordinarily low given the facilities.
Where to Eat In Mendoza
We read high praise for the pedestrian street, Peatonal Sarmiento, near Plaza Independencia. It has restaurants and street performers, making it sound like an ideal place for evening dining. However, our advice is to give it a miss. It's touristville at its worst and in our experience, the restaurants are average at best.
For the best dining experiences, try the restaurants on Sarmiento Avenue on the opposite side of the plaza.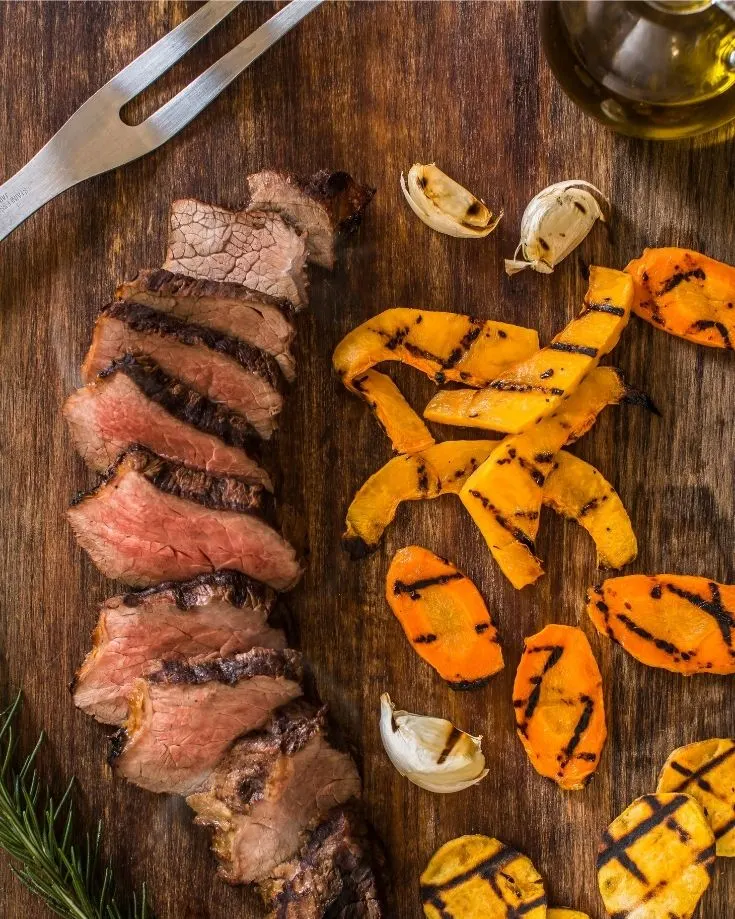 Here are the best places we ate in Mendoza and highly recommended:
Tips for Visiting Mendoza
Learn A Little Spanish
Few people speak English in Mendoza. You will probably encounter guides and even a few taxi drivers who have a few words of English, but on the whole, Spanish is the only spoken language.
Make an effort to learn a few Spanish phrases before you arrive, and you'll enjoy Mendoza so much more.
Top Tip // Download the Spanish Google translate dictionary and keep your phone charged – it's the only phrasebook you need.
Safety In Mendoza
While Mendoza isn't a dangerous place, and is considered a safe city for visitors, it's not crime-free. Much the same as any large city worldwide, Mendoza has its share of inner-city crime.
The most likely risk you run is from petty theft. A mobile phone can quickly be snatched from your hand, a camera yanked from your shoulder, even in broad daylight in a busy part of town.
Take sensible precautions, so you don't stand out as an easy target. Keep your personal belongings safe, don't flaunt expensive cameras and jewelry, and trust your instincts.
A good travel insurance policy will protect you against the financial loss of theft or injury, but prevention is better than cure. That said, if you can't afford a travel insurance policy, you can't really afford to travel. We recommend:
Carry Tissue Paper With You
Most bathrooms in Mendoza do not have a supply of toilet paper – much like the rest of Argentina. You might get lucky in some restaurants and even some vineyards, but take our word for it – this is far from guaranteed. A small packet of tissues will be your hero if you're caught short.
Mendoza Packing Guide
Depending on your itinerary, you'll need to pack for a warm, dry climate, city sightseeing, mountain hiking, high altitude, and fancy vineyards – all in one suitcase!
It's not as tough as it sounds, though. Formal dress just isn't a thing in Mendoza – this is South America, after all. Instead, comfortable, casual attire is perfect, even when dining in the fanciest of restaurants or visiting the most luxurious vineyards.
City sightseeing, bike tours, and visiting wineries all demand comfortable walking shoes and loose clothing to help you keep cool. Skip the jeans in favor of shorts in summer and bring a sweater for the chilly Spring or Fall evenings. Is horse riding on your bucket list? Keep the jeans! Swimwear and flip flops are a must if your accommodation has a solarium or pool.
For venturing up to the mountains, bring outdoor hiking gear and excellent hiking boots. You'll definitely need a sweater or fleece too.
Going skiing? Pack for winter, but you can hire your ski gear in Mendoza when you arrive.
There are several laundries in the city, and they'll do a service wash and dry in 24 hours. If you drop off early in the morning, they may do same-day service.
Remember that the sun is more ferocious in the southern hemisphere, so sun cream is essential year-round.
Don't forget these travel accessories too:
Onward Travel Inspiration
Ruta 40 // Mendoza is on Ruta 40, so it's easy to incorporate a small stretch of the infamous route into your itinerary.
Atuel Canyon offers spectacular views and a terrific unpaved road trip located 300 kilometers to the south, near San Rafael.
Malarguë is a bit further south. More spectacular caves and rocks formations and the interesting Pierre Auger's Observatory serve as a warm-up act to the black and golden volcanic landscapes of Reserva Provincial La Payunia.
Sierra de las Quijadas National Park // 3 hours east of Mendoza, you'll need a car to visit Sierra de las Quijadas NP, but it is well worth the journey. Fabulous hikes through deep-red canyons afford the chance to experience a plethora of wildlife and even the majestic condor.
Explore Argentina's Lake District // The Lake District around Bariloche and San Martin de Los Andes is a gorgeous area for a summer break. Flights from Mendoza to Bariloche are frequent and take around 90 minutes, a better alternative to driving a 1300 kilometer stretch of Ruta 40 for those without ample time.
Buenos Aires // Tango, football, candombe, and fabulous architecture in a city that never sleeps. We spent 3 months living in Buenos Aires and completely fell in love with the city. If your timescales allow, try to spend at least 3 days there.
There are probably other options, too, but these give a flavor of the most popular and accessible alternatives.