Argentina & Wine. Almost as perfect as Argentina and football, for Argentinians at least. The Mendoza wine region is the world's capital of Malbec and the major tourist attraction. Here's how to plan the perfect visit to Mendoza wineries!
---
Argentina is home to some of the best wines in the world. Mendoza wine region produces over 60% of Argentine wines. It's currently one of the most popular regions for tourists looking for a destination with excellent wines, breathtaking landscapes, delicious food, and fantastic weather.
Mendoza has more than 1500 wineries divided into three main growing areas: Maipú, Uco Valley, and Luján de Cuyo.
With the majestic Andes mountain range serving as a backdrop, visitors can tour vineyards, learn about the winemaking process, sample wines and learn about their different characteristics.
As one of the best things to do in Mendoza, You'll be able to taste wines that are produced by passionate people who love what they do every day! And when you're done sampling, you can dine at high-class restaurants and indulge in phenomenal tasting menus where each course is specially paired with the perfect wine.
While Mendoza is a popular destination for tourists, most first-timers don't know how to visit the wine region. Each area has something unique to offer, so it's important to know where you're going to get the best possible experience.
We've put together this guide that will help you explore all three areas while you're in town. It contains an overview of each area and their vineyards and practical information about visiting wineries and restaurants that serve local wines with food pairings.
We've also included a map so you can easily find your way around!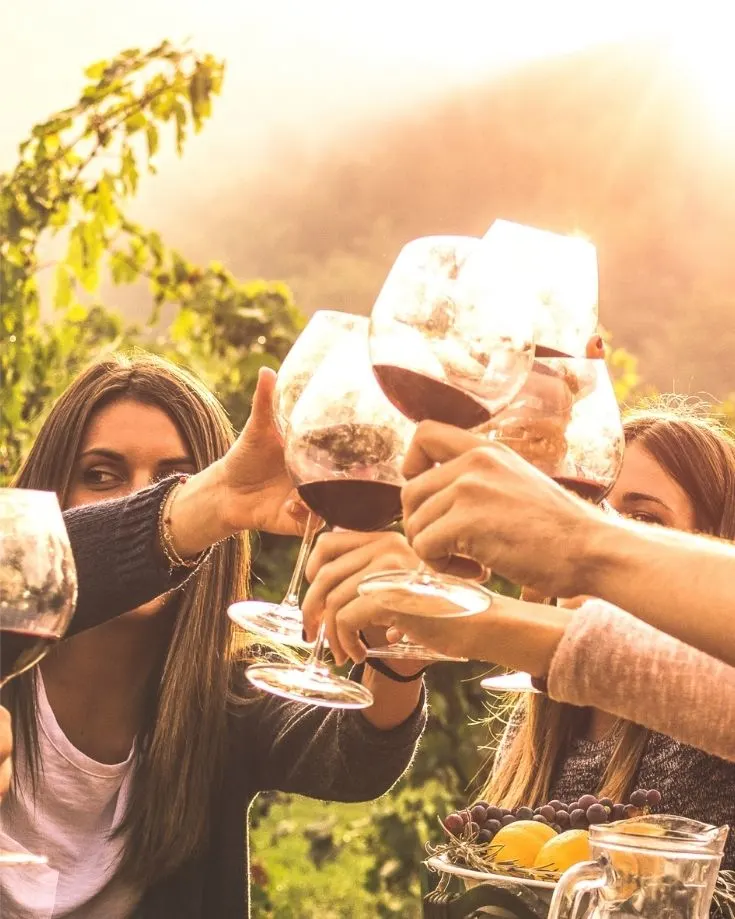 When you click on links to various merchants on this site and make a purchase, this can result in this site earning a commission. As Amazon Associates, we earn from qualifying purchases. For more info, please check our disclosure page.
What Kind Of Wines Do They Produce In Mendoza?
The Mendoza wine region produces a wide variety of wines, ranging from Malbecs and Cabernet Sauvignons ideal for aging (and making into the famous Argentinean wine known as "Malbec") to fresh fruit-forward whites such as Bonarda/Bonmatí, Torrontés or Moscato d'Asti.
For the non-oenophiles (wine fanatics to you and me!), they're all delicious, and that's probably as good a reason as any to indulge a little!
Bodega vs. Wineries vs. Vineyards
When visiting Mendoza and checking out places offering wine tastings, you'll inevitably come across three terms: bodegas, wineries, and vineyards.
When we first visited Mendoza, we thought the terms were used interchangeably. They are, to some extent, but there is a difference – at least in theory.
Vineyards are simply places where grapes are grown to make wine. On the other hand, wineries focus on producing wine, and bodegas primarily store the wine.
In reality, Mendoza has many, many vineyards – some quite small, while others cover vast swathes of land.
Some of those vineyards have their own wineries. Their wine production may blend their own grapes with the fruit from other vineyards. The wineries are responsible for the complete production cycle from receiving the picked fruit to bottling.
A bodega is a wine cellar or wine shop. You'll find plenty of bodegas in Mendoza city center that perfectly fit that description. But there are large vineyards, come wineries that call themselves bodegas too. Not confusing at all, is it?
The upshot is when deciding on which vineyards, wineries, and/or bodegas to visit, check what they actually offer instead of what they call themselves.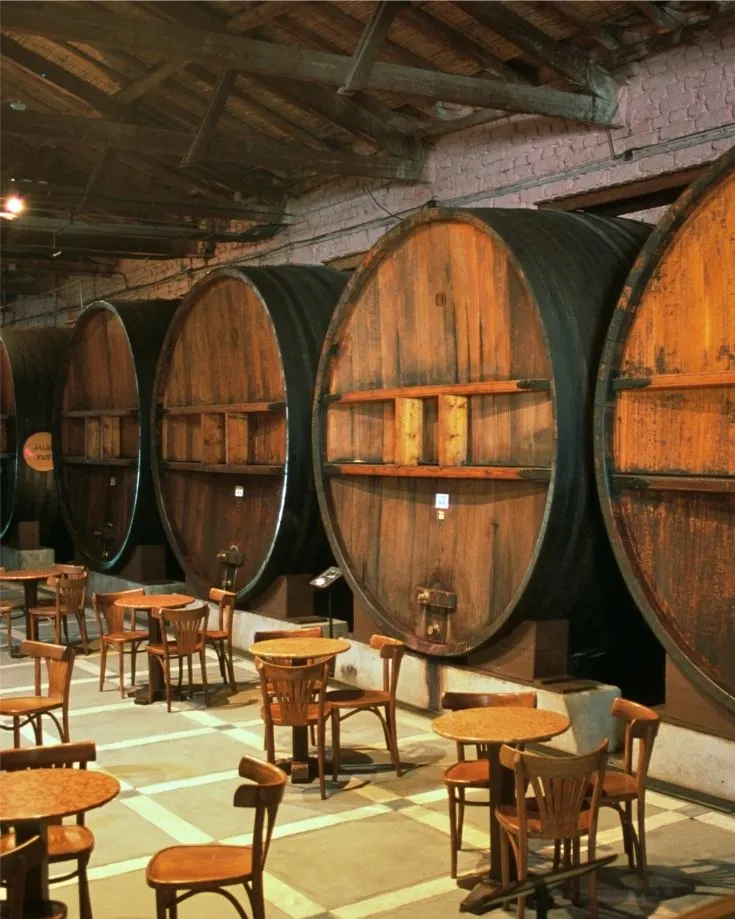 What to Expect On A Vineyard Tour
Touring a vineyard can be like taking a walk through time. As you gaze out across endless rows of vines, bursting with deep purple bunches of grapes biding their time for the perfect sugar content, it's hard not to get swept up in romance!
Of course, the experience at every vineyard, winery, and bodega is a little different. But on the whole, they all follow a somewhat similar pattern.
Touring the vines – often providing historical background about the buildings and the vineyard or family.
Production area – usually explaining the historical way of pressing the fruit, using centrifugal 'machines' and barreling before a brief overview of the less romantic modern side of the operation.
Walking tour of a cellar – sometimes including barrel tasting (try the gorgeous rose in Bodegas Salentein if you get the chance!).
Tasting 3 – 5 wines – usually including at least one single vineyard wine and sometimes suitably paired nibbles.
Encouragement to buy at least a bottle from the gift store.
Wine enthusiasts will find themselves captivated by the wine tour as they learn about making and tasting different varieties.
Wineries are beautiful places that offer visitors many different experiences depending on what interests them most. Perhaps you're interested in the history surrounding a particular place or simply enjoying good wines while discovering something new with each sip.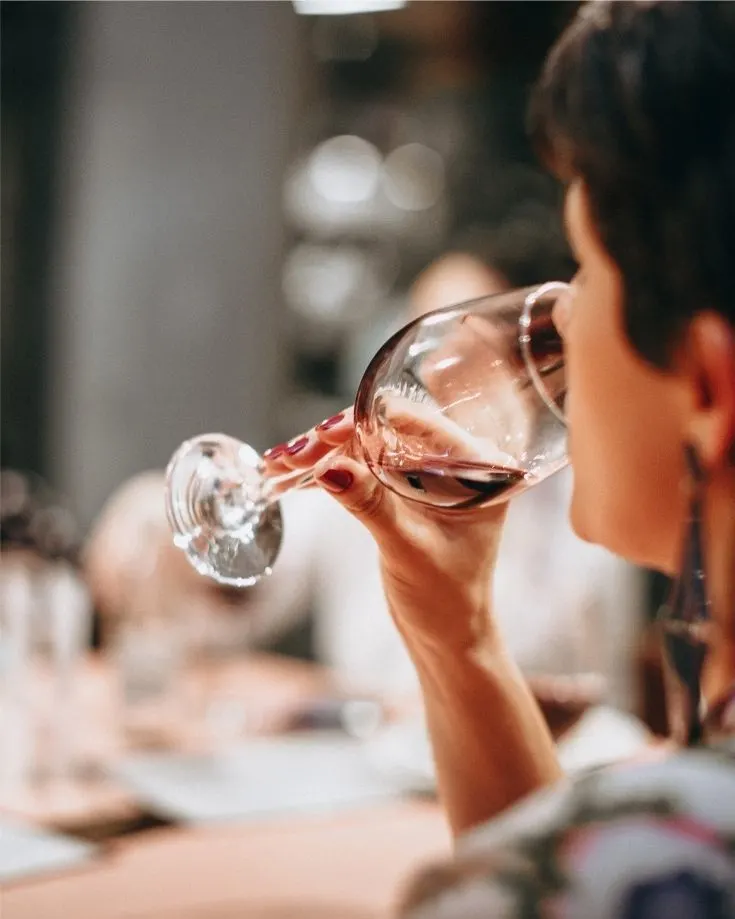 Where Is The Mendoza Wine Region?
Mendoza wine region is one of the most important in Argentina, with vineyards covering almost half a million acres. The climate here is perfect for grape growing – it's hot and dry, which helps produce high-quality grapes.
Argentina's wine country is located in the central-western part of Argentina. The province of Mendoza is divided into three areas:
Maipú: This area is located on the eastern slopes of the Andes, and it's where you'll find most of Mendoza's wineries. The altitude ranges from 650 to 1000 meters above sea level.
Luján de Cuyo: This area is located in the middle of the province and has an elevation of 900 to 1300 meters. It's home to some of Mendoza's most prestigious wineries and contains more than 60% of all vineyards in Mendoza.
Uco Valley: This area is Mendoza's newest and smallest growing region. The altitude ranges from 650 to 1100 meters.
Map of the Best Mendoza Wineries and Vineyards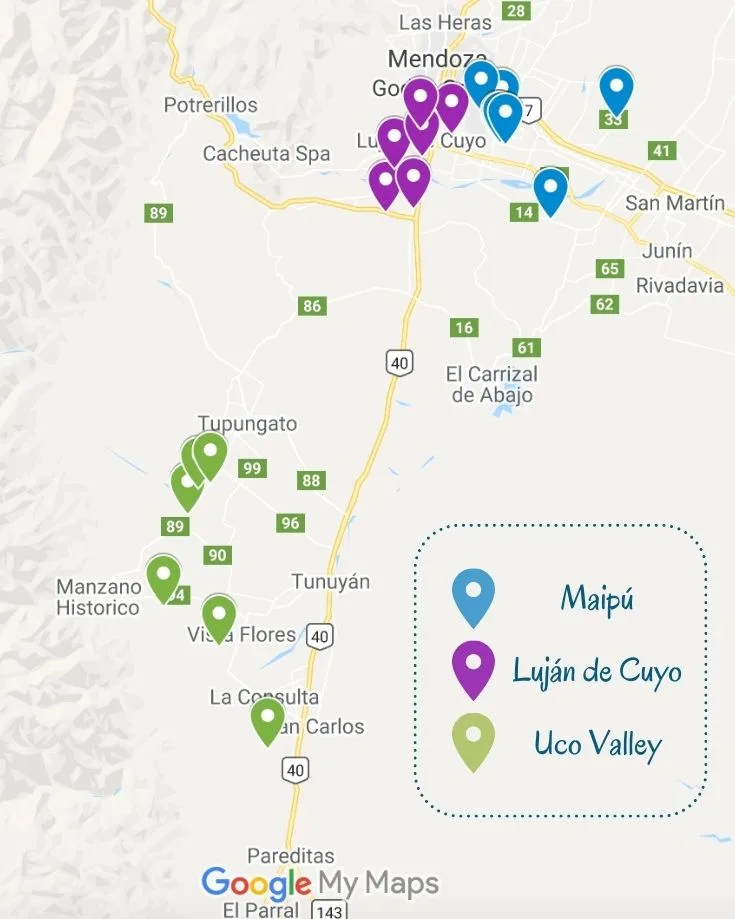 We've marked all the wineries and vineyards mentioned in this article on the map above.
You can open it in Google Maps for more detail.
Maipú
Maipú is just a few kilometers south of downtown Mendoza, with an easy taxi ride back when you're ready to return to your hotel. Because of the proximity to town, Maipú makes an ideal region for anyone visiting Mendoza for only a day or two.
You'll find many wineries in this area that offer both guided and self-guided tours. With many wineries in a relatively small area, Maipú is probably the best of the three areas for touring by bike. The routes are flat but can also be quite busy as it's so close to town.
You'll often catch glimpses of the snow-capped mountains in the distance, but it's not as scenic as the other wine regions in Mendoza. However, the area is pretty small, and with many vineyards in a relatively small space, it's probably the best of the three areas for bicycle tours.
Many wineries here welcome walk-in visitors, so you won't always need a reservation. Maipú is home to plenty of wineries offering tours and tastings. Some of the well-known wineries in the area include Trapiche, Zuccardi's Bodegas Santa Julia, and Bodegas Lopez.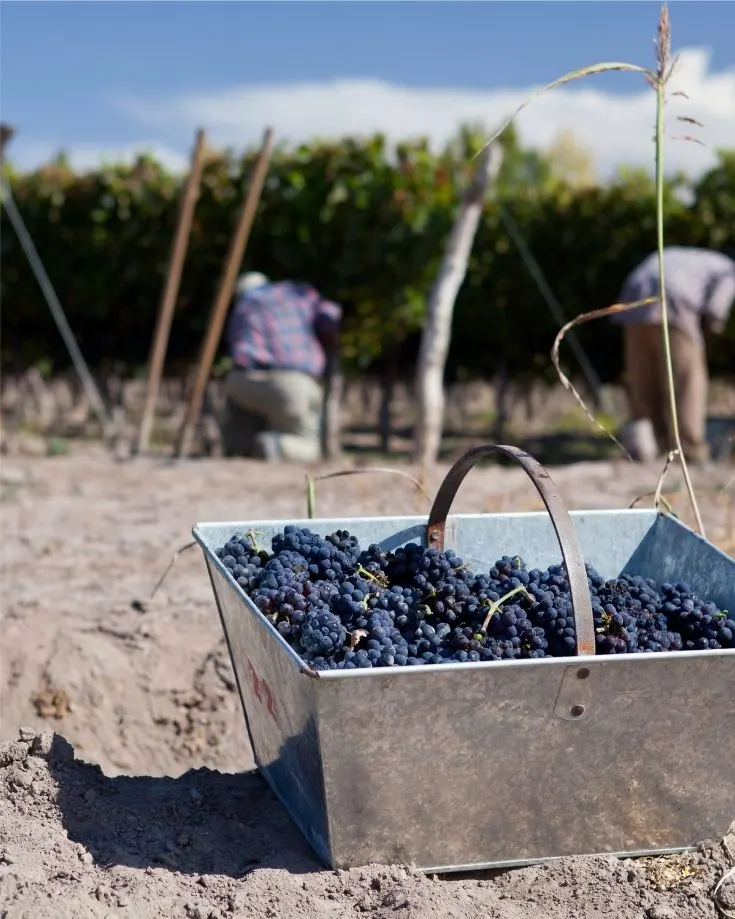 Trapiche
Are you looking for an authentic winery experience? Look no further than Trapiche. Their historic winery was first founded in 1883 and has been instrumental in introducing changes to the Argentine wine industry with many innovations throughout its history.
With their enormous wine portfolio, Trapiche can also claim to be one of the most prized wineries in Argentina. The vineyard is set around a beautifully restored historic building housing the winery is. After your guided tour and informative wine tasting session, enjoy a glass of your favorite glass of vino on the patio overlooking the vineyard with a hazy view of the Andes Mountains.
The modern restaurant, Espacio Trapiche Restaurant, is fabulous, too. The food is prepared with ingredients from their own gardens. Although expensive, we can highly recommend their tasting menu with perfectly paired wines – arrive hungry!
For more information, check out the Trapiche website.
Bodegas Lopez
The Lopez family has been in the wine business in Mendoza for over 120 years. They arrived in Argentina from Spain and now produce over 40 varieties.
Needless to say, Malbec features in their wine range but also chardonnays and sparkling wines. Try a glass of their gorgeous Chateau Montchenot, a blend of Cabernet Sauvignon, Merlot, and Malbec.
Bodegas Lopez offers free wine tasting tours, including two wines tastings – red and white. For a more in-depth tasting session with a sommelier, they offer a range of special tasting sessions.
One of the most fabulous things about Bodegas Lopez is their vineyard courses. Depending on the season, you can get involved with part of the harvest and winemaking process and insight into tending a vineyard.
And would a vineyard be complete without a restaurant? It seems not these days. The dining room at Bodegas Lopez enjoys panoramic views of the mountains. You must book ahead to avoid disappointment, though.
Top Tip // Arrive for your lunch reservation early to look around the winery and take some great pictures and maybe even buy a bottle or two to take home.
For more information, check out the Bodegas Lopez website.
Bodegas Santa Julia
We visited Bodegas Santa Julia because one of the most lovely wines we'd tasted before arriving in Mendoza was their Santa Julia Reserva. It's delicious, especially served with empanadas from possibly the best empanada shop in all of Argentina – in San Martin de Los Andes.
Unlike the other two Maipú vineyards that have made it onto our list, Bodegas Santa Julia is a winery without a vineyard. It's still in sight of the vineyards, but the scenery doesn't match Bodegas Lopez or Trapiche.
Here, you'll experience the modern side of winemaking, with little in the way of the romantic presses of old. Even so, when included as one of the wineries on a tour, it brings a unique experience.
Activities at Santa Julia aren't limited to the wine tasting, though. They offer a cooking class, bike tours, and even a romantic vintage car tour with tasting in the vineyards at nearby Finca Beltrán.
For more information, check out the Bodegas Santa Julia website.
Other Popular Wineries & Vineyards in Maipú
Luján de Cuyo
Ruta 40 is one of the most scenic highways in Argentina and conveniently cuts straight through Luján de Cuyo.
The Andes mountains have a massive effect on the region's terroir. They form a protective barrier – a rain shadow – and the resulting hot, dry climate is only moderated by its elevation of around 1000 meters above sea level.
The Luján de Cuyo region is a far cry from the bustling city life that many people in Argentina experience. Much closer to the Andes mountain range, the scenery is more striking than in Maipú.
The compact village of Chacras de Coria has excellent restaurants and hotels, so it makes a great place if you want to base yourself here for a few days. Some of the well-known wineries in the area include Ruca Malen, Vistalba, Norton, and Nieto Senetiner.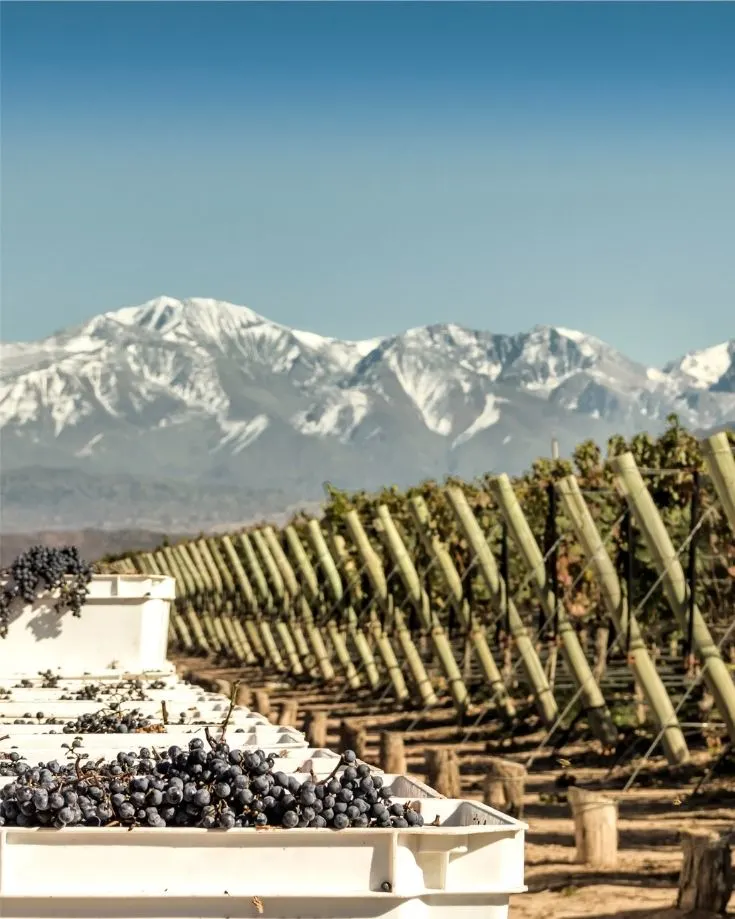 Bodega Ruca Malen
Visitors to Ruca Malen are treated to one of the most gorgeous settings we've seen on a vineyard in Mendoza.
The proximity of the Andes mountains is apparent – they're right there behind the vines. This vineyard feels more luxurious than any other we visited – and that's saying something in the world of wine.
It's a relatively young winery compared to others in the region – not even 25 years old yet – but already making its mark on the wine scene in Mendoza. They were one of the earliest vineyards to introduce wine pairing menus, and their restaurant gets rave reviews.
Using all locally produced ingredients – some even from its own organic garden – diners get an intimate dining experience with expansive vineyard vistas and snow-capped mountains. Oh, and yes – you can tour the modern winery and have tastings too!
For more information, check out the Ruca Malen website.
Bodega Norton
We popped into Norton for no other reason than we'd shared a bottle with some fellow travelers the evening before our visit. And we were intrigued by the rather British-sounding name.
Sure enough, we learned a Brit indeed started the vineyard. Edmund James Palmer Norton was hanging out around these parts as an engineer at the end of the 19th century, working on the Andean railway, the Ferrocarril Trasandino Argentino. Not the last Brit to fall in love with the region (we can attest to that), he decided a career change was in order, laid down his final sleeper, and turned his hand to the press.
Today, Norton is owned by the Austrian family that started up the Swarovski crystals. They offer a wide range of tours, including wine tasting, of course, or you can opt to become a winemaker for a day or just kick back and enjoy a picnic among the vines.
For more information, check out the Bodega Norton website.
Other Popular Wineries & Vineyards in Luján de Cuyo
Uco Valley
The Uco Valley is home to some of the most beautiful wineries in Mendoza, but the region produces stunning wines. Though Argentina as a whole may be known for its wine, it's this area that shines through with quality and excellence like nowhere else on earth!
If you're serious about your wine, Uco Valley is a must. However, because it's the best of Mendoza's wine regions, it's also the most popular. And that means you MUST make reservations for every vineyard you want to visit.
If you want to tour the Uco Valley, we recommend that you do a little research about which vineyards you'd like to visit and make your reservations well in advance. You can see more details about booking tours below.
Uco Valley is about 120 kilometers from Mendoza city center and takes a little over 1 ½ hrs by car, so you may want to consider an overnight stay in the area.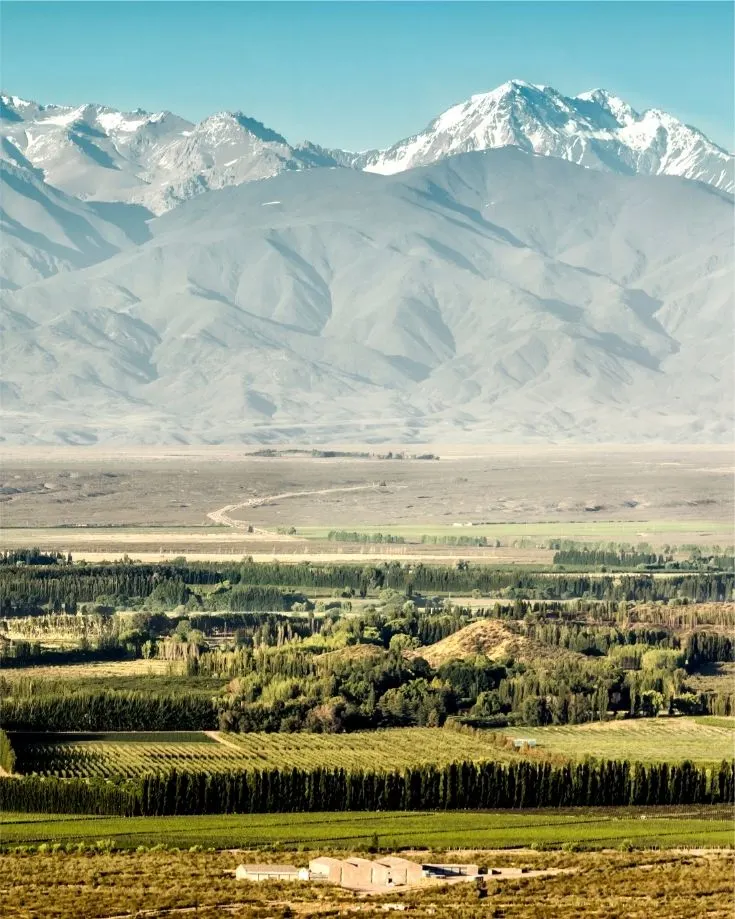 Bodega Salentein
A BIG name in Valle de Uco, Salentein (named after a Dutch Castle the owners bought), sprawls across 2000 hectares of knock-out landscape. Not only is the walk from the entrance to the wine cellar completely stunning, but when you arrive at the wine cellar, prepare to have your breath taken.
It's more like an amphitheater than a wine cellar, complete with columns, barrels stacked up on the steps, and a grand piano taking center stage. It's gorgeous!
Best of all, if you have not made a reservation for the full tour, you can still sample some of their wine in their tasting bar. Of course, it's much faster and a less personal experience, but if it's the wine you're here for, it's a great option.
For more information, check out the Bodega Salentein website.
Bodega La Azul
A bit like our visit to Bodega Norton, our tour of Bodega La Azul was inspired by a meal we'd eaten, accompanied by yet another bottle of Malbec. Now please remember, we spent three weeks in Mendoza on our last visit and one week on our first, so we didn't drink as much as it may sound.
Traditional Argentinian asado lunch at Bodega La Azul is served in the outdoor restaurant surrounded by fields and views of the mountains. It's a laid-back affair, each course is paired perfectly, and refills are free-flowing.
Lunch is followed by a short winery tour, including barrel tasting. If you can only visit one winery and are keen to get an in-depth tour of the vineyard and winemaking process, this probably isn't the right choice. But if you're seeking an experience that offers a typical Argentinian meal with an authentic atmosphere, Bodega La Azul is a perfect choice.
For more information, check out the Bodega La Azul website.
Other Popular Wineries & Vineyards in Uco Valley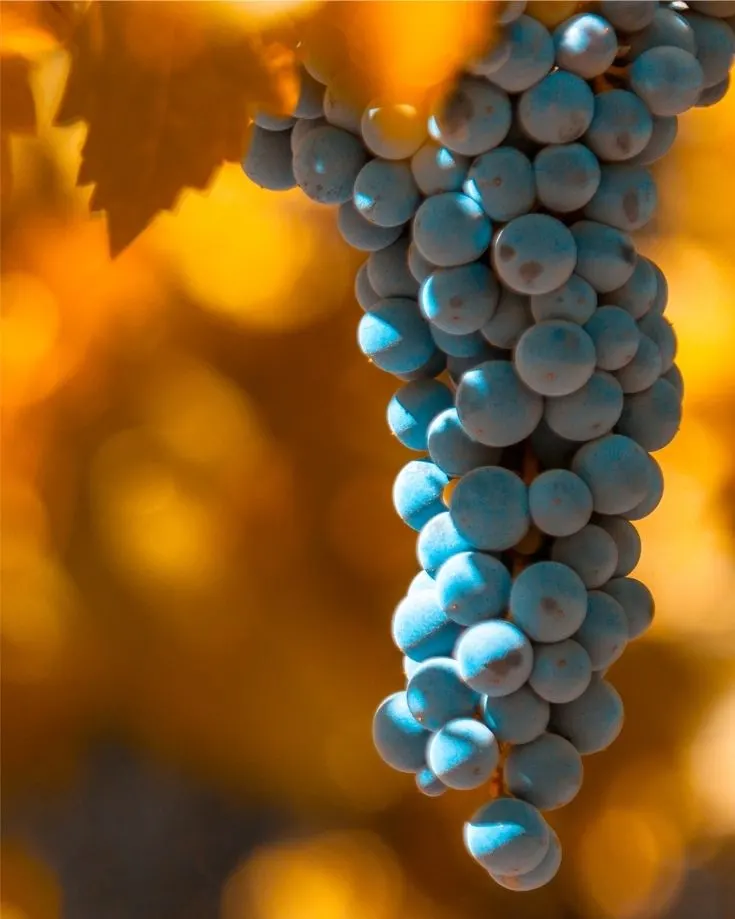 How to Get to The Mendoza Wine Region?
The Mendoza wine region is very well connected to the rest of Argentina. You can easily fly into Mendoza's airport from Buenos Aires and take a bus, taxi, or rental car to get to any of the areas mentioned in this article.
For more in-depth information about getting to Mendoza and how to travel around when you arrive, check out our Mendoza Travel Guide.
Mendoza Wine Tasting Options
Organized Wine Tours
Probably the most popular way to discover Mendoza's vineyards is on an organized tour. They take care of all the arrangements, so you don't need to make individual reservations and handle all your transport needs.
It's cheaper to hire a car and make the itinerary your own, but if you'd prefer someone else to do all the trip planning for you, we think Viator offers the best value and widest variety of Mendoza wine tours.
Here's a flavor of some of the Mendoza wine tours you can take from the city center:
Viator offers many other wine tours in Mendoza, mixing and matching different things to do, so browse their trips before you decide.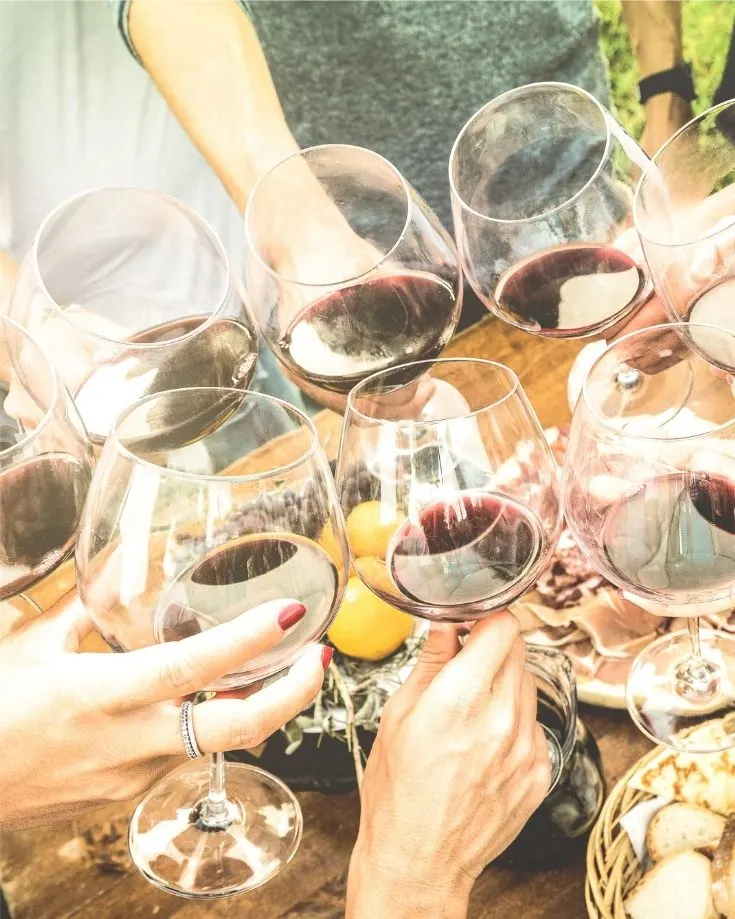 Self-Guided Wine Bike Tour
Maipú is ideal for taking a self-guided bike tour of the vineyards. It's close enough to town that you can take a taxi to the bike rental shop – Mr. Hugo's and Maipú Bikes are both popular choices.
Their bikes are well maintained, and they include helmets and a map. Best of all, they offer great insight into the best routes and vineyards to visit on your two wheels.
Self-Guided Mendoza Wine Tours
If you have your own transport or hire a remis with a private driver for the day, taking a self-guided tour is a budget-friendly and flexible option.
You can do your research in advance, make your reservations and create your unique itinerary. Don't forget to include at least one olivicola on your itinerary – we can recommend Olivicola Laur in Maipú.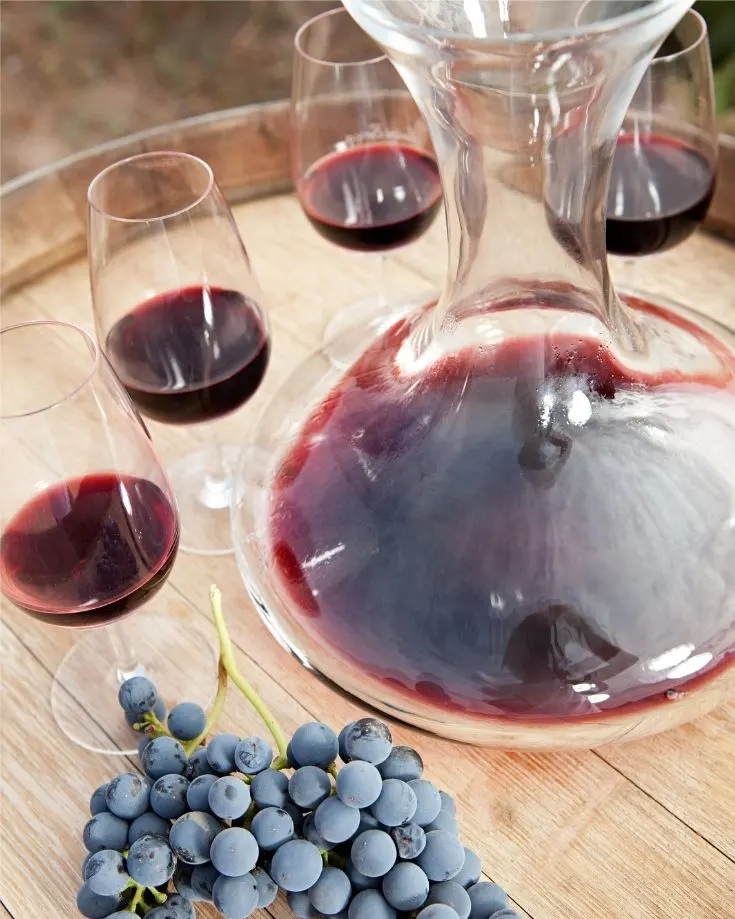 Single Vineyard Visits
Although visiting various vineyards is great fun and provides a more rounded experience, it's not compulsory. Choosing a single vineyard can provide a more relaxed and immersive experience.
We recommend Trapiche, Ruca Malen, or Bodega Salentein if you'd prefer only to visit a single vineyard. They offer great tours, excellent wine tasting, and the opportunity to treat yourself to a tasting menu in their fantastic restaurants afterward.
Free Wine Tasting In Mendoza City
There are many bodegas (wine shops) in Mendoza city center. Often they offer free tastings, so if you're inclined, you can pop in as you're passing. Don't expect the same experience as you'd get in the wine regions proper, though.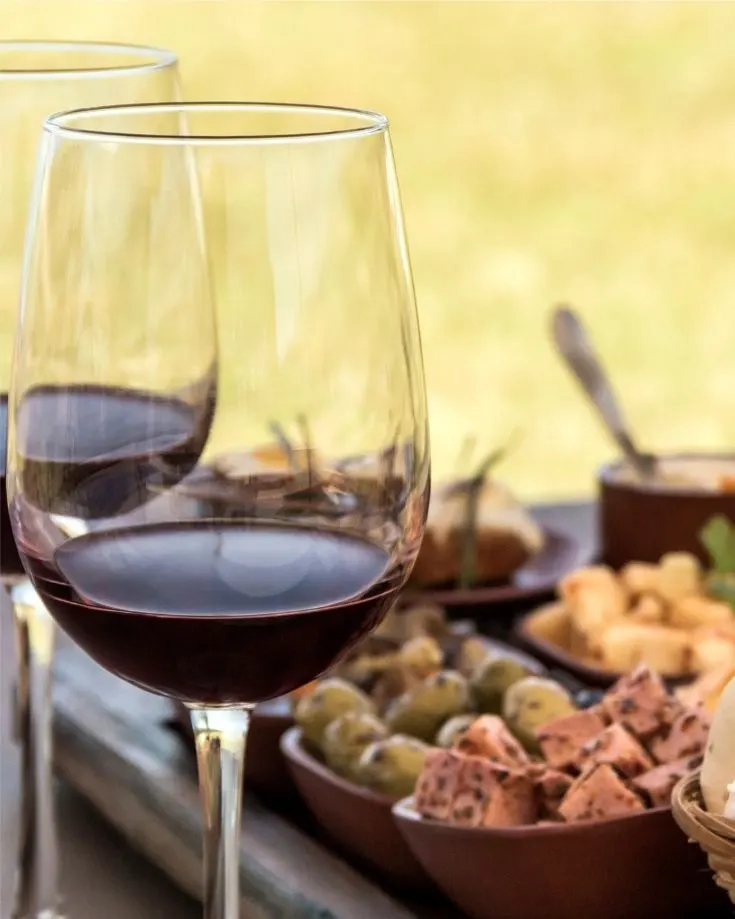 Tips for Wine Tasting in Mendoza
Visiting 2 or 3 vineyards per day is plenty. Any more, and you'll feel rushed – and maybe even a little tipsy.
Hire a driver (remis). It will give you peace of mind you'll get to where you're going without worrying. Driving in Argentina isn't challenging (at least not around these parts), but drink driving limits are seriously low, so you're better off not drinking anything if you're driving.
Sundays in Argentina are family days, so if you're relying on taxis, you may need to wait a while. Some vineyards may also be closed to visitors on Sundays – though their restaurants usually are open for lunch.
Bring cash. Most vineyards accept credit cards, but you're better off paying in cash given the situation with Argentina's currency.
Most vineyards offer wine tasting tours in English, Spanish, and Portuguese. Check their schedules for a language to suit your needs.
Make reservations at least one day in advance to avoid disappointment. In high season, weekends, or Uco Valley, make those reservations as early as possible – preferably at least a week or two in advance.
Most advanced reservations are made online, and you'll need to provide your payment details. Note that many vineyards will charge if you do not show up. So if you need to cancel, give them enough notice to take advantage of the terms of their free cancellation.
Refills are usually free.. don't be afraid to ask….., but (!) drink in moderation. Tastings only offer a small sample of each wine, but it all adds up, and in the heat and without a good meal, it can soon catch up with you.