Testing out our camper van conversion was the main reason for taking this road trip. With rugged landscapes, free overnight parking and much hype about Scotland's answer to Route 66, we couldn't think of a better place to put Baloo to the test.
Graham was in Chicago on business, and with no progress planned on the conversion build for the next couple of weeks, it was the perfect time for a road test.
So with Baloo packed and at the ready, a rough idea of where I was going and a huge map of Scotland on my lap, I headed north to start my own take on the NC500 route.
When you click on links to various merchants on this site and make a purchase, this can result in this site earning a commission. As Amazon Associates, we earn from qualifying purchases. For more info, please check our disclosure page.
Our route around Scotland's NC500
The North Coast 500 route is now a well defined road trip of about 500 miles. In truth, there is so much to do and see along the route, you won't have time for it all.
Every trip is different, your experiences unique and there's no perfect route. Rather than try to map out the perfect NC500 route, here I'll share the route I took.
I'll include a few hints and tips to help you plan your own NC500 road trip too.
Click here for more road trip inspiration and itineraries
An overview of my NC500 route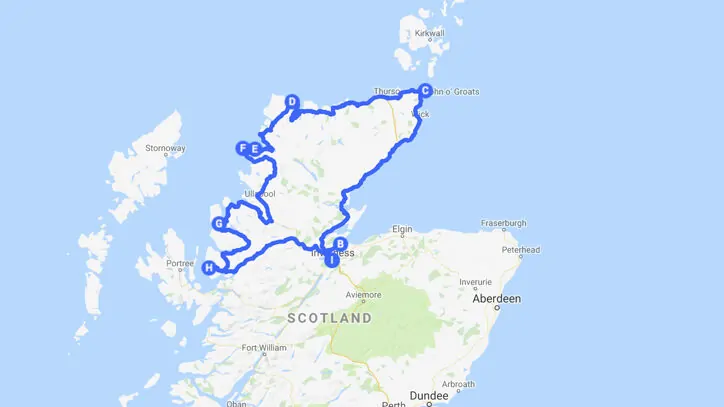 My NC500 route officially started and finished in Inverness. I'd driven up from the Midlands through the Lake District and my return leg took me into the fabulous Northumberland countryside.
I'd planned to drive the route clockwise but the weather forecast wasn't great. Tropical storm Ophelia was on it's way and forecast to hit the west coast, so I decided at the last minute to go anti-clockwise.
The NC500 leg of my solo Scottish adventure took 8 days from Inverness back to Inverness. I drove most of the journey at a slow pace. I even sat still for 1 day as the brute force of tropical storm Ophelia smashed my diversion tactics to pieces.
The roads are fabulous for those who love driving. Keeping your eyes on the road ahead is quite an effort as you drive through Scotland's dramatic scenery.
My NC500 route came in at a little over 500 miles. I didn't get to see and do everything I'd have liked but its reason enough to go back for another trip in the future!
Essential reading: Our guide to driving the NC500 by camper van
Day 1 – Inverness to the Black Isle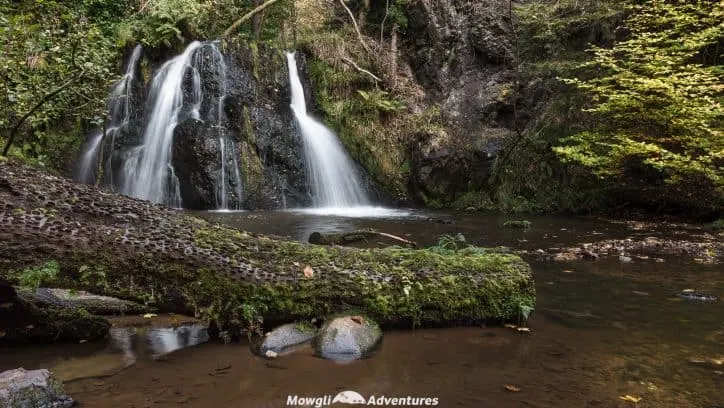 I started my NC500 trip by driving through Inverness. Keen to get out of the city and begin exploring the Scottish Highlands, I didn't loiter in Inverness.
Instead, after a quick photo of Inverness Castle, I drove out of the city. And straight onto my first NC500 diversion, before I even got started! Taking the Kessock Bridge over the Moray Firth, I spent the first day exploring the Black Isle.
The Black Isle is neither an island nor is it black but it's a worthwhile start to any NC500 trip. To reach Cromarty Firth, I had to drive through a golf course.
There's a clear warning sign stating the golf course takes no liability for any stray golf balls hitting vehicles! I clenched and ducked and managed the 1/2 mile stretch unscathed. I had to wait a short while for a parking bay long enough for Baloo.
There's loads of space for cars but only 2 or 3 for long vehicles. I cooked lunch on the beach at Chanonry Point before spending some time with other eager onlookers, watching out for dolphins.
A couple of seals popped up their heads to look back but no dolphins appeared.
More inspiration: 10 of the best European road trips
In the late afternoon, I arrived at Rosemarkie village for a forest walk. The pathway is easy to find with a few well placed sign posts I walked through the peaceful forest to reach Fairy Glen without another soul around.
The forest is idyllic. During October, it was full of autumn colour and little birds hopping around. With a little bit of scrambling in places, I arrived at Fairy Glen.
Although it's easy to see how it got its name, make sure to wear decent walking boots for this walk; it's muddy and slippery in places.
Miles driven: 17 miles (Total 17 miles)
Highlights
Inverness Castle, Chanonry Point, Fairy Glen
Places to stay on the Black Isle
Overnight parking: Many suitable looking spots have signs up prohibiting you to park overnight. Some don't even allow camper vans to park at any time, day or night!
Even so, keep your eyes peeled as there are a few spots perfect for an evening.
Campsites: there are a couple of campsites on the Black Isle. One is in Rosemarkie, not far from Chanonry point and the other is at Fortrose.
Take a look at the UKCampsite website for up to date information on facilities and opening dates of all the campsites on the Black Isle.
Bed & Breakfast: If you're not travelling in a camper van and need overnight accommodation, we recommend checking out some of the wonderful yet low cost guest houses on the Black Isle.
They often include wifi, free parking and fabulous Scottish breakfasts with terrific views! Check out The Factor's House in Cromarty.
It comes highly recommended with exceptional reviews. Boasting a cosy shared lounge with open fireplace, The Factor's House is perfect year round.
With fresh eggs from the hens in the garden for breakfast, free wifi and on-site parking you'll get your NC500 trip off to a luxurious start here.
Day 2 – Black Isle to Duncansby Head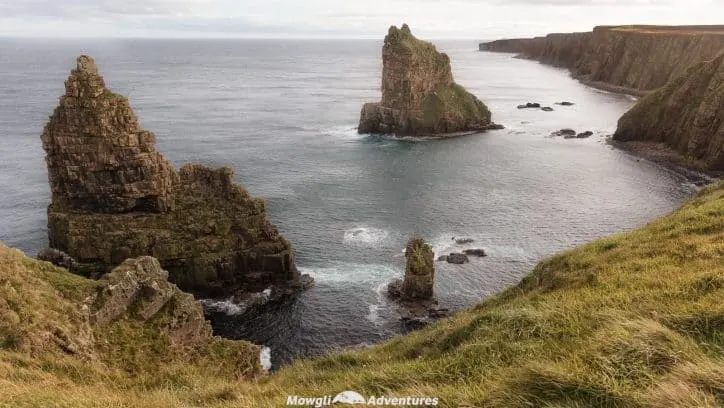 I was up and rolling early doors. Heading north along a decent main road, and beyond the little village of Golspie, it wasn't far before I reached Dunrobin Castle.
Wandering around the impressive gardens on a bright autumn morning felt more like I was in the grounds of a French chateau than on the east coast of Scotland.
The outside of the castle has a fairytale look and although the inside is well kept, it was the least interesting part of my visit. The owners may no longer live here but at£11 entry, they're not Dunrobin just yet!
A short visit to Whaligoe Steps was perfect for stretching my legs. The wind was picking up a lot, in part because the cliffs are so high and in part, to remind me the tropical storm was still heading my way!
If you suffer from vertigo, you may want to hang on tight here. There are over 300 steps and they slippery when they're wet. Make sure to look out for Davey at the near by cottages who is enthusiastic in sharing the history of the area.
The next leg took me through Wick and up to Duncansby Head, past an underwhelming John O'Groats on the way. The cliff top walk up here is fantastic!
With Ophelia advancing, there was no fog to obscure the views of Duncansby Stacks. My tripod was of no use up here though, at least not in these stormy conditions.
If you're not used to narrow roads, take care on the single track lane from John O'Groats to Duncansby Head.
It's narrow and steep in places and although there's verge almost all the way up, the Highland weather can make them boggy. There are plenty of passing places though.
Miles driven: 121 miles (Total 138 miles)
Highlights
Dunrobin Castle, Whaligoe Steps, Duncansby Stacks, John O'Groats signpost, Old Pulteney Distillery, Hill O'Many Stanes, views out to the Orkney Islands
Places to stay on the east coast
Overnight parking: I found it difficult to find places suitable for overnight parking up much of the east coast. There are a few spots though so keep you eyes peeled.
I saw one or two sites that looked like an entrepreneurial land owner had installed a few electric hook ups points. For a small fee (cheaper than a campsite), you could park overnight here.
The further north I drove though, the more opportunities there were. At Duncansby Head, you can park overnight too. Do think about the weather. If it gets foggy during night, you will be rudely awakened by the foghorn!
Campsites: I passed a few signposts for campsites all up the east coast. They're not all open year round though.Take a look at the UKCampsite website for up to date information on facilities and opening dates of all the campsites on the Black Isle.
Holiday Homes: If you're not travelling in a camper van and need overnight accommodation, we recommend checking out some of the wonderful yet low cost holiday homes.
They often include wifi, free parking and all the amenities you'd expect in a modern home but with terrific views too! Take a look at Langley Cottage near Wick. It comes recommended with exceptional reviews.
Or for a budget option with loads of unexpected extras included, the self catering Bower Wigwam has superb reviews.
Day 3 – Duncansby Head to Tongue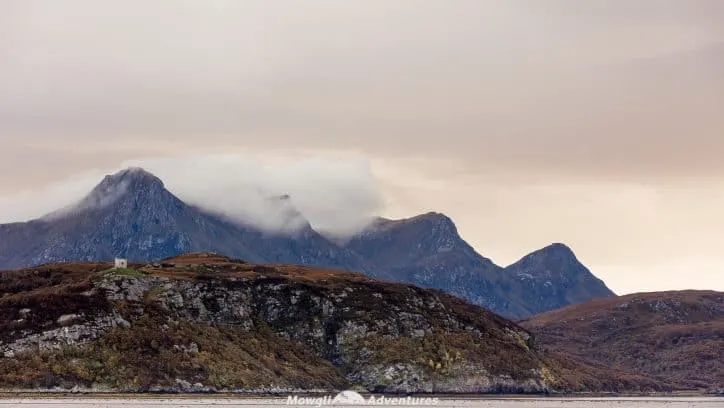 A disappointing first stop of the day was in store for me. I'd wanted to visit Castle Mey but it was closed in October. Another reason to listen to my own advice and at least do a little planning before I head off!
It was however, the only disappointment I had.
The day kept getting better and better with every passing mile. A quick stop at Dunnet Head, the northernmost point on the UK mainland was followed by one of the most scenic drives of the NC500 route.
With so many incredible white sand beaches and views to wow, keeping my eyes on the road was the greatest challenge of the day.
If you drive the NC500 in a clockwise direction too, this is the stretch of road to get your jaw dropping. There are so many incredible beaches along the northern coast of the route, you'll be hard pushed to know which to pause at.
Although I only drove 65 miles on this day, it took me all day. I stopped so many times to enjoy a coffee on the beach, to admire the autumnal colours or gaze in awe at the mountainous scenery. Around every corner is another incredible view!
Miles driven: 65 miles (Total 203 miles)
Highlights
Castle Mey, Dunnet Head, Dunnet Beach, Reay Beach, Melvich Beach, Strathy Bay, Armadal Bay, Bettyhill views, Varich Castle
Places to stay
Overnight parking: It was easy to find to suitable places for overnight parking along this stretch of the NC500. Try not to underestimate how busy some of these Highland roads can get at night though and choose a spot well away from lay-bys.
There's a terrific spot in the middle of a causeway with stunning views. Check the weather forecast though as it's a rather exposed spot.
Campsites: I don't recall passing any signposts for campsites along this stretch but I wasn't looking so I may have missed them.
Planning: take a look at our packing essentials for the NC500
Day 4 – Tongue to Balakneil Beach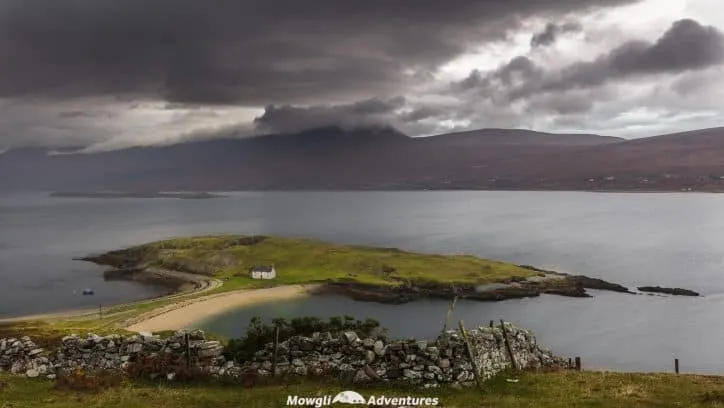 Last night Storm Ophelia hit and Baloo felt more like a boat than a camper van.
I lay awake most of the night hoping I wasn't going to have a Dorothy moment and wake up in Munchkin land!
So as the dawn broke, and the wind had settled a little, I went off to find a more sheltered spot to hide in for the day.
Still the drive was amazing! Loch Hope is a charming place and if the weather had been in anyway reasonable, I'd have take a long walk around the area.
Not far around the coast from here is the most picturesque spot I saw on the entire North Coast 500 route. The grass on this little isle on Loch Eriboll was saturated and vibrant against the stormy skies. And such a dramatic place to live!
The winds had picked up to gale force again and I needed to stop driving and find some shelter. After a super fast visit to Smoo Cave and I drove on through Durness and to Balakneil Beach.
It was completely sheltered here and I hid away inside Baloo for a few hours.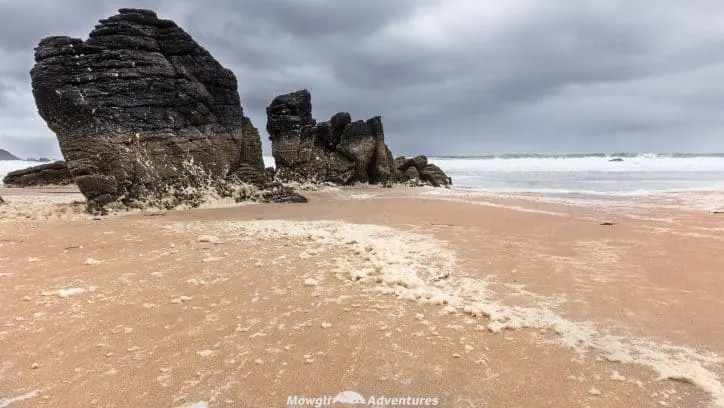 Only in the early afternoon did the winds drop so I took the opportunity to drive around to Durness Beach.
The rock formations down here are fabulous and the sea foam whipped up by the storm made for some interesting photos. Even so, I was pretty pleased the worst of the weather had passed.
Miles driven: 29 miles (Total 232 miles)
Highlights
Loch Hope, Loch Eriboll, Smoo Cave, Durness Beach, Balakneil Beach,
Places to stay
Overnight parking: It was easy to find to suitable places for overnight parking along this stretch of the NC500 and Balakneil Beach is a quite and sheltered spot.
Campsites: There's a campsite in Durness high up on the cliffs overlooking Durness Beach.
Day 5 – Durness to Lochinver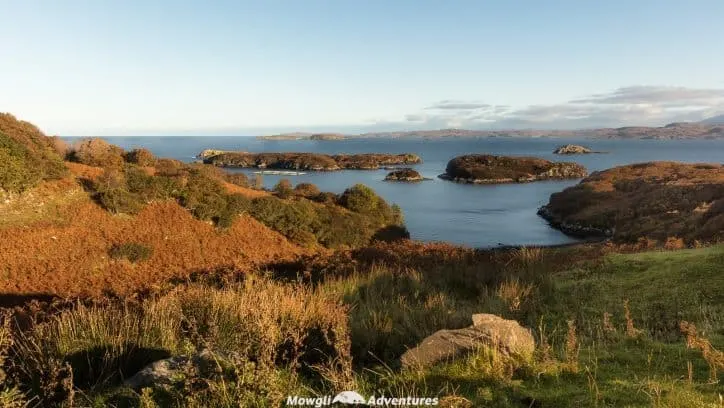 Today I drove the best road on the whole NC500 route. The road from Durness to Kylesku is a good carriageway. Once over the bridge at Kylesku I turned right onto the B869 and the fun began.
Some parts are marked as not suitable for caravans and even the official NC500 route maps suggests this route may not be ideal for longer vehicles.
I've heard people talk about how challenging this road but in my opinion, it's fine for experienced drivers.
It's a single track lane all the way around the 22 mile loop to Lochinver but there are plenty of passing places. In places there are sharp bends, steep gradients and some adverse cambers.
Take your time, give way to oncoming traffic and select an appropriate gear. There is a 24 tonne limit on the road so this should give you an idea of the size of vehicles able to drive the route. You'll be just fine in your camper van.
As well as the drive, the scenery is the big attraction here. Aim to set out early in the morning for lighter traffic and fantastic dawn sunshine lighting up the small islands off the coast.

Once I'd arrived at Stoer Head Lighthouse, I took a long hike up to the cliff tops across the marshy landscape. The views are fantastic and it's a great spot for lunch.
I spent the afternoon exploring Clachtoll and Achmelvich beaches. If the weather had been just a few degrees warmer, there's no way I'd have believed I was in Scotland. Just beautiful stretches of white sand and hardly another soul around either.
Miles driven: 61 miles (Total 293 miles)
Highlights
Clachtoll Beach, Achmelvich Beach, Stoer Head Lighthouse and the road itself
Places to stay
Overnight parking: It was easy to find to suitable places for overnight parking along this stretch of the NC500 and Achmelvich beach is a perfect spot. Who wouldn't want to wake up to the view above?
Campsites: I didn't notice any campsites on this section of route although I did meet a couple who told me there is a rather over priced site before the turning for the lighthouse.
Other accommodation: There's a few B&B's along the route and they display if they have vacancies outside. But this sleeping cabin looks fab and has great reviews too.
Offering a sun terrace and views of the mountain, Mountview Pod will need to be booked in advance for any chance of a reservation. It also includes a hot tub, a small wet room and an outside seating area with a barbecue.
Day 6 – Lochinver to Ullapool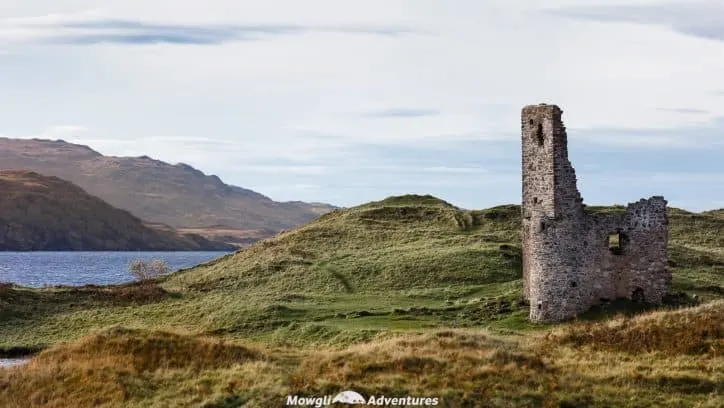 I was on a bit of a go slow today so only drove 30 miles. The road between Lochinver and Ullapool is a decent road and it came as no surprise the scenery was superb!
I spent most of the day exploring the area around Loch Assynt and wandering around the ruins of Ardvreck Castle.
They're supposed to be haunted by the ghost of the Marquis of Montrose who was hung, drawn and quartered in the 17th century. He didn't show his face though.
I didn't quite make it all the way to Ullapool this day, (I did say I was on a go slow) instead opting to camp early on the seashore near Ardmair.
It made for some great dawn photography the next morning and gave me a chance to replenish my batteries, ready for the next leg of my NC500 route.
Miles driven: 30 miles (Total 323 miles)
Highlights
Ullapool, Loch Assynt, Castle Ardvreck, Summer Isles, Stac Pollaidh
Places to stay
Overnight parking: There are a few spots along the main route where overnight parking is possible. The road isn't so busy at night either so you should have an undisturbed night.
Other accommodation: Hostels are worth seeking out and there are a few with exceptional reviews on the NC500 route. Acheninver Hostel is offers accommodation in Achiltibuie, an area popular for hillwalking, sea kayaking, climbing and snorkelling.
Day 7 – Ullapool to Loch Maree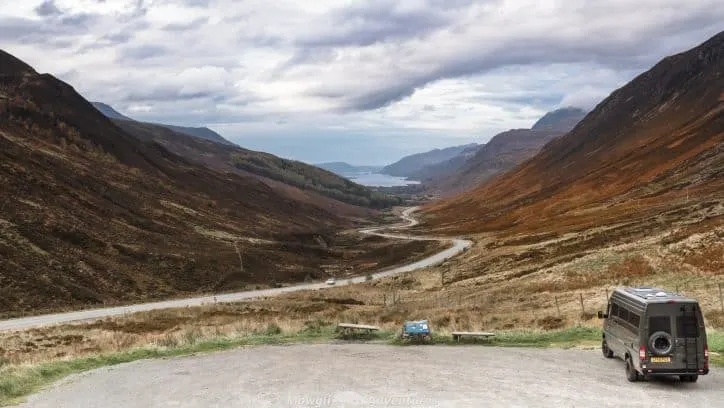 After dawn photos on the seashore, I headed south towards the gorge at Corrieshalloch. The bridge at Corrieshalloch was closed so I wasn't able to get views of the Falls of Measach.
The road from here out to Mellon Udrigle is another amazing scenic drive in the Scottish Highlands. There's loads of lay-bys to pull over to enjoy the views of the bays, mountains and sandy beaches with seals lazing around.
The big attraction of today was always going to be Britain's oldest nature reserve at Beinn Eighe on the shores of Loch Maree.
There's a few hiking trails to choose from and I opted for the short woodland trail through the pine forest. It's an easy walk but muddy and steep in a few places.
I'd hoped to spot a Golden Eagle up here but had no such luck! I was incredibly lucky to have the spot in the photo above all to myself overnight though. And the only disturbance I had all night was the rutting stags on the mountain beside me!
Miles driven: 75 miles (Total 408 miles)
Highlights
Corrieshalloch Gorge, Gruinard Bay, Mellon Udrigle, Beinn Eighe National Park, Loch Maree & views
Day 8 – Loch Maree to Inverness via Applecross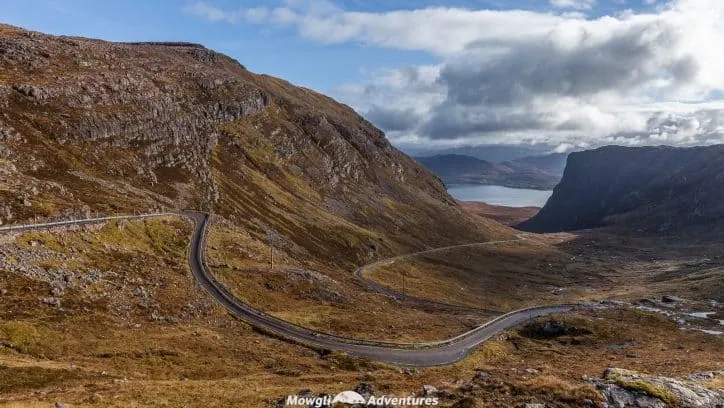 The final day of my North Coast 500 route was all about the amazing road outside Applecross, Bealach na Bà.
This is Game of Thrones country and any fan of the series will feel as though they've been transported to Westeros. Given this region of the Highlands is called Wester Ross, it's hardly rocket science to figure out how they gave it its name.
The road is fun for sure, especially if you choose to drive the NC500 route clockwise, because this road is the first driving challenge of the trip.
If you're in a car, you won't have any problems at all. There is a sign at the start of the route warning of the challenge ahead. It's not advised for novice drivers or those in long vehicles. Baloo is long and she was fine though.
Take care on the 2 or 3 hairpin bends, use the passing places to allow larger vehicles by and enjoy the views! This is one road of the NC500 route you won't forget!
Miles driven: 125 miles (Total 533 miles)
Highlights
Bealach na Bà, Applecross
Places to stay
Overnight parking: there's a parking spot at the top of Bealach na Bà ideal for overnight parking so long as the weather isn't too windy.
Visitor numbers on the NC500 route rise rapidly during the summer months and school holidays. If you're travelling in a camper van, you may need to share a few prominent overnight parking spots with other campers.
And if you want to book a room in a castle, hostel or local guest house, you may want to book advance to save disappointment. Take a look at the hundreds of rooms available around the whole NC500 route here.
Car and camper van rentals
Is it any surprise to hear us say the best way to travel around the NC500 is by camper van?
Well we wouldn't say anything else would we? If you haven't already converted your own camper, take a look at the rental rates and give it a go.
You don't fancy the van life for a few days? I can't imagine why not but we think for convenience and flexibility, your own transport is best.
If you haven't travelled to Scotland in your own vehicle, it's worth hiring a car if you want to get around and see the country.
We're not loyal to one rental firm, and will simply go with the one that offers the best value – and that means using a comparison website. For us, Rentalcars is by far the best, and our first choice, every time.
Click here for a no obligation car rental quote
Like it? Pin it!