Northern Spain is fantastic and a world apart from the crowds of Andalusia in the south. Here we tell you everything you need to know about planning the perfect northern Spain road trip.
This epic driving adventure takes you through cool Spanish cities, historic villages, soaring mountains and a dramatic coastline. Tantalise your tastebuds with the famous sidra cider and Cabrales cheese.
Northern Spain road trip itinerary
Marvel at the lesser visited Gaudí buildings outside of Barcelona. Walk the precarious ledge of the Cares Gorge. This northern Spain road trip offers some of the most scenic drives in all Spain!
Planning tips for your northern Spain road trip
How to get to northern Spain
We'd of course say there's only one way to get to Spain. Drive there! But I accept it's not always as straight forward as that. For a start, unless you're driving in from anywhere east of France, it's a long distance to drive and we don't all have the time.
The main airports are located in Bilbao, Santander and León. Because they're not major airports yo might need to get a connecting flight from Madrid or Barcelona.
You can hire a car from the airports to start your road trip in northern Spain as soon as you land.
Hiring a car in Spain
While we drive our own vehicle, we appreciate that many people will fly into Europe and hire a car. We've done few of our road trips by hire car in Europe too.
Always use a reputable firm because you need assurance the car is well maintained and your insurance is valid.
We're not loyal to one rental firm, and will simply go with the one that offers the best value – and that means using a comparison website.
For us, Rentalcars is by far the best, and our first choice, every time. They even do camper van rentals!
Tips for driving in Spain
Driving in Spain is easy but there are few things to know before you set off. Radar speed traps are common on Spanish roads so keep an eye on the changing limits of the roads.
On the spot fines can be hefty. The moment these are demanded, they have to be paid to the arresting officer. Radar detectors are illegal in Spain whether in use or not.
If caught with a detector in your vehicle, you are liable to another hefty fine.
If oncoming vehicles flash their headlights, this is often a warning of a radar trap ahead. However, be careful because flashing headlights also means the oncoming vehicle has right of way. Just take care.
Motorways in Spain are the fastest way of covering long distances but they're not cheap. If you're not in a rush, take the E roads. They're all toll free and still not too busy.
Best time to visit northern Spain
The summer months of July and August bring the warmest and driest weather.
Cities near the Atlantic like Santiago de Compostela, Oviedo, Santander, and San Sebastian experience their best weather and the wonderful northern Spain coastline is wonderful.
Of course, there is always a chance of rain in northern Spain and very hot temperatures are also possible.
For those wishing to hike up in the mountains of the Picos de Europa, spring and autumn are perfect times to visit. There won't be any snow at this time and although you may have some rainfall, the temperature is ideal for hiking.
Accommodation in Spain
As with most of Europe, Spain has loads of choice when it comes to accommodation. You can book an Airbnb, hotels or guesthouses.
If you're travelling in your camper van or motorhome though, it's not hard to find free overnight parking spots. Take a look at this post on the fantastic free camping spots in northern Spain we stayed at.
Guided tours, attractions & things to do
If you'd prefer to visit northern Spain's highlights with a guide, there are plenty of organised tours catering for your needs.
GetYourGuide.com – Excellent guided tours and all of the top things to do in northern Spain, hand-picked by local, English & Spanish speaking tour guides.
Here's a selection from a wide range of tours and activities for every type of traveller:
Don't forget to pack…
When you click on links to various merchants on this site and make a purchase, this can result in this site earning a commission. As Amazon Associates, we earn from qualifying purchases. For more info, please check our disclosure page.
A Spanish phrase book will come in real useful. It's always a good idea to learn a few basic phrases of the local language before you travel.
But for Spain, it's even more important. English is not widely spoken outside of the major tourist regions and the locals will welcome your efforts to speak even a little Spanish.
The north of Spain has amazing walking and hiking opportunities. Make sure to pack a decent set of walking shoes.
The weather in the mountains is unpredictable at times. Even in the height of summer, the winds can pick up to a fair gust. Pack a decent all weather raincoat to protect you from the worst of it. They're light to carry in your back pack too.
Of course, we strongly advice you take out a good travel insurance policy too.
SafetyWing – travel medical insurance offer great value and allow you to take out a flexible policy. Rather than pay upfront each year, you can pay each month. It can work like a subscription, you can choose your start date and cancel any time.
World Nomads – These guys have been around for a long time and cover all the essentials long term and global travel. With World Nomads policies, you can even take out the policy after you've left home. They offer pretty good extreme sports cover in their most expensive package.
True Traveller – the best long term travel insurance provider for UK and EU citizens we could find. We use True Traveller and they offer good value on long term policies and allow us to extend for another year with a 10% discount.

Essential reading: 19 common travel insurance mistakes & how to avoid them
The perfect northern Spain road trip itinerary
Distance covered in this northern Spain road trip: 548 miles
Time required: 9 – 15 days
Northern Spain road trip itinerary – the route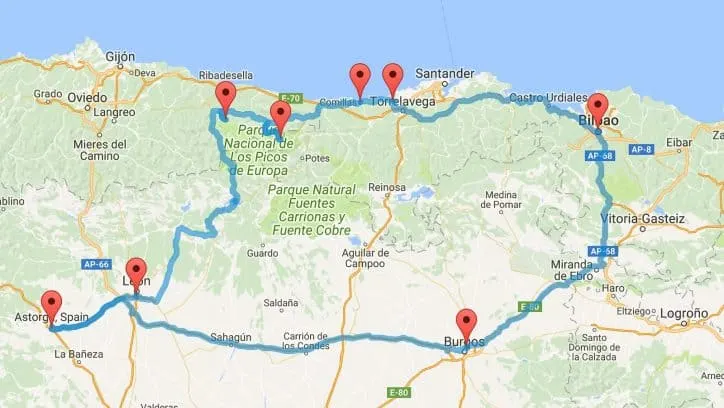 Start in Bilbao, the largest city in Spain's Basque country
Time required: 1 -2 days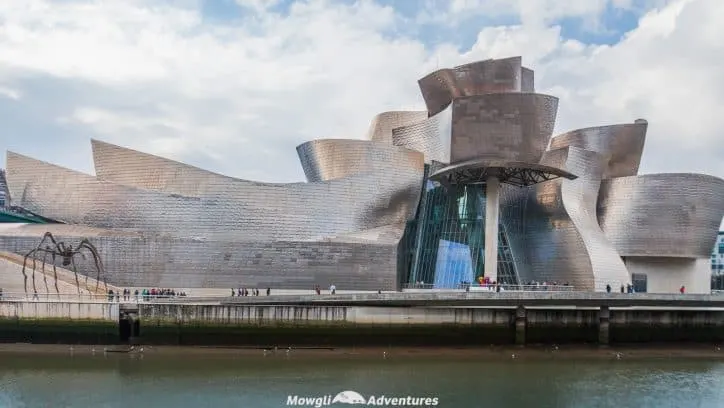 Near the western border of Spain's Basque country, you'll find the cosmopolitan city of Bilbao. You'll discover historic streets, amazing food and incredible architecture.
Bilbao makes for a great Spanish city break and you'll discover a city rarely considered a road trip destination.
Bilbao is small but bustling city and easy to negotiate on foot. The Nervión River slices the city in two. The business district and Guggenheim Museum sit on one side and the old quarter on the other.
You'll walkthrough 700 year old alleys and the ultra modern architecture fits seamlessly alongside. Don't leave without visiting the Guggenheim Museum and exploring the old quarter of Casco Viejo.
Read more: Things to do in 1 day in Bilbao
Continue west along the coast to Santillana del Mar
Distance from Bilbao: 75 miles
Approx driving time: 1 1/2 hours
Time required: 1 day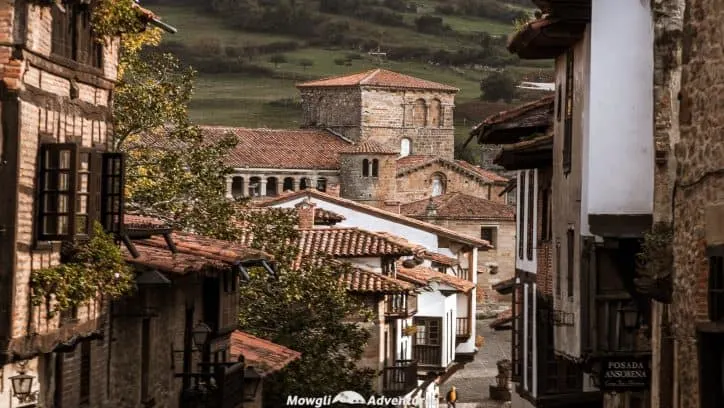 You leave Basque country by the pilgrim's path along the Santiago de Compostela and arrive in Cantabria. Santillana del Mar is the most visited place in Spain's Cantabria region.
Its name literally translates to holy flat by the sea in English. Yet despite its name, Santillana del Mar is not quite on the coast. In fact it's about 20km inland.
Come to think of it, it's not flat or holy either! It's a quaint, medieval village. It's perfectly preserved and wandering its bright cobbled streets will make you feel like you're on a film set.
Don't miss the beautiful 12th century Romanesque monastery of Colegiata de Santa Juliana.
Altamira Caves are only 2km from Santillana del Mar. A hunter discovered the caves in 1879 and they are now a UNESCO cultural heritage site.
The cave, about 300 metres long, has 150 engraved figures made by the Palaeolithic man. It's a shame visitors are unable to see the caves but the museum is worth a visit.
You can tour the Castillo and Las Monedas Caves at nearby Puente Viesgo. El Castillo is fantastic! There's 15000 year old rock art with hand prints of the early humans who made them!
It's time for some beach fun in Comillas!
Distance from Santillana del Mar: 10 miles
Approx driving time: 15 minutes
Time required: 1-2 days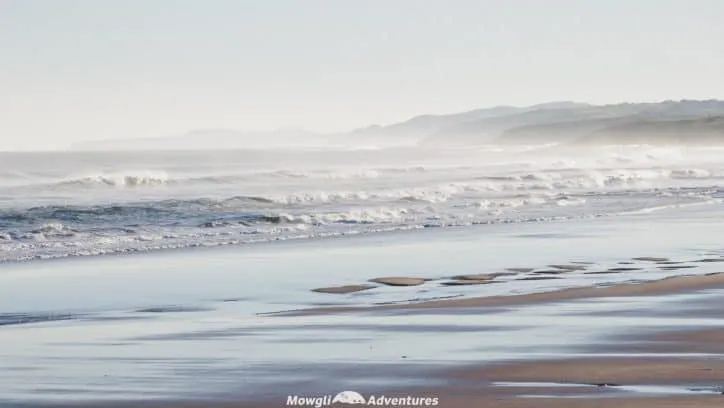 Many natural beaches and coves rim the north of Cantabria. The northern Spain coastline is rugged and dotted with hidden coves, steep cliffs and sandy beaches.
When you leave Santillana del Mar head to Suances on the coast. From here, keep to the coast road and find your own hidden gems.
The drive offers fantastic ocean views over the cliffs and a sure highlight of your road trip in northern Spain.
We loved the beach at Comillas. Comillas is a traditional fishing village in the north of Spain. The wide sandy beach is ideal for kids and the sand is so fine, it feels like a silky liquid between your toes.
Comillas is the first stop on our mini tour of all the Antoni Gaudí buildings outside of Barcelona. Even if you're not a fan, the Capricho de Gaudí is superb and you shouldn't leave without visiting.
Next stop – the great outdoors of the Picos de Europa!
Distance from Comillas: 37 miles
Approx driving time: 1 hour
Time required: 3-5 days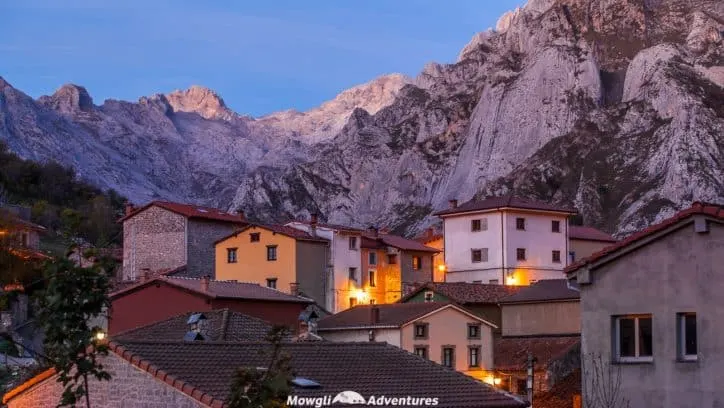 There are few things only a road trip in Spain can offer and the Picos de Europa is one of them. The spectacular Picos de Europa National Park is the lesser visited, little brother of the Pyrenees and they are amazing.
These jagged, deeply fissured mountains straddle Asturias, Cantabria and Castilla y León regions of northern Spain and offer a wealth of walking opportunities.
Tiny villages are dotted throughout the area, each with their own backdrop of the Picos de Europa.
This is the most incredible drive on the northern Spain road trip itinerary. Without it, we couldn't call it perfect.
Browse our photo gallery: The spectacular Picos de Europa
Navigating a series of tight hairpin bends, this route through the Picos De Europa takes you from Cabrales to Poncebos. Here you can take the funicular railway for incredible views over the mountains.
The Cares Gorge hike is a must if you don't suffer from vertigo. The path starts in Poncebos. It's a wonderful 12km journey along a path carved into the rocks of the mountains.
There's a steep stretch at the start of the hike and the rest is pretty flat. Don't miss this!
Next we drive up a steep mountain road towards the tiny village of Sotres. Here there are many walking trails through spectacular scenery. There's no doubt you'll work up a thirst here!
Feeling thirsty? Read our guide on how to drink like a local in Cantabria
Before leaving the spectacular landscape of the Picos de Europa, we have one more stop for you. A natural feature from the ice age, Enol and Ercina are glacier lakes surrounded by the peaks of the Picos de Europa National Park. We think you'll love it up here!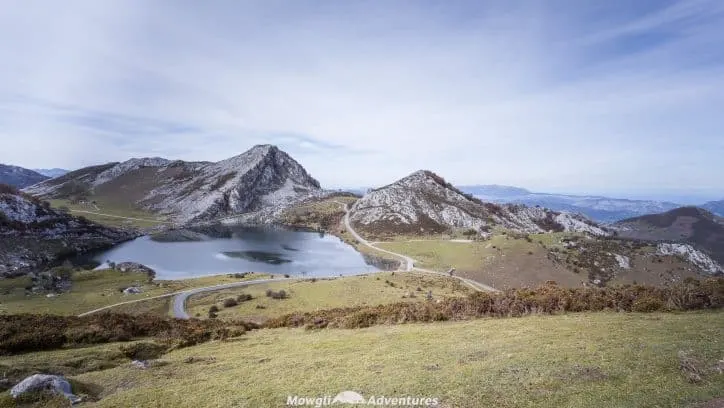 It's very special here. Keep an eye out for the vultures and eagles soaring above your head too. As you head back down the mountain, you'll reach the village Covandonga.
Covandonga is tiny but has a HUGE monastery and a teeny church carved into the rocks.
Now you're bound to feel exhausted! And if you're not, you're an athlete! Time to rest up for a day in Cangas de Onís.
Cangas de Onís is a small town located on the boundary of the Picos de Europa National Park.
The town is set in a deep valley between the rivers of Sella and Guena and not surprisingly it benefits from more than a picturesque location.
Read more: How to spend a day in Cangas de Onís
The Picos de Europa stage of the northern Spain road trip is a driving distance of 53 miles. Spread over your stay, this is about 2 hours of mountain driving.
This will leave you with plenty of time to enjoy the great outdoors.
A short city stopover in León
Distance from Cangas de Onís: 100 miles
Approx driving time: 3 hours
Time required: 1-2 days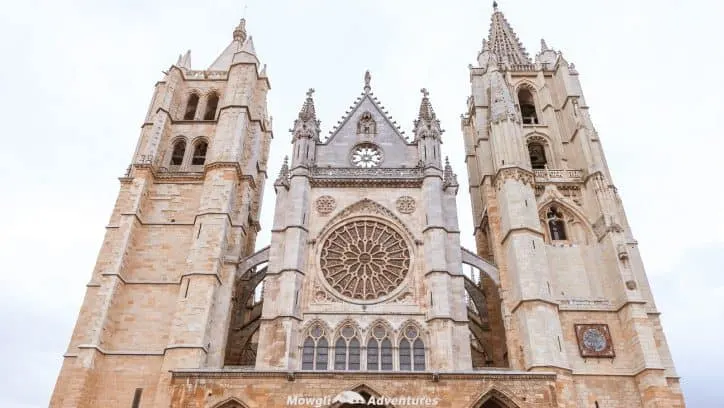 Top tip: For a terrific scenic drive from Cangas de Onís to León, ignore your sat nav. It will probably want to take you along the AP-66.
This route is slightly further but will shave an hour off the journey time. It's just a boring motorway though. Add Riaño as a via point to get your sat nav to follow the scenic route. You can then follow the N-625 and enjoy!
After spending a week in the mountains, you're might crave the hustle and bustle of a city. León is the perfect pit stop on your way to Astorga.
Most of the city is contained within old Roman walls. It's a compact city best explored on foot. León's main attraction is one of the most beautiful cathedrals in Spain.
It's also home to one of the three Gaudí buildings in northern Spain. León offers you a wealth of historical architecture and a vibrant student night life.
With plazas aplenty and any number of independent cafés and eateries, León has something for everyone.
Top tip: Don't miss a visit to Plaza del Grano, a lovely quaint plaza.
Read more: our favourite things to do in Spain
Feast for the eyes in Astorga
Distance from León: 33 miles
Approx driving time: 1 hour
Time required: 1 day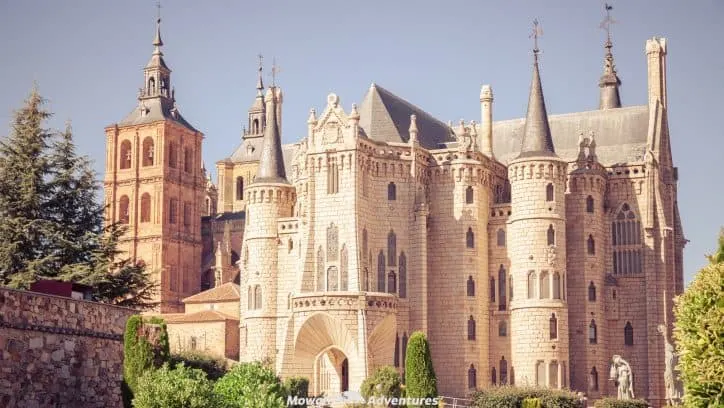 Astorga is the furthest point west on this road trip in northern Spain. The unique and intricate work of the Palacio Episcopal de Astorga by architect Antoni Gaudí is a must see.
Astorga is located at a crossroads on the Santiago de Compostela and Silver Road routes and so it has some fabulous medieval heritage.
Astorga has preserved churches and convents important to the history of this region in Spain. Make sure to visit the Gardens of La Sinagoga and the Chocolate Museum. I just can't resist chocolate samples. Try before you buy!
Make sure you get a good night's sleep to prepare yourself for the long drive the next day.
Top tip: The town centre is a great place to try cocido maragato, a warming local stew.
Read more: The great Gaudí tour outside of Barcelona
The bright lights of Burgos
Distance from Astorga: 140 miles
Approx driving time: 2 hours
Time required: 1 -2 days
Burgos is the final stop on this northern Spain road trip and yet is another highlight. There are few cities with as dramatic an entrance as Burgos.
To enter the city square you need to walk through the enormous and elaborate Arco de Santa Maria. It's a medieval gate built in the 14th century and is incredible.
Make sure to look up! The Gothic Burgos Cathedral dominates the city skyline. It's a fine example of medieval architecture, a UNESCO World Heritage Site and the burial place of Spain's national here, El Cid.
Return to Bilbao
Distance from Burgos: 100 miles
Approx driving time: 1 1/2 hours
The perfect northern Spain road trip has finally come to an end. We'd recommend you take your time on this road trip. You could do it pretty fast but slow travel is far more enjoyable.
If you don't have 2 weeks, maybe shorten the route. Skip León, Astorga and Burgos and make your way back to Bilbao from the Picos de Europa.
We did this road trip in 2 weeks, travelling in a camper van (Mowgli). By using the free camper stops on the route, we didn't pay for any accommodation. Check out how you can tour Europe in your motorhome or camper van without any accommodation costs here.
You May Also Be Interested In:
Like it? Pin it!