Portugal is steeped in local traditions, rarely visited rural villages, chestnuts, vineyards and national parks. The towns and villages out of the main cities have a distinctly rural feel, oodles of history and many have their own castles and keeps.
The influence of the Moorish culture is evident here and many attractions boast of this rich tapestry of cultures, influence and blend of architecture.
There are some of the finest Moorish designs outside of the Middle East. Portugal is a rewarding country with much to see and do. Use this Portugal road trip itinerary to plan your next driving holiday.
How to get to Portugal
We'd of course say there's only one way to get to Portugal. Drive there! But I accept it's not always as straight forward as that. For a start, unless you're driving in from Spain, it's a long distance to drive and we don't all have the time.
The major airports are located in Lisbon (the capital) and Porto to the north and you can hire a car from the airports to start your road trip in Portugal as soon as you land. You can get a quote for car rental here.
Hiring a car in Portugal
While we drive our own vehicle, we appreciate that many people will fly into Europe and hire a car. We've done few of our road trips by hire car in Europe too. Always use a reputable firm because you need assurance the car is well maintained and your insurance is valid.
We're not loyal to one rental firm, and will simply go with the one that offers the best value – and that means using a comparison website. For us, Rentalcars is by far the best, and our first choice, every time. They even do camper van rentals!
Click here for a no obligation car rental quote
Tips for driving in Portugal
Driving in Portugal is easy. There are a lot of motorways in good condition and road signs are clear. If you've just left Spain to drive in Portugal, you will notice the rural roads are less well maintained, so watch out for those pot holes.
Most of the motorways are toll roads but they do get you around quickly so if time is short, they're a great option. Make sure you carry some Euros as they don't all accept cash.
Best time to visit Portugal
Summer is the most popular time of year and the beaches are full of tourists. Because the coastal resorts are so busy, summer is a pretty good time to visit the cities as they're a little quieter now.
Early autumn is the best time to go to southern Portugal as sea temperatures are still warm and beaches are a lot less crowded. Autumn is also harvest time in the Douro Valley and a must-see for any self respecting wine or port lover.
More inspiration: 10 of the best European road trips
Accommodation in Portugal
As with most of Europe, Portugal has loads of choice when it comes to accommodation. You can book an Airbnb, hotels or guesthouses.
If you're travelling in your camper van or motorhome though, it's not hard to find free overnight parking spots. Take a look at this post on the fantastic free camping spots in Portugal we stayed at.
Don't forget to pack….
When you click on links to various merchants on this site and make a purchase, this can result in this site earning a commission. As Amazon Associates, we earn from qualifying purchases. For more info, please check our disclosure page.
If you're preparing for a trip to Portugal, it's useful if you're carrying a paper road map. It won't take up much room in your luggage and we find them useful for planning our routes.
It's much easier to get an idea of distance and what you'll be passing on the way than your GPS. You can buy your Portugal road maps here.
We also suggest bringing a guide book with you. We've always used a Lonely Planet one but the Bradt guides are good too. Take a look here and check out what guide books are on offer.
If you want to bolt on some time in the capital city too, take a look at how to spend one day in Lisbon here. Or continue on down to the southern coast for a spot of hiking in the Algarve.
Portugal has so much to offer, it's impossible to fit it all into one road trip. A perfect reason to come back for more!
Our 10 day Portugal road trip itinerary
Day 1 – Montesinho National Park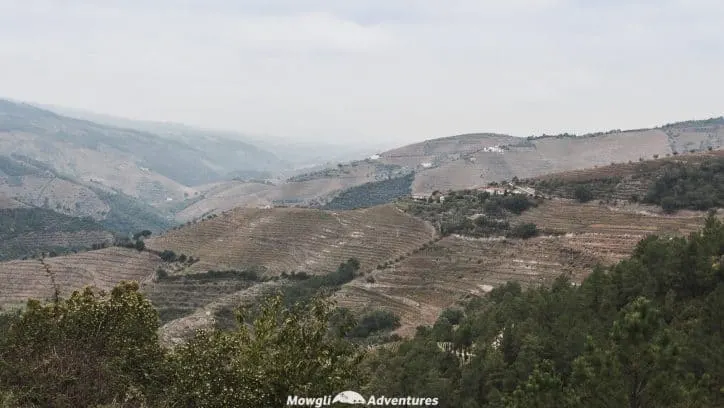 We entered the north east of Portugal from Spain, via the Montesinho National Park. Avoiding the main road in favour of the winding N103-7, we were rewarded with a lovely scenic drive through rural villages and stunning scenery.
Heading up into the hills, the spectacular views of the valley below took our breathe away. Every twist and turn of the narrow, winding roads treated us to views such as these.
It's hard to appreciate if you're the one driving but there are loads of viewpoints called miradouros, along the way.
Day 2 – Exploring Bragança
We spent the day in Bragança's historical centre, where you'll find a range of medieval, Baroque and Gothic architecture as well as several museums.
Visiting the Castelo in Bragança was the perfect day trip! We spent time in the amazing Military Museum and afterwards walked along the walls of the castle to explore a bit more of the town.
Within the thick walls of the castle is a fine example of a roman hot spring bath house, the 500 old year Church of Santa Maria and 300 year old cottages, many of which are still private residential homes.
The centre of the town is a short walk from the castle and has a pleasant square and a few alleys that host a range of reasonably priced bars and restaurants. Do wander around and hopefully you'll find a little gem of a restaurant as we did.
Essential reading: what to eat and drink in Portugal
Day 3 – Vinhais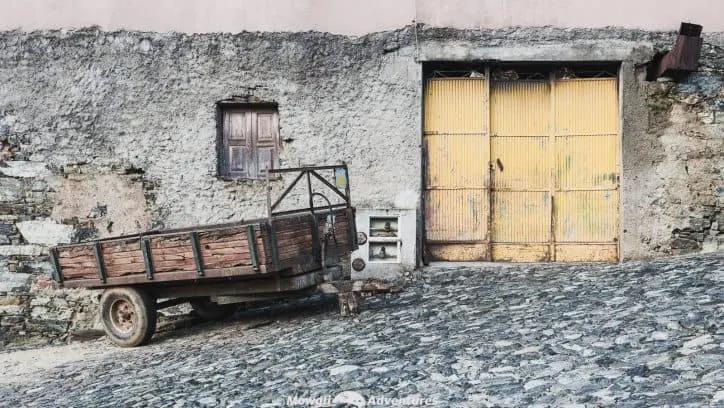 About 30km east of Bragança is the gritty little town of Vinhais. It was an unplanned stop and we detoured here because we discovered there was a chestnut fiesta on the same day. We're so glad we went along.
It was one of the strangest but most enjoyable fiestas we've been to. When the festival isn't on, it's a great base for exploring Montesinho National Park.
Read more about the Chestnut Fiesta here
Day 4 – 6 – Pinhão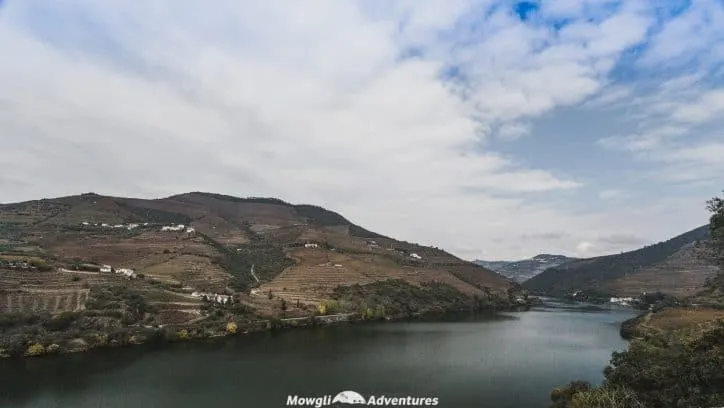 Vinhais is at the northern end of the Duoro Valley, so heading south west we passed through hundreds of vineyards, mountainous roads and rural villages.
Pinhão is delightful village on the Douro River and surrounded by vineyards. Go on! Indulge yourself!
We spent 3 days in Pinhão. We explored the high rural roads and soaked up the incredible views of the Douro River and valley blow. You can even arrange a visit to one of the local vineyards.
Time your visit with harvest season and you can even press your own bottle of wine – with your feet! Walking amongst the vines is a lovely experience, even if you've missed the harvest. The views alone make it worthwhile.
Don't miss a visit to the local train station to see the pretty blue tiles, hand painted with scenes from the grape harvest.
Day 7 & 8 – Peso Da Regua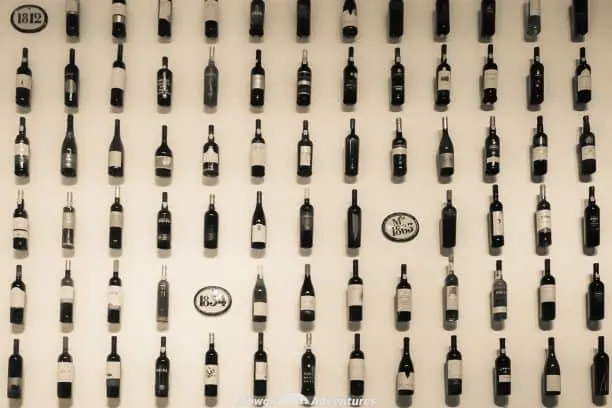 Follow the Douro River for about 50 km to Peso Da Regua. This winding road down the valley is host to vineyards as far as the eye can see. It is a man-made landscape of terraces cut into the valley sides.
We passed loads of household names of port and sherry producers such as Sandemans, Grahams and Wares to name but just a few.
The whole region, the river, the train lines and the dam are here purely to support the growing of grapes and the production of fortified wines.
Museu do Douro in Peso Da Regua hosts the nation's Port museum and for 6 euros is well worth a visit to learn more about the Douro Valley, its creation and of course all about Port.
After the walk round you are given a glass of exquisite port to try. And it would have been easy to just stay in the museum to try all the ports from the region. It's easy to lose a day or two in this area.
Day 9 & 10 – Porto
The drive from Peso Da Regua to Porto is perhaps the most fabulous stretch of road in the Douro Valley. The road climbs high and the news are fab. Even though it was a foggy day when we visited, it was still enjoyable. The road is really steep in some parts though.
Porto is a town of sophistication and cultural delights. The city shows signs of historic wealth in the architecture of the old city.
Things not to miss in Porto include the UNESCO World Heritage protected Riberia Square, Ponte Luis I Bridge that spans the Douro River and Clérigos Tower for panoramic city views.
Mind you, driving in Porto is a nightmare with a one way system, trams and crazy fast drivers.
2 days in Porto is plenty to see the mains sights and a most enjoyable end to you 10 day Portugal road trip itinerary.
Like it? Pin it!