Quebrada de las Conchas is one of the most iconic drives in northern Argentina.
Incredible rock formations line a 50 kilometre route through part of Calchaquí Valley to Cafayate. Striated, rainbow painted rock faces, canyons and at sunset, the entire landscape appears to glow.
Quebrada de las Conchas, also called Quebrada de Cafayate or Shell's Gorge, is one of those things to do from Cafayate perhaps more memorable than even the wine tasting! And that's saying something.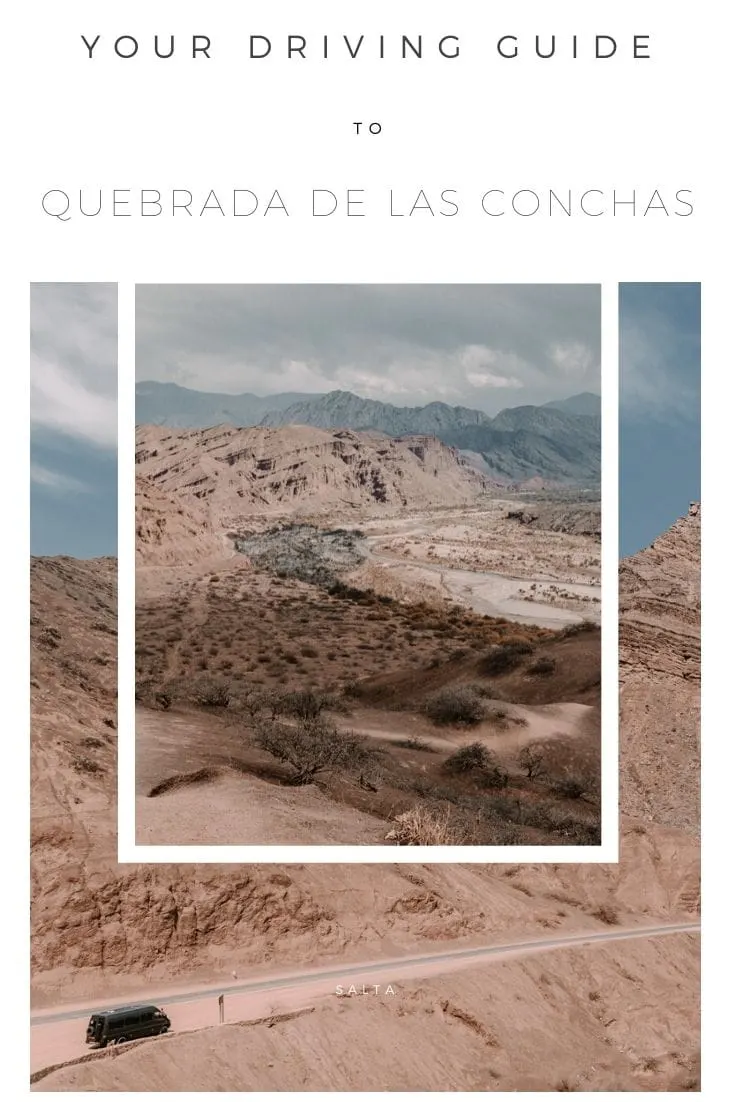 Where is Quebrada de Cafayate
The natural reserve is in the Calchaquí Valleys of the Salta Province, in northern Argentina.
The best of the scenery begins about 90 kilometres south of Salta city and continues almost as far as the town of Cafayate.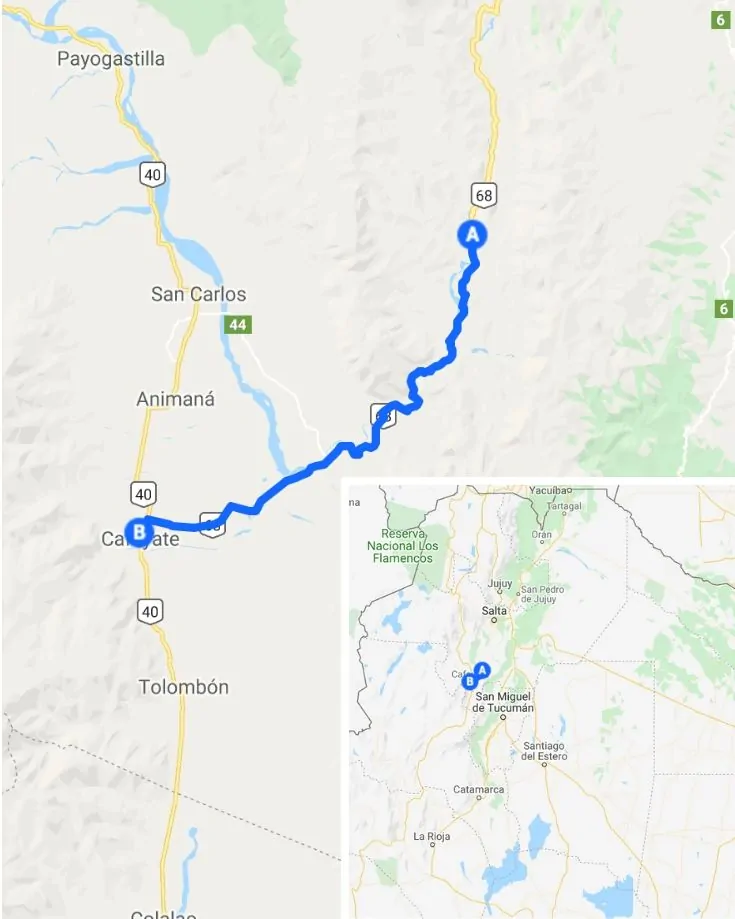 The rock formations of Quebrada de las Conchas
While the entire route is otherworldly beautiful, here's a few stops worth taking along the way to experience the best landmarks heading towards Cafayate.
Devil's Throat – La Garganta del Diablo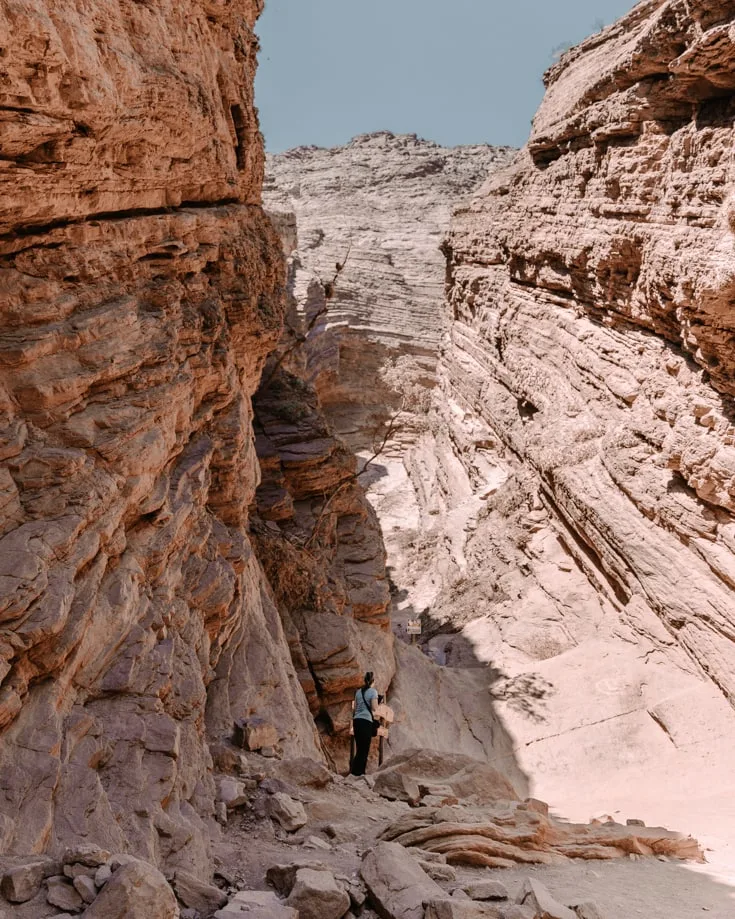 We're yet to understand why but South America seems to have a deep sense of connection with the Devil. He gets a mention in the name of so many places!
The Argentinian side of Iguazu Falls has a waterfall named after him. Uruguay's surfer's paradise Punta del Diablo carries his name too.
And here in Quebrada de las Conchas, he gets a mention too.
The Amphitheatre – El Anfiteatro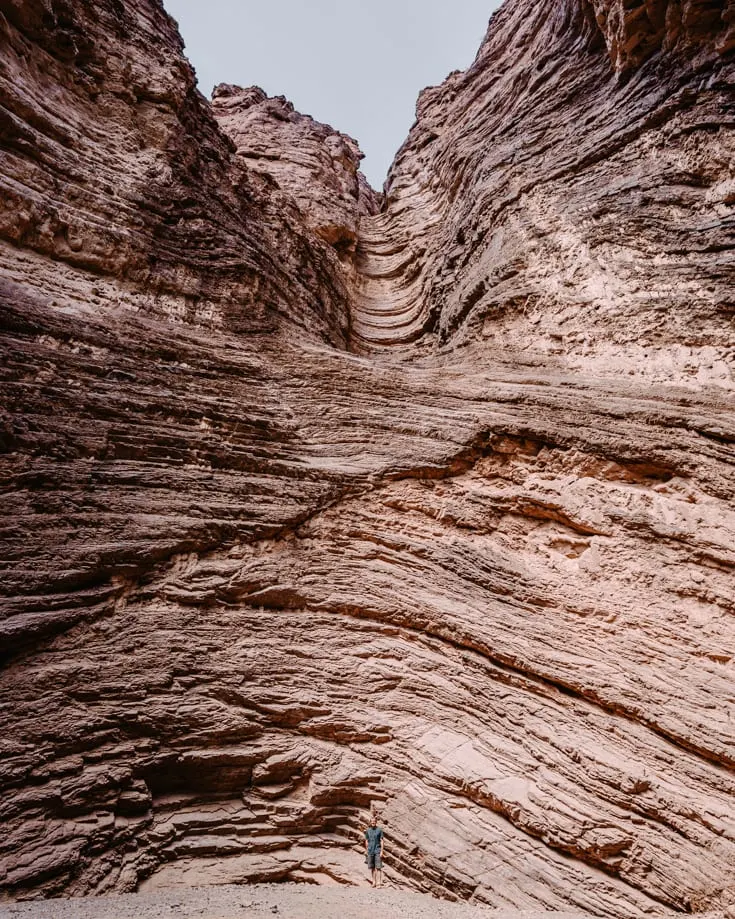 The most impressive of all the rock formations along the route, the Amphitheatre is aptly named. The acoustics are marvellous and unless you're unlucky, musicians will treat you to a performance.
The sheer size of the space, carved out over millennia by wind and water, dwarfs visitors. Can you spot Graham in the photo?
Three Crosses – Tres Cruces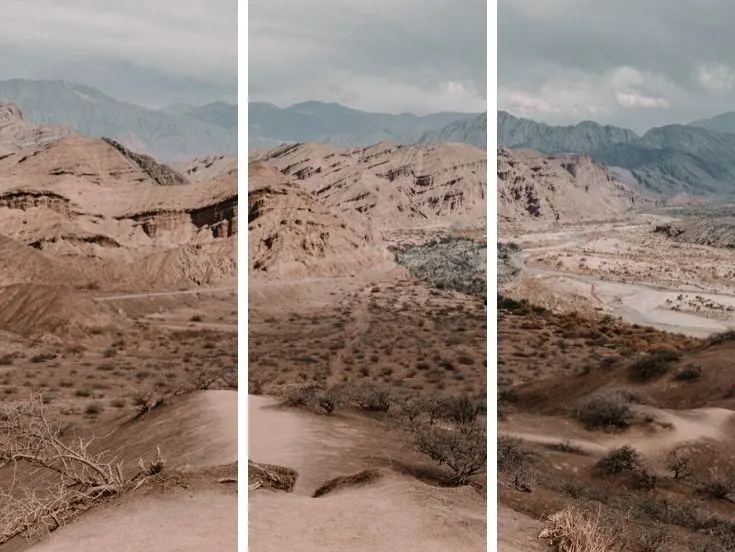 Pull over here and climb the steps up and around the huge rocks on which the 3 crosses are stood. The view of the Calchaquí Valley is quite special!
Toad – El Sapo
Ok from one angle, you can see why this lump of rock is called the toad. A bit meh, though. I can't believe we're critiquing nature's ability to sculpt a toad!
The Friar – El Fraile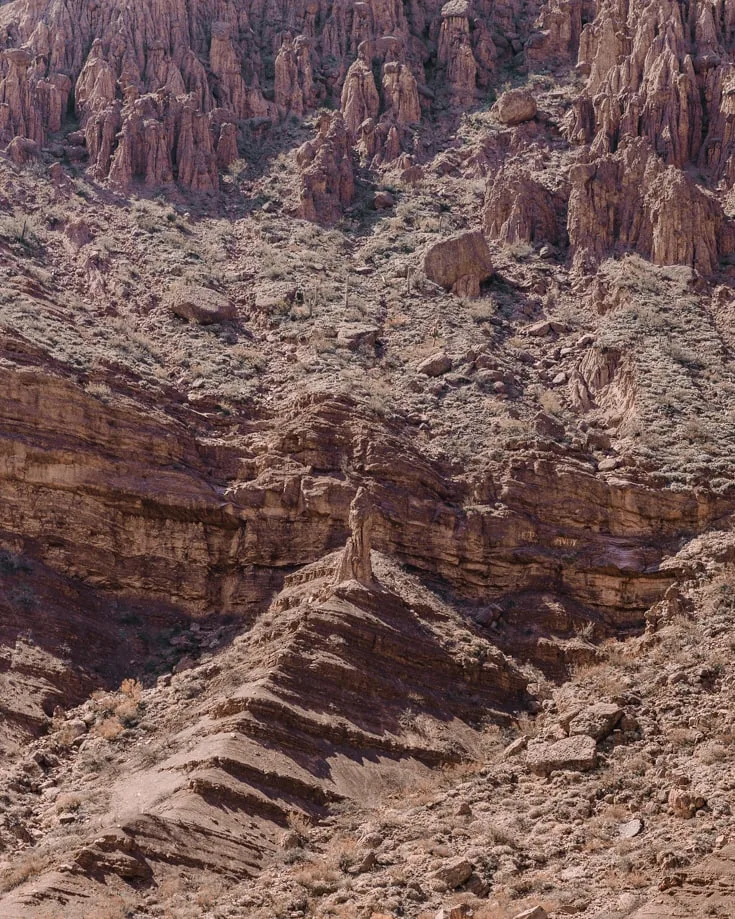 I don't know. Maybe after a Malbec or 2 and squinting with a good imagination, you might be able to make out a monk like character.
Don't miss the signs for this one or you're likely to miss him altogether. And if you can't spot him in the picture above, he's standing on the pyramid like stack a little below the centre.
House of Parrots – Casa de Loros
Across the road from the Friar, the sheer red cliff faces are dotted with holes – perfect for parrots to nest in. It's not quite like the Macaw's sinkhole in Brazil mind but you can guess where it got its name.
Los estratos hike
Don't miss this 30 minute hike. From Yesera, signposted La Yesera, follow the path marked Sendero de los Estratos. The colours here later in the day are phenomenal!
The Obelisk – El Obelisco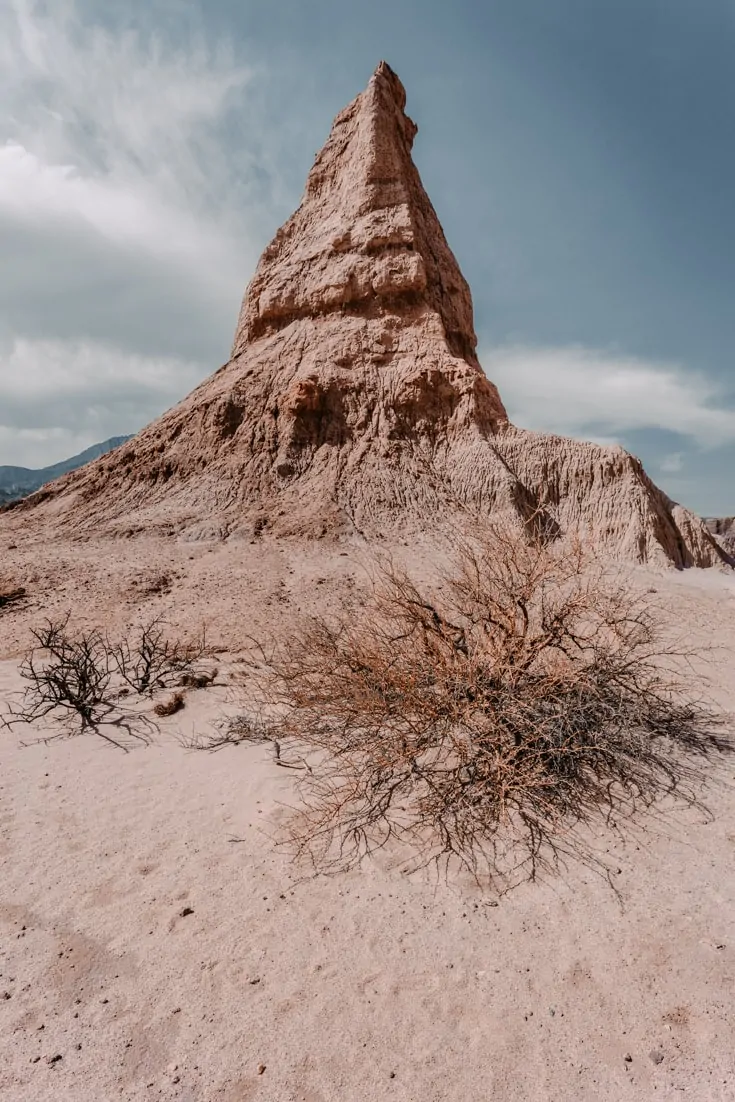 No prizes for guessing how this rock got its name. It's massive. Some people don't even bother to stop for this but we kind of liked it.
When to visit Quebrada de Cafayate
The desert like area around Cafayate sees almost no rain so Quebrada de las Conchas is accessible all year.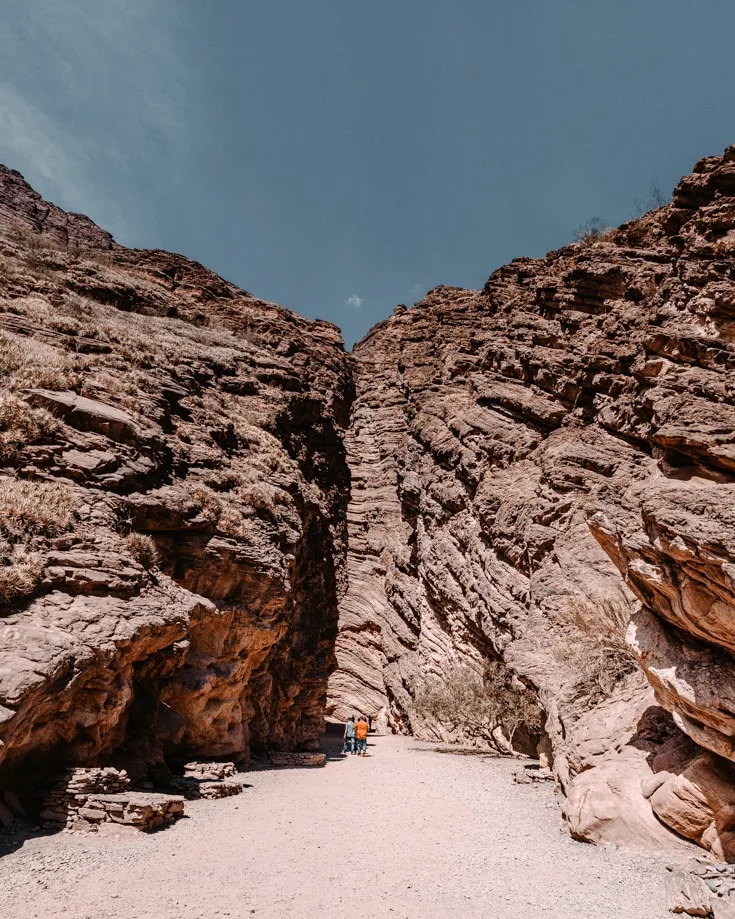 And even at a little over 1600 metres above sea level, the temperatures are mild. Even during June and July, the depths of the southern hemisphere winter, the mercury stays above zero.
Summer sees wonderful temperatures rarely hitting 30°c. It's also the region's wettest season so the occasional heavy showers isn't out of the ordinary.
Visit Cafayate in late February to see the vineyards in full bloom and heavy with fruit. Stick around until March to enjoy the harvest. And you can enjoy the end product year round!
Tips for driving Quebrada de las Conchas
The road all the way from Salta to Cafayate (the RP68) is good quality tarmac surface.
The drive from Cafayate to Salta (or vice versa) takes about 3 hours. But allow yourself at least another 2 hours, if not more, to enjoy this 50 kilometre stretch.
If you're following Ruta 40, RP68 is definitely worth a diversion. You can drive from Cafayate to the end of the gorge and return the way you came.
Wild horses and guanaco roam the area so watch out for them on the road. A run in with a wild animal would ruin your day, not to mention your car!
Each landmark is signposted in Spanish on carved wooden plaques.
We shouldn't have to say it but we will. Don't drink and drive. Make sure you have a designated driver who won't indulge in the many opportunities for a spot of wine tasting.
Make sure to check out our guide to driving in Argentina for lots of tips and advice.
It can become incredibly windy through Quebrada de las Conchas so take care driving and when opening your car doors.
It's unlikely you'll get any cell coverage through the ravine. It's a busy enough route though so if you need help, a passing motorist is rarely far away.
The landmarks along the route all have safe places to park – use them.
There's no facilities along the route so bring supplies including sun cream, water and food.
You can do quite a lot of walking around here, and even some scrambling so dress for a day hiking. Good footwear is especially important.
Do bring some cash. While visiting Quebrada de las Conchas is free, there are a few craft stalls where you can buy inexpensive souvenirs.
We've heard some people have been charged a small fee to enter the Amphitheatre. There is a rickety looking ticket booth but it wasn't open when we visited so we're not sure what the situation is. Bring enough to cash to cover this too.
How to get to Quebrada de la Conchas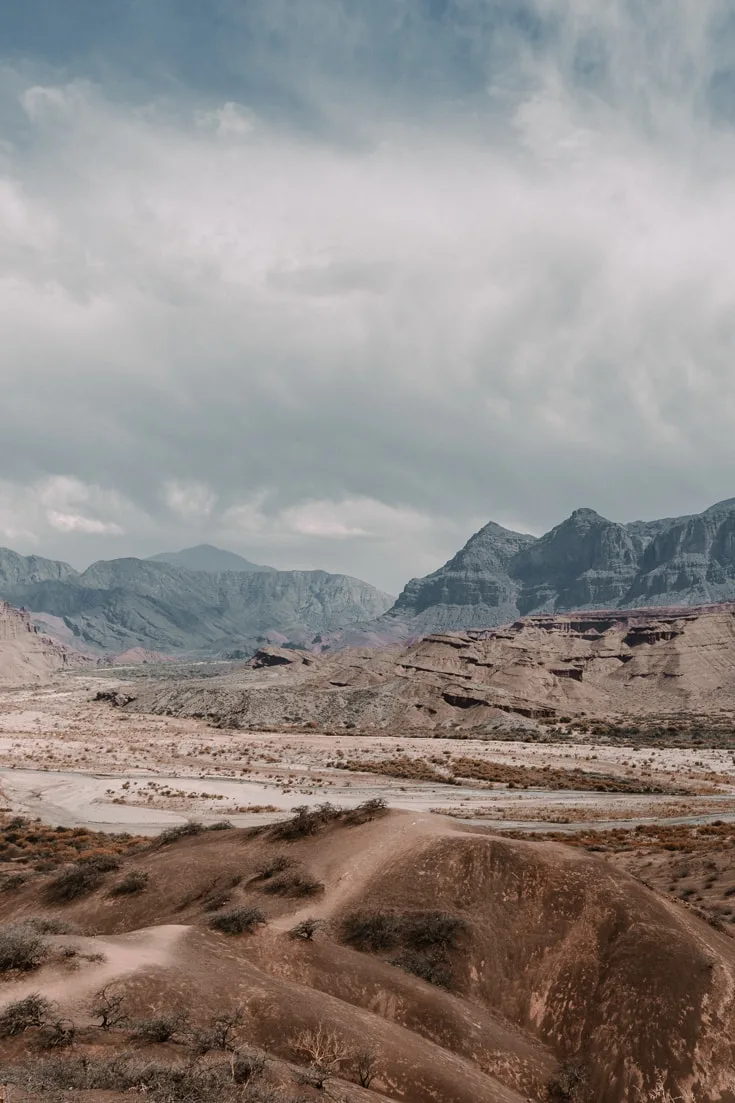 By car
The best way to get there is by car. You'll have the flexibility to take your time, stopping anywhere and everywhere you want along the way.
And you can wait for the tour groups to leave so you get the place to yourself too!
Unless you have your own vehicle, we recommend picking up a rental in Salta. There's no rental companies we know of Cafayate.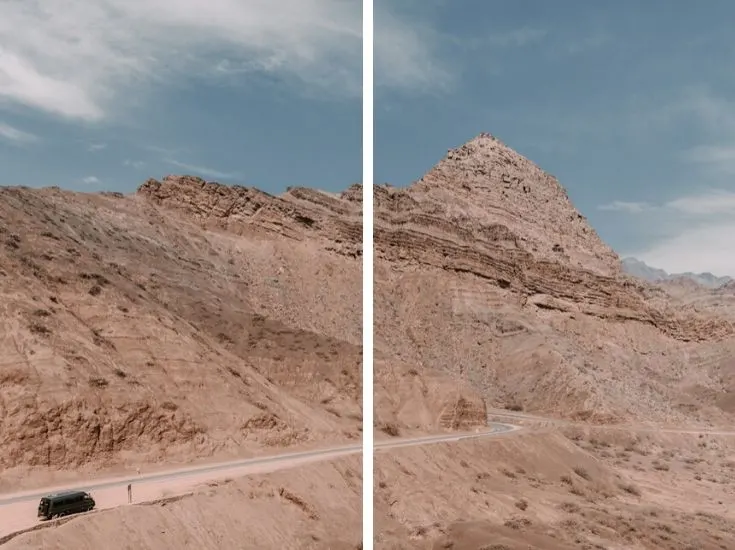 By bus
Alternatively, the bus from Salta to Cafayate stops at Garganta del Diablo. You could hop off here, explore Devil's Throat and walk 1 kilometre to The Amphitheatre.
The distance to the other rock formations are too great to walk though and you'll need to catch the next bus into Cafayate at the same stop you disembarked.
Cycling
If you want to visit Quebrada de Cafayate and get your daily exercise in at the same time, how about cycling?
You can hire a bike in Cafayate and take the bus with the bike to Devil's throat at the far end of the gorge. It's all downhill from there!
Quebrada de las Conchas tours from Salta
If this don't fancy this either, perhaps a guided tour from Salta is best. They're pretty good value and include wine tasting at a vineyard in Cafayate.
A local, English speaking guide will pick you up and drop you off at your hotel. The tours stop at the highlights of the ravine en route to Cafayate.
In town, you'll visit one of Cafayate's many vineyards to taste the region's native white Torrontes wine.
Check here for availability and the latest prices for a 1 day tour from Salta.
It's a fair amount of time on a bus in 1 day so we recommend you take the 2 day tour. It's a slower affair and you can get to explore the town on your at your own pace. Check here for the latest prices and availability.
Quebrada de las Conchas tours from Cafayate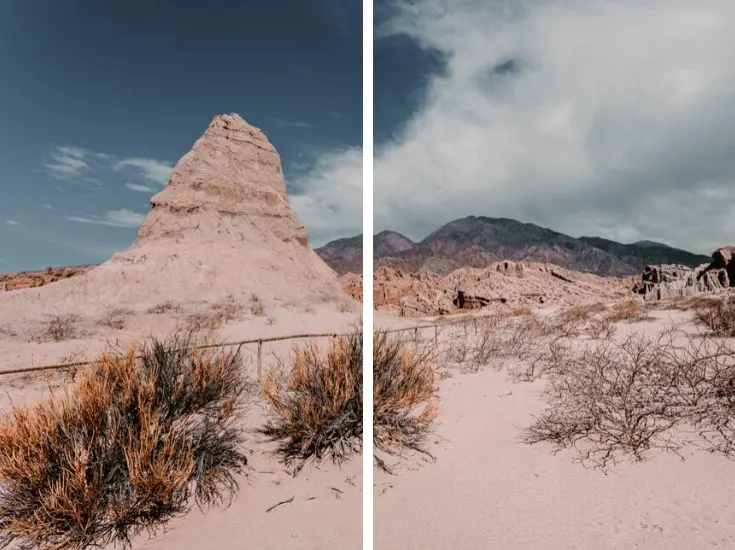 It's not such a long drive to visit the gorge from Cafayate as it is from Salta. Tours from Cafayate run in the afternoon's (far better light in the afternoons) and only last around 5 hours. Check availability and prices here.
And if you'd prefer to go with a small group and hike for a few hours, try this one.
Where to stay near Quebrada de las Conchas
Aside from those on day trips from Salta, most people stay in Cafayate because it's so close to the gorge.
The road through the gorge has a few options too, especially for campers. So come prepared so you can grab the most scenic spots along the way.
Camping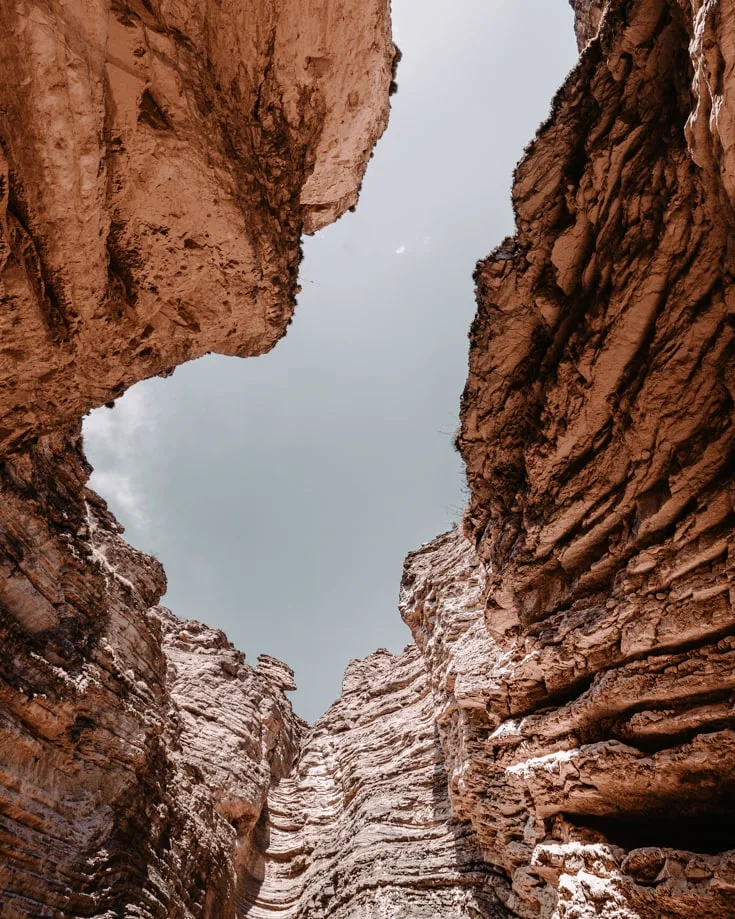 If you're lucky enough to explore Quebrada de las Conchas in a camper van, you're in luck.
Along the length of the gorge, you can find a few tucked away places to camp overnight. These aren't established campgrounds but free "wild" camps. Use the iOverlander app offline if you need help finding a spot,
Keep your distance from any rivers, even dry ones, boondock responsibly and enjoy the phenomenal night sky.
If you don't have a camper van, consider packing a few camping essentials in the car so you can take advantage of the free camping opportunities out here.
Hotels & lodgings
We've hand picked a couple places to stay along RN68. Staying here gives you the chance to enjoy the sunrises, sunsets and the phenomenal night sky.
Castillos de Cafayate | Guests of this hotel fall in love with its location. With large rooms offering views of this beautiful landscape, the hotel can cater for all your meals. With parking on site, a swimming pool, it's only 20 kilometres from Cafayate, so a good place for those who want to explore the area but enjoy some tranquility too. Check the latest prices and availability here.
La Casa de la Bodega | Hey we're in wine country so why not spend a night on a vineyard? Expect luxurious comfort set within a rustic, colonial property. You can even arrange wine tasting sessions onsite too. Everything you might imagine from a trip to Cafayate. Check the latest prices and availability here.
If you'd prefer to stay in Cafayate, there's many places to choose. Click here to browse options, prices and availability.
If you'd prefer more budget accommodation, make sure to check out Hostelworld for their latest rates and availability.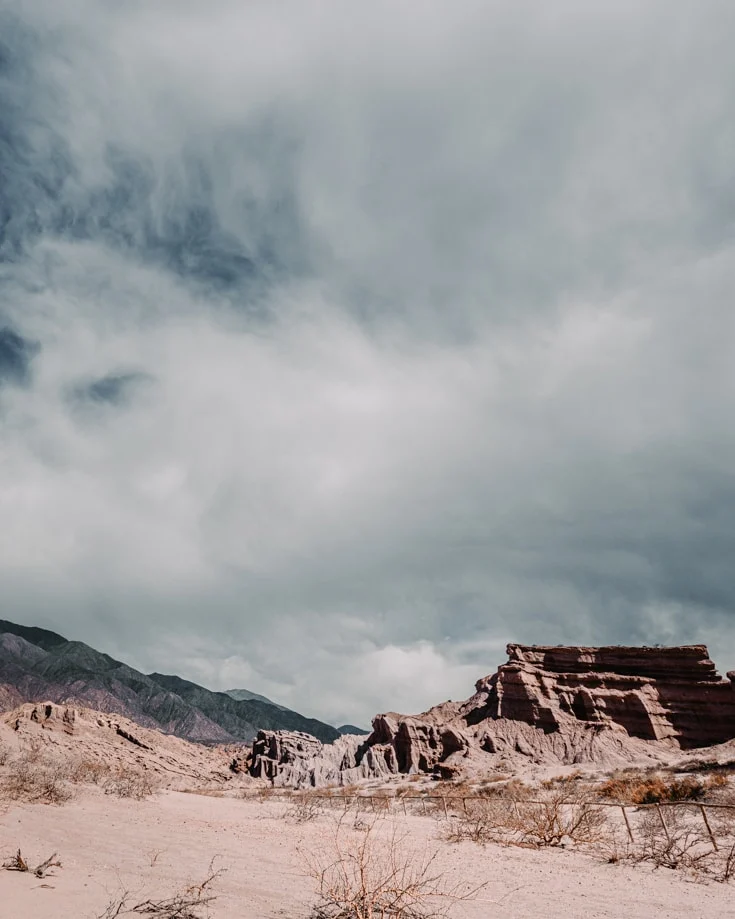 If you loved this scenic drive, take a look at these 3 fabulous drives too:
Like it? Pin it!