It may need to work on its branding a bit, but The Roaches is one of the best walks in the Peak District — especially when you combine it with Lud's Church.
(Don't worry, you're not likely to see any roaches on this walk, although it does look like the sort of place where one might run into a dragon — and possibly an evil mermaid, but more on her later.)
While a bit challenging at first, this walk quickly levels into level terrain, making it an enjoyable jaunt rather than a punishing slog. The paths are largely left to the mercy of Mother Nature, though, so don't expect to come out of here mud-splatter-free. Plan on wearing hiking boots, and plan on getting dirty, especially after rain.
This is an excellent hike for kids, as there are plenty of places where they can scramble up rocks and otherwise exhaust themselves. The natural beauty here is spectacular as well, and you'll be rewarded with stunning views of the entire Peak District.
You'll get a little bit of everything on this walk, scenery-wise. The geology is the star of the show, with the famous gritstone rocks being especially wonderful, but you'll also pass through some woods, walk along the picturesque Black Brook, and get your fill of grassy fields.
Despite all the breathtaking landscapes you'll find on this walk, it's not as popular as some of the others in the Peak District. But, as a result, it's manageable even on holidays or other peak times, and if you show up during non-peak hours, you may well have the place mostly to yourself.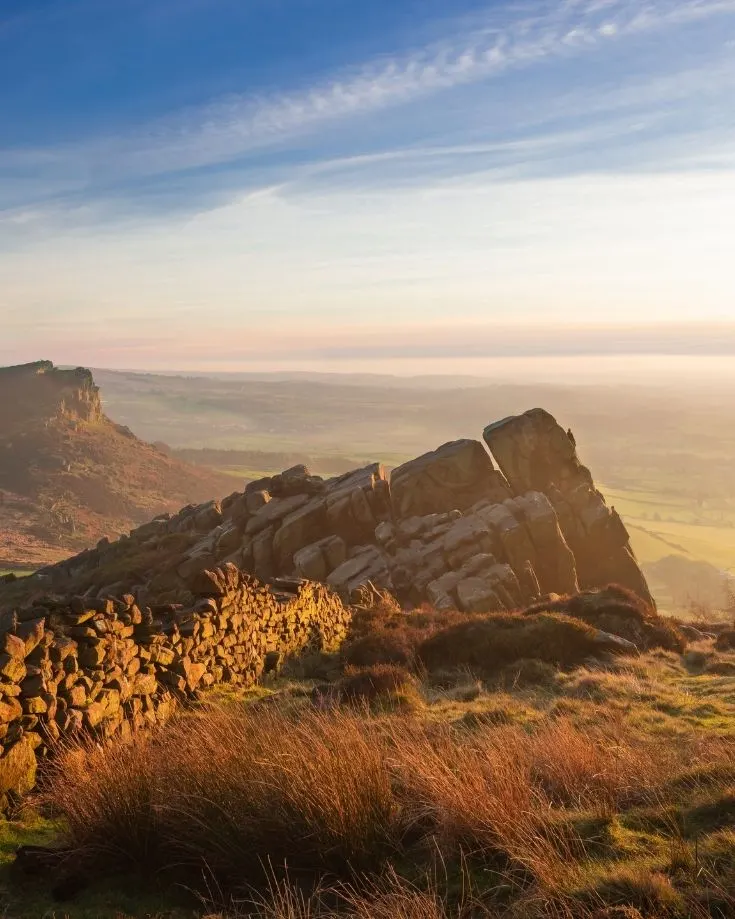 When you click on links to various merchants on this site and make a purchase, this can result in this site earning a commission. As Amazon Associates, we earn from qualifying purchases. For more info, please check our disclosure page.
The Roaches Walk & Lud's Church Walk Stats
Distance: 10 miles/16 km
Type of trail: Circular
Parking options: You can find free layby parking along Roach Road, but it may take a few minutes to hunt down a space. There's also a free car park on Roach Road, although it can fill up quickly at peak hours.
Walk points of interest: Hen's Cloud, Ramshaw Rocks, Lud's Church, Tittesworth Reservoir, Black Brook
How long does The Roaches Walk & Lud's Church Walk take? 4–6 hours
Accessibility: The walk starts off on a fairly steep incline but levels out soon afterwards. The terrain can be pretty boggy and muddy, though, so users with mobility issues or those with prams or wheelchairs probably won't want to risk it.
Total ascent for The Roaches Walk & Lud's Church Walk: 2,497 ft./761 m
Are there public bathrooms? You won't find any public toilets on the walk or at the car park. However, the Roaches Tea Rooms are at the trailhead, and they do have accessible toilets, although you should probably buy something first.
Best places to eat nearby: The Roaches Tea Room at the start of the trail doesn't have the most extensive menu, but everything they offer is quite good. Jervis Arms in Leek is a top-notch pub that sticks to simple, classic fare using locally sourced foods as much as possible.
Best places to stay nearby: Hotel Rudyard (best for couples), The Fountain Inn (most comfortable)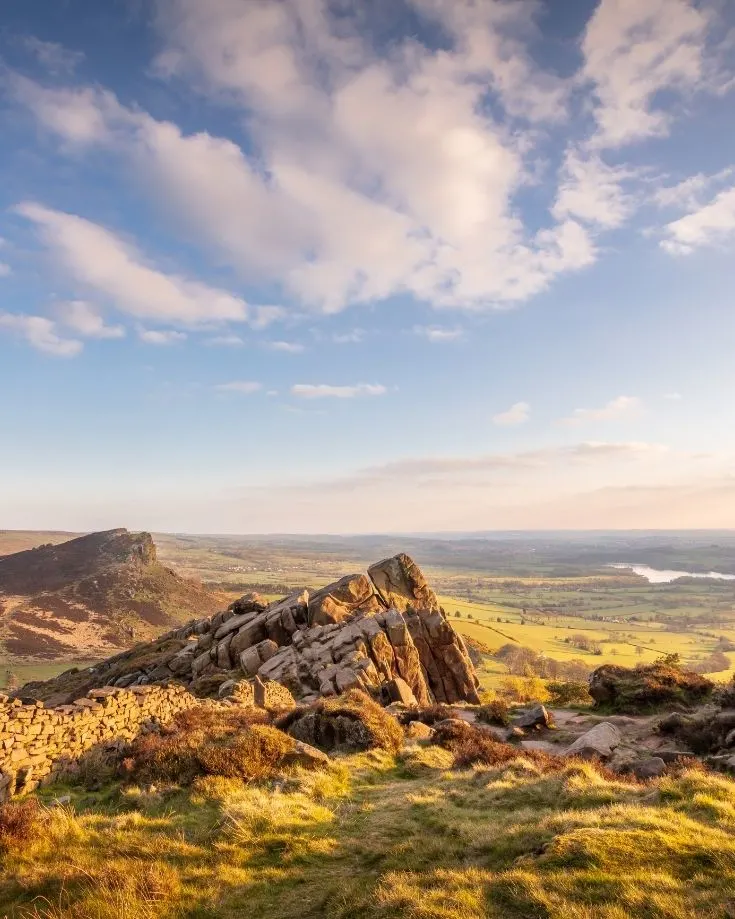 The Roaches Walk & Lud's Church Walk Route
Given that this is a fairly long yet circular route, you can always shorten your journey by doubling back before the halfway point.
Also, many hikers turn back after The Roaches or Lud's Church. Stopping after The Roaches essentially turns this into a 3 mile (4.8 km) hike. Doubling back after Lud's Church only saves you a mile or two, so we'd recommend just toughing it out and enjoying all the lovely scenery after it.
After parking, head north until you pass The Roaches Tea Room (this is your last chance for a bathroom, so we don't want to hear any complaints from this point forward if you don't take advantage of it). Walk until you see a path with a gate on your right heading up Hen Cloud; take the path until it breaks into smaller tracks heading up the hill, any of which you can use to climb it.
The hill is fairly steep, so expect to have to scramble a bit — there's no shame in resorting to all fours if you need to. Also, if you don't want to deal with the ascent, you can just stay on the primary path you were on; this will take longer, but it's an easier walk.
Once you reach the top of Hen's Cloud, take a second to enjoy the view, then take a left and follow the path down the hill towards The Roaches.
You'll pass through a gate at the base of the rocks. Keep following the path to the left, pausing to appreciate the gritstone rocks along the way.
Head through the woods until you reach The Roaches, then take a right up the steps. You'll pass Doxey's Pool on your right, and not long after, you'll reach the tallest part of The Roaches.
From here, take the path downhill to a small road. Pass over it, go through the gate on the other side, and then take a right through another small gate. This will lead you to a wall that heads into more woods; follow it, staying on the upper path.
The trail will wind a bit before dumping you out at Lud's Church. You can take the steps down into the chasm and explore, but don't expect to stay clean if you do so (especially if it's rained recently).
When you're done at Lud's Church, continue on the path until you reach a small grassy area. From here, head west until you reach another path on your left that heads uphill. Take the path, which will eventually deposit you back at Roach End.
Take a left on the path and mosey on down until you reach a small farm and school. Go past them and cross the bridge at Black Brook.
With Black Brook on your right, walk until you reach some more farm buildings. You'll see a gate here, which you should enter and then hang a right uphill towards the road. Finally, make a right on the road and head back towards Ramshaw Rocks.
When you reach Ramshaw Rocks, take the path down to the main road again. The other side of the road is a small footpath; take it downhill until you reach Naychurch, then hang a right.
This will take you past Well Farm. Head through the farm, then make a right on the footpath. Follow it until you emerge at the base of Hen Cloud, then head back towards the car park or layby (we assume you remember where you parked).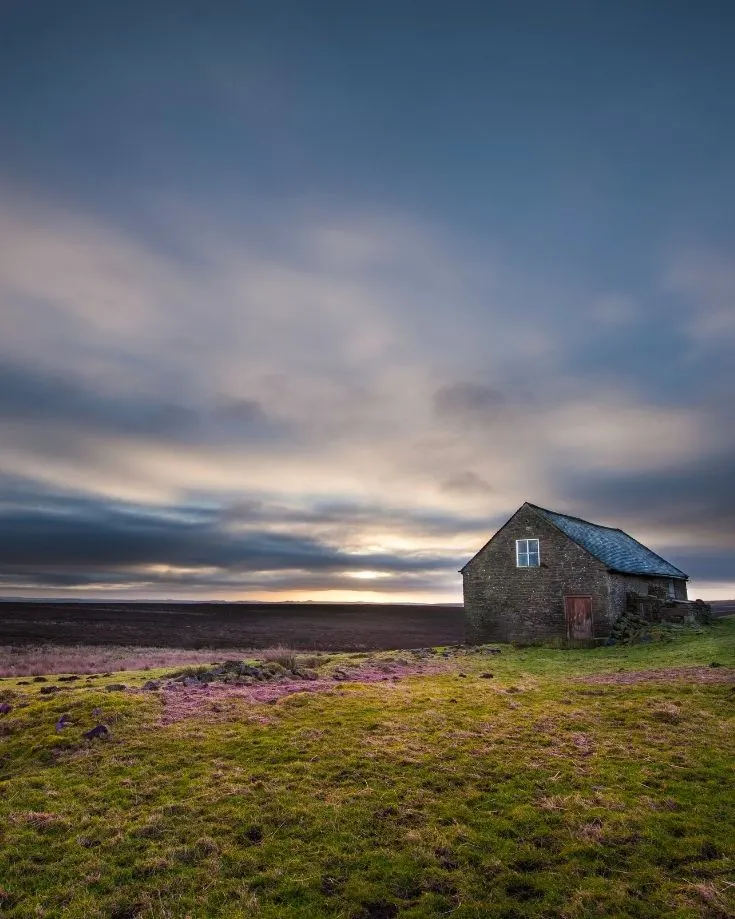 Facilities on The Roaches Walk & Lud's Church Walk
The only toilets in the area are at The Roaches Tea Rooms at the trailhead. This is a relatively small cafe, so please show your gratitude by purchasing something first (you won't regret it).
Several spots along the trail are perfect for picnics, so this might be the place to load up on food before you go.
Best Places to Eat Near The Roaches Walk & Lud's Church Walk
This walk isn't terribly challenging, but it is long, so there's a good chance you'll work up an appetite along the way. When you're ready to get a bite, we recommend the two places below.
By far the most convenient option hikers will find, The Roaches Tea Rooms is situated right near the trailhead. This family-run establishment offers homemade cakes, light lunches, and everything you need for a satisfying afternoon tea. While their regular menu isn't the most varied, they do offer an excellent assortment of daily specials to keep you satisfied.
The food here is good, but the views are spectacular. From here, your scenery is limited only by your eyesight, and if you want a sneak preview of the walk ahead, all you have to do is look out of a window.
Jervis Arms offers a highbrow menu without a snooty atmosphere; indeed, you'll be welcome here even if you have mud on your shoes and a dog in tow. However, don't let the casual ambience fool you, as this gastropub has some of the best chow in the entire Peak District.
They have just about anything you could want here, including excellent steaks, wonderful burgers, and some mouth-watering pies. The drink menu is also fantastic, including a staggering array of imported wines.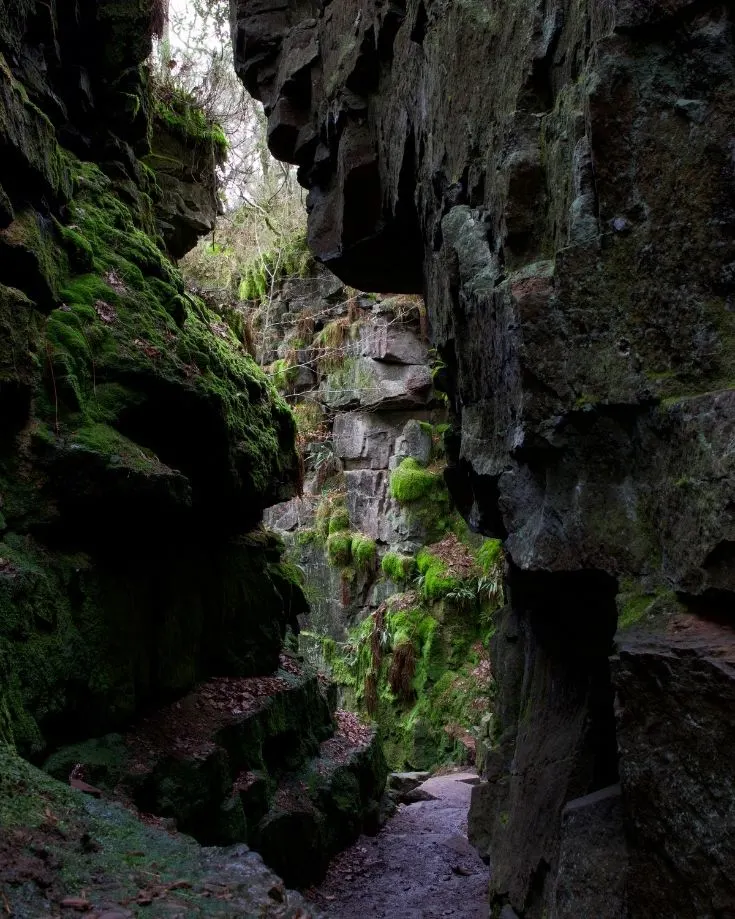 Best Places to Stay Near The Roaches Walk & Lud's Church Walk
A ten-mile walk will take a toll on just about anyone, so if you're exhausted at the end of your jaunt, head on over to one of these fine establishments.
Located right there in Leek, the 3-star Hotel Rudyard offers 12 luxurious rooms, each of which comes with an en suite bathroom and tea service. There are also two cottages on site for larger parties.
This venue is often used for weddings, which should give you some idea of its romantic nature. Their carvery restaurant is quite good as well, and you should walk away happy, even (or especially) if you didn't just get hitched.
While it may not look like much from the outside, The Fountain Inn in Leek is one of the cosiest hotels you'll find anywhere. The rooms are spacious, inviting, and well-maintained, and they all come with a flat-screen TV, private bathroom, and free Wi-Fi.
The bar here is quite enjoyable as well, and it's an excellent place to let your hair down. They have darts and a wide selection of beverages, and despite how much fun you can have here, the noise rarely spills over to the rooms.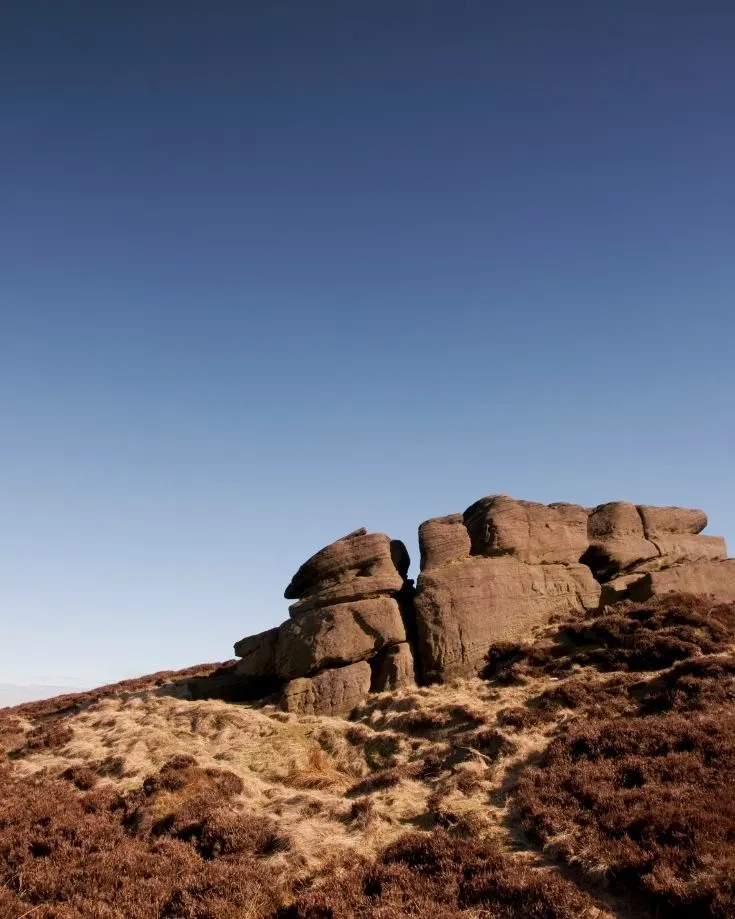 Camping Near The Roaches Walk & Lud's Church Walk
There's so much beautiful scenery on this walk, we won't blame you for wanting to spend more time out in nature — and this campsite is the best place to do it.
An actual working farm near Buxton, Berry Bank Farm is in a perfect spot for you to hit many of the hikes in the Peak District, The Roaches included. You can roll up in just about anything, including caravans, motorhomes, or walking shoes and a tent on your back.
The place is a bit bare-bones, but you will find drinking water, working toilets, and places to empty your motorhome's waste tank here. The biggest draw is the fresh sausage and eggs on offer, though, and it's all served up by the friendly owners.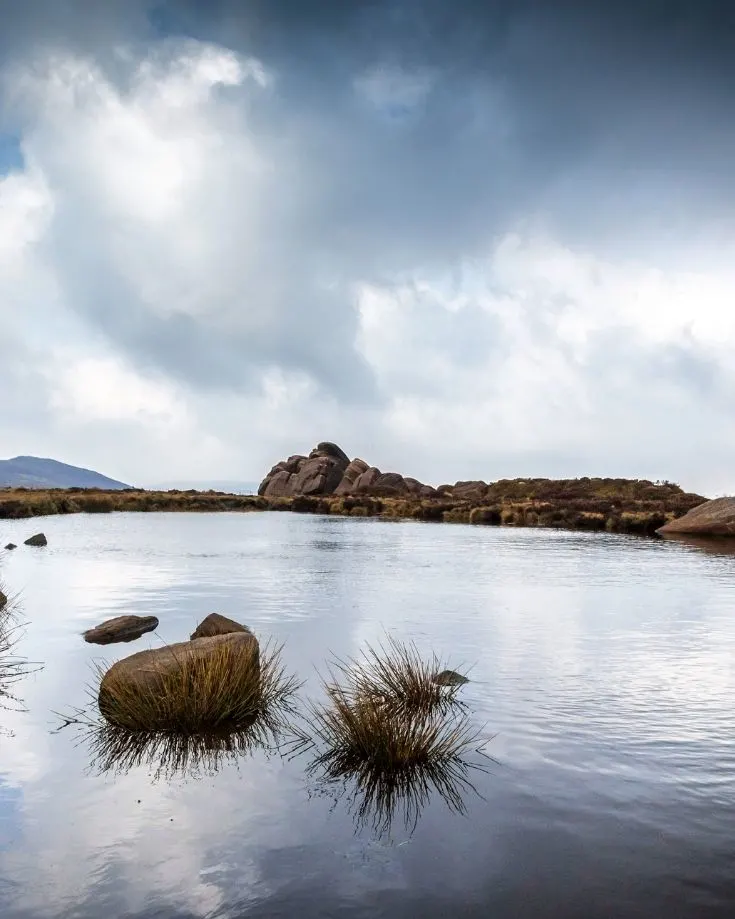 The Roaches & Lud's Church Walk Route Map
A detailed map of The Roaches & Lud's Church walk is available from Ordnance Survey. Unfortunately, we can't share the map here because the copyright belongs to the Crown, but you can see it in detail on their website.
For anyone planning on exploring many of the beautiful Peak District walks on offer (and there are lots to discover), we recommend you arm yourself with a paper map. Two ordnance survey maps cover the entire Peak District:
OL1 – Dark Peak Area – basically the northern side of the National Park
OL24 – White Peak Area – the southern end
OL24 covers the The Roaches & Lud's Church Walk.
Compare the price of buying the maps at Amazon or direct from Ordnance Survey. You can expect to pay less than £10 for a standard map, but Amazon is often a little cheaper than buying directly from OS. Weatherproof maps are more hardwearing and won't disintegrate in the inevitable rain showers. They generally cost a couple of pounds more.
Compare prices here:
Ordnance Survey also has a highly rated app if you prefer a mobile app for mapping purposes. Keen walkers will get a good deal from their annual subscription. Monthly options are also available and more cost-effective for occasional jaunts.
A budget-friendly option is also available on the app's website where you can select a walking route and print the map to a printer or pdf for free, so you can keep it on your phone for reference.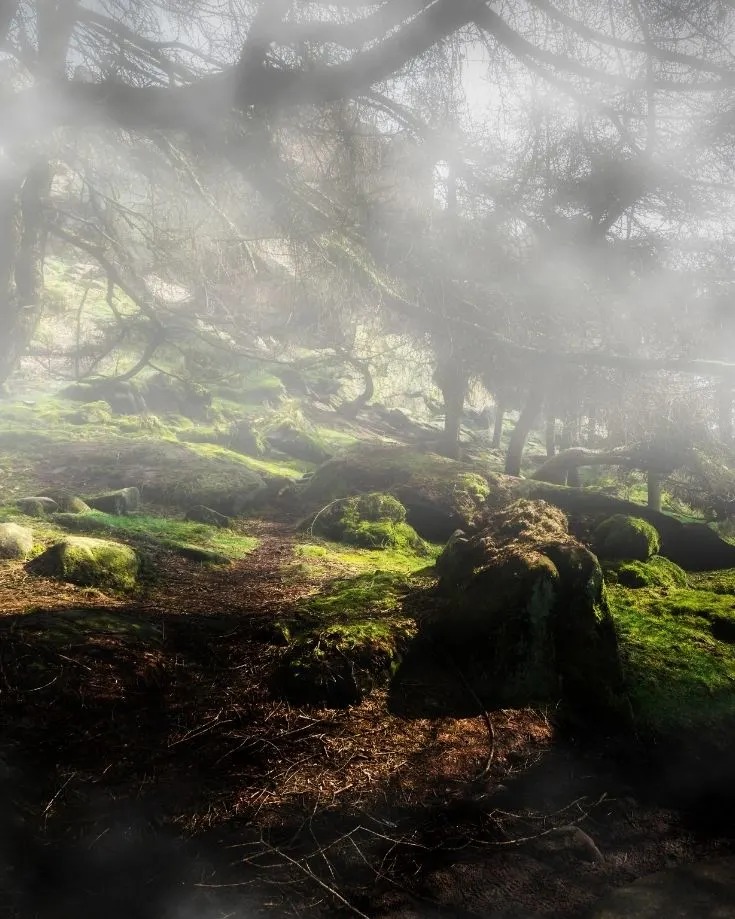 How To Get To The Roaches & Lud's Church Walk Trailhead
The starting point of this route is on Roaches Road, between Hen Cloud and The Roaches. It's about 5 miles (8 km) north of Leek and 11 miles (18 km) south of Buxton, near the A53.
Alternatively, you can start the route near the start of the Three Shires Head walk at The Roaches Gradbach car park.
By Car // The easiest way to get to Roaches Road car parking is by car. Use the postcode ST13 8TY and most sat nav's will take you directly to Roaches Road.
If you're visiting the area without your own wheels, consider getting a rental car to get the most out of your visit to the Peak District.
By Public Transport // The nearest train station is in Buxton and from there, the 16 bus service stops pretty close to the trailhead.
By cycle // The fabulous National Cycle Network has well-marked routes throughout the Peak District, making it an ideal environmentally friendly way of getting here. Route 559 is the closest to The Roaches but doesn't quite go all the way. Check out the detailed National Cycle Network on OS maps.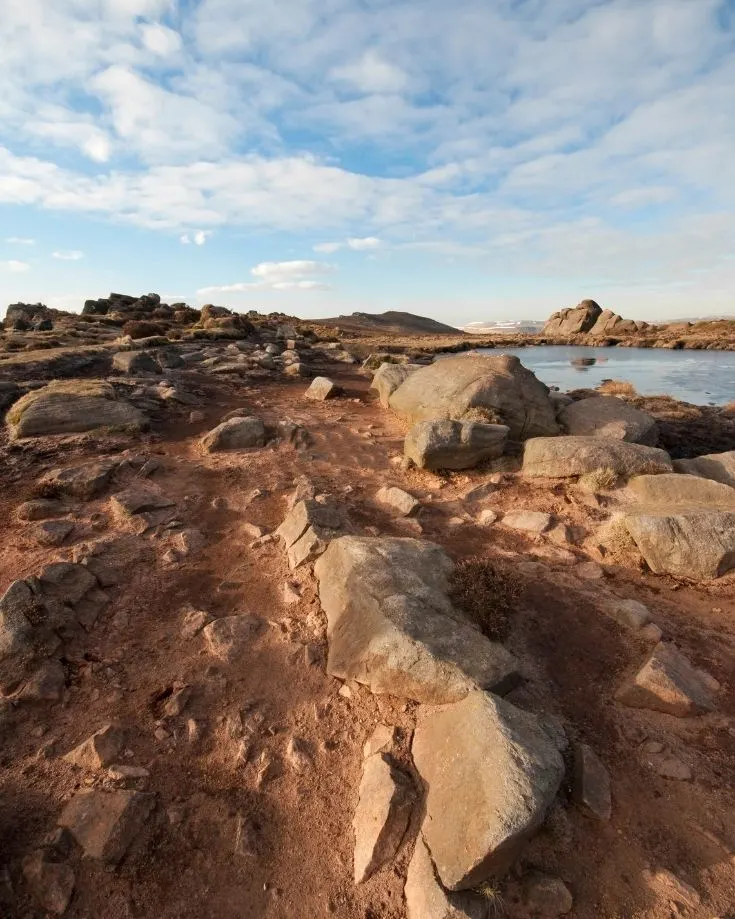 Other Useful Info About The Roaches Walk & Lud's Church Walk
It can get pretty cold on this hike regardless of when you visit, so bring a jacket or at least a long-sleeved shirt.
While "The Roaches" is certainly a terrible name for anything other than a rock band, the moniker doesn't refer to the insect. Rather, it comes from the French word for "rocks," which is roches.
Lud's Church is similarly misleadingly named. There's never been an actual physical church here, but in the 15th century, Lollard followers of John Wycliffe used the area to hide from persecution. They also possibly worshipped here — can you really blame them?
The mythology of Lud's Church extends further than that, however. Robin Hood and Friar Tuck were rumoured to hang out here, and one myth surrounding the area's origins says that the devil created the chasm by dragging his fingernail across it.
At the top of Hen's Cloud, you'll see a large boulder perched on three rocks. This is the Bawdstone, and it's supposed to have healing powers if you touch it. Crawling under it is also supposed to get the devil off your back, which sounds good to us!Be careful when you pass by Doxley Pool. According to legend, a mermaid named Jenny Greenteeth lives in the water there, and she'll trap unsuspecting hikers by luring them into the water with her captivating voice. Fortunately, thanks to this guide, you'll now be a suspecting hiker, and therefore free from danger.