Plan for the perfect first visit to Mendoza with our epic list of the best things to do in Mendoza – the world's capital of Malbec.
In this guide, you'll find everything you need to plan your visit to all the best things to do in Mendoza, Argentina.
---
People come from all over the world to enjoy Mendoza, but many think there's little more to it than acres of vineyards and full-bodied Malbecs, which makes them miss out on some of the best things to do in Mendoza.
You can hike up Aconcagua Mountain, which stands at 22,841 feet, and take in the views from its summit.
The Mendoza River offers a more leisurely pace with some stunning scenery along the way, but for an adrenaline kick, it's one of the best whitewater rafting areas in Argentina.
If wine tasting is what you're looking for, then don't miss out on visiting one of Mendoza's many bodegas. You'll be able to sample some delicious wines before buying a bottle or two to take home as a souvenir!
We've created an epic list of things that you can do when visiting Mendoza so you can check out our favorite must-do activities! Wine definitely features – we couldn't write this article without mentioning the grape, could we? But there's so, so much more too! There is something for everyone, from hiking and wildlife watching to adrenaline-pumping activities like paragliding and rafting!
We've published a complete guide for visiting Mendoza, with loads of practical information on places to stay, and getting around and so forth.
In this guide for travelers, we've shared our advice on making the absolute most of your time in Mendoza. After two visits to the region, we've (finally) done some of the hard work for you – here are 9 wonderful things to do in Mendoza.
When you click on links to various merchants on this site and make a purchase, this can result in this site earning a commission. As Amazon Associates, we earn from qualifying purchases. For more info, please check our disclosure page.
1. Explore Mendoza's Wine Region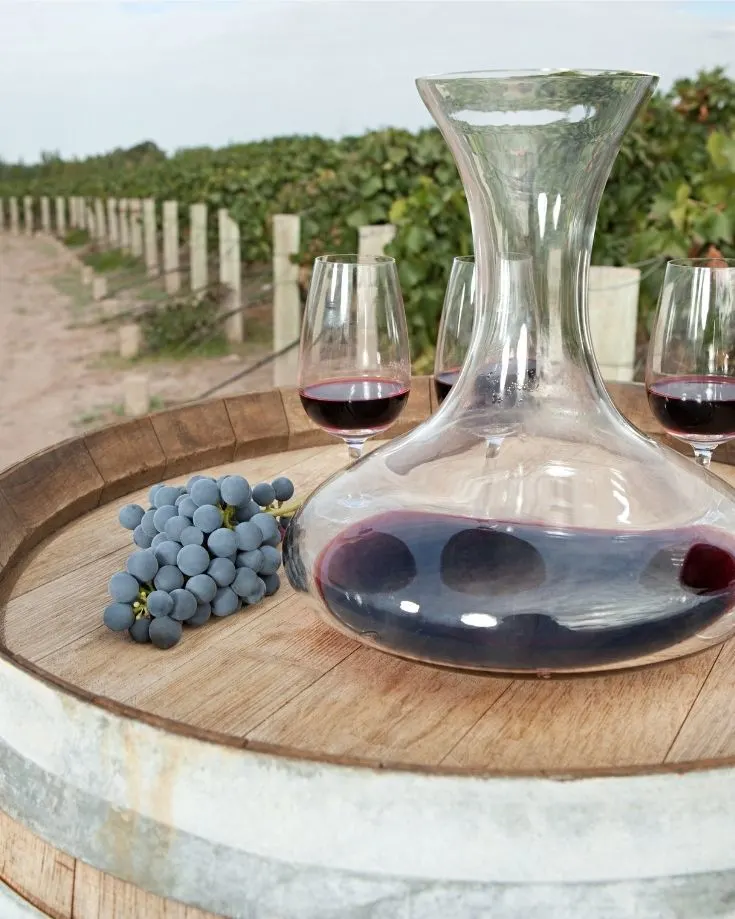 Mendoza isn't all about the wine, but it's a massive part of the region's culture. And because most visitors to the city are hellbent on indulging (ourselves included), touring the wineries is probably the most popular thing to do in Mendoza.
Mendoza's wine region is one of the most important wine-producing regions in all of South America.
Perhaps surprisingly, Mendoza has three wine growing areas – Maipú, Uco Valley, and Luján de Cuyo – each with something unique for visitors. The Mendoza wine region offers everything from traditional reds like Malbec or Cabernet Sauvignon to more unique varietals such as Bonarda and Torrontes.
You can have an amazing experience at some very affordable wineries. You'll find great wines, friendly people, and stunning landscapes to enjoy on your own or with family or friends.
Three of our favorite vineyards in Mendoza are: Trapiche (Maipú), Ruca Malen (Luján de Cuyo), and Bodega Salentein (Uco Valley).
When To Go
The wine region is, of course, open year-round, so you can experience the tours and tastings at any time. The grape harvest happens between late February and March, although there's no guarantee of exact dates.
Visit Mendoza from late January to February to see vines with plump, almost ripe fruit. Then, if you're lucky (or unlucky), you may see the vineyards with a dusting of snow around August time.
Time Needed
Vineyard tours can take anything from a couple of hours to a full day, depending on how many stops are included in the tours.
Book
Probably the most popular way to discover Mendoza's vineyards is on an organized tour. They take care of all the arrangements, so you don't need to make individual reservations and handle all your transport needs.
It's cheaper to hire a car and make the itinerary your own. Still, if you'd prefer someone else to do all the trip planning for you, we think Viator offers the best value and widest variety of Mendoza wine tours.
Here's a flavor of some of the Mendoza wine tasting tours you can take from the city center:
Viator offers many other wine tours in Mendoza, mixing and matching different things to do, so browse their trips before you decide.
Tips
You can make a reservation directly with most of the wineries and vineyards in Mendoza. Some are especially popular and have limited availability; booking well in advance will help avoid disappointment.
If you only want to visit a single vineyard, visiting independently with a remis or taxi is a more economical option than an organized tour.
We've put together a guide to visiting the Mendoza wine region so that you can plan an amazing trip!
2. Sample the Finest Olive Oil & Balsamic Vinegar in South America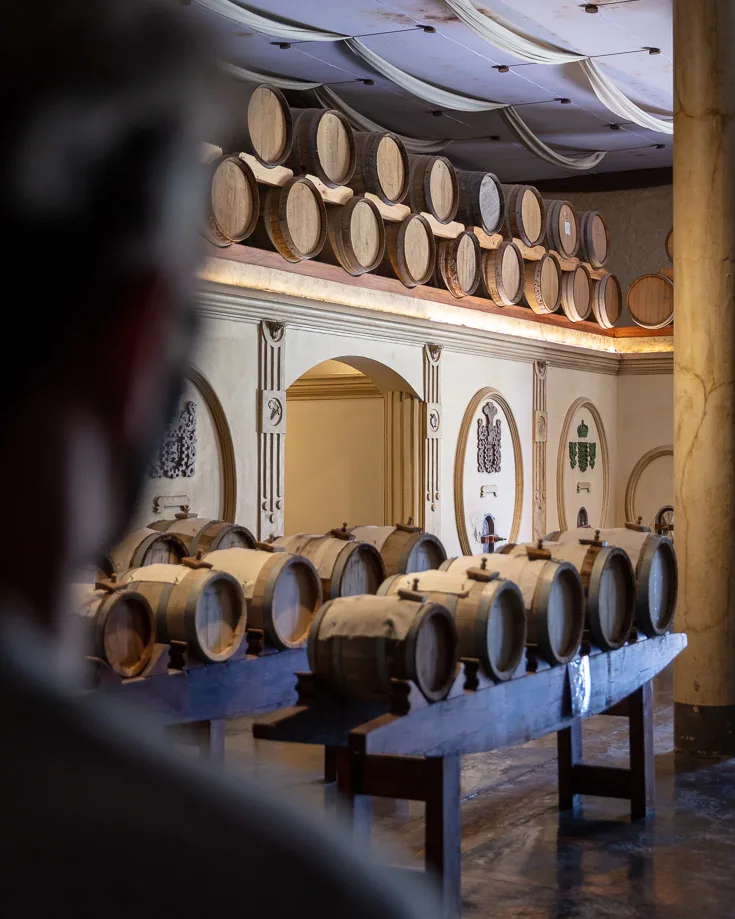 If you need to take a break from the wineries but love sampling local produce, Mendoza has another, almost hidden, delight! The Maipú region, best known for its Malbec production, also produces the largest proportion of olive oil in South America.
We visited Olivicola Laur and were treated wonderfully. The guided tour (in English & Spanish) explains how olive oil and balsamic vinegar are produced. There is well-preserved machinery from decades ago, alongside their modern replacements.
While efficiency may have improved and the labor required decreased, the basics of the production cycle remain unchanged. The passionate guides explain the different steps of the process: harvest, milling, compressing, separation using centrifugal forces, and how flavor is affected.
Putting our newfound knowledge to the test, we sampled 5 varieties of olive oil and 2 kinds of balsamic vinegar. We left with a couple of bottles of each. Needless to say, we had a little splash of both on our evening meal! Yummy!
Three of the most popular olivicolas in Mendoza are:
Olivicola Laur (where we visited) // The largest producer of olive oil in South America, Laur are proud of their position as the world's 3rd most important olive oil producer. Laur grows their own olives and makes phenomenal balsamic vinegar too.
Pasrai // As a popular olivicola on organized tours, you're less likely to have a small group tour here. Although Pasrai buys all their olives from farmers, their tours are excellent.
Olivicola Simone // We haven't visited here, but we read their explanation of how the oil is produced is given via video. Not quite what we were looking for, so we gave it a miss.
When To Go
The region is open year-round, so you can experience the tours and tasting at any time. The olive harvest happens between April and May, although there's no guarantee of exact dates. If you visit Familia Zuccardi, you can even pick olives and press them to create your own oil!
Time Needed
Tours in each olivicola, including a tasting session, last between 1 ½ and 2 hours. A car journey from the city to Maipu takes around 20 minutes, so allow half a day to tour a couple of olivicolas.
Book
Most organized tours that include visits to olivicolas in Mendoza are primarily winery tours.
We give you fair warning, there are far cheaper ways to experience the exact same thing.
Tips
Rather than book a tour in advance, pick the olivicolas you want to visit, book a slot directly with them, and use an Uber, taxi, or bike for transport.
We visited Olivicola Laur in Maipú, about 15km from the city, and paid ARG$500 for the tour and tasting each – that's about US$3 at the time of writing. You'll need to add your transport costs to this but be assured, it'll save you a small fortune.
3. Horseback Riding In The Andes Mountains (Or Vineyards)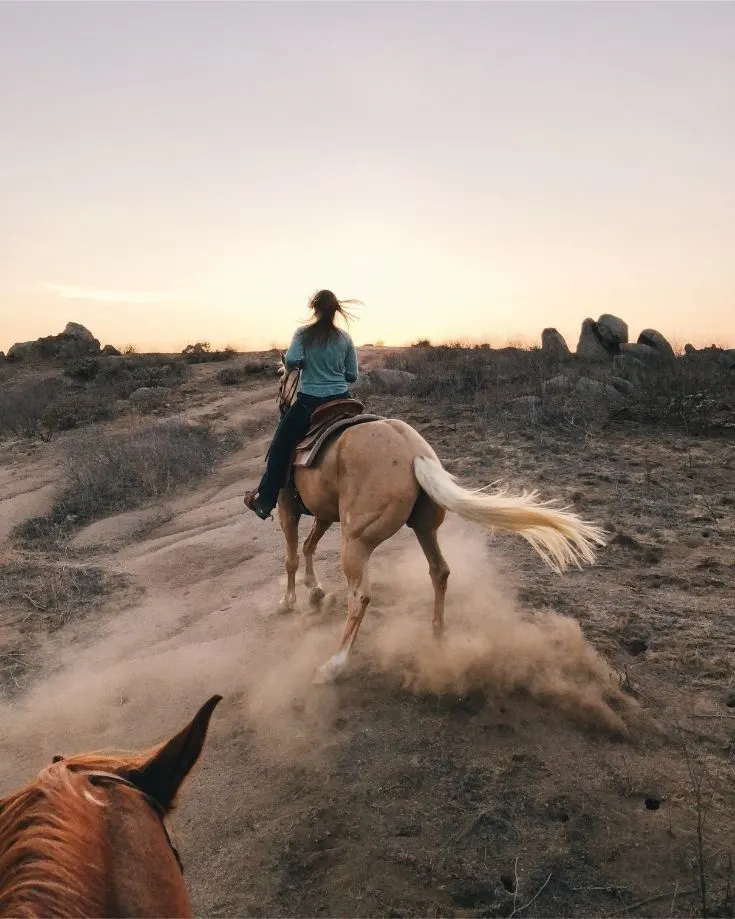 The early gauchos were nomadic, hunting on the Argentinian plains, rounding up cattle to trade, and living off the land. But, as land became privately owned, fenced off so huge estancias – South American ranches – could rear their own herds, the nomadic gauchos' days were numbered.
But the gaucho culture is a hardy one, and estancias still need the gauchos' excellent horse skills to run their businesses. So the role of the gaucho adapted and continues to thrive.
Gaucho culture is on display in many parts of Argentina. Feria de Mataderos is a fabulous example and completely authentic; a must-visit when in Buenos Aires.
The boom in cultural tourism has also increased the demand for so-called gaucho experiences. A stay in an estancia is perfect for immersing yourself in gaucho culture. However, the price tag is often relatively high, especially in Mendoza.
Horseback riding on a Gaucho's Criollo horse is a more budget-friendly experience. It offers a perfect balance of culture and adventure in a stunning setting, and you can choose a tour for the time you have available.
There are many tours available, so here's a summary of our favorites:
A completely authentic full-day tour where your small group guide is none other than Don Daniel himself. The experience includes traditional Yerba Maté (a must-try, if only once), horseback riding in the glorious scenery of the Andes Mountain range with a picnic stop for lunch of Argentinian Asado.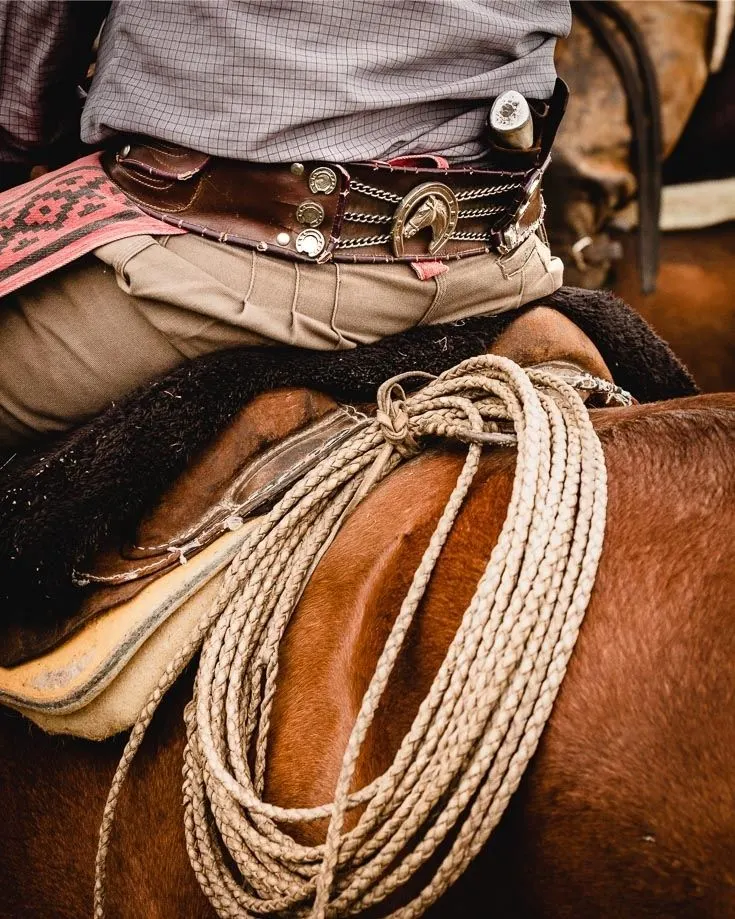 For novice equestrians, fear not, for the team will pair you with an ideal horse, and you'll be well cared for from the get-go. Daniel has opened his modest ranch to a relatively small number of day tours. Because it's a working estancia, availability is often more limited than the mainstream tours.
Book in advance to guarantee your spot on what may well become the highlight of your Argentinian adventure.
For those with limited time or who don't relish the idea of spending too much time on horseback, this tour is an ideal way to end a day in Mendoza.
A half-hour transfer to the beautiful wine countryside at Luján de Cuyo is followed by a horse ride up to around 1500 meters above sea level in time for a glorious sunset.
And what better way to end an evening in the region than with traditional Argentinian Asado and fine glass or two of Malbec?
4. Drive Through the Phenomenal Villavicencio Natural Reserve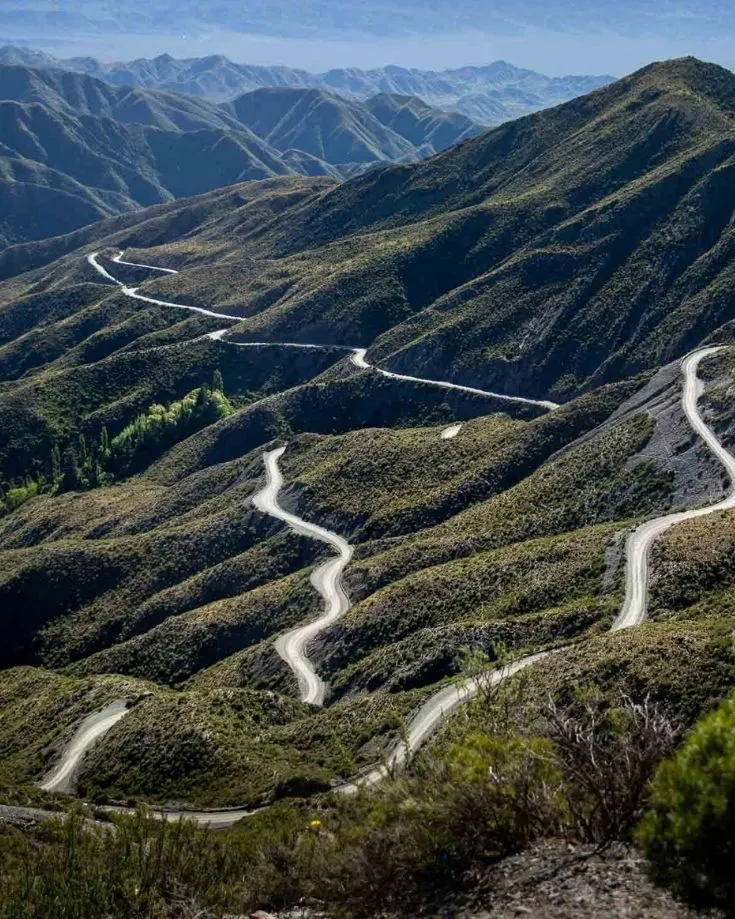 If we could only use one word to describe Villavicencio Natural Reserve, it would be gorgeous. If we could use three, they would be gorgeous, gorgeous, and gorgeous.
Lush forest cloaks the route up from Mendoza's arid plateau, hummingbirds and butterflies gorging on the sweet nectar of alpine flowers. As the road climbs, the temperature becomes mild and refreshing, a welcome respite from the sticky city heat.
Villavicencio Hotel was once a fancy-pants hotel and spa with thermal springs where the wealthy and famous once slumbered. Now it's a shell of a fancy-pants hotel, but because the hotel features on the label of the bottled water of the same name, it remains an icon in Mendoza, nonetheless.
The grounds are pleasant indeed, and there's a tap from which you can refill your water bottles with fresh water from the mountains. But long gone are the thermal spas, and there's no chance of getting inside the building. Still, it looks prime for restoration, and hopefully, one day, it will be returned to its former glory.
Continuing west, the route known as Caracoles of Villavicencio – snails of Villavicencio – literally meanders for 27 kilometers upwards to 3000 meters above sea level.
It's a glorious road, with spectacular views over the foothills of the Andes mountains and across the Mendoza plateau far below.
It quickly climbs out of the green forest into the dry, dusty mountainous region. This is guanaco territory, and you'll encounter herds of more than a dozen, if not hundreds, on the seemingly impossible slopes.
Of course, where the guanacos roam, pumas surely follow. There are many pumas within the reserve though you'll be lucky to spot one. We spent the night in our campervan at 2200 meters, surrounded by guanaco. We're pretty sure there was puma nearby – the guanacos warning shrieks gave the game away – but we never saw one.
We did see lots of foxes, and the birdlife is prolific up here. If you're fortunate, you'll get a glimpse of a Rhea, similar to an ostrich and South America's largest bird.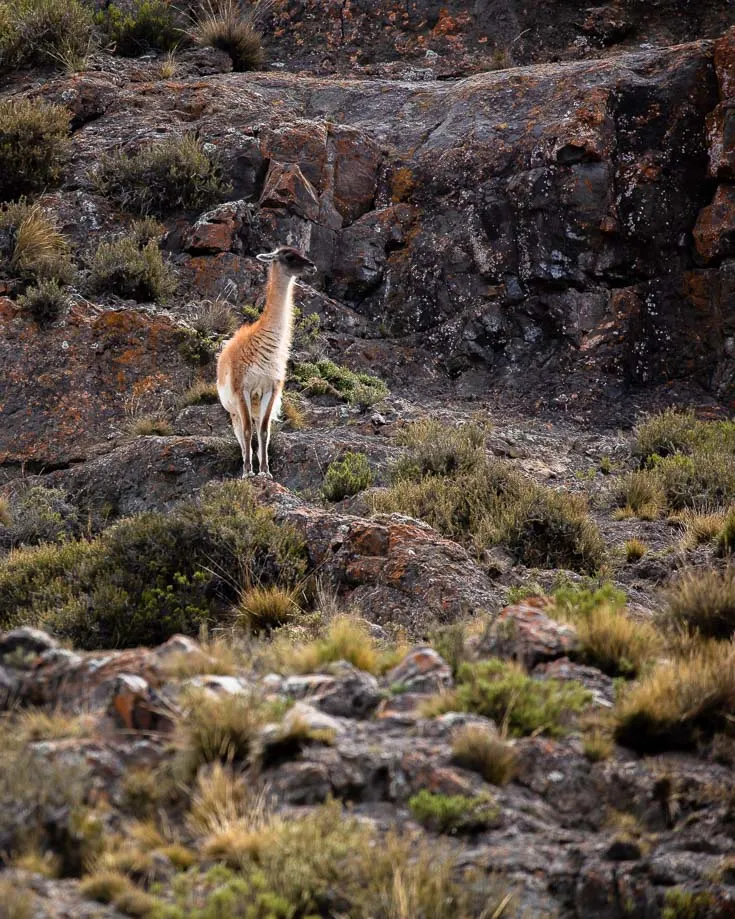 Aside from the obvious lookout points giving phenomenal views, there are a few worthy stops along the way too:
El Balcón // An 80-meter deep ravine formed over millions of years. Those with a fear of heights may not want to look!
Cruz de Paramillos // A simple monument to the Jesuit missionaries of the past and marks the road's highest point. From here, you can see Aconcagua's snowy peak.
Paramillos de Uspallata mines // Interesting ruins of the first mines in Argentina said to date back to the Incas. You can arrange rappelling or guided tours, but you should arrange these in advance.
Petroglyphs at Cerro Tunduqueral // You can get a free guide of the ancient Incan petroglyphs. Keep an eye out for the signpost – it isn't obvious.
Many visitors to Mendoza stick to the wineries. If they travel out to Aconcagua, they keep to the main road. Still, we genuinely think a road trip through Reserva Natural Villavicencio is the best thing to do in all of Mendoza. We think it even beats the vineyards, and that's praise, indeed!
When To Go
The route is open all year round, although snow can make passage treacherous during winter. The Villavicencio Hotel isn't open every day. At the time of writing, it is open between Wednesday and Sunday and holidays.
Tickets can be bought at the visitors center on arrival for a small fee. While entrance to the reserve is free, you'll need to pay a small fee to visit the hotel. At the time of writing (2021), tickets are ARG $190 and payable in cash at the visitors center.
Time Needed for Self-Drive
The entire route from Mendoza city to Uspallata through the reserve is a little over 90 kilometers (86 miles) and takes about 3 hours of driving time.
Add at least an extra 2 hours for exploring and photo stops along the way. Allow at least 7 or 8 hours for a round trip between Mendoza and Cruz de Paramillo.
Book
If you'd prefer to visit Villavicencio Natural Reserve as part of an organized tour, you can book a half-day tour from Mendoza. It includes pick up and drop off from city accommodation and visits many of the sights we've mentioned. It's a little fast, but we recommend it if it's your only way to discover the reserve.
Tips
The RP52 road is unpaved between Villavicencio Hotel visitor's center and Uspallata. It is rough gravel with many potholes along the way. You do not need a 4×4 vehicle when the weather is good, and the track is dry. It would make for an exciting drive, even hairraising in parts if wet. Take your time, take advantage of passing places to allow space for oncoming traffic and give way to downhill traffic.
If you're taking a one-way trip through Villavicencio Natural Reserve, consider driving the route from Uspallata towards Mendoza as it offers the most rewarding views.
The route is steep, especially between Villavicencio Hotel and Cruz de Paramillo. If driving downhill towards Mendoza, use low gears.
The highest point of the route is at 3000m altitude. It's cold, even in summer, and the air is notably thinner. Bring plenty of water and a jacket or sweater.
There are no facilities on the route between the visitors center and Uspallata, so make sure you have a full tank of fuel, food, and any supplies you think you may need.
5. Explore Mendoza City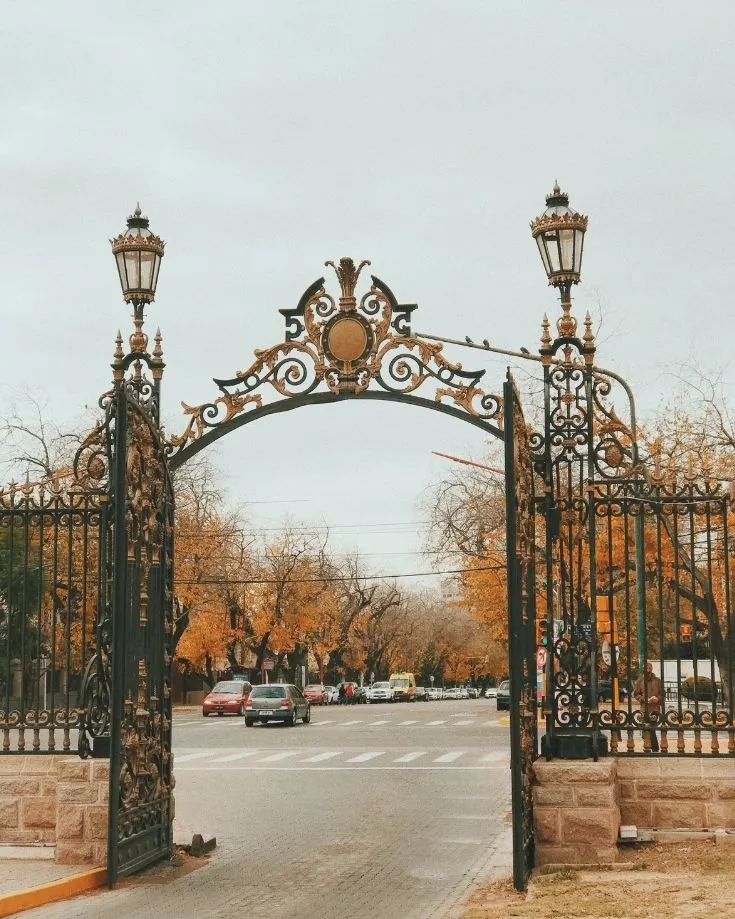 With snow-capped peaks of the Andes mountain range serving as a backdrop, Mendoza is one of the most beautiful cities in Argentina.
Plazas
In 1861, the city was devastated by a 7.2 magnitude earthquake. It killed almost a third of the population and flattened most buildings. When rebuilding, town planners created 5 plazas, providing a small chance for people to escape to open spaces should another devastating event occur.
Four plazas – San Martin, Plaza Chile, Plaza España, and Plaza Italia – each mark a corner of an eight-block square while the largest, Plaza Independencia, is positioned in the center.
Each plaza has a different feel, making an effort to visit each is a great way to explore the city on foot.
Museums
Like most Argentinian cities, Mendoza overtly celebrates its history. Oversized monuments take pride of place at the center of every park and plaza, and there's plenty to keep history buffs on their toes in the city's museums.
We've listed some of the most popular museums below. Use the links for directions and check the latest prices and opening times.
Museo del Área Fundacional // Offering an interesting overview of Mendoza's history. Guided tours show the remains of the city's first government building, which was destroyed in the earthquake. There are fascinating displays about the original indigenous population, the Huarpe people. Recommended for history buffs – especially if your Spanish is adequate.
Casa de San Martín // General José de San Martín (the Argentine leader who liberated Peru, Chile, and Argentina from the Spaniards) lived here between 1814 and 1817. It didn't have the same ultra-modern exterior back then. Like many in the city, the earthquake ruined the original building, but ongoing excavation work beneath a glass floor reveals its history.
Museo Nacional del Vino y La Vendimia (National Museum of Wine & Harvest) // A few kilometers outside of the city in Maipu, but Mendoza simply wouldn't be complete with a museum dedicated to the history of wine in the region. The building is gorgeous, the guides entertaining, and the gardens provide a tranquil space to find a little shade. It's more convenient to combine your visit with a wine tasting tour in Maipu.
Free Walking Tours In Mendoza
Free walking tours are a great way to get a quick introduction to the city from a local.
Many tours begin in Plaza Independencia, and some include English-speaking guides. Tours usually provide a brief history of Mendoza and an informative walk through some of the most popular tourist streets.
Keep an eye out for Sarmiento Avenue, where you'll want to head for the restaurants and bars later in the evening. Emilio Civit Avenue is a fabulous tree line street, lined with lush mansions and leads to the beautiful oasis of San Martín Park.
General San Martín Park & Cerro de la Gloria
The high temperatures in Mendoza during late spring through to mid-autumn demand afternoon siestas or at least some escapism. And the city's park is just the place to find some shade.
General San Martín Park is huge, and there's more here than you're likely to do in a relatively short visit to Mendoza.
For the energetic, hike up Cerro de la Gloria. It's a steep path and will take about 1 hour. We recommend heading up early for the clearest views over the city and before it gets too hot.
Stroll around the lake, rent a boat or just kick back and enjoy the sound of the breeze blowing through the palm trees.
Enjoy the rose garden, fountains, and dozens of sculptures, and come prepared with a picnic.
Rent a bike and take advantage of the numerous cycle paths within the park.
6. Hike Aconcagua in Parque Provincial Aconcagua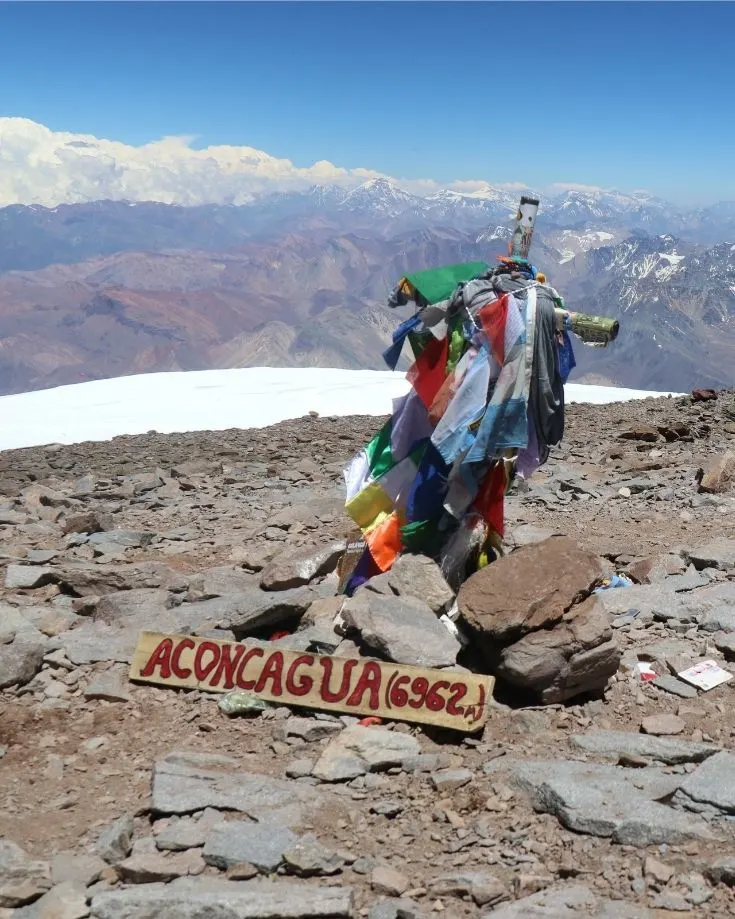 Mount Aconcagua is the tallest mountain outside Asia, located 125 miles (200 kilometers) from Mendoza city near the Chilean border. If you're looking to challenge yourself and experience some of the most stunning views in the world, hiking in Aconcagua is the ideal activity.
With its high altitude and strenuous climb, this mountain is sure to test your endurance – but the breathtaking views are well worth it. Fortunately, you don't have to take the multi-day trek to the summit to enjoy the Andean views.
Hiking Trails in Parque Provincial Aconcagua
Aconcagua National Park is one of the most beautiful national parks in Argentina. Within its borders, you'll find a climb/hiking trail to the summit offering incredible views of the natural landscape.
The trail is clearly marked from the entrance to the park and has several points marking the end of shorter trails. The total summit trek is about 75 kilometers, but because it climbs from around 3000 meters to almost 7000 meters, the trek is tough, and acclimatization is essential to staying safe.
This isn't a trek for the novice or day-trippers from Mendoza. A couple of other hikes are manageable within a day, and they all offer fabulous views of Mount Aconcagua. They're on the same route to the summit trek but simply end sooner:
Laguna de Horcones Circuit // A short 2-kilometer trail with little altitude change and easily completed within an hour. It's a great option if you're short on time or don't fancy the more challenging hikes at this altitude.
Confluencia Circuit // A total of 9 miles (14.5 kilometers), this round trip makes for a great full-day hike. The hike to Confluencia is uphill most of the way and climbs 600 meters, but you will feel it at this altitude. Allow a whole day for the hike and the journey to and from Mendoza.
When To Go
The mountain climbing season runs from mid-November to the end of April, so it's generally the best time to visit the park if you intend to take some longer hikes or attempt to summit Aconcagua.
The shorter hiking trail, Laguna de Horcones Circuit, is open all year, although it can be closed in adverse weather conditions.
How to Get To Aconcagua National Park
The entrance to Parque Provincial Aconcagua is about 125 miles from Mendoza. So if hiking here is on your list of things to do in Mendoza (and we highly recommend it is), you need to be fairly committed to the round trip.
You can either hire a car, get a bus or take an organized tour.
Car Hire
With the tourist dollar, daily car rental, parking, and fuel in Argentina are all super low cost at this time. You can get a free comparison quote for car rental in the city here.
Driving in Argentina is nothing to fear either, especially around Mendoza, where pretty much all roads are paved. Just keep a watchful eye out for potholes.
Bus
Andesmar runs a service between the main bus terminal in Mendoza to the entrance to Parque Provincial Aconcagua. They run 2 or 3 times each day depending on the season, and the journey takes about 4 hours each way. Ask for the service to Horcones.
Organized Trips
Day trips to Aconcagua National Park from Mendoza are staples on the tourist circuit. However, it appears that they're rarely fully booked. Perhaps the relatively long journey from the city puts people off.
It's cheaper to hire a car and create your own Mendoza itinerary, but if you'd prefer someone else to do all the trip planning for you, we think Viator offers the best value and widest variety of Aconcagua tours.
Here's a flavor of some of the day tours you can take from Mendoza:
Tour Aconcagua Park in Small Group from Mendoza with Barbecue Lunch // This is a whistlestop tour and includes a sightseeing trip to the Chilean border, the Penitentes ski center & a lunchtime BBQ. It's great for those with limited time who want to tick off a few things in the region; it's not so great for soaking it all in as it's more of a bus tour with lunch and an 11-hour hike.
Full-Day Aconcagua Experience // This is another rapid-fire tour with a few short stops to see sights along the route like the Potrerillos Dam and Puente del Inca.
Full-Day Aconcagua Base Camp Trek // This is the best 1-day hiking tour from Mendoza we could find. Although the journey to the park is, of course, just as long, the focus of the day is on hiking, and you'll be guided all the way to Confluencia and back.
What To Pack for Hiking Aconcagua
Most people hiking in Aconcagua from Mendoza will take some of the day hike hikes rather than the challenging multi-day summit hikes.
If you're attempting any longer treks, your climbing company will provide the best advice on what to pack.
Tips
Given the altitude, hiking in Aconcagua can be strenuous, even if you're fit and an avid hiker. For day hikes, there is no need to acclimate before you head out but make sure to allow enough time for a slower trek than you might otherwise expect.
At the time of writing, Covid-19 sanitary precautions mean you must buy your ticket online before you arrive. You can choose your route and tickets on the park's website.
Bring your passport as the reception staff will ask to see it when you arrive.
Longer trails must be started before 10 am so you have enough time for the round trip – even in summer. The park rangers will ask which route you plan on taking to help enforce this and ensure your safety.
7. La Fiesta Nacional de la Vendimia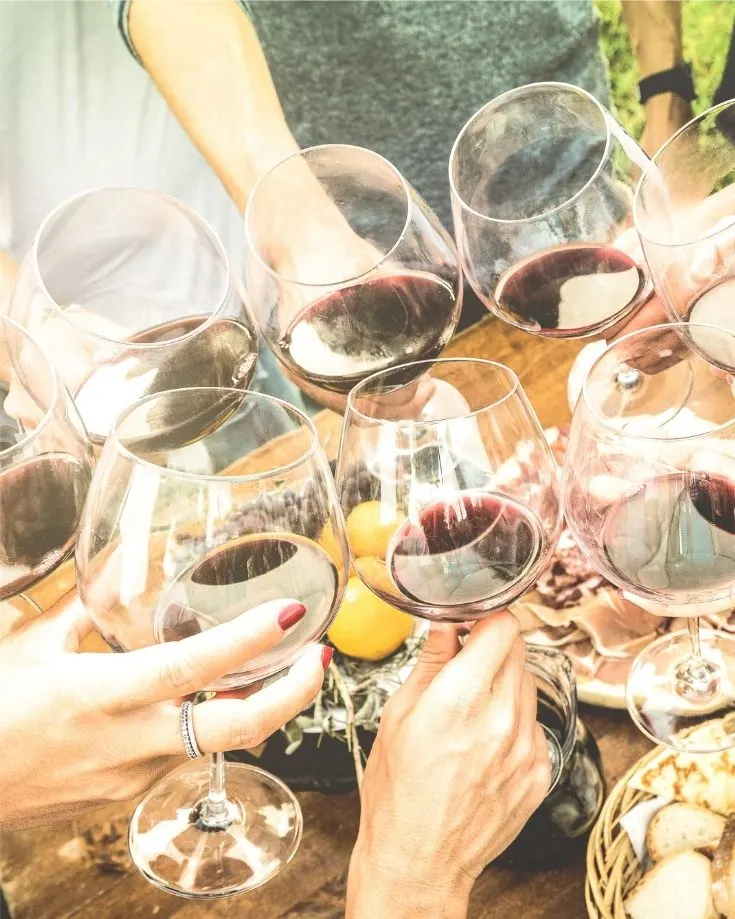 If you're looking for an exciting festival to attend in March, Mendoza's Fiesta Nacional de la Vendimia is a perfect choice. This annual event celebrates winemaking with wine tastings, local dishes, vibrant music, and street parades. It's a must-see for wine lovers and usually coincides with the grape harvest.
One of the local highlights of the festival is the election of the Harvest Queen (Reina Nacional de la Vendimia). This pageant is open to young women (counts me out!) from all over Argentina who are passionate about wine (counts me in!). The winner is typically someone who is outgoing and enthusiastic (check) and knows a lot about Mendoza's wine culture (work-in-progress – hiccup).
If you're planning on attending the festival, make sure to book your hotel in advance. The most popular hotels fill up very quickly.
Vineyards are busy during the festival – or more specifically during the grape harvest – so if you're interested in touring one, be sure to make arrangements ahead of time.
8. Paragliding In Mendoza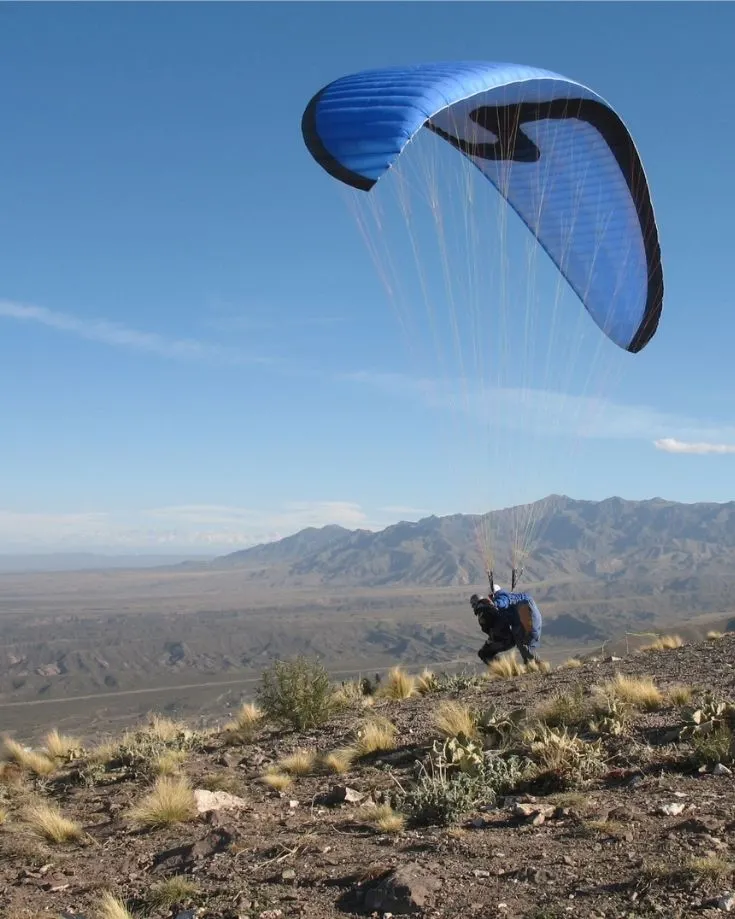 If you're looking for an adrenaline rush and an amazing view, look no further than paragliding over Mendoza. With qualified instructors, there's no need for previous experience – just be prepared for an unforgettable adventure.
The take-off point is Cerro Arco – an area with plenty of space to prepare for take-off, and spectacular views atop one of Mendoza's most famous hills.
Cerro Arco is about 10 kilometers from the city center, and you'll be taken to the summit in a 4×4 vehicle.
Once you're there, you'll fly tandem with a qualified paragliding pilot, enjoying stunning views of the Andes mountains and the Mendoza wine region.
Paragliding tours are led by highly experienced professionals certified by the Argentine Federation of Free Flight (FAVL). All equipment is provided, including top-of-the-line safety gear.
Flights usually last around an hour or so, depending on which tour you book. That's more than enough time for a once-in-a-lifetime experience. However, you should allow at least half a day for the entire trip, including travel to and from the city.
So if you're looking for adrenaline-fuelled excitement, Mendoza has you covered!
Here are a couple of organized paragliding tours in Mendoza to choose from:
9. Puente del Inca
Puente del Inca, a natural arch over the Cuevas River, is a UNESCO World Heritage Site near Mendoza. There's a hot spring here so rich in minerals that it petrifies anything immersed in it for long, leaving a colorful residue.
The bridge got its name because of a legend about an Incan king whose guards had stood in the spring to help the king and his sickly son cross. Those few moments were seemingly long enough to petrify them where they stood.
Whether you believe the story or not, the local stalls are full of petrified souvenirs immersed in the waters for a few days, from old shoes to glass bottles.
The building tucked almost under the bridge is the remains of what was once a pretty fancy hotel and spa, ruined by an avalanche in the '60s.
While this may not be Incan, as its name suggests, it's a glorious stopover if your itinerary leads you to Aconcagua or further towards Santiago in Chile.
Tips
Puente del Inca is only 4 kilometers from the entrance to Aconcagua National Parque, so don't miss the chance to visit en route.
There are many souvenir shops near Puente del Inca, and buying a little something from one or two of the stores is a great way to support the local community.