Midelt is set in the heart of the Middle Atlas Mountains of Morocco. There's beautiful and dramatic scenery at every turn.
At an altitude of 1600 – 2200 metres, we figured on it being a fine location for a bit of off road driving.
The Cirque de Jaffar is a popular, challenging 4×4 track through this region and on a crisp morning, we set off for a day in the mountains in Mowgli the Unimog.
We hadn't anticipated what was to follow. Seeing the Unimog roll and self recovery with a winch was not on our agenda.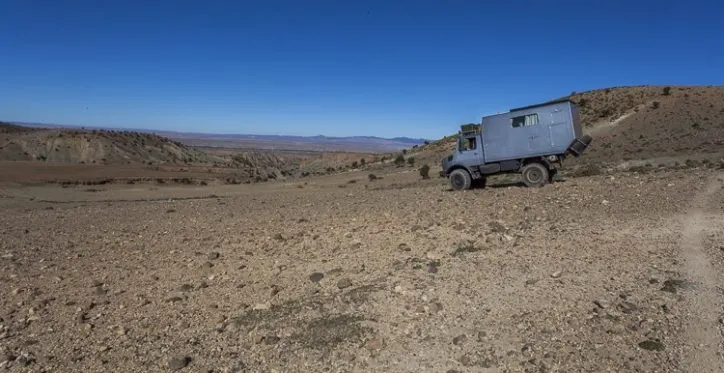 Cirque de Jaffar begins on the outskirts of Midelt and takes a fairly gentle ascent through the foothills of Jebel Ayachi.
The track becomes increasingly rocky and by the time we reached an altitude of 2000 metres, we were winding our way through boulders and shale.
We hate these tracks; they usually end up damaging vehicles and we always find ourselves saying "no more tracks". We do this every time!
There is a point on the track where we could turn left or right. Take the track to the left and we're warned there's an adverse camber and it's not advisable for high sided vehicles.
At 3.2 metres high, we reckoned we're classified this way, so ever sensible, we took the track to the right.
This route took us to the top of a relatively steep ravine. We could see the steep winding track down, the dry river bed below and the track continuing at a more gradual incline on the opposite bank.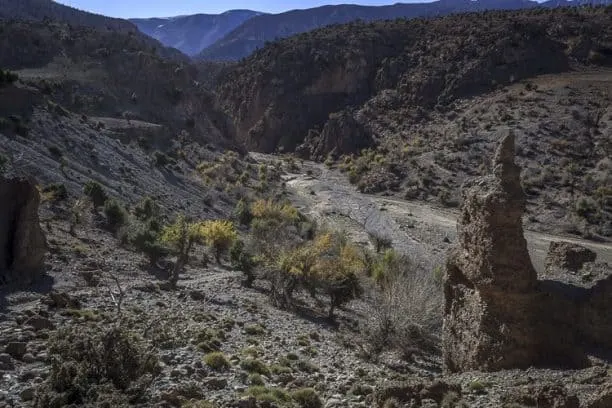 The only part that we wanted to check out further before we committed was the initial descent.
It was steep with a tight hairpin bend and the ground was rock and shale, dotted with almond trees.
Walking the first part of the track, we assessed the situation and figured on it being ok to proceed. With caution.
Fairly straightforward. Not too much of a drama.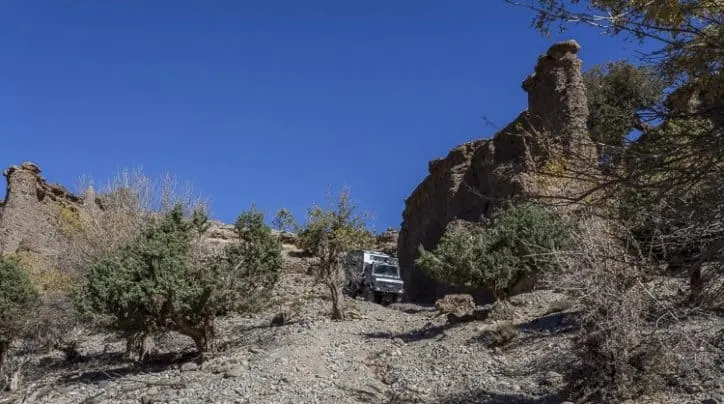 So far so good. However, the Middle Atlas Mountains are renowned for heavy snow and rains in late winter.
This flow of water inevitably leaves deep ½ metre crevices in the ravine.
Had we walked a little further while assessing the route, we'd have seen these and probably avoided the route altogether.
Hindsight is a marvellous thing!
Unimog roll and self recovery
About half way down the ravine, we first spotted one of these crevices.
Steering in 1st gear with all round diffs locked isn't easy at the best of times, and Mowgli was starting to slide on the steep shale.
Even at the slowest of speeds the front right wheel slid, caught the crevice and dropped into it.
With the back left wheel in the air, we were precariously balanced and the Unimog wasn't far from her tipping point.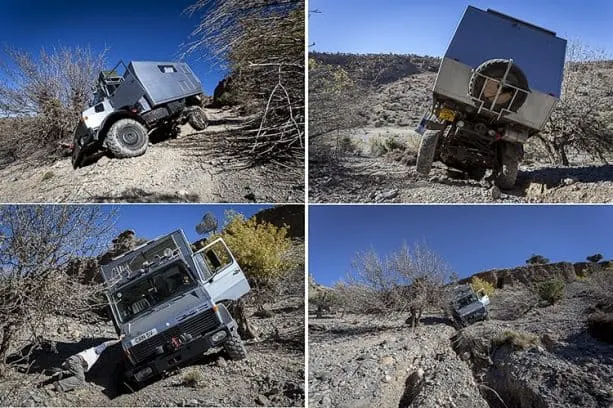 Quickly, we pulled the winch rope through from the front, beneath her undercarriage and stropped her to a tree behind.
The tree was precariously clinging onto a rock, but this gave us enough hold to prevent further movement.
Our 9000lb winch is not designed to lift a 7.5 tonne Unimog. It's useful only to give her a tug if needed and until today, we've only ever used it to winch out less heavy vehicles.
We've a snatch block fitted to double its capacity though and it was holding her well. With Mowgli secured for now, it was time for a ponder.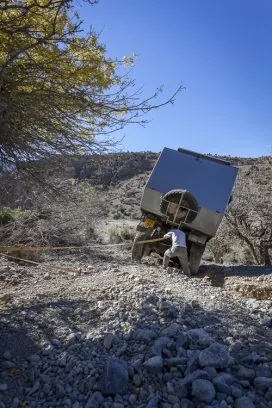 It seemed the only option was to attempt to reverse her out, keeping the winch taut.
However, things were about to go from bad to worse.
With the Unimog already teetering on her roll point and so much weight resting on the side wall of the rear right wheel, the slight reverse movement made it slip from under us.
Mowgli was almost fully on her side and sliding forward. Thankfully both the winch rope and the tree held, and Mowgli's left side was left up in the air.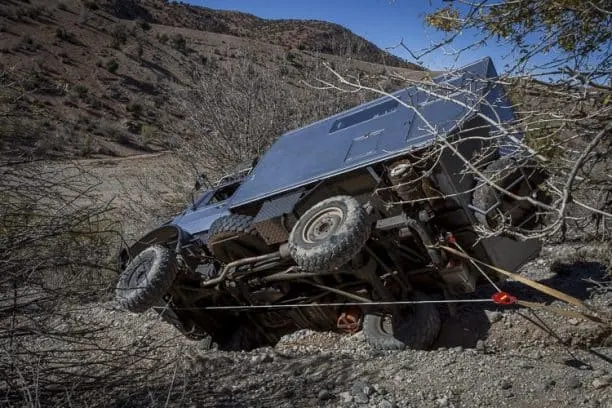 This is a bit of a problem. We couldn't even get to the kettle to make a cup of tea!
Extra strops and land anchors are in the garage, the entrance to which is also up in the air.
Enter Shepherds, Stage Right
So you wait for ages, then 3 come along at once.
Well we certainly weren't complaining when 3 local shepherds arrived together with one rather large flock of sheep, two mopeds, a pickaxe and a donkey carrying 5 lambs.
That was hardly enough horsepower to pull us out.
You couldn't make this stuff up! In true Moroccan style and with no questions asked, we had 3 extra pairs of hands.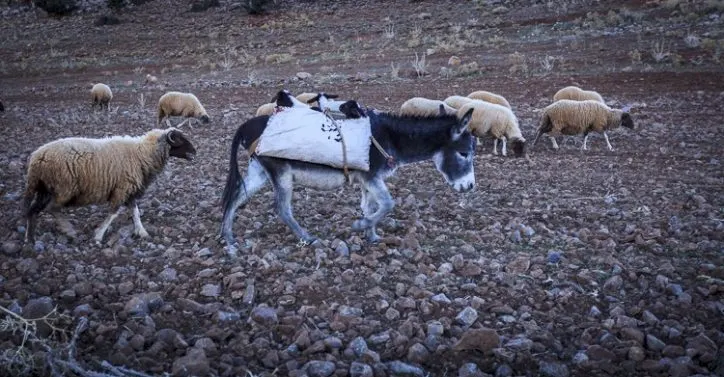 We needed to right Mowgli but in order to do so, we needed the winch to be repositioned; the same winch that was currently stopping her from tipping completely and sliding down into the ravine.
With all the extra man power, we piled rocks on the underside of the camper body and placed our spare tyre and a discarded car tyre we found nearby, underneath her.
We slowly let the winch out to drop her gently on to the hastily made pillow.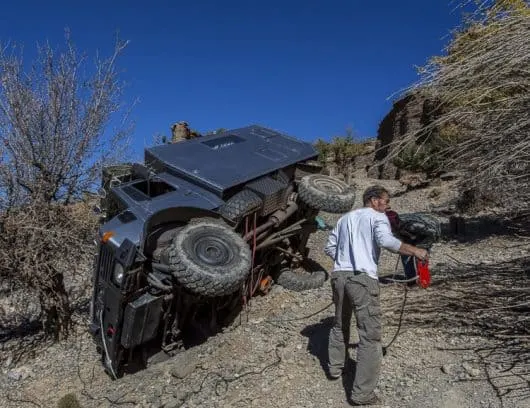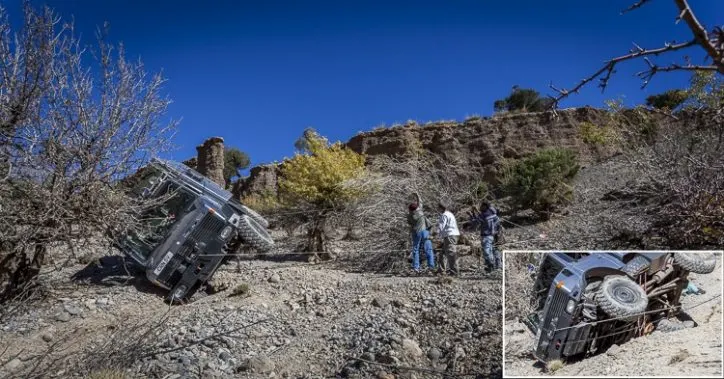 Luckily we were amongst a few flimsy trees and a couple of large rocks, so positioned the strop around a rock and a tree for a side pull to right her.
Of course, our helpers don't speak English and we don't speak great French or Arabic, so we were working together with sign language and few words.
We slowly started to raise her. After telling the shepherds to stay away from the winch rope, Graham went to check that the rear wheel was not sliding.
Then came the schoolboy error. Graham stepped between the winch ropes and Mowgli. At that precise moment the strop snapped on the rock and Mowgli fell to her side and slid a few feet further down the gorge.
Graham was incredibly lucky. Things could have turned very messy at that point with one small, but potentially fatal error of judgement.
Had it not been for the tree beside Mowgli, she'd have just slid and the rope would have brought Graham with her.
Safety Warning
Time for another ponder, a smoke and a word with ourselves. We are calm in times of drama.
We don't panic, we work well together and we get on with the job in hand. We know what's safe, and we certainly know what is not safe.
Stepping inside those ropes was not safe, and Graham knew it before he did it. Yet with all the pressure, he distractedly stepped into a danger spot.
So take this as a gentle reminder. Despite all the fun you have at weekend off road events, recovering yourselves and each other, take your time and first and foremost, be safety aware.
It is so easy to get caught up in the moment and overlook deadly situations.
Back to the Self Recovery
With the broken strop knotted together we slowly winched Mowgli back onto her feet.
Her front wheel was well and truly stuck in a crevice the size of a gorge. The only way was forward.
With gravity still in charge, we chocked the front and repositioned the winch, ready to lower her down the ravine.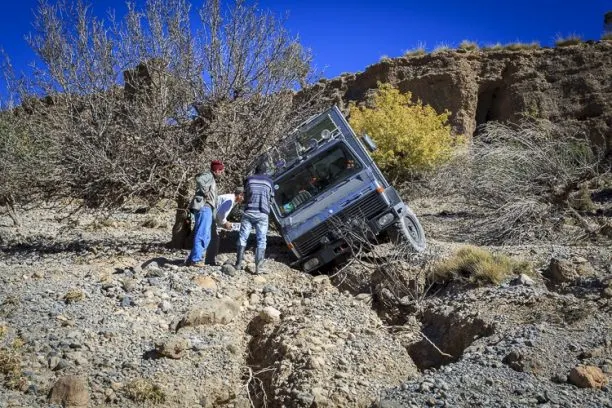 For the next few hours, we tirelessly filled in the crevices with rocks, removed boulders and even parts of the mountain that posed a risk.
We lowered Mowgli inch by inch until she was on a solid slope, with all 4 wheels firmly planted.
Our new found friends were outstandingly strong, helpful and having fun. Without them we would still be filling the gorge ourselves.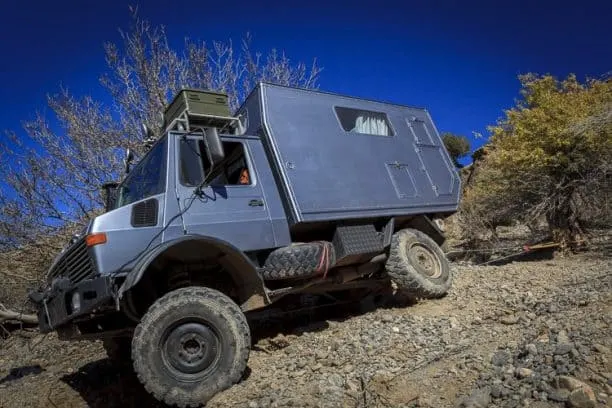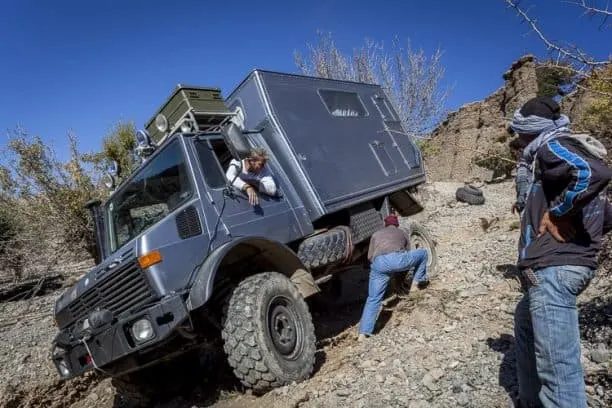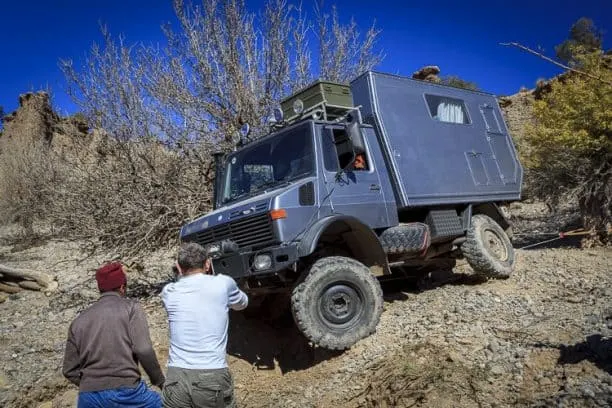 The ground at this part of the ravine was just loose shale. We needed to let Mowgli off the winch and drive her to the bottom.
In reality, this was more of a semi controlled slide 100 metres to the wadi at the foot of the ravine.
And as quickly as it had all started, it was all over. Time for tea, relieved laughter and much gratitude to our wonderful helpers M'hamid, Tarak and Amrou.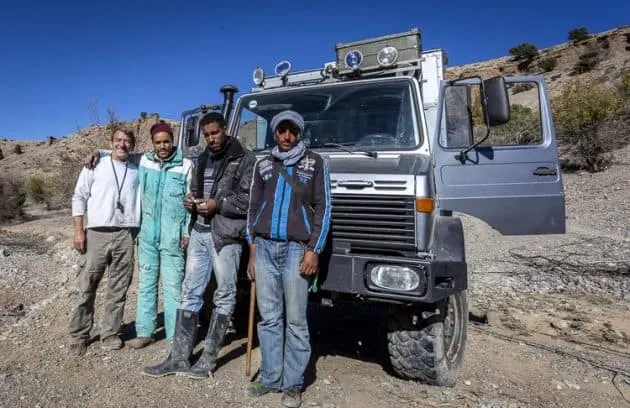 The shepherds left to tend their abandoned flock and we assessed the damage. Remarkably, unlike our pride, Mowgli is mostly unscathed.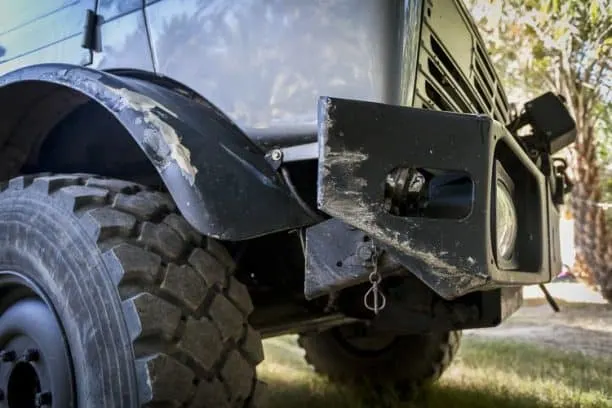 She has a few small dents to the front fender, slight dink to the bumper, amassed some character enhancing scratches and lost a bit of door frame trim.
The fine china was all in place and unbroken and the only damage internally was to the neatly made bed.
After adjusting the pillows, checking the engine, oils, wheels, chassis and after a couple of mugs of tea, we headed off Cirque de Jaffar to live another day.
So with that, the only thing left to say is, "no more tracks".
Here's a video of Mowgli going down another Moroccan mountain track. Without taking a tumble.
So What Went Wrong?
The initial reverse winch actually made the situation worse.
Having studied the photos for many hours since, we're still not clear on what went wrong at that point.
Mowgli was balancing on her rear right and front left wheels.
Maybe we should have had her strop anchor points positioned away from the centre line and towards the rear left wheel?
Hindsight is marvellous but we're still digging deep to understand how we could avoided her toppling as she did. It's still keeping Graham awake at night.
Learn more about what we have in our 4×4 recovery kit & how to use it.