Morocco is an Arabic speaking country. Most Moroccan's speak at least a little French except in some of the more remote locations.
In some areas of Morocco, Berber is the native language. Now I'm not suggesting you need to learn Arabic, French and Berber.
That'd take some doing. But when you greet a Moroccan in Arabic, a whole new world of experiences will open up to you. You don't need to speak fluent Arabic, not by any stretch.
If you have just a few useful Arabic phrases, you will have some wonderful encounters with Moroccan people.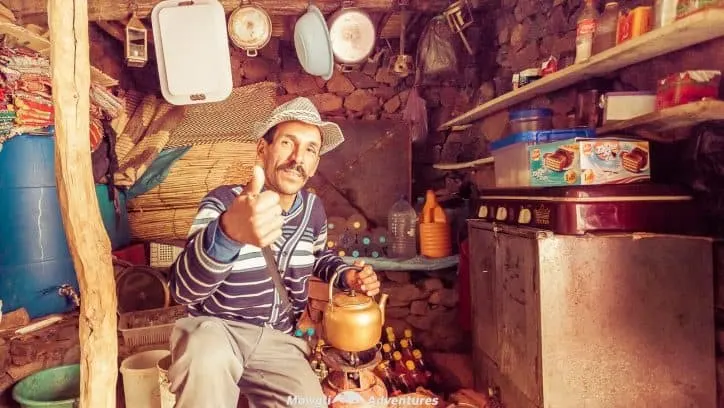 Why do I need any Arabic phrases?
Many English speakers think the English language is enough to get by when travelling. After all, it's the third most widely spoken language so why would we need to learn another language?
If you not straying too far from your hotel, you may not even hear Arabic. If you want to explore further a field though, speaking English slowly and raising the volume isn't going to help.
The Moroccan people are proud of their country and some of the most hospitable people. Having a few simple Arabic phrases and knowing when to use them has led to experiences we wouldn't have otherwise had.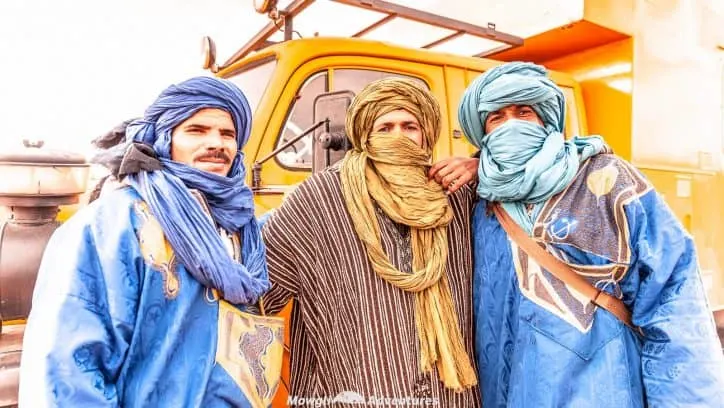 How simple Arabic phrases enrich the Moroccan experience
We were once in small shop on the outskirts of Marrakech. Most visitors to Marrakech wouldn't have any Arabic phrases, so the shopkeeper was delighted to hear us thank him in Arabic. He stopped us and asked if we spoke Arabic.
Explaining (in English) we only had a few phrases, the ensuing conversation ended with an invite to his home for dinner. All this from saying thank you in Arabic whilst buying a pint of milk!
Read here how a chance encounter led to a wonderful evening with a Berber family
With just a few Arabic phrases you will impress the locals and as a result, have a more engaging and wholesome experience.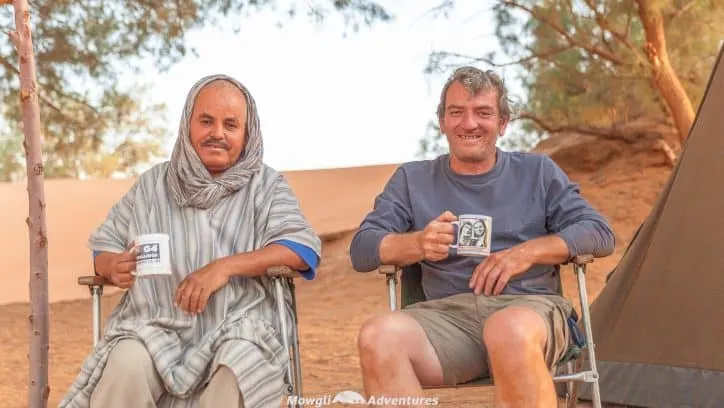 Read our definitive travel guide to Morocco and plan your next adventure
Useful Arabic Phrases
We're not natural linguists; we study phrase books as part of out travel prep and learn at least basic greetings, please and thank you in the local language. Even the back of your guide book will have a few phrases and for Morocco, this is enough to impress.
To get you off to a good start, we've compiled a list of 20 useful Arabic phrases you should try to learn before travelling to Morocco. I have no idea if my spelling is correct though.
| | |
| --- | --- |
| English | Arabic |
| Hello | Asalam Alekum |
| In response to someone saying hello | W'alekum as-salam |
| Please | Fadlak |
| Thank you | Shukran |
| Good-bye | Ma'a Salama |
| Yes | Na'am |
| No | La |
| How are you? | La bas? |
| Ok | Aiwa |
| How much is this? | Bi kam? |
| Excuse me | Sme leeya |
| Do you speak English? | Tatakallam ingleesee? |
| No problem? | Maffi mushkila |
| What is your name? | Asmeetak? |
| My name is…. | Esmee….. |
| I have no money | Maffi feloous |
| I don't understand | Ma femtesh |
| It's too expensive | Rally biseff |
| A little | Shwaya |
| It's beautiful | Zweena |
Like it? Pin it!