Finding a suitable, comfortable cassette toilet for your RV camper is crucial.
While some people are pretty happy managing with public restrooms or the great outdoors, others want a functioning toilet they can use in the comfort of their RV.
One option is a cassette toilet, sometimes called a cartridge toilet. Some are entirely portable, so you can remove the entire unit. Others are fitted but have a portable holding tank, and their design means you don't need to carry waste through your living area.
Cassette toilets are much easier to install – no need for a trained technician. And because they don't require a holding tank, they're lighter and take up less space. Plus, they're easy to empty and clean, keeping your RV bathroom spotless.
Unless you retrofit a SOG kit, you need to use chemicals to control odors. However, they're more budget-friendly than expensive composting toilets and need less maintenance than a traditional RV toilet.
So what are the best cassette toilets for campers and RVs? Read on!
When you click on links to various merchants on this site and make a purchase, this can result in this site earning a commission. As Amazon Associates, we earn from qualifying purchases. For more info, please check our disclosure page.
At A Glance | Best Cassette Toilets for RV & Campers
Thetford 32812 C402C Cassette Toilet

Holding Tank: 5.1 gallons

CHECK PRICE ►

Thetford Porta Potti 565e – Most Stylish Cassette Toilet

Holding Tank: 5.5 gallons

CHECK PRICE ►

Camco Standard Portable Travel Toilet – Most Stylish Cassette Toilet
CHECK PRICE ►

SereneLife Outdoor Portable Toilet

Holding Tank: 5. 3 gallon toilet tank

CHECK PRICE ►

Dometic Portable Toilet
CHECK PRICE ►

Thetford Porta Potti 365

Holding Tank: 5.5 Gallons

CHECK PRICE ►

Earthtec ETEC Non-Stick Sanitary Portable Toilet
CHECK PRICE ►

Reliance Flush-n-Go
CHECK PRICE ►
What Is A Cassette Toilet?
Traditionally, RV users deposit their waste into a black tank slung under the coach. The practice is relatively simple. You use the fitted toilet in a similar way to a regular toilet. Your deposits are directed to a black tank fitted beneath the RV when you flush. When the tank is full, you empty it at an authorized dump station.
However, traditional RV toilets have several disadvantages.
They require a constant water supply to flush, which can be a problem in dry or remote areas when boondocking.
They can be difficult to clean and maintain since the waste is stored in an enclosed tank. You need to store detachable sewer hoses.
They need quite a lot of space, which is not ideal for smaller campervans and Class B RVs.
A cassette toilet is designed specifically for RVs and campers. It's smaller and more compact than a traditional toilet. It stores all of its waste in a portable cassette that can be taken out for dumping at public restrooms or dump stations when needed.
Most models don't require much water for flushing, and fitting them is so easy that you don't need an authorized installer.
How Does a Cassette Toilet Work?
A cassette toilet works in much the same way as any other portable chemical toilet.
You've got an upper tank that you fill with water and a wastewater tank that you add chemicals to.
Once you've used the toilet and flushed it with clean water, the waste goes into the lower tank, where the chemicals break it down.
The difference with a cassette toilet is that you then empty the cassette or cartridge from an internal access door, or more commonly, an external hatch, rather than carrying the tank through your living area.
The tanks often have wheels or carry handles to make this easier.
Aren't Cassette Toilets The Same As Portable Camping Toilets?
Well, kind of, but not entirely.
When you've gotta go, you use a cassette toilet in the same way as a portable camping toilet. They each store the waste in a similar holding tank, and the emptying process is virtually identical.
The main difference between the two is in their portability. As the name implies, portable camping toilets are entirely portable. You can pick the entire unit up and remove it or move it. Meanwhile, a cassette toilet is fitted permanently into the RV.
The other significant difference is how you access the holding tank to empty it. To empty it, you need to detach the top part of a portable camping toilet from the holding tank. On a cassette toilet, the holding tank can be removed without touching the toilet, often accessed from an outdoor hatch.
Pros Of A Cassette Toilet
The standout advantage of cassette toilets over the more typical RV toilet is that you can empty it in a regular toilet. In addition, because the waste tank is portable, you're not dependent on finding a dump station to park and empty it.
Another advantage of a cassette toilet is that it's a permanent solution. So you can install it and have a properly working toilet in your own mini bathroom space.
For many people, this helps them feel more comfortable. Instead of a portable toilet taking up living space, you have a dedicated toilet space.
They're also cheaper than composting travel toilets. So if you want a permanent toilet in your RV or camper and you're on a budget, then a cassette toilet might be the best solution.
While cassette toilets aren't eco-friendly by default, you can retrofit a SOG. These kits use small, low-power fans to draw odors away from your bathroom area into the cassette.
SOG 2 kits instead vent outside the vehicle, either through the floor or the roof. Either way, the result is a toilet that doesn't smell without the need for harsh chemicals.
Cons of a Cassette Toilet
Unfortunately, cassette toilets aren't perfect, and there are a few things to consider before you buy one.
Firstly that issue around needing chemicals if you don't upgrade with a SOG kit.
Chemicals aren't always easy to buy when you're traveling, and even when they are available, they can be expensive. Plus, you need to find a proper dumping station.
It's not exactly a pleasant job, even when you find a dumping station for your chemicals and waste. Of course, using the right products can be environmentally friendly, but finding the right products is always possible, especially when traveling abroad.
While they're cheaper than composting toilets, they're much more expensive than a standard portable camping toilet. They're trickier to fit, too – you'll need to install your own access hatch into the van wall.
Perhaps the most significant disadvantage of these types of toilets compared to a traditional RV toilet is the size of the holding tanks. They are much smaller than a black tank, so you'll undoubtedly need to empty them more frequently.
Toilet Features To Look For When Buying
Here are a few different features and specifications to look out for when looking for an RV cassette toilet.
Toilet Size
Cassette toilets come in different sizes. Although manufacturers usually specify weight, holding tank capacity, and overall dimensions, they rarely provide information about how heavy they are when they're full.
Many cassettes have wheels and handles to make carrying them more manageable. But, of course, you don't have to wait until they're full; instead, empty them when they're not too heavy.
If you want a more maneuverable model, look for options with a smaller capacity – you'll need to empty them more frequently. Still, they won't be as difficult to transport to the dump when full.
Cassette Toilet Holding Tank Size
The holding capacity of the cartridges is much smaller than traditional RV toilets. An RV black tank can hold between 15 and 50 gallons, usually depending on your RV size.
A typical cartridge for a cassette toilet is around 5 gallons, so it's a big difference. Some models are a little larger and others smaller, so consider how often you're likely to use them and how many people will use them.
Flush Type and Nozzles
Cassette toilets will either work with a manual pump flush or battery. If you choose the battery, you'll need to keep it charged, while the manual one just needs a little bit of work every time you use it.
Many cassette toilets have one flush nozzle, but some have up to three, which results in a cleaner bowl. More water across more of the toilet's surface means it's more likely to clean waste away in one go.
Fill Indicators
One thing that can be tricky is knowing when a cartridge is full and needs to be emptied.
That's where fill indicators come in handy. These indicators let you know when the cassette is full, so you can avoid any messy surprises.
Carry Handles & Emptying Spouts
Emptying a cassette is never pleasant, so look for one that makes carrying them to the dump station easier. You'll also want an easy-pour spout because nobody wants splashbacks from their toilet.
Best Cassette Toilet Reviews
Material: N/A
Item Dimensions LxWxH: 29.00 x 17.25 x 21.75 Inches
Holding Tank: 5.1 gallons
Thetford is the major brand for cassette toilets, and this electric flush model is comfortable to use.
It has an advanced level indicator to let you know how full the waste tank is, with a 5.1-gallon capacity and a 4.1 flush tank capacity enough for more than 50 flushes.
As it's an electric flush model, you'll need to make sure it's connected not just to the plumbing but the battery too – the power draw is very low, so don't worry about that.
A Thetford cassette toilet is one you can rely on.
Pros
Electric push button flush
Waste holding tank on wheels
LED display indicates when waste tank is full
Specification
Material: Polypropylene
Item Dimensions LxWxH: 17.7 x 15.2 x 17.6 inches
Holding Tank: 5.5 gallons
This curved porta-potti model from Thetford is modern, sleek, and easy to use and transport around.
It's leakproof, odorless, and has a comfortable seat height – everything you could want from a portable toilet.
It's also got a kit to hold it down while you're on the road, so it doesn't splash around.
Pros
Easy to use and clean
Odorless and leakproof
Battery-powered flush
Cons
If in need of spare parts, some are no longer available
Specification
Material: Resin
Item Dimensions LxWxH: 16 x 16 x 12 inches
Holding Tank: 5.3 gallon holding tank is detachable for easy emptying
This durable portable travel toilet from Camco is sure not to leak. The tank is sealed firmly, so no smells will escape while you're traveling. It uses a bellows-type pump to flush and can hold over 5 gallons of wastewater.
Be aware that when completely full, this can weigh up to 25kg, and it has no wheels, so it will need to be carried to the dump – you may wish to empty it more frequently.
The small size only has a 2-gallon waste tank but bear in mind that at a little over 12 inches, it's really short, so you'll need to squat when using it. The 5-gallon version featured here is a more practical option.
Pros
Great as an emergency option
Seals tightly to prevent both leaks and odors
Compact and lightweight
Cons
Difficult to empty-weak water pump
Specification
Material: High-Density Polyethylene
Item Dimensions LxWxH: 16.5 x 14.6 x 16.9 inches
Holding Tank: 5 . 3-gallon toilet tank
This is a portable chemical toilet, so it works the same way as a cassette, but you can use it anywhere.
The toilet bowl is designed with 360 degrees cleaning with every flush using a piston pump.
It's very lightweight so carrying it back and forth from the dump is more manageable – although that'll depend on how full it is.
Pros
Anti-rust and anti-corrosion
Durable and long-lasting
Made of durable materials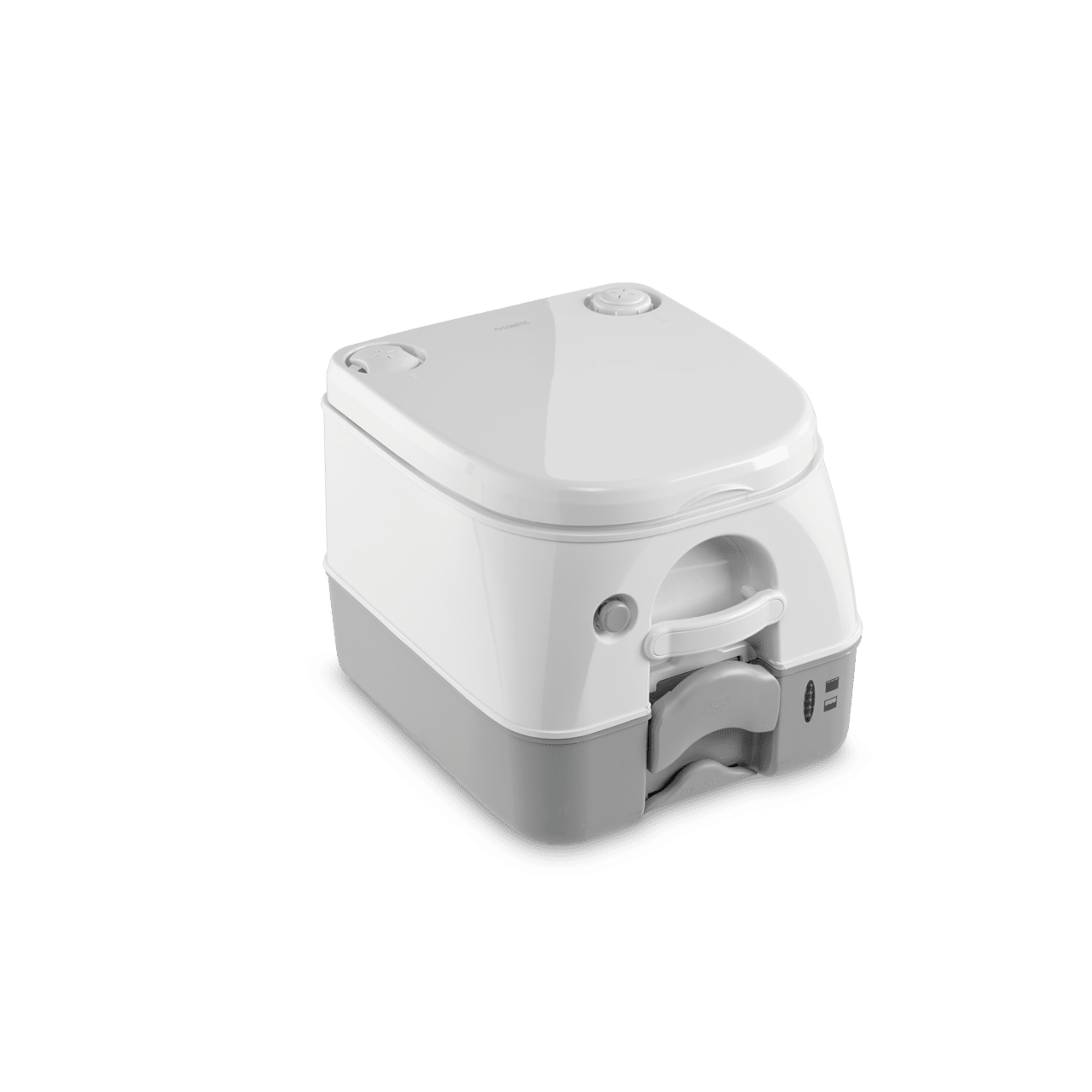 Specification
Material: Acrylonitrile Butadiene Styrene
Item Dimensions LxWxH: 13.5 x 15.5 x 16.5 inches
Holding Tank: 2.6 Gallon
If you want a compact portable toilet, this Dometic option is nice and small – just be aware that crouching that low to sit down might not be super comfortable, but that's common between many portable toilets.
The tank is easy to monitor, so you'll know when it needs to be emptied, while the push-button flush is simple to use.
The Dometic 970 series of cassette toilets come in 2 different sizes, so you can find a model perfect for your available space.
Pros
High-strength ABS construction withstands harsh environments
Smooth & easy-to-clean finish
Prismatic tank level indicator allows easy tank level monitoring
Specification
Material: Plastic
Item Dimensions LxWxH: 17.13 x 16.6 x 15.36 inches
Holding Tank:5.5 Gallons
Thetford's final appearance on this list is a no-frills, simple design that's just very effective as a portable chemical toilet.
It's compact and has as modern a design as portable toilets can have. Emptying is easy, too, as the rotating pour-out spout is made to be as sanitary as possible.
Pros
Built For Comfort
Convenient Mess-Free Pour Out Spout
Quick & Clean Detachment
Specification
Material: Plastic
Item Dimensions LxWxH: 17.89 x 17.32 x 17.18 inches;
Holding Tank: 5 Gallon
There are two good features to shout about with this Earthtec portable toilet. Firstly, it has a non-stick bowl with nanotechnology polymer – this just means that no waste will stick, so it's always cleaner.
Also, the toilet is lightweight but extremely sturdy – it's been tested to hold up to 440lb without breaking.
Pros
Airtight to lock in odors
Sturdy yet lightweight construction
High capacity
Specification
Material: Plastic
Item Dimensions LxWxH: 35.6 X 40.6 X 43.2 cm
Holding Tank: 2.5 Gal
Basic, simple and reliable, this chemical portable flush toilet has a pump flush mechanism and a seat and cover that snap on and off, so they're easy to clean.
One thing to note is the manufacturer states colors can vary, so you might be on a bit of a lucky dip if you order one.
Pros
Comfortable to use
Does not smell
Does not flow
How To Empty A Cassette Toilet
The actual process of emptying a cassette toilet is relatively straightforward. First, open the hatch on the outside of your vehicle and push in on the pressure points to release it.
Then pull up the lever to unlock it before sliding it out.
Wheel or carry it to the disposal. Then, swivel the nozzle around to face away from the cassette, removing the cap. Then just press the pressure release valve, and pour out the contents.
Once it's empty, it's good to give it a bit of a clean.
Once that's done, refill the chemicals and replace the cap before rotating it back around.
Slide the cassette back into your vehicle and push the lever down to lock it into place.
If you're looking for fun but practical information on it, check out our detailed post on how to empty a cassette toilet. We're not completely serious about the Hazmat suit!
Where Do You Empty A Cassette Toilet?
You can only dump an RV's black tank at a designated dump station, but you have greater flexibility with a small cassette toilet's holding tank.
One is to dump the contents into a designated septic system, just like your RV black tank. Another option is to empty it at an RV park or campground's dump facility.
Alternatively, so long as you haven't used any harmful chemicals, you can dispose of the waste in regular toilets at home or in public restrooms. That said, we don't encourage you to use public facilities, especially those used by many people. It's just not nice.
Whichever option you choose, please be responsible when disposing of human waste.
How Often Do You Need To Empty A Cassette Toilet
A few different factors determine how often you need to empty your cassette toilet. The holding tank capacity, frequency of use, and how many people are using it will impact when it's necessary to dump the contents.
As a rough guide, 1 person using a 5 gallon cartridge regularly might need to empty it every 5 or 6 days.
If it's only used occasionally, you might be able to get away with emptying it every 10 days or so. Of course, if you have a larger holding tank, you can go longer between emptying.
The bottom line is that you shouldn't let your tank get too full, or you'll run the risk of spillage and mess. So check it regularly, and when in doubt, empty it out!
Cassette Toilet Chemicals
You can use a few different chemicals for a chemical toilet, but you'll usually just choose from blue or green in the black water tank.
Blue is the standard chemical, but green is an alternative free from formaldehyde.
Check your campground and RV dump station requirements, as some mandate that only green can be used.
Pink or drop-in chemicals are also available, but these aren't for the waste tank. They are additives for the flush tank that improve the fragrance of your toilet. They aren't needed, so it's up to you.
To do away with the need for chemicals, you can retrofit a SOG kit. It adapts your cassette toilet, so it works in a similar way to a composting travel toilet.
Cassette Toilets and Toilet Paper
Using regular toilet paper with a chemical toilet can be risky because it's possible to block the waste tank.
An alternative is to buy quick-dissolving paper designed to break down faster. Others prefer to use a separate bin next to the toilet to store used paper.
Ultimately, it's your preference, but if you buy a bin, make sure it has a lid and empty it regularly. Otherwise, those odors will quickly build up.
We use a separate bin in our onboard bathroom and biodegradable and slightly scented dog poop bags.
Other RV Toilet Options
There are RV toilet options to suit every budget.
Collapsible camping toilets are really simple, essentially a seat with a hole. Add a biodegradable bag (or two – double lining is always a good idea), and you're good to go.
Easy, very cheap, ideal for small campers or car camping but not the most comfortable, nor the best at keeping things sanitary.
Portable chemical toilets are the same as cassette toilets, except that you can move them around. This means there's no complicated installation in your RV or camper.
Emptying one is a little trickier, and you need to be careful if you carry them through the rest of your van.
Composting toilets are the most expensive RV toilet, but they're eco-friendly, sanitary, and easy to use.
Solid waste consists mainly of water. A composting toilet evaporates most of it with a fan keeping the tank ventilated. The rest decomposes. Installation is a little more complex, but the results are worth the effort.
Of course, the easiest and cheapest option is to use nature as your toilet – as long as you are comfortable doing so, discreet, and above all else, responsible.
All you'll need is a shovel to bury your waste and some toilet paper, for which you'll need a bin. But, please don't go pooping on a beach or anywhere else other people may pass by!
Not only is it disgusting, but you'd be giving every van lifer & RVer a bad name. Just look out for a public toilet. It's not always easy in the middle of the night, though.
In Conclusion
A cassette toilet is a good option if you can't afford the upgrade to a composting toilet. They're a step up from a portable toilet and a leap forward from a low-cost and less sanitary option.
The best cassette toilets are comfortable and easy to use. Find one that's a good size for your camper, and be careful when you empty it.
It's not a nice job, but you'll get used to it. Or just get your partner to do it for you every time.
Angela Devaney
Angela Devaney, a former IT project management professional, embarked on an adventurous journey of full-time travel, which included touring West Africa in a converted overland truck and converting an ex-military 4×4 Sprinter van into a camper for a five-year South American expedition. She now utilizes her hands-on experience to create practical RV living and van life advice as a full-time digital media producer, reaching over a million users annually through her YouTube channel, blog, and newsletter. Angela also lends her expertise as the editor-in-chief of the Campervan Electrics Handbook.