Are you thinking about buying a Class C motorhome? If so, you've come to the right place.
Motorhomes are a great way to travel in comfort and style. Class C motorhomes are especially popular, thanks to their spacious interiors and convenient features. If you're thinking of purchasing or renting a Class C motorhome, this guide will tell you everything you need to know.
We'll give you all the information you need to know about Class C RVs, from what they are and how they differ from other types of RVs.
So whether you're a first-time buyer or a seasoned RV veteran, this guide will help you find the perfect Class C motorhome for your needs. By the time you're finished reading, you'll be an expert on all things Class C!
When you click on links to various merchants on this site and make a purchase, this can result in this site earning a commission. As Amazon Associates, we earn from qualifying purchases. For more info, please check our disclosure page.
What Is A Class C Motorhome & What Do They Look Like?
A Class C motorhome is a type of RV usually built on a cutaway van chassis and ranges in length from 20 to 30 feet. These RVs are typically smaller than Class A motorhomes but often offer more amenities than a Class B motorhome.
A Class C RV typically has a queen-size bed, a kitchen area, and a bathroom. Some models also have awnings, slide-outs, and other features that make them more comfortable to live in.
While Class Cs are not as luxurious as Class A RVs, they are more affordable and easier to drive. As a result, they are a popular choice for families or couples who want to enjoy the RV lifestyle without breaking the bank.
Class C's are distinguished from other RVs by their over-cab sleeping area, which allows for more interior space. This extra space is often used for a dinette or sofa, often convertible into additional sleeping space at night.
The over-cab area also provides storage space for luggage or other gear, making Class C RVs even more convenient.
Browse through the images within this article to get an idea of what a typical Class C motorhome looks like.
Read More: Motorhome Classes: A Brief Guide To The Different Classes of RVs
Pros & Cons Of Class C Motorhomes
Motorhomes come in all shapes and sizes, from more diminutive Class B RV models that can squeeze into a parking spot to massive Class A rigs that require their own ZIP code. Class C lies somewhere in the middle, which offers a happy compromise between size and maneuverability.
But what exactly is a Class C motorhome, and how does it stack up against its rivals? This section will look at Class Cs, exploring their advantages and disadvantages.
Advantages of A Class C Motorhome
When most people think of motorhomes, they picture the large, luxury Class A models. However, Class C RVs offer several advantages over their larger counterparts:
More Affordable Than Class A RVs
Class C RVs are typically more affordable than Class A RVs. This makes them an excellent choice for budget-minded shoppers who still want to enjoy the RV lifestyle. While Airstreams and other high-end RVs can cost hundreds of thousands of dollars, you can often find a Class C for less than $100,000.
Smaller & More Maneuverable Than Class A RVs
Class Cs are also smaller and more maneuverable than Class As. This makes them easier to drive and park, especially in tight spaces. So if you're worried about piloting a massive RV, a Class C may be the perfect solution.
More Living Space Than Class B motorhomes
While a Class B motorhome is smaller than Class Cs, they often sacrifice living space for compactness. If you want an RV that feels more like a home away from home, Class C is the way to go. These RVs typically have a kitchen, bathroom, and bedroom, ideal for extended road trips.
Some models come with awnings, slide-outs, and other features that make them more comfortable to live in.
Read More: 11 Tips For Choosing The Perfect RV Size
Extra Bed Above the Driver's Cab
Above the driver's cab, you'll find an extra bed area for sleeping or storage.
During the day, you can use it to store luggage or other gear. In addition, you can transform it into a cozy sleeping area for two at night. This is an excellent feature if you're planning on taking long road trips, as it gives you a place to store luggage or gear.
No Need To Buy A Separate Towing Vehicle
One of the biggest advantages of Class C RVs is that you don't need to buy a separate towing vehicle. That's because a Class C motorhome is, effectively, a motorized RV. Unlike a travel trailer, which must be hitched to a truck or SUV, Class C can be driven straight from your driveway to the campground.
This saves you the expense of buying and maintaining a second vehicle, making for a much simpler vacation experience. Instead of juggling two vehicles and two sets of keys, you can simply focus on enjoying the open road.
It's Easy To Tow A Second Vehicle (TOAD)
One of the great advantages for those who love to hit the open road in Class C RVs is that it's easy to tow a second vehicle – often called a TOAD.
Although the towing capacity of each model differs, Class Cs usually have a fair towing capacity. That gives you the option of hauling a TOAD and the best of both worlds – the freedom of the open road in your RV, with the convenience of having a second vehicle to explore your destination without having to rely on public transportation or try to figure out the logistics of leaving your RV parked while you go off and do other things.
More Capable of Boondocking
Class Cs have a reputation for being more practical than luxurious, but one of their biggest selling points is their boondocking capabilities. Thanks to their higher ground clearance, and better maneuverability, Class Cs can handle more challenging terrain than their Class A counterparts.
Additionally, Class C motorhomes often come equipped with larger generators and water tanks than a class B, making it easier to live off-grid for extended periods.
Disadvantages of Class C Motorhomes
Of course, no RV is perfect. While Class C RVs offer some advantages, they also have their fair share of drawbacks:
More Expensive Than Comparable Travel Trailers
When it comes to choosing a recreational vehicle, there are many options. For many people, Class C motorhomes are a perfect choice. They offer all the comforts of home while still being able to hit the open road. However, one of the main disadvantages of Class C motorhomes is their price tag. On average, they're significantly more expensive than comparable-sized travel trailers.
While the initial purchase price of a Class C motorhome may be higher, you also have to factor in the cost of maintaining and repairing the vehicle. In addition, Class C RVs typically get lower gas mileage than travel trailers(depending on the models compared), meaning you may need to budget for higher fuel costs.
The Ride Isn't As Smooth As A Class A Or Towables
We reckon manufacturers could put more effort into designing the driving cab area in Class C motorhomes. They look easy on the eye and are practical, especially those with rotating captain's chairs for multifunctional space. But do they have to sound so rickety and loud once you're on the move?
We're not convinced, but the ride is at a higher volume, and you'll need to brace for the potholes!
Read more: ​​Travel Trailer Vs RVs: 7 Differences to Help You Choose Which Is Right for You
Less Maneuverable Than Class A RVs
Class C motorhomes are the middle child of the RV world – not as small and agile as a Class B, but not as large and in charge as a Class A. Depending on your needs, this can be both a blessing and a curse.
On the plus side, Class C RVs usually have more room than their smaller cousins. This extra space can be great for families or anyone who likes to travel with a lot of gear. However, it also means that Class Cs are less maneuverable than Class Bs.
Class C motorhomes typically range from 20 to 30 feet, while Class B RVs are usually between 16 and 25 feet long. This extra length can make it difficult to navigate tight turns and crowded parking lots. They need more space to park, and they're not always able to squeeze into tight spaces.
If you're planning on doing a lot of off-roading or boondocking, a Class B might be a better option. Alternatively, you might feel a TOAD is a little more than a nice to have.
Limited External Storage Compared To Class A RVs
Class C motorhomes have a bit of an inferiority complex regarding storage. They can't help but feel overshadowed by their larger Class A RV cousins, who offer so much more space for external storage.
The taller height on Class As allows for extra compartments in the underbelly, providing more space for bikes, kayaks, and extra gear.
But size isn't everything, and Class C motorhomes have a few tricks up their sleeves for storing all of your belongings.
First of all, Class C RVs generally have more than enough room for everything you need to bring on your trip. Sure, you might have to get a little creative with how you pack things, but that's half the fun!
And if you need more space, there are plenty of ways to add external storage to your Class C motorhome. For example, you can install a rooftop cargo box, add a rear hitch-mounted cargo carrier, or even put a storage container in the back of your truck.
There are many creative ways to use the space inside your Class C motorhome.
Renting A Class C RV Before You Buy
When you're thinking about buying an RV, knowing what type of vehicle will best suit your needs is essential. A Class C RV is an excellent option for those who want the flexibility and convenience of owning a vehicle without the hassle and expense of a larger model.
Class C RVs are perfect for road trips, camping, and even long-term travel. They're easy to drive and maneuver, and they offer all the amenities you need to enjoy your time on the road.
If you're not sure whether a Class C RV is right for you, consider renting one before buying. This will give you a chance to try out the vehicle and see if it's a good fit for your needs. You can also get a feel for the different features and options available.
Renting a Class C RV is a great way to ensure you're getting the right vehicle for your needs. It's also a great way to save money on your purchase.
Our top 5 RV rental companies are:
Read More: First Time RV Rental Tips For Travelers
FAQs
How Do Class C Motorhomes Differ From Other RVs?
Class C motorhomes are different from other RVs because they have a cab-over section that contains extra sleeping quarters. In addition, the driving cab is integrated and is often a multifunctional space, forming part of a dining area when parked up.
How Much Does A Class C Motorhome Cost?
Class C motorhomes are a popular option for those who want the flexibility of a camper van without sacrificing all the amenities of a traditional RV. However, prices for these vehicles can vary widely, depending on the size, features, and age.
However, as a general rule, you can expect to pay anywhere from $80,000 to $250,000 for a new Class C motorhome. Of course, there are always deals to be had, and you may be able to find a used unit for much less.
Ultimately, the cost of your Class C motorhome will depend on your specific needs and budget.
What Is The Gas Mileage On A Class C Motorhome?
The gas mileage on a Class C motorhome can vary depending on the make and model and how it is driven, and if you're hauling a TOAD. However, on average, they get around 10-12 mpg. You will want to consider this if you are thinking of purchasing one.
What Is The Amp Hook Up Of A Class C Motorhome?
A Class C motorhome typically has an amp hook up of 30 amps. This means that the camper can use up to 30 amps of electricity at any given time. They connect to the 30 amp outlet on the campground pedestal.
30 amps should be more than enough for most appliances, but it's essential to keep in mind that using too many appliances at once could overload the system and cause a power outage.
Some of the larger Class Cs have 50 amp hookups, so keep an eye on his part of the spec if you use plenty of electrical items.
If you're unsure about the electrical systems in motorhomes, RVs and campers, check out our book – Campervan Electrics Handbook. It explains everything you need to know, from the basics to the more advanced. Don't leave home without it!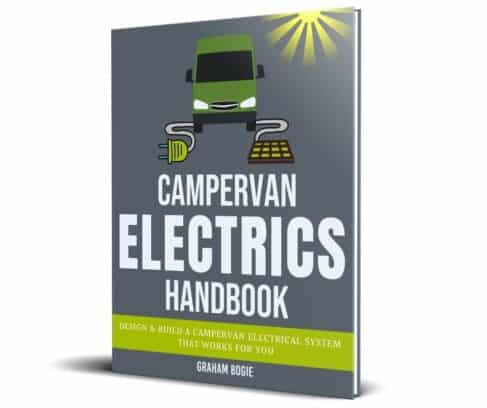 Who Makes Class C Motorhomes?
A variety of manufacturers make Class C motorhomes. The most popular brands that make Class C motorhomes are Winnebago, Jayco, and Thor Motor Coach. Each of these companies makes a wide variety of different models, so there's something for everyone.
Here are a few more examples of Class C brands:
Should I Buy A New Or Used Class C Motorhome?
When it comes time to buy a new motorhome, you have a few options. You can go with a brand-new model, which will likely be the most expensive option, or you can look for a used model.
If you're looking for something affordable and still in good condition, buying a used Class C motorhome is great.
Wrapping It Up
If you're in the market for a new RV or even just considering it, you may want to look at class C motorhomes. They offer some unique benefits and drawbacks compared to other RVs. We've outlined these pros and cons in detail in this article and answered some of the most commonly asked questions about them.
So, if you're still on the fence about what type of RV is right for you, be sure to check out our other articles on RVs. We have tons of information that will help you decide whether or not a class C RV is right for you.