If you're an RV traveler who likes to camp in remote areas, you know the importance of having a reliable battery bank. Many RV travelers are looking for the best batteries for dry camping and boondocking.
There are a lot of options out there, and it can be tough to decide which battery is right for you. That's why we've put together this guide – to help you make the best decision for your needs.
Well, look no further! We want to help you find the perfect battery so you can travel worry-free. With the right battery, you'll have all the power you need to run your RV without having to worry about finding an outlet or generator.
In this post, we'll take a look at some of the best batteries on the market today and tell you why they might be perfect for your needs. We'll also give you some tips on how to choose the right battery for your setup. So read on and learn more about these amazing power sources!
Having a reliable battery bank is essential when camping in remote areas. With one of these bad boys, you'll never have to worry about running out of power again.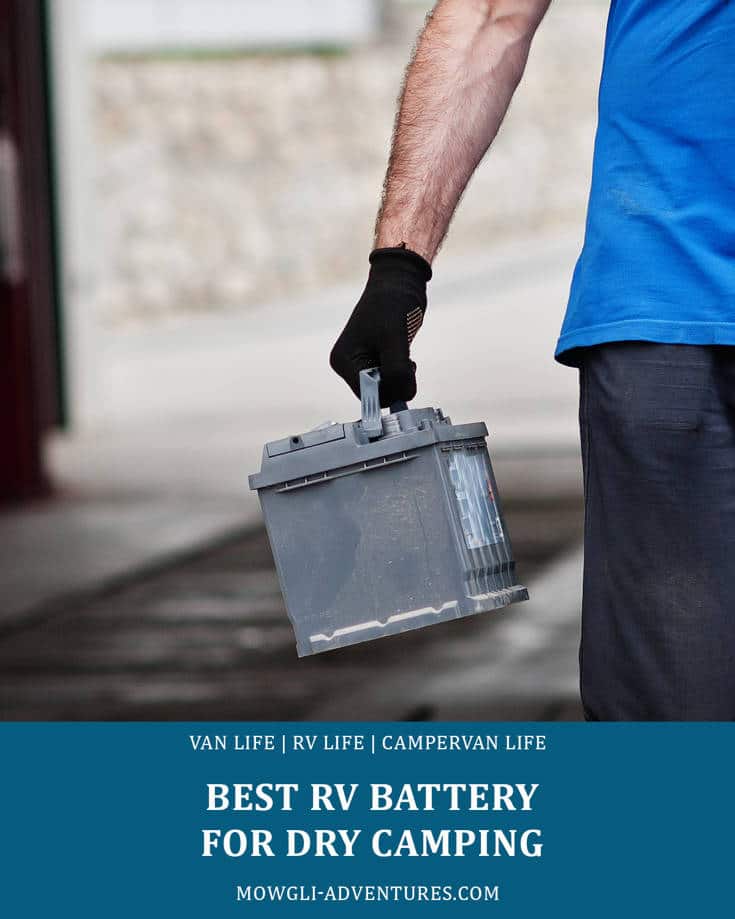 When you click on links to various merchants on this site and make a purchase, this can result in this site earning a commission. As Amazon Associates, we earn from qualifying purchases. For more info, please check our disclosure page.
1. Battle Born 100 Ah LiFePO4 12 Volt Deep Cycle Battery

Voltage: 12V
Battery Cell Composition: Lithium-Ion
Item Weight: 31 lbs

CHECK PRICE ►
2. Weize Deep Cycle Battery

Voltage: 12V
Battery Cell Composition: AGM
Item Weight: 57lbs

CHECK PRICE ►
3. Renogy 12V 200AH Rechargeable Deep Cycle Hybrid Gel Battery

Voltage: 12V
Battery Cell Composition: Lead-acid
Item Weight: 63.9 lbs

CHECK PRICE ►
4. Optima Batteries 8016-103 Deep Cycle Marine Battery (12 Volt)

Voltage: 12V
Battery Cell Composition: AGM
Item Weight: 43.5 lbs

CHECK PRICE ►
5. VMAX XTR6-235 6 Volt 235Ah AGM Deep Cycle Battery

Voltage: 6V
Battery Cell Composition: AGM
Item Weight: 78 lbs

CHECK PRICE ►
Specifications
Voltage: 12V
Battery Cell Composition: Lithium-Ion
Item Weight: 31 lbs
Item Dimensions: 12.76 X 6.86 X 8.95 in.
The Battle Born battery is a 12V replacement for your typical lead-acid setups, and it features a 100 amp continuous output and 200 amp surge output. Battle Born states the lifespan of the battery as a whopping 3000 to 5000 cycles, with some lab results extending even further.
These deep-cycle lithium-ion batteries can be mounted in any position. There is no risk of leaking harmful liquids, gasses, or fumes, and you can use them inside or outside, as long as the ambient temperature is between 0* and 50*c.
What We Like
Battle Born batteries charge quickly and last a long time, two details that make it easy to forget that you're dry camping or boondocking. Because they are lithium-ion batteries, you don't need to worry about draining them down to 0%, so you can have a much smaller battery bank than with the traditional AGMs or GEL batteries.
The low weight of the batteries is another major bonus. These are the lightest batteries on our list, and you'll be pressed to find a lighter power source.
Their slighter size and weight also help you mount the batteries in whatever position works best for you, another bonus for RV living.
What We Don't Like
The most immediate concern is the higher up-front cost of these batteries. While their performance and lifespan certainly back up the price, this might not be an option when setting up your battery bank on a budget.
While we love the extended warranty offered by Battle Born, it requires back and forth with the company. On the off chance there is an issue with one of your batteries; you need to have the time to wait to send the battery back for inspection and repairs.
This is not ideal for anyone relying on that battery while boondocking.
Pros
Quick charge
Long lifespan
Lightweight
Ten-year warranty
Cons
High up-front cost
Lengthy warranty process
Rare issues with irregular voltage oscillation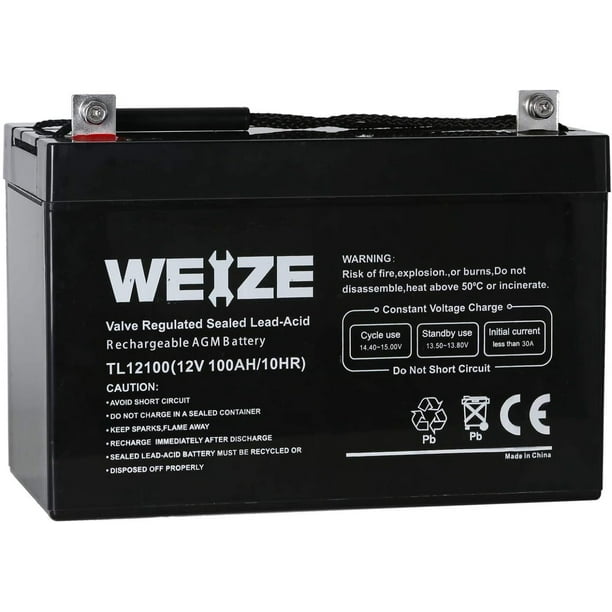 Specifications
Voltage: 12V
Battery Cell Composition: AGM
Item Weight: 57lbs
Item Dimensions: 12.99 x 6.73 x 8.43 in.
What We Like
The Weize battery has a reputation for affordability backed up by thousands of reviews. Not only can you buy it at a low price point, but the battery has a longer shelf life. The lower upfront cost and extended use work nicely to give you the most bang for your buck.
The Weize battery is also light, despite a heavy-duty calcium-alloy grid. You can move it around with ease, store it almost anywhere, and you don't have to worry about the battery getting beat up with travel.
What We Don't Like
Weize has a more limited warranty than its competitors.
Pros
Affordability
Longer shelf life
Not as sensitive when fully depleted
Cons
Limited warranty compared to other options
The data sheet lacks specs
Remanufactured batteries may have a lower output
Specifications
Voltage: 12V
Battery Cell Composition: Lead-acid
Item Weight: 63.9 lbs
Item Dimensions: 12.9 x 6.8 x 8.7 in.
Renogy is a name that you're probably familiar with, and their 12V 200Ah rechargeable deep cycle hybrid GEL batteries hold up to that reputation. The higher capacity works best for long-term boondockers with an adequate solar system, allowing you to dry camp as long as you want.
You can connect up to 4 Renogy batteries, but keep in mind that the company only recommends using Hybrid GEL and not mixing it up with Pure GEL.
Their unique construction limits the required maintenance and takes care of any worries you have about acid leaks. By using gel instead of liquid in a sturdy ABS case, Renogy has unlocked a number of benefits.
What We Like
Renogy takes a fresh approach to the traditional lead-acid design by using gel instead of liquid. Not only does this limit the amount of maintenance you need to perform on the batteries, but leaks are pretty much non-existent.
Lead-acid batteries don't do well if you accidentally deplete their charge below 30%. While other batteries struggle to recover, the Renogy batteries use a unique plate and gel electrolyte composition to get back to normal working conditions quickly. Just don't make a habit of it!
The batteries last 12 years on standby, but they also hold up to 750 charge cycles (often more) when properly maintained.
What We Don't Like
As advanced as these are, the Renogy batteries are still limited to maintaining 50 percent capacity like all other lead-acid varieties.
We would also like to see moves by the manufacturer to allow you to connect to more than 4 GEL batteries, so you can have larger battery banks.
Despite the gel interior, you still cannot install the batteries upside down. Mounting on their sides is fine, but installation options are limited by the cell composition.
Pros
Limited maintenance
No acid or toxic gas leaks
Faster deep discharge recovery
Extended service lifetime
Cons
Must keep the battery above 50 percent
Connections limited to Hybrid GEL
Limited installation options
Specifications
Voltage: 12V
Battery Cell Composition: AGM
Item Weight: 43.5 lbs
Item Dimensions: 10.06 x 6.88 x 7.94 in.
Optima Batteries were the original deep cycle batteries historically used on overland and exploration vehicles at the turn of this century. That said, they are still safe and durable batteries even in today's world.
Optima BlueTop batteries will operate as a deep cycle and as a cranking/starter battery, so they could be dual purpose.
The deep-cycle version they are the same as the historic Optima yellow top batteries, except the terminal posts are different.
Bookdockers benefit most from the dual-purpose battery. This might have a lower output for cranking, but it is worth the higher reserve capacity and poor weather performance. If you're a boondocker exploring more remote regions, this starter capability increases the vehicle's resilience.
BlueTop uses a SpiralCell design to give its batteries an edge over the competition, leading to higher vibration resistance. You can also mount these batteries in any position, thanks to their leak-proof design.
What We Like
Poor weather can put a damper on any dry camping experience, so having a battery proven to hold up is always a good idea. These BlueTop batteries cover as many bases as they can to serve your needs in a short-term boondocking experience.
The SpiralCell design mentioned before involves individually spiral-wound cells. These comprise two pure lead plates coated in lead oxide, and they lead to better performance and precision related to battery controls, such as temperature or certain automated processes.
What We Don't Like
While these batteries work well in poor weather, their cranking power is actually lower than most of the competition. They are more specialist batteries, and you need to be sure of the capacities you need for deep cycle and starting.
You should also pay attention to the market price for these batteries. Details like SpiralCell technology, durability, and reputation are well worth the money, but they won't fit into every budget.
Pros
Great for poor weather starting
Dual-purpose battery
Unique Spiral Cell design
Cons
Low cranking power when compared to other starting batteries
Expensive versus competition
Specifications
Voltage: 6V
Battery Cell Composition: AGM
Item Weight: 78 lbs
Item Dimensions: 10.2 x 7.1 x 10.8 in.
While AGM batteries are an older technology than lithium batteries, companies like VMAX have not hesitated to keep their technology relevant. These are the best option for those wanting to try AGM batteries, as well as those interested in a 6V setup.
The VMAX XTR6-235 batteries boast a capacity of 235Ah and operate in almost any weather condition (-4°F to 140°F). This heat and weather resistance, combined with their supportive military-grade alloys, leads to a sturdy build ready to tackle your power needs.
What We Like
While most AGM batteries cost more than a traditional battery, the VMAX has a very modest price point. This is helpful when creating a dry camping or boondocking setup on a budget.
The battery dimensions are quite small, and the handle on top helps you maneuver them wherever they are needed. When you combine this with the sealed casing, it makes for a small battery that can be mounted pretty much anywhere you need it.
What We Don't Like
While these are some of the smaller batteries out there, they come with a hefty weight.
It can also take longer than you would expect to get a full capacity charge, so you need to pay close attention to your charge capabilities and how much energy you'll draw when dry camping and boondocking.
The VMAX batteries boast a lifespan of about 3 to 5 years, but most users note their batteries reach their end of life closer to 3 years. We prefer to see batteries that go above and beyond, so this is definitely something to watch out for.
Pros
Can used in smaller areas
Sealed casing
No maintenance
Cons
Heavy
It takes a bit longer to charge
Shorter lifespan
6v setups are a dated approach
Types of RV Batteries
The most common varieties of RV batteries include:
Lead-acid deep cycle batteries
Lithium-ion batteries
Absorbent Glass Mat (AGM) batteries
The variations in cell composition and voltage give you better control over your setup, but you need to know which direction you're traveling in to start.
Lead-Acid Deep Cycle Batteries
Most of the RV batteries you see are lead-acid deep cycle batteries, although the industry is shifting more to lithium batteries now.
A lead-acid battery comprises lead plates that are submerged in a solution of sulfuric acid and water electrolytes. The quantity of charge the battery can hold is determined by the size of these lead plates and the volume of the electrolyte solution.
It's essential to make sure your RV's lead-acid batteries are deep cycle and not starter batteries. It's also worth noting that most lead-acid batteries don't take kindly to being discharged more than 50%.
Lithium-Ion Batteries
These batteries ‌power your phone and laptop, but the shift to bring them to your RV has made them more popular.
Simpler than lead-acid. They require less maintenance, and you can fully deplete their charge without causing damage.
These cost more and only come in 12V options for RVs, but those that can afford them usually don't regret the decision. Over the past 2 or 3 years, lithiums have become notably more affordable. They're still a little more expensive than lead-acid, but the gap is closing, for sure.
Absorbent Glass Mat (AGM) Batteries
AGM batteries are the newest innovation. While they are like lead-acid batteries, they use a mat of glass fibers instead of lead plates. Their unique construction reduces the amount of maintenance you need to perform, usually down to zero.
AGM batteries ‌drain faster than lead-acid, and many RV owners would rather hold out until these batteries wrinkle out their shortcomings. They are usually more expensive than other battery varieties.
Read More: How to Choose the Best Campervan Batteries For RVs, Motorhomes & Campervans
Why Do You Need a Good Battery for Boondocking?
A good battery is important for boondocking because it provides power to your RV's electrical system. This means that you can run your lights, refrigerator, and other appliances without having to worry about finding an outlet.
Additionally, a good battery will help to keep your RV's electrical system running smoothly, which is important when you're camping in remote areas.
There are a few things to consider when choosing the best battery for boondocking in an RV. First, you'll want to choose a battery that has a high enough capacity to meet your needs. This means that it will be able to store enough energy, which is important when you're not hooked up to an external power source.
Read more: RV Solar Calculator for Off Grid Living
Also, make sure that the battery you choose is compatible with your RV's electrical system and your battery charging methods. With these things in mind, you can be sure to choose the best battery for your needs and have a great boondocking experience.
Components of a Good RV Battery System
Keep in mind that your electrical system does not work off batteries alone. You need to do the research to make sure all the components are accounted for and compatible, including:
Batteries
Battery boxes
Connections, cutoff switches, and fuses
Solar panels and accessories
A power inverter
Setting up a system may seem complicated, but it gets easier the more you look into it, and you can always ask for help.
If your RV electrical system is a topic you don't understand, or if you're converting a van to a camper, we highly recommend buying the Campervan Electrics Handbook. It covers everything you need to know!
FAQs
How long will the RV battery last Boondocking?
There is no definitive answer to this question as it depends on a variety of factors, such as the size of the RV battery, the type of battery, how much power is used, and how often the battery is recharged. However, in general, an RV battery should last for several days or even a week or two, depending on use.
With a well-sized electrical system to support your energy demand and with enough solar panels for the weather conditions, you can quite easily live without ever needing a hookup to shore power.
How much battery do I need for Boondocking?
When it comes to boondocking, there is no one definitive answer to the question of how much battery capacity you need. This is because the amount of power you'll need depends on a variety of factors, including the size and features of your rig, the climate conditions, how much power you use, and more.
Remember, your RV battery is only an energy store, so you can only use as much as you can put into it. Say you have a 100ah lithium battery and expect to use about 50ah each day.
Without any recharging, that could last almost two days. But if you have a solar topping that up fully, it could last indefinitely. The reality is more likely to be something in between, so you need to install enough battery to meet your needs, taking into account how much you can recharge it by – then add some extra contingency.
If you like this post about the best 12v fan for camper van, consider checking out some of our other favorites: