Unimog is a range of multi-purpose auto 4 wheel drive trucks produced by Mercedes Benz.
Unimog is an acronym for the German "UNIversal-MOtor-Gerät", Gerät being the German word for machine or device. Daimler Benz took over manufacture of the Unimog in 1951 and they are currently built in Wörth am Rhein, Germany.
Another Mercedes-Benz plant assembles Unimogs in Aksaray, Turkey. According to Wiki, Unimogs were also built in Argentina until the first years of the 1980s.
Bottom line is they are one of the best go anywhere trucks.
Meet our Unimog Camper called Mowgli

Mowgli is our Unimog Camper. She started life in the '80's as a flat bed German defence force truck.
As far as we can tell, she left service in the late '90's with 45,000 kms on the clock. We've only found records from 2006, so if anyone can shed any light on her past we'd love to hear from you.
We do know she had the camper body built & fitted by Willinghams of Thorngumbald, Hull and she's had several fit outs for 3 trips to Africa since then.
Drop us a line if you have any info on Mowgli's history
Unimog
T
echnical
Specification
The Unimog has 0.45m ground clearance courtesy of portal axles. These allow the gearbox and the diff lock casings to be located above the centre line of the wheels.
A very sturdy four-wheel drive, Mowgli has massive torque at the expense of speed from the 5.4-litre turbo-diesel motor.
With a top speed 53 mph down hill with a following wind, she cruises nicely at 46mph. Fuel is also a bit of nightmare; we reckon we're 15mpg or 6.4 kpl.
Kerbside weight is rated at 7.5 tonnes, although the factory plate rating are 8.5 tonnes.
She's fitted with a 400 litre second fuel tank and a 250 litre water tank. At her last MOT at VOSA , she came in at 6.7 tonne with an empty 400 lt fuel tank.
So when full of fuel and Angela's shoes, we will be hitting 7.2 tonnes.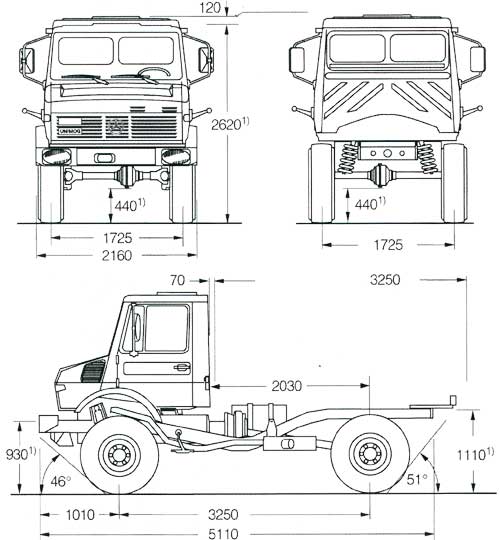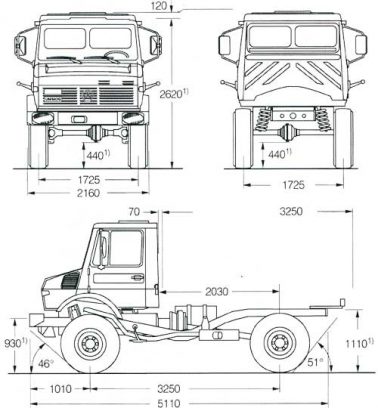 Solar Power
The 12v power is provided by two x 125 Amp Hour leisure batteries charged by a separate alternator to run the lights, fridge etc.
We have a 2,000 watt inverter in addition to a Sine Wave inverter for running the laptops in the living area.
She's fitted with 3 big solar panels that kick out 30 amps on a really sunny day to help trickle charge the leisure batteries.
There's a shore power hook up but we don't see many places to hook up to once we're out of Europe.
You can check out everything you ned to know about camper solar panels in this post, including a complete installation guide and wiring diagrams.
Read more about our electric set up
Accommodation
No Unimog camper is complete without a permanent double bed, a key requirement for us, railway style seating and table for four.
This arrangement can be dropped into another double bed. The galley is fitted with sail boating equipment from Streamline with a fridge and icebox, oven and four-ring gas stove, indoor wet-room with power shower and portable cassette loo.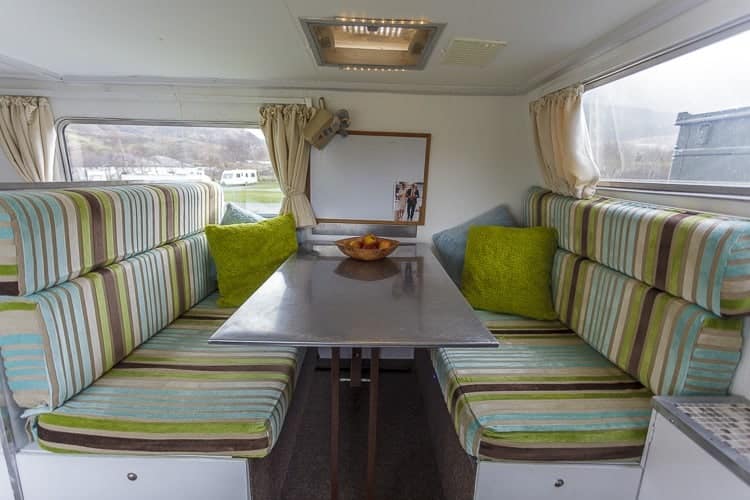 Clean water is provided by an integrated water filtration system, hot water is heated by the engine exhaust as well as an additional immersion heater.
We took out the air conditioner in the living area and replaced it with a big air hatch. For cold days we have a diesel fuelled Eberspaecher air top heater, which has proved to be perfect on winter outings.
Fortunately, Mowgli has lots of internal and external storage, draws, cupboards and 2 garages for out door gear, spares, tools and even more shoes!
So that's our Unimog Camper called Mowgli and home!
Angela Devaney
Angela Devaney, a former IT project management professional, embarked on an adventurous journey of full-time travel, which included touring West Africa in a converted overland truck and converting an ex-military 4×4 Sprinter van into a camper for a five-year South American expedition. She now utilizes her hands-on experience to create practical RV living and van life advice as a full-time digital media producer, reaching over a million users annually through her YouTube channel, blog, and newsletter. Angela also lends her expertise as the editor-in-chief of the Campervan Electrics Handbook.