Converting a van into a camper takes a lot of accomplished DIY skills.
You'll need to be a carpenter, metalworker, electrician and plumber. At times you'll wish you were a magician!
If you have all of these skills in abundance, a conversion might be relatively straight forward.
Not everyone knows how to build a camper van though.
If you don't have any DIY skills, then buying a pre-loved camper is a great option.
You'll need deep pockets to outsource the entire project to a custom van conversion company.
If you don't have the money for a custom build nor the skills to do it yourself, campervan conversion kits can help save the day.
Instead of building everything from scratch, a kit already includes the major components. All you have to do is install it.
Van conversion kits vary in quality, components and cost.
Some are simple packages of components, not specific to any vehicle model.
Others are complete furniture modules, designed for the most common vans likes Sprinters, Promasters and Fords.
In this post, we'll show you 8 DIY campervan conversion kits.
We've included the popular pre-packed furniture modules as well as kits to install all the amenities like plumbing, electrics and bathrooms.
Easy fit furniture kits
Building beds and furniture into a camper conversion demands a level of carpentry skills.
Our own Sprinter van conversion is built around an aluminium frame so we relied on our (Graham's) metal working skills.
But if you don't know a dovetail from a miter or one end of a claw hammer from a spirit level, building a camper interior is a tall ask.
That's where furniture conversion kits providing modular interiors come into their own.
There's several types of kit on the market and many companies with products and services available.
Researching this post, we found it a pain trying to figure out and compare what each includes (and more specifically, doesn't include).
We've tried to summarise it here.
Also read: The Ultimate Guide For Your Sprinter Van Conversion Layouts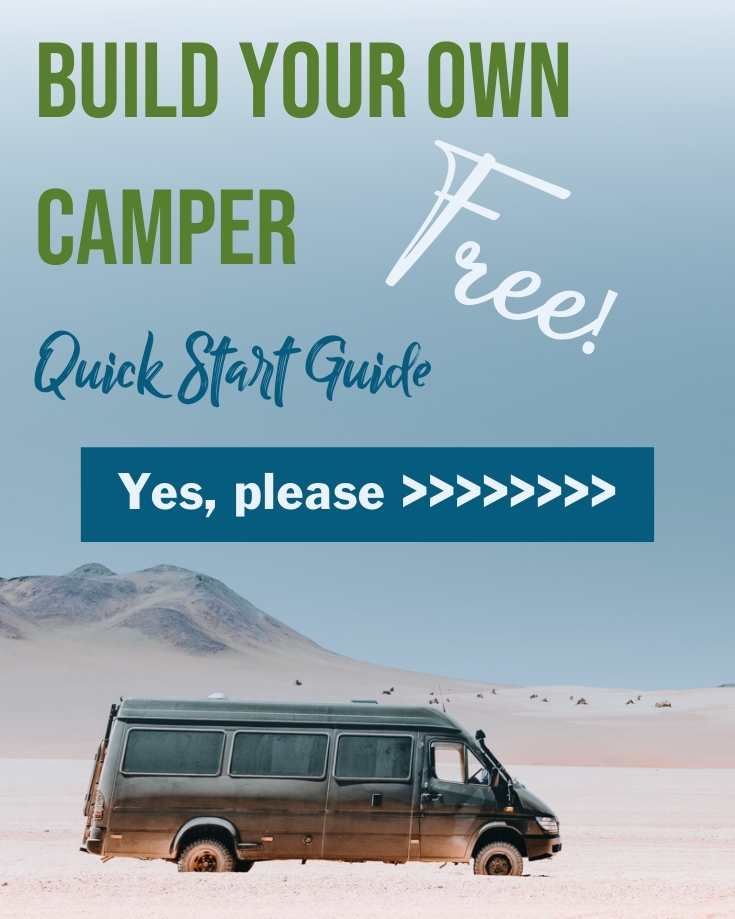 Complete modular conversion kits
Some companies provide complete conversion kits, often designed for specific vehicle models.
The high end companies are virtually offering a custom build, but with predesigned layouts to choose from.
Others offer pre configured modules you can mix 'n' match, a bit like Ikea wardrobe systems.
Some companies will post your flat pack interior while others insist you bring the van to them for installation.
Few, if any, offer a bathroom module and water tanks aren't usually underslung either.
Choices often include optional extras like a fridge, cooker, campervan ovens or roof vent.
Also read: How Much Does it Cost to Live in a Van?
The following companies are popular for these types of conversion kits:
If you're considering going down this route with your build, have a list of question to ask the companies before making the final decision.
We suggest you read our complete guide to converting a camper first.
Even if outsourcing the job, this will help you ask the right questions before handing over any hard earned cash.
Ask questions like:
If insulation or heating is included, is it enough to keep you warm in the conditions you will travel?
What materials are used in the build? We recommend steering clear of flimsy materials and fittings. A few hundred kilometres on the road, especially tracks will make screws and bolts loosen with ease
Is the electrical system sized to meet your needs? Use our electrical calculators to work out what size setup you need.
Can you speak with previous customers for references?
Check out guarantees and warranties offered.
Weekend camping modules
These pre-configured kits are designed for part time van lifers and shorter camping trips.
Some can turn pretty much any car into a camper. You don't even need a van.
Ideal for weekend camping trips or short term camper holidays, these modules quickly and easily transform a good sized people carrier or small van.
And most can be removed just as quickly when not in use.
Some of the popular modules include:
QuQuQ – starting at ≈ US$ 4000
Freeway Camper kits – starting at ≈ $1000
TrailKitchens – starting at ≈ $2700
Campervan Conversion Kits UK
The UK market isn't left out of furniture modules either.
Some popular kit manufacturers include:
Most of these target the VW Transporter type van.
We highly recommend checking out the quality of the builds before committing.
Utilities Conversion Kits
Of course there's more to a campervan conversion than the furniture.
Onboard amenities lift a van with a bed and some storage to a cosy home on wheels you can live in indefinitely if you want to.
When you click on links to various merchants on this site and make a purchase, this can result in this site earning a commission. As Amazon Associates, we earn from qualifying purchases. For more info, please check our disclosure page.
Campervan Electrical Kit
Installing a well sized, fit for purpose electrical system in a camper is one of the most complex and important elements of the entire build.
We have loads of electrical articles to guide your through the entire process, from sizing calculators to installation guides.
These are the key components you'll need. They're perfectly sized for a couple living in a van full time, off grid and through all seasons.
This kit provides solar electricity and charges the leisure batteries from the camper's engine as you drive too.
Mains Hook Up Kit
Though a well sized solar system means you can live off grid, it's a luxury to have the opportunity to top up the batteries from mains power.
Adding a hook up kit is low cost and doesn't take up much inside space, so we recommend including this in your conversion.
Heating & Ventilation Pack
Good ventilation will help stop condensation in a van, critical to keep rust and mould out of the camper. An electric roof vent is best.
A heating system in the camper forms part of the solution to condensation but as importantly, helps keep you comfortable and toasty, even in the coldest of winters.
We recommend a good diesel heater for winter RV living. They come in gasoline versions too if you vehicle doesn't run on diesel.
If you don't need heating year round, a good quality portable heater will serve you will on chilly summer evenings.
Plumbing & Bathroom Kit
A fully plumbed camper van water system offers the opportunity for hot & cold water, a kitchen sink and a shower.
How much of this you need in your camper is down to how you'll use the van once it's built.
Living in a van full time is much easier and has more freedom with all onboard amenities installed.
But if you only plan to use it for camping weekends a few times a year or maybe a week here and there, depending mostly on campsites, these are luxuries you could easily live without.
We've included below the major components for installing a water system.
* Read our review of our composting toilet – we swear by it!
** Read our post on campervan showers for more information about the options for getting hot water. They make a difference to the shower components needed.
DIY Camper Kitchen Kit
The heart of many homes and it's no different in a camper.
Whether you have a van big enough to cook inside or a camper to cook beside, a well equipped kitchen makes for a happy camper.
Here's the major components of a DIY camper kitchen we feel make a massive difference to van life.
Accessories & Interiors Fittings
Kitting out a van so you get everything you want and making the build as straightforward as possible, takes forward planning.
It's easy to overlook some accessories and fittings at the outset. The major components of the furniture, plumbing and electric will likely take most of your attention.
But there's a few other items to consider in the early stages of the build.
If you plan on fitting an awning, do it early so you don't have to rip out the insulation and panelling.
Adding swivel seats may be a great way or making the most of the space, so affect the floor plans.
Here's the components to consider before you get too far into the build. You don't need them all by any stretch but it's easy to build into the plans than to retrospectively fit.
Safety & Security
After all the effort, time and money spent on the conversion, keeping it secure and the occupants safe is a major consideration.
Try to avoid this being an after thought though. We added extra security bolts to our van before we even started the interior fit out.
Mix 'n' match from the these do it yourself van conversion kits. Swap out specific components if necessary, refining the build as you go.
And most of all, have fun! A van conversion is one of the most rewarding things you can do.